Disc burning software gives us a lot of possibilities in terms of writing audio, data, video files to CD, DVD, Blu-ray discs, as well as storing your digital media. If you are looking for a simple CD burner or one that would be packed with features, check out this list compiled specifically for the variety of features and ease of use when it comes to digital media.
CDBurnerXP
Pros:
Focus on basic functions;
Check data after burning disc;
Ability to create a bootable disc;
Easy and well-designed interface.
Cons:
Not that feature-rich;
Microsoft .NET Framework needs to be installed;
You cannot do media editing with this software.
CDBurnerXP functionality covers burning to several types of optical media discs, like DVD, CD, HD-DVD, and Blu-ray. One can also burn audio CDs or data CDs in MP3, AAC, OGG, WAV, FLAC, ALAC formats. This software can be installed on almost any Windows PC and has a multilingual user-friendly interface.
A distinctive trait of CDBurnerXP is that it adds tracks to your compilation from audio CDs without the need to rip the tracks first. This program is free and comes with a built-in audio player. It can also create and burn ISO files to CD. In case you didn't know, an ISO file is a single file that's a full copy of a CD or DVD.
BurnAware Free
Pros:
Represents a wide variety of optical disc utility tools;
Has a nice looking user interface;
Quite a number of features included in the free edition.
Cons:
Blu-ray capabilities are limited;
There is no integration with context menu;
The free version does not support disc-to-disc ripping.
This software runs on Windows and is an easy to use free optical disc authoring software that works with CDs, DVDs, and Blu-ray discs. BurnAware Free deals with a wide range of audio formats as well. Being a lightweight but useful program, it supports MP3, WMA, FLAC, AAC, WAV, OGG, and M4A.
It is very easy to use due to its clear interface. The program supports high resolution monitors and doesn't use much CPU power.
If you have files in ISO format, you would be happy to learn that this program supports disk image burning to DVDs and CDs. You can also create DVDs to be played on a DVD player or a gaming console, such as Xbox One or PS4.
BurnAware has a free, paid Premium and Pro versions compatible with any Windows PC.
You might be wondering how to send large files over the internet if you have them on a CD or DVD, especially today, when most of our lives are focused online. There is a number of services that will let you send large files online, but the size of files they allow to be sent differs from service to service. Some of the most popular services are featured in the article we published some time ago, and it will be fair to list them here too. pCloud, Mediafire, Hightail, WeTransfer let you send files of up to 25 GB in size. But there is one service, FileWhopper, that has no file size limit and does not require you to pay a monthly fee like other services do. You only pay per file whenever you need to send it and the price depends on its size.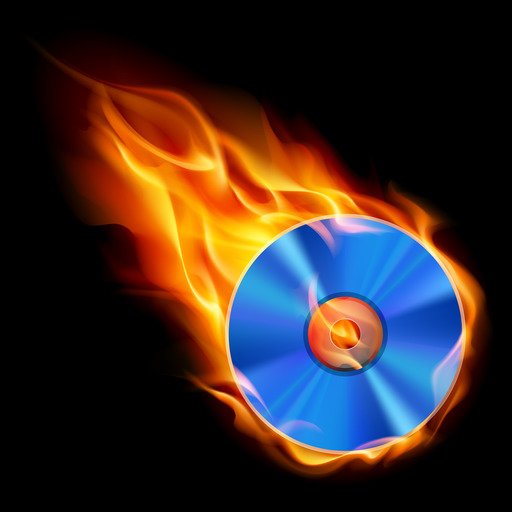 Free Audio CD Burner
Pros:
Decodes and writes compressed audio formats at lightning speeds;
Works with most audio formats like MP3, WAV, M4A, OGG, and FLAC.
Cons:
The installation process opts you into installing a malicious toolbar;
Program works for one purpose only: burning audio CDs.
For those who need software for creating audio CDs alone, this program is the right choice, as it supports a vast variety of audio formats. Free Audio CD Burner can also decode MP3 and WMA files in real time, which saves time and hard drive space.
It can delete all information from rewritable CDs and burn CD-R and CD-RW discs. One track at a time can be set to be written, leaving some free disc space or the entire disc can be burned immediately and finalized.
Free Audio CD Burner supports Windows 10, 8, 7, Vista, and XP SP3.
DeepBurner Free
Pros:
User-friendly interface;
Ability to print DVD labels and booklets;
Ability to make discs from ISO images.
Cons:
Does not support Blu-ray;
No backup functionality in free edition;
Very limited number of extra options.
This lightweight but powerful program is meant for home use. Features include disc burning, making backups, burning data CDs and DVDs, burning audio CDs. The program is capable of creating and burning ISO images and supports bootable CD/DVD.
There is a paid Pro version of the software that is designed for advanced and business users.
DeepBurner Free is compatible with Windows 8, 7, Vista, and XP and works with all CD/DVD drives.
K3b
Pros:
Audio and Video CDs and Video DVDs can easily be ripped;
Rewritable discs can be formatted;
Themes and plugins can be supported.
Cons:
Overloaded interface;
Complicated installation if you do not have KDE installed.
Linux users are in love with K3b (from KDE Burn Baby Burn) program. K3b is open-source software that burns data and video CDs and DVDs, as well as audio CDs and Blu-ray discs, including rewritable CDs. There are also plugins available for WAV, MP3, FLAC, and Ogg Vorbis formats for audio decoding.
You can easily write audio CDs without the need of decoding them to WAV.
K3b is compatible with the Linux platform.
With the software titles mentioned above you can do pretty much anything you need for CD and DVD burning and ripping, and we hope the selection is helpful. Keep in mind that in modern digitalized world there is always a need to share or send large video files online apart from burning them to CDs. As to the best way to send large files online, feel free to refer to a list of services that will cover all your file sending needs.