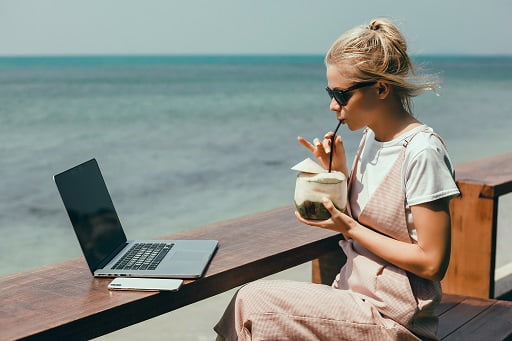 It's no surprise that many companies are starting to consider hiring freelance and remote workers. Just think about it: less overhead to pay for a consistent office space, competitive talent can be sourced from anywhere around the world, and staff can enjoy the pleasures of working from their home office (as long as they're motivated).
Today there are tons of methods for getting a remote job, so this employment trend has no sign of slowing down. Freelance work does, however, have plenty of complications that need to be overcome. Being that it's the primary medium for most remote/freelance-based workflow, technology can be a hit or miss, particularly when it comes to tasks involving communication, file management, and scheduling. Today I'd like to share 5 cloud computing services that make a freelancer's life easier, based on personal experience.
1. AWS
Amazon Web Services (AWS) is not just one but many cloud computing services, all bundled under the Amazon umbrella. The reason I list AWS as the first cloud computing service for an easier freelance life is because it contains all the tools you could ever need to do things such as:
Building a website for your portfolio
Storing a mass amount of documents for cheap and sharing large files
Creating customized email marketing campaigns
Literally anything else in the tech space
In fact, AWS is the cloud platform I used to create my own personal portfolio website and the infrastructure on which we host Millennial Moderator. The barriers to entry for AWS are a bit high, mostly because the technology is very hands-on and can take some time to learn, but luckily, there are plenty of online tutorials for AWS that are just a Google search away!
2. Keeper Tax
One of the biggest struggles I have as a chronic freelancer is keeping track of my finances, especially as they pertain to my taxes. With all of the odd jobs that come and go through my bank account, reconciling them accurately feels like separating grains of sand at the beach - it's difficult and time-consuming. Not to mention there is a looming fear that if I make one wrong claim on my report, the IRS will kick down my door and steal my dog (that's what happens, right?). Keeper tax is an automated expense tracking service that records all of the inbound/outbound monies that move through your bank account and then sends you a text message to confirm if that last transaction was for business or personal. As a freelancer always on the go, it's pretty convenient to just reply 'yes' to the text and go about my day and then get a final report at the end of the year automatically.
3. All About PDFs
Freelancers get a lot of files sent to them electronically, files that are often critical to their success (invoices, for example), but if you've ever worked with PDFs specifically, you know they can be finicky at best and downright impossible to work with at worst. There's literally no way to edit a PDF effectively, and the time you spend trying to figure it out is time that should instead be spent on doing your job. All About PDF is a cloud (though they also offer a local version) service that acts as a PDF utility tool, allowing you to change PDFs in a way never before thought possible. Setting expiration dates on PDFs, automatically converting them to other formats upon download, even password-protecting PDFs if they're confidential – this all can be done with All About PDFs. They offer a free version and paid upgrades, depending on how serious you are about your digital files.
4. The Mayo App
If you've ever found yourself short of a laptop charger in a public space or, perhaps, willing to get a second opinion on a product design you're putting together, you know how important it is to have a way to ask for help. Luckily, now you have one. Mayo is a cloud-based app created by Allen Chan with a mission to help people help other people. As a freelancer, if I'm in a public space and need assistance with something, all I need to do is post a request in the app (available on both Android and iOS) and within a minute or so, I get a response from a Mayo user who can fulfill my request. It's an ingenious way to crowdsource personal assistance in a hyper-local context. Although the app is still in its early phase, there are users already offering their assistance and receiving help from others. That said, don't be surprised if you're at a gas station 30 miles from the nearest city and can't seem to get a response - this one's more of a Hail Mary as of now, but the concept is highly valuable to freelancers everywhere!
5. Delivery Apps
There's no way I could share a list of useful cloud-based services without diving into the world of delivery apps. Freelancers are often on the move and are very busy, seldom having time to make 'regular' trips to the grocery store or pharmacy, let alone the time it takes to get a cup of coffee at a popular cafe with a line out the door. Thankfully, there are a ton of delivery services that can bring you almost anything, from office supplies to fully prepared meals and custom clothing. Here's a small list of delivery services that serve very specific purposes:  
HiWaldo: a delivery service for disposable contact lenses
GoPuff: delivery of snack items - useful for those late-night programming sessions
Ritual: piggyback on your coworkers' food order, then send the intern to pick it up
Amazon: a no-brainer, useful for the same-day delivery of supplies
Outfittery: a stylist sends you customized clothes, and you keep what you want
The freelance lifestyle continues to be a trending employment path for many individuals and companies, one that doesn't seem to be losing its popularity any time soon. In order to adopt the freelance lifestyle, however, companies and individuals have to come up with new ways to perform tasks and everyday operations, which falls heavily on the implementation of new technology. Hopefully, you find these cloud-based services to be practical and useful – they certainly have been for me!
Aleksey Weyman is a web designer, music artist and creator of Millennial Moderator
If you like this article, you may find other articles for freelancers on the FileWhopper blog useful.