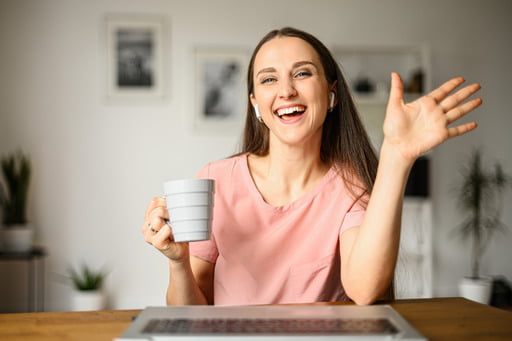 Modern PCs now come with built-in cameras that serve as webcams. While you can conveniently use this camera for activities such as video chatting, you might need to combine it with a third-party webcam software if you desire additional functionalities for activities such as live streaming. The thing is, the best option for you depends on what you intend to achieve. If you're searching for the best webcam software for Windows 10, we've got you covered.
What Is the Best Webcam Software for Windows 10?
Do you need the webcam software for a video conference, online class, or even a YouTube live stream? Well, one of the options below might be what you need to get a quality video experience.
ManyCam
ManyCam is a professional webcam software that offers smooth recording and streaming of videos. Whether you frequently engage in online education, video conferences, game streaming, or even live telehealth interactions, you'll love this video capturing software. ManyCam is a flexible tool that supports virtual backgrounds, green screen compatibility, 3D mask effects, and integrations with your favorite video platforms. You can easily integrate this app with YouTube or choose to use it as a camera source for your videos on Skype.
It supports the Windows 10 OS. Also, with the ManyCam Mobile Source for Android, you can connect the camera on your Android device and use it as a webcam for your PC. ManyCam has a STANDARD plan that costs $27 per year; a STUDIO plan that costs $49 per year; and a PREMIUM plan that costs $69 per year.
BandiCam
BandiCam is one of the most popular free webcam software that is able to capture high-compression videos on your PC without reducing the video quality. Whether you want to record your screen or capture your gameplay, you'll love this platform. It has the basic features you need for image capturing, screen recording, and HDMI recording. You can record videos from devices such as smartphones and PlayStation, and gamers can use its game FPS overlay and control feature.
BandiCam supports the Windows 10 OS and common file formats such as JPEG, PNG, GIF, AVI, MP4, and TIF. It operates on a one-time purchase payment structure. Once you buy Bandicam, no monthly or yearly renewal is required. Moreover, there is a lifetime guarantee on the license as long as you follow the policy.
YawCam
If you're searching for the best free webcam software for Windows 10, YawCam might just be the answer. It is one of the freeware webcam that supports the Windows 10 OS and common file formats such as JPG, PNG, MJPEG, and GIF. It is an intuitive tool with simple commands that have been aligned in a ready-to-use drop-down menu. So, just about anyone can start streaming or recording videos in YawCam without hassles.
Some of the prominent features of YawCam include motion detection, overlay text/images, online announcements for communities, scheduler, and password protection. While YawCam is completely free to use, you can choose to make a donation to support cancer research.
YouCam
YouCam is one of the best webcam software for YouTubers, live streamers, vloggers, business professionals, and even home users. It seamlessly integrates with video call services like Skype and Zoom, as well as live streaming media channels like YouTube Live, Twitch, Wirecast, and Xsplit. You can add customized titles and images to your live-stream sessions. Also, the tool allows you to showcase channel brandings, promotional messages, and sponsorships.
If you're recording or streaming from a poorly lit room, you can choose to use the Live Skin Smoothing Feature or the TrueTheater Enhancement option to automatically improve facial lighting and sharpness. YouCam's AR technology is able to identify your unique facial structure and features in order to apply natural-looking makeup in real-time to lighten up your skin. While YouCam offers a free download option, you'll have to pay $34.99 for the Deluxe upgrade.
Debut Video Capture
Debut Video Capture is another excellent webcam software that allows you to record videos from your screen and from your webcam in popular file formats such as MP4, VI, MPG, and WMV. While Debut Video Capture is mainly a screen recording platform, it also allows you to customize your videos using different options. You can add captions, mouse highlighting, timestamps, and also use the color and video effects that are available.
Debut Video Capture also allows you to capture videos from external sources such as IP webcams, VHS recorders, etc. If you want to use Debut at home, you can download the free version that is available for non-commercial use. If you want the Pro Edition of Debut, you'll have to pay $39.95 for the single installation license.
WebcamMax
WebcamMax is a webcam recording software that is notably popular for the thousands of cool effects that you can add to your live videos and recordings. You're free to choose from its large library of fantastic animations, backgrounds, and filters. In WebCamMax, you can choose to record videos or do a live broadcast on Facebook or YouTube. You can easily share your cool videos and images with family and friends on Facebook, or you can upload them directly to YouTube. While the free version offers all of the basic effects, you'll have to deal with WebcamMax watermarks. However, you can also purchase a lifetime license for $49.95.
Windows Camera
We would understand if, at this point, you're still asking, "Does Windows 10 have webcam software?" Well, you'll love Windows Camera—the simple and free video recording software of the operating system. You can use this for your PC webcam without having to download any third-party software. Moreover, it's very possible that some people will prefer to use Microsoft Windows's built-in applications over third-party options.
If you simply prefer not to install another webcam software, you can still use Windows Camera to take snapshots and record videos. However, it offers very limited features compared to the numerous webcam options you can find. So, if you have the need for advanced webcam features, you might want to consider the other webcam software in this article.
Conclusion
We've covered seven webcam software that you can use in Windows 10. Depending on your needs, it's up to you to choose any of the platforms that best suits you.
Also, if you're finding it hard to transfer large files over the Internet, you might want to check FileWhopper. This file-transfer service allows you to send files and folders of up to 10TB without paying for a monthly subscription. The fee depends on the size of the file you want to send, making it convenient for those who do not transmit files regularly.
FileWhopper offers a quick and secure way to transfer files and folders of any size. The platform is best for YouTubers, photographers, videographers, gamers, and even SMBs who prefer to transfer files on a pay-as-you-go basis.
FileWhopper features a simple upload/download process that runs at fast speeds due to a multi-threaded data transfer technology. While you have to install a desktop app to quickly process uploads and downloads, the app automatically deletes itself the process is completed. So, you don't have to bother about annoying pop-ups or disk space. Are you using other webcam software for Windows 10? Let us know if you use any other video recording software that is a no brainer option. The comment box is open below.