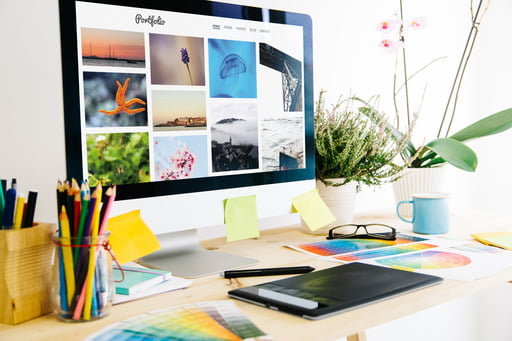 As a digital designer, perhaps you really are the best thing since sliced bread. We believe your boasts - supported by a world-class design portfolio - we promise. We really do. The problem is that there are thousands of other digital designers claiming to be the best thing since sliced bread as well. And a lot of people believe them, too.
In short, no matter how good your work is, you have a battle on your hands to convince everybody. And to be able to do that, you have to put your work somewhere people can see it in the first place.
You might have aced all the components of a well-organized portfolio. You now have a digital résumé showcasing your design skills, range and interests. All your friends and family have given you a thousand pats on the back for a design as beautiful as an orange dusk, one that will melt the hard hearts of prospective clients into butter.
There is one fly in the ointment, though. Those clients need to see your portfolio so their hearts can have a chance to melt. Otherwise, you may as well have created a digital equivalent of Frankenstein crayoned by a 2-year old.
You need to put your portfolio where it can be appreciated by the greatest number of interested people. That means you need to get the eyeballs of fellow designers and companies on it ASAP. There is not a moment to wait, nor is there always time to comb the net for the best place to upload your work.
There is no reason why you cannot or should not build your own portfolio site. Having done that, you can go ahead and share the link on Twitter, Facebook and everywhere else. If fate has decided to smile on you, you will likely net a few clients this way. However, your best bet is a community setting where your portfolio can attract the attention of thousands of people each day.
Since we're nice people, we've gathered four of the best digital design communities you will ever find online. They are absolute behemoths of their genre and are used and loved by millions of creators and enthusiasts for their ease, flexibility and, most importantly, showcasing power! You won't regret using any of them, and you can even create a profile on all of them if you want. Remember, the more eyeballs on your portfolio, the better.
Top Online Platforms to Share Your Design Portfolios
We have helped you to find the best portfolio websites for designers and artists. Four of them, to be exact. Remember that this list isn't exhaustive - nothing on the web is - so you are welcome to find others that suit your needs or to expand your range and visibility.
Behance
Ask most veterans of the digital design industry and they will tell you that Behance is the best portfolio website to show off a design work. Established in 2006, it has become a paradise of digital portfolios where millions of prospective clients flock daily in holy pilgrimage. You can upload your digital projects and they become instantly visible to the global community. And did we mention it is absolutely free?
Creating a profile on Behance is very easy. There are no needless hoops to jump into. Once you're in, you can start uploading your portfolios right away. For $99 a year, you can even add a custom url to your profile, which is a nice touch.
The Behance interface uses a social-media style that lets people easily view, share and comment on projects. A unique link for each of your projects is generated. You can share this link anywhere, and whoever clicks on it will land on your Behance profile page. You can follow designers on Behance and get their activity on your feed.
What is more, if you are as good as you believe you are, your work stands a great chance of being featured on the Behance homepage by one of its small army of curators, giving you an instant boost. On Behance, it is extremely hard to be bereft of multiple clients. User content is routinely distributed to the likes of Illustration Served, Branding Served, Web Design Served, and other online galleries.
If you are here because you want to be proactive about nabbing clients, Behance lets you do that as well through its job board. You can get in touch with recruiting companies and sell yourself on the strength of your portfolio.
Coroflot
Behance might be the most well-regarded community on this list, but it certainly isn't the oldest. That honour goes to Coroflot, established in 1997. Even though newer competitors come in and steal some of its limelight, Coroflot continues to serve as a link between top-notch design work and the clients that will appreciate it.
With more than two million images and over 159,000 new projects launched every month, Coroflot is the hub of choice for talents looking for career opportunities in design. The website lets companies post job listings which designers can compete for through submitting their work. It is a great site to know how much you should expect for each kind of work through its sample design salary feature, and it also allows you to create a designer profile in a way that presents your portfolio in the best possible light.
If that is not enough, Coroflot provides an element of peer reviewing through its application process. You must submit an application along with a few work samples, which must be approved before you're allowed to set up a profile. Surely, knowing you're good enough to pass a test where thousands of applicants are involved will instantly put a spring in your step.
Dribbble
One of the best parts of a community is growing up and climbing the unofficial ranks from novice to expert in the field. Dribbble, the community established as a side project in 2009, captures this concept for the digital design community. Joining Dribbble doesn't mean you can start showing off your work instantly. You're considered a "prospect" in Dribbble's unique system and must be invited by a "Player" - an experienced user - to post before you can do so.
The "Shot" is the unit of design on Dribbble. Users are allowed to upload up to 48 shots (screenshots of their designs) per month. The top shots are viewable each day on the website's homepage. As a newcomer, even if you can't post yet, you can add links to your work elsewhere on your profile. If Players are impressed, you'll be getting multiple invitations in no time.
If you mean business and want immediate access to posting and the other great features of Dribbble, you can opt into the Team membership for $149/y. Or you can embrace the challenge of climbing all the way to the Player status, along with the confidence that comes with your progress.
Crevado
One of the great things about the web is that it caters to everyone's preference. In the unlikely scenario that you're intimidated by the bells and whistles of Behance, Coroflot's application process, or Dribbble's meritocratic system, you can feel right at home with Crevado. This website is a great choice for beginners who have just dipped their toes into the world of digital design.
Crevado gives you what you're after - a home for your digital portfolio - in a simple way. It offers basic hosting services, and you can easily create a profile and post your work. You are able to create links which you can share with colleagues and clients, but you won't find job listings or an interactive user community here - and that is fine.
However, you can still share your work with an actual social media through its Facebook integration, and visitors entranced with your work can quickly pay for photo prints through your linked PayPal account. You can also turn on the Google Analytics tool and pore through statistics and in-depth visitor reporting.
Whether you plump for Behance, Dribbble or all of them, there are times when their hosting capabilities simply don't meet your needs. For example, you might be unable to upload a full design video in HD because of file size constraints. Not to worry, you can simply upload the file on FileWhopper and send the link to your client. Once they have downloaded it, the uploaded file is removed from the cloud, securing your copyright.