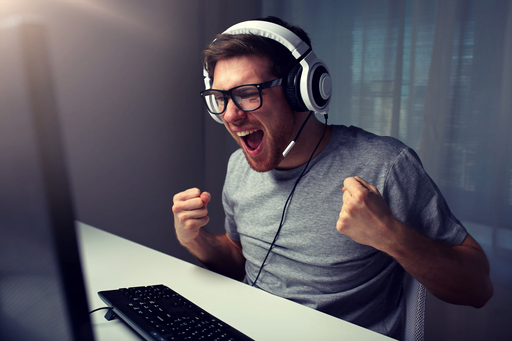 In the past, anyone who loved to play PC games wasn't taken seriously by society. Playing PC games was perceived as an unproductive act practiced by lazy individuals. However, gone are the days. Fast forward to the modern era and everyone loves to play games. Thanks to improvements in technology, the gaming industry has evolved rapidly. Playing games is no longer a hobby but now an actual career for many.
Technology has played a major role in the development of the gaming industry. Nowadays, thanks to enhanced graphics processing units, people can enjoy HD games. Platforms such as YouTube and Twitch have witnessed significant growth in recent years and are now popular venues for professional gamers. Games such as PUBG and Fortnite have taken the gaming industry by storm and marked a turning point in its development.
By just searching for either Fortnite or PUBG on YouTube, you will see tons of videos showing how to play, how to obtain some items, how to pass some levels, etc. These games are not the only massive hits in the industry. There are also other popular titles, such as FIFA, PES, Call of Duty, GTA, and God of War, to mention a few, that have seen a spike in the number of gameplay videos streamed or recorded. Some gamers are now celebrities and earn fortunes out of recording their gaming sessions.
To achieve this, successful YouTubers use the best game recording software to ensure they get the best possible quality and experience. If you are looking to share your gameplay with others, make sure you know the answer to a question like "What is the best game capture software?"
What Is the Best Game Recording Software in 2020?
In this article, we will provide a list of the best game recording software tools to consider for use on Windows 10 PCs. This 2020 best game recording software for PC allows you to share high-quality videos on various platforms, such as YouTube, Twitch, Facebook, and Hitbox, to mention a few. Now, without wasting much time, let's get to the matter at hand and see what screen recorder is best for games in Windows 10.
Xsplit Gamecaster
This software is among the best when it comes to game screen recording sessions. It comes in both paid and free versions and has excellent features that enhance your recording experience. It is user-friendly, and it takes no time to get used to it. The app's performance is amazing. Both paid and free versions deliver amazing results with no delays or frozen screens. The platform is intuitive thanks to straightforward configurations on every step of the way. The app also comes with advanced features, such as the drag-and-drop functionality, which lets users resize the window and modify webcam videos. The platform also excels when adding commentaries as it provides excellent audio tuning features. The selection of games is automatic, which makes the whole process easier. With just a click of a button, you start recording or streaming your best gaming moments using Xsplit Gamecaster.
Windows 10 Game Bar
Game Bar is a built-in Windows 10 feature that can be easily activated by pressing Win Key + G. The bar overlays your background screen, allowing you to manually click on the floating buttons to begin streaming or recording. This is a useful tool if you are looking to record your gameplay, take screenshots, or broadcast video games online. To top that, the software is entirely free. It also lets you activate Game Mode, which will then enable settings that mainly focus on enhancing your gaming experience by making it smooth and reliable.
MSI Afterburner
In the PC world, MSI is a big brand, and it's not a surprise that its software has made it into our list. This game recording software comes with a graphics card overclocking utility allowing the user to gain control over their graphics card. Apart from recording, broadcasting, and taking screenshots of your gaming scenes, the software also provides detailed information concerning your PC hardware. The software also has additional features that allow you to modify fan profiles and benchmarking.
Nvidia GeForce Experience ShadowPlay
If you have got an Nvidia GPU that is above GTX 600, then you are lucky because your graphics card came with its recording tool. GeForce Experience, which is part of the automatically installed drivers from Nvidia, offers a wide range of features. Among those features is game recording software called ShadowPlay. The feature delivers a bunch of tools for gamers to utilize, such as a screen recorder. Moreover, due to swift integration, ShadowPlay utilizes your PC's GPU to deal with video encoding.
ShadowPlay comes in 2 modes, which are shadow mode and manual mode. With shadow mode, gamers can record the last 20 minutes of gameplay, whereas manual mode provides unlimited recording space. Resolution can be adjusted to 1440 HD at a frame rate of 60 FPS. With this software, users can broadcast to YouTube, Twitch, Facebook Live, and many other platforms.
Action!
This software is among the best for many reasons. For starters, it presents a stylish yet professional interface that is easy to master. Using this software, you can come up with amazing MP4 results at 60FPS. When recording, the app will show how many frames per second (FPS) you are getting and allow you to save your benchmark results. For creating slow-motion gaming effects, Action! supports high frame rates of 120/144. Upon completing your recording, the software allows uploading your results to your chosen online platform. There is a mobile control feature, which is a great bonus if we are to consider that most of the applications do not have it.
Open Broadcaster Software
Free to download and easy to master, this can easily be considered as one of the best game recording software tools. Open Broadcaster Software has got a variety of features and a very simple yet stylish interface. The tool supports both MP4 and FLV video formats, making it a cool utility for game recording in Windows 10.
D3DGear
This is a responsive game recording tool for Windows 10. The platform presented by D3DGear has got cool features that promote high-quality video results. The software lets users capture gameplay moments without affecting the speed or performance of the game. The software works in the background without causing any lags or significant frame rate drops. The video files are of high quality and small in size. Some of the coolest functions include Push-to-Talk, microphone, and face overlay recording.
SmartPixel
With SmartPixel, gamers can record, stream, and take screenshots of their best gaming moments and share them on YouTube, Google+, etc. The major advantage of the software is that it is very light, therefore having less to none impact on your game performance. As the name suggests, this is a smart tool for those looking to capture their precious gaming moments in higher frame rates and resolution.
Fraps
This is universal software that can be used in conjunction with DirectX or OpenGL. The video quality produced by this software is outstanding. The tool can produce stunning 4k resolution game recording videos as it supports a resolution of up to 7680x4800 at frame rates ranging between 1 and 120 FPS. With a bunch of sound capture, screenshot and movie features, this tool can deliver the best results without demanding much of your interference.
WM Capture
WM Capture is an excellent tool, especially if you have got a particular area that you want to record. The tool lets users mark an area to record. To activate this feature, you need to click the Get Window button and then hover your mouse cursor over the region you want to record. It will be automatically highlighted. To extend the capture area, you can mark the region manually. This PC app is useful as it comes with a volume button and a host of features that can turn your game recording experience from amateur to professional with just a few clicks and tweaks.
Camtasia
If you think video editing is a hard nut to crack, surely you haven't used Camtasia. The software is designed to make the whole process easy and straightforward. The application comes with various features, such as a drag-and-drop editor and several video tools, to assist you in creating your game videos. The end goal is to come up with something of high quality, and that is exactly what Camtasia gives you. You don't need to be a seasoned video editor to use this software. With Camtasia, you can record or import video files using various formats, such as MP4, WMV, AVI, etc.
OBS Studio

This is a professional platform that lets gamers create a variety of video formats. The application is ideal for gamers that are looking for an all-in-one tool to record their exciting gaming events. The application has got a whole lot of features that make it one of the best solutions for streaming and recording gaming moments. OBS is an excellent tool for streaming your gameplay as it provides the user with extensive features to provide quality results. The tool does not limit you when it comes to frame rates, and this lets you live stream like a pro. Moreover, OBS is compatible with all major platforms, such as YouTube, Twitch, and Facebook Live. Launching and running the software for the first time can be a bit overwhelming, especially if you are not familiar with the process. However, you shouldn't worry much as there are plenty of tutorial videos online that will show you how to operate the software.
Do You Want to Share Large Files and Folders Fast & Securely? Use FileWhopper
Have you ever tried to upload a large file or folder online, only to get an error message stating that the file or folder is too large? Well, we've all been there. However, there is no need to despair because there is actually a better deal to get things sorted out. FileWhopper is a platform that lets you upload a file or folder of any size at one go. This is a no-strings-attached type of service that lets you pay exactly for what you are sending and that's it. The one-time fee you are supposed to pay depends on the size of the file or folder you wish to send. FileWhopper is a smart tool indeed: it encrypts your files and folders to keep hackers at bay, and if your system shuts down abruptly, the system pauses your upload until you are back online to continue from where it left off. Here is what you should do to enjoy the service:

✅ Start by selecting the file or folder you wish to send and receive a price quote based on its size.
✅ Download the small FileWhopper App to upload your large files or folders fast and securely.
✅ Copy the link to the uploaded data and share it with the intended recipient(s).
✅ Remember to share the password provided by the service. Your recipient(s) will need it to decrypt the shared file or folder.
AMD ReLive
Last but not least is this top-notch integrated recording studio designed to deliver only the best features that promote high-quality game recording sessions. AMD ReLive is software that is designed for gamers using AMD graphics cards. The software has got a bunch of features that can be quite useful if you are looking to come up with professional results. The tool is completely free but useful only to gamers with AMD cards.
This platform can do all the tricks that players need to come up with an exciting broadcasting moment. The core function of the tool is to record a gameplay session by harnessing your GPU power. However, with extra features, such as Scene Editor, the software easily stands out from the rest.
Verdict
As you can see, if you are looking for the 2020 best game recording software for PC, then this list should be your starting point. The listed applications are quite competitive and can make a success of your streaming session. There are plenty of free and paid options on the market, and you just need to have the right guideline to select the one that will work best for you. Streaming or recording your gameplay can be as fun as playing the game itself, especially if you have got the right tools. We know there are plenty of other options besides the ones that we have listed above, and you are welcome to try them as well. Just make sure you only consider options that are trustworthy and up to date.