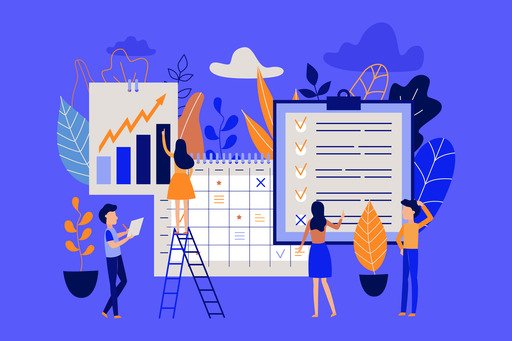 Most businesses fully function in the physical presence of management. But what happens in the absence of physical offices and managers who breathe down the necks of their subordinates? Interestingly, most offices have moved from their brick-and-mortar buildings to virtual spaces. This has caused a huge need for task management tools to keep teams agile. If you want to see results, then get yourself the right task management platform.
What is the best app for task management in 2020? You are most probably not the only one asking this question. We will attempt to answer it by highlighting the top features and key details of 5 apps that have been hand-picked by our team.
Go through this list and note the best features, then come up with the top three and choose the best task management service. The list has the following apps:
Trello
Centrallo
Accelo
Easynote
Monday.com
Trello
Are you searching for a go-to organization app that keeps your perspective on what's truly important? Then Trello is the one. The best thing about Trello is that you can know who is doing what just by taking a glance at the screen. Keep all the information you need in one collaborative location. As a result, you should be able to have fewer emails, shorter meetings, and increased productivity.
By choosing to use Trello boards, you get to easily organize information and tasks at the same time and can see what is getting done and when. Everything stored on Trello is organized into lists. A board is broad enough for you to make as many lists as you want and in whatever format you choose. They can be workflows or even charts, and you get to select exactly what you need in your lists.
Under lists, it is possible to add cards that will help keep track of everything involved. By so doing, you would know the content to write, leads that need following up on, and bugs that must be fixed. Never miss a task by simply working closely with your Trello app. Cards can be dragged across a board to rearrange things and get a newer feeling to it. You can invite as many people to use a board as it pleases you. You can manage the changes made by invited members. Files can be added from OneDrive, Box, Dropbox, Google Drive, FileWhopper, and other platforms.
Get your product roadmap on a Trello board to help you stay on top of the situation and keep the team up to date with all processes. Here is a recap of the top features and uses of Trello:
It comes with additional customer support
A wide range of features and cutting-edge functionality
Easy to use
On Trello, you can customize boards to meet your needs. The Trello app can be synced across all devices so that it stays switched on and getting in touch or communicating is easy.
Centrallo
Centrallo is a truly versatile and easy-to-use task management app that one can make use of in 2020. The best task management app that you can ever find is one that gives you the liberty of organizing both your private and work tasks. Centrallo was designed and functions with the target of making life easier by enabling you to catch everything life throws at you.
This elegant but simple organization tool enables you to stay on track. Throughout the day, you can add anything, review and organize things effectively. Its most important features include the ability to add checklists, the presence of Evernote Import Wizard, the ability to share and publish lists, a search option, the ability to sync one's calendar, add notebooks and set location-based reminders, among others.
When using Centrallo, there are several top benefits, and one of them is organizing one's everyday life details. There is no limit to the number and types of lists that you can create to organize your tasks and rank them by order of importance. One of the top benefits is that Centrallo is super easy to use: you don't need any tutorials to get started – just download the app and get started.
If you're looking for an app that promotes collaboration, then use Centrallo because you can invite other users to view, edit and even contribute content. It's easy. The invitation is sent, and once accepted, the list used when sending the invitation is automatically pushed to the new user's device. The created lists can be expanded without worry because there is a search and share option to help find anything concerning the lists faster.
The Centrallo pricing also makes the app a winner. Beginners who are still getting their way around organizing apps can get real value with Centrallo's free version. The free package comes with 1 GB of storage, unlimited lists, 100 notes, and a 25 MB attachment limit. For just as little as $5/month, Centrallo clients get 15 GB of storage, unlimited lists, unlimited notes, unlimited attachments, and a password lock, among other features.
In short, get yourself Centrallo if you're after an app that:
fits both professional and personal utilization,
is easy to use,
is straightforward.
Get Your File Transfer Issues Sorted Out by FileWhopper
FileWhopper is your one-stop cloud file sharing method. Initially, you were only asking, "What is the best to-do-list app?", but now, we will also show you the best file sharing app. FileWhopper is offering to transfer a file or folder of any size. At the moment, the first transfer comes with a gift of uploading up to 5 GB for free. When using FileWhopper, there is no need to buy a monthly subscription. All you need to do is pay a one-off fee that's calculated according to the size of what you want to transfer. Upload your large file or folder and get a unique password that will be used by your recipient(s) to access your uploaded data.
Here is why you need to use FileWhopper:
☑️ It offers top security for your data.
☑️ The tool is easy to use.
☑️ An intelligent app for both uploads and downloads.
☑️ There is multi-threaded transfer technology that increases the speed of uploads and downloads.
Accelo
Accelo can easily be the best task management app in 2020. As a sales and project management app made with professionals in mind, this platform gets the job done well. It's designed to focus on your needs. Thus, the app manages to steer clear of any complexity or unnecessary clank to help you stay focused on important tasks and the order of business.
Accelo CRM comes with super powerful technology, making it possible to fully import all emails and appointments automatically without any manual data entry. Import data from all email appointments and other sources; this grows your CRM as you continue using the app. The more your business uses the app, the more you start getting out of all the features it has to offer.
When using Accelo, you can take care of your clients and their needs because your app takes care of you and your business processes. It's a smart app that's mostly commended for the ability to integrate and run every part of your business. With Accelo, you have a solution for running your business, services offered and client operations. The best part is that this cloud-based app will get everything done seamlessly so you don't have to lift even a finger. Just drag and drop processes around to have as many benefits as possible. The team scheduling tool helps to delegate tasks among employees so you can pair up everyone with services that best fit their skills.
Start by checking Accelo's compatibility with your business. There is a free trial that has more than enough features to let you check out the service. The Accelo basic plan can be used for as little as $39 per month to unlock individual sales, project retainers or service modules. There is a $79/month subscription that unlocks everything.
Manage all your client work from one place with Accelo. In a nutshell, these are the top features that should make you consider switching to Accelo for a professional task management app:
Enables team scheduling
Easy to use
Has a private team inbox
Has a wide client portal
Comes with automated timesheets and unlimited templates
Easynote
If you're after an easy way of creating, following up on and assigning tasks, then use Easynote. This is one of the best task managers that offer consumers the easiest solutions and ways out. The tool comes with an excellent user interface design. This task management software will simplify your life once you master how to use it to get the best results.
Offering an intuitive layout, this platform helps businesses and other organizations plan and achieve their goals. Use the app to utilize unlimited to-do lists, unlimited tasks, and tasks added as attachments and get to store up to 1 GB of data. This option also allows you to manage all tasks under one location. Set deadlines easily and follow through with the calendar feature that's always unlocked. This is one of the best and free features. Thus, if you're thinking of learning how to use the best task managing platform, then start with Easynote.
Some of the most commendable and sought-after features of Easynote include file sharing, setting deadlines, team collaborations, updating user comments, alarms, reminders, deadlines, and task dependencies. This app is used both professionally and privately, and therefore, thousands of private and corporate projects and tasks are carried out daily by using this platform with ease. This platform is so professional that its offered capabilities and features fully match the user's ambition. There is no task too small or too big to be handled on Easynote.
Getting started on the platform is easy. Once you finish the registration process, you are all set to start using the app for all tasks. On the support site, you'll meet a great, competent team that offers users constant assistance. Based on chats and user reviews, the Easynote team constantly reviews the app to improve what the platform offers. You don't require tutorials or previous knowledge to get started with Easynote. Team leaders have no reason or need to start explaining the tool to the members of the team.
Even with such great features, this management tool is super affordable. Although the company notes that some of its clients include giants such as Samsung, Barclays, Pfizer, Yamaha, Unicef, and Siemens, there is still a free option. The free version of the app offers 1 GB of storage and only up to 10 MB for file uploads. For more, consumers can upgrade to the Business plan, which costs $5 per month and offers 5 GB of storage and 50 MB of file upload. There is also the premium plan known as the Extended product, which unlocks 10 GB of storage and 100 MB of file upload for just $10 per month.
Some of the key features of this affordable task management tool include:
Varied price plans
A streamlined interface
Tools trusted and used by some big brands
Monday.com
Previously known as Dapulse, Monday.com is the new name of one of the best collaborating and communication apps on the market. This software is available on a free trial basis for anyone who is sceptical but would not mind giving it a go before checking the other offers.
Some of the most attractive features of Monday.com include workflow management and product management solutions. Of course, the number one feature is always the platform's use as a collaborative, communication and motivational tool. It provides management and tracking tools any organization can ever wish to come across.
Hailed as a visual tool for team development, this platform is one of the best task managers in 2020. Managers can afford to easily keep their eye on team members and ensure that tasks are completed successfully. When using Monday.com, you and your team can create comprehensive tasks, compile to-do lists, upload and access files, and communicate with other members. And if you're interested in gaining insight into your top projects, then this is the platform to lean on. You can keep an eye on even the tiniest of detail such as owner status, priority and set timelines. There is a private inbox function that's been integrated as a chat function. Teams can safely discuss things behind closed doors. Just like Trello, Monday.com also has a calendar function to help teams set deadlines on all tasks and keep up with them.
Offering amazing deals, Monday.com is super affordable. You can move to the Basic membership, which costs $25 per annum. If your needs for this task management app still require more, then select the Standard membership billed at $39 annually or the Pro for $59 per annum. Big businesses or organizations usually go with the Enterprise membership, which attracts an annual fee of $118.
Here are the top features of Monday.com, which should make you consider getting the app:
Communication, collaboration and motivational tools
Post-acquisition integration
Super visual
Promotes team functions
Selecting the Best Free Task Management Tool
By now, you most probably have what you regard as the best free task management tool of 2020. From this given list, learn about more features and functionalities your ideal app should have – then you will know your way forward. Remember, if your team has a lot of data that they would like to share in a fast, safe, and secure manner, they can always use FileWhopper.
If you would like to get more useful information on task management, have a look at other articles on this topic on the FileWhopper blog.