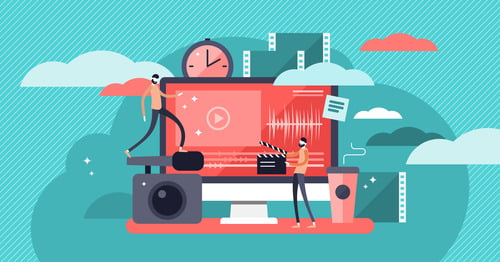 Social media marketing relies on the art of being adaptable. Either you adapt and move with the times or you're cut out with outdated methods. Video content is part of the mainstream forms of content marketing. You and your business should already be using this strategy or should be getting ready to do so. From long, full-blown videos to short, millisecond-long GIFs, everything now depends on viewability.
This has led to many people asking, "What is the best video editing software for beginners in 2020?" There is a plethora of video editing software, but there can only be one or two tools that bring out the desired results. If you don't have preferred video editing software yet, hang tight and allow this article to help you select the best program if this guide was not enough.
Why Are Videos Mainstream Content in Marketing?
The strategy for effective marketing and advertising depends on learning the target audience and adapting to what the audience prefers. At the moment, the biggest group of consumers is mostly made up of 25-to-34-year-olds. According to Statista, this group cannot live without the use of the internet and social media.
Taking statistics and simple facts into consideration, most companies have resorted to moving their marketing strategies online. This comes with a lot of content being posted on YouTube, Twitter, Facebook, and Instagram. Marketing content is more about presentation than wording. Figures pulled at the end of 2019 indicated that a third of the time spent online is dedicated to watching videos and that videos take up to 80% of all the internet traffic.
If these figures are not enough to pull you into the world of video to create your mainstream content marketing strategy, then nothing else will. We have outlined the top ten video editing software tools to help you create video content that will pull in and engage organic traffic.
Based on this information, you need to find the best possible video editing software. Get a tool that you can easily understand and use. We advise that you get an editor that
has a user-friendly interface;
is easy to use;
provides stunning, high-end finishes and other accessories that make editing fun, doable and quick;
allows creating seamless transitions between the scenes; and
lets you easily change the aspect ratio to come up with the desired ratio for each social media platform where your videos are to be posted.
Top 10 Video Editing Tools in 2020
Are you interested in the best video editing software that doesn't require much expertise? Then Lumen5 is exactly what you need. The software claims that its AI turns blog posts into engaging videos. As a result, it is an easy and fast way to create videos for social media. Instead of posting words, you can turn everything around by using Lumen5 to create a superb video. You can use the tool to refine content and come up with snippets or teasers of what your blog or website contains. The most amazing feature offered by Lumen5 is creating social promos from blog posts. You can drag and drop just about anything to come up with a unique result.
The only reason why iMovie is not number one on this list is that the software tends to be limited. Only those using an Apple device can have access to it. But still, that doesn't take away from the awesomeness that is iMovie. Already pre-installed on macOS and iOS devices, this software is what you consult and use if looking to create a classy, elegant and magnetic video. This software has a green screen, which can be used to create an exotic location or background. Easily edit a video to promote a holiday destination or promise consumers a huge prize.
Coming with the most dramatic high-fidelity filters, this software helps the user create a classy video that looks too professional at times. When all the features have been used without reservation, the results are purely beautiful. To make your work easier, use AirDrop to send raw footage from your iPhone or iPad to your Mac.
Those anxious about not owning a Mac but needing to create and edit videos can start looking into Corel. This software has seen significant improvements since its early days. Fully lined with 360-degree VR and 4K support, this video editing software is a great choice.
Get FileWhopper for Quick and Efficient File and Folder Sharing
Are you looking for a way to transfer large files and folders and save time, effort, and money? Is your problem all about finding a solution that makes it possible to send large files and folders without limiting you? If you answered yes and yes, then FileWhopper is your solution. FileWhopper is a trusted file-sharing service that doesn't have any restrictions on the size and type of data you can upload.
At the moment, there is a special: the first 5 GB uploaded can be transferred free of charge. You cannot afford to miss this special as it lets you test the tool and get the peace of mind you deserve. Here is how it works:
1. Select a specific file or folder – this is what you want to send. FileWhopper will evaluate the size first.
2. Get a customized quote – it will be calculated based on the size of what you're uploading, and the fee is one-off (you don't need to subscribe to any plans).
3. Allow the FileWhopper app to be installed on your PC – the tiny tool helps you quickly upload your file or folder.
4. Copy and share the personal link – you will get a personal link to the file or folder you uploaded; share this link with the recipient(s).
5. Share the password – the data you uploaded is encrypted with a password; share the password with the recipient(s) so that they can access your file or folder.

Popularly known and used for motion tracking, Corel VideoStudio can be used to track specific objects throughout the cut. Objects can be added or removed during the editing process. Isn't this software just amazing? However, if you're all about speed when editing, then you might want to think twice about using the tool as it has some serious lag. But if the other features are what you're interested in, then get Corel VideoStudio's lifetime plan by paying a one-off fee of $52.
If you're looking for a video editing software tool that does an excellent job and makes the work appear easy, then Nero is the answer. Already packed full with features and properties that make the work of editing super easy, Nero is an excellent tool for beginners. The biggest downside presented by Nero is the lack of speed. The software tends to drag, and it might take a while for the changes and effects applied to come into effect, especially when compared to the first three software tools on this list.
With all these competitive features, you can get the Nero software for an affordable rate of $50.
At number five on our list of easy-to-use, user-friendly video editing software is CyberLink PowerDirector. This software is mostly used by professionals with years of experience in the industry. However, that shouldn't take away from your wish to use it. Featuring the most amazing interface, CyberLink PowerDirector is straightforward and professional.
The home page is armed with the most informative tutorials on how to get started and use the software like a pro. Make sure to dedicate a couple of hours to these tutorials and learn how to use the Cyberlink PowerDirector software. Don't be intimidated by the long list of options, features and effects that are the basis of PowerDirector.
CyberLink PowerDirector is a super-fast tool that houses all the best effects. It is worth a lot more than a one-time fee of $80.
Filmora is one of the leading video editing software tools that can still be used by beginners to get the most proficient results. For newbies, there is always the option of using Easy Mode to create polished videos using the drag and drop feature and have fun while at it. Offering both Filmora Scrn (for screen recording and editing) and FilmoraGo (for mobile phones), this video editing software is packed with all the right features.
Sporting GIF support, 4K editing support, noise removal, and social import, among other features, Filmora offers a lot. It has an easy-to-use, intuitive design that makes video editing straightforward. Get the most when you decide to take full advantage of the tool and use the overlays, filters, transitions, motion elements, and royalty-free music. If you want to, you can create and edit a movie using Filmora.
Just like VideoStudio, Pinnacle Studio is the brainchild and product of Corel. The only difference is that Pinnacle is the premium, higher-end version of VideoStudio. This editing software is super-fast and offers a plethora of options that make for quality editing. If you prefer dealing with professional software that opens room for more cool features, then go straight for Pinnacle Studio.
Offering motion tracking, 4K support, 360-degree VR support, and more, this software gives a lot of value for the price of $130 for lifetime access. You can get ultimate features for the ultimate finished product, and this is not even an exaggeration.
Approaching everything from a professional angle, Apple Final Cut Pro X is the real deal. Change the way you post just by downloading this tool for $300 from the App Store. The most challenging aspect of using Apple Final Cut Pro X is that this software is designed for professionals. This software is not beginner-friendly. Also, given that it is only compatible with Apple products, the software becomes super limited. It is advisable for proficient editors who understand and have used iMovie for professional editing.
The best features that Apple Final Cut Pro X presents include the Touch Bar Support and the Magnetic Timeline. These features are not easy to find in the average video editor. Just get yourself this powerful editor and be done with the stress of tolerating videos that look lifeless. Remember, though, that you must be a proficient editor before attempting to have a go at Apple Final Cut Pro X.
Adobe Premiere Pro is one of the best video editing software tools for everyone, from the beginner to pro user. This software is mostly loved for the multi-cam and Lumetri Color features. Using Lumetri Color, editors can make any desired colour adjustments and serious changes, which can usually be achieved with the use of Photoshop. When using the multi-cam option, you get to work with footage and content from several different camera angles. There's no limit to the angles that you can utilize.
Other great features that come with Adobe Premiere Pro include flexibility, ease of use, and a plethora of tools that help you edit like a pro. All things considered, this software is a doable deal priced at $20 per month.
Adobe Premiere Elements doesn't necessarily answer the "What video editing tool is the easiest to use?" question. But it definitely answers the "What professional video editing tool can I spend money on?" one. Particularly loved for the Guided Edits feature, this software comes with full-on assistance for effective edits and professionally done videos. You can even add and edit a black video using Adobe Premiere.
At the moment, though, Adobe Premiere Elements is no longer the best in the game. It's now an acceptable tool for editing video content, but that's all. There are other tools that now offer a lot more in terms of proficiency, accessibility, and even affordability. This software with a simple interface comes with a one-off payment of $80.
Select the Best Video Editing Tool
Video editing is easy with the right equipment. Start by downloading the video editing tools described above and learn how to get the most out of those. At times, a high price doesn't mean that you're getting the best quality. You need to look at the reviews of subscribers or consumers using particular software to get more information before committing to the purchase. Whatever the case might be, there should always be a budget set aside for video editing software to create engaging marketing content.
With the competition skyrocketing in the media industry, quality videos are in demand. Therefore, you don't want to slack behind due to the use of video editing software that hinders your creativity. Upon selecting a trustworthy tool for editing videos, you should keep it in mind that the best one will always make the task easy. Your creativity and productivity mainly rely on the features presented. Thus, consider feature-rich software. This will enhance your imagination and speed the editing process. Although many apps promise an excellent interface with an extensive list of tools, keep in mind that only a few deliver what they promise and meet users' expectations. So, use this article as your guide, be vigilant and make sure you get value for money.