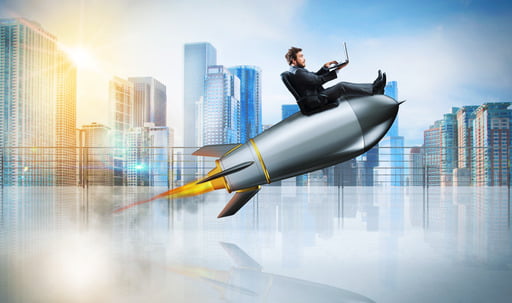 A slow internet download speed can be frustrating for anyone who wants to get things done quickly. It's almost impossible to tolerate downloads that take forever to complete, webpages that take the entire day to load, or video playback errors that show up due to a poor internet connection.
With almost everyone learning and/or working from home these days, dealing with frequent internet slowdowns is even more difficult and depressing, and most people never fail to fault their internet service provider (ISP) whenever their internet speed is slow. However, there are a lot of factors that can influence your internet download speed. The age of your router and its location, your house's architecture, your frequency channel, and your cache data are examples of the different factors that can affect your internet speed.
If you're looking for how to increase your internet download speed, you're lucky to have landed on this page – the tips in this article are sure to help you improve your connection so that you can get things done faster.
How to Test Your Current Internet Speed
The first thing to do is to test your current internet speed so that you can measure improvements after trying the solutions in this article.
To test your current speed, type "internet speed" into the Google search box and use the "RUN SPEED TEST" button at the top of the search results to see an estimate of your current download speed.
"Why Does My Internet Download Speed Go Up and Down?"
Many people are wondering, "Why is my internet download speed so slow and fluctuating?"
As noted above, many factors influence the speed of your internet connection. Some of these factors have been highlighted below:
The location of your router or device
Outdated router firmware
Faulty drivers
Malware
Cache data
The frequency band
Device performance
How to Increase Your Download Speed in 2020
If you're searching for how to speed up your internet connection, you've come to the right place. The following tips will guide you on how to improve your download speed.
Protect Your Wi-Fi
Having too many people on a Wi-Fi connection means that random slowdowns will frequently occur. This is because many nodes are competing for channel access.
That is why your Wi-Fi should be password-protected to prevent people from using your network without permission. If your router isn't automatically password-protected or you want to change your existing password, use the steps below to protect your network:
Access the web-based utility interface of your network provider using the IP address provided on the body of your router.
If you haven't changed your admin details, use the username and password that are available on the body of the router to log in.
Locate the "Wireless settings" section. There you can change your "Network Name (SSID)" and access password.
Alternatively, you can call upon the support team of your network provider to guide you on how to set a new password.
Perform a Virus Scan
Malware that either uploads your files or downloads malicious programs on your PC greatly influences bandwidth usage. Some malware entities are able to tamper with your internet browser settings, and others can change your DNS settings, redirect traffic, and even block your internet connection.
To scan your PC and protect it from malware going forward, you can use a highly reputable anti-malware tool such as Auslogics Anti-Malware. This tool can detect and remove malware that is deep in your system files and may have escaped regular antivirus scans.
Disable Non-Essential Apps
Many PC applications use your internet connection automatically. Programs such as game clients and antivirus tools can even use your Wi-Fi connection and affect the broadband speed without much notice.
Therefore, it's advisable to shut down non-essential processes and applications that you're not currently using. To do this, follow the steps below:
Use the Ctrl + Shift + Esc shortcut to launch the Task Manager and see all the programs that are currently running.
Navigate to the Processes tab, right-click on any app you want to shut down, and click on End task.
Use an Ethernet Cable
Although this is a temporary fix, it can come in handy when you badly need to boost your connection speed. An Ethernet connection transfers data faster than a Wi-Fi connection. This is because data encryption doesn't happen over Ethernet connections as it happens with Wi-Fi.
Simply connect your Ethernet cable to your router and PC, then manage your Ethernet connection from the Network & Internet section under Windows Settings.
Clean Your Browser Cache
To improve your surfing experience, browsers cache content from the websites you visit in order to load these sites faster. However, when the cache database becomes large and/or corrupted, it can affect your PC's performance and the web page load speed.
Luckily, with a few clicks, you can use BoostSpeed 11 to automatically scan your PC and clean up browser cache, browser history, unwanted files, PC junk, and more.
Alternatively, if you want to manually clean up your browser cache in Google Chrome, use the steps below:
Open Google Chrome.
Click the three vertical dots in the top-right corner of your Chrome home screen and choose the "Settings" option.
In the left pane, click on "Privacy and security".
In the right pane, locate the "Clear browsing data" option and click on it.
Now, tick the boxes beside the "Browsing history", "Cookies and other site data", and "Cached images and files" options.
Click on Clear data.
Switch Frequency Channels
Most routers have dual or tri-band compatibility—they support connections over both 2.4GHz and 5GHz frequency channels. The 2.4GHz band can easily be overcrowded because many internet-enabled household devices rely on this channel. In this case, you can decide to switch to the 5GHz band, which has fewer connected devices.
Although the 2.4GHz band transfers data at a slower rate, it has a wider coverage and is suitable for connecting devices that are far from the router. On the other hand, the 5 GHz band transfers data faster but covers a shorter distance. So, it's suitable for devices that are close to the router.
If your router supports both 2.4GHz and 5GHz frequency bands, you can use the web-based interface of your provider to switch between frequency channels. Alternatively, some routers have an automatic allocation feature that allows them to assign devices to either of the channels, depending on connection speed. To confirm if your router has this feature, do well to reach out to your network provider.
Use a Virtual Private Network (VPN)
Many internet service providers (ISPs) throttle bandwidth speed based on the amount and contents of web traffic. They are able to identify traffic and place bandwidth limits.
However, VPNs can help you evade restrictions that may have been set by your network provider. With a VPN connection, your traffic is encrypted. So, your web browsing is confidential, and no bandwidth restrictions can be set by your service provider.
Try a Wireless Booster
Wireless boosters can extend Wi-Fi signals by rebroadcasting them to dead zones (areas in your home where the signal isn't strong enough). They work with any network provider and can connect to your router via Wi-Fi, Ethernet, and/or powerline networking.
However, wireless boosters don't improve bandwidth. They only rebroadcast signals to areas that are out of reach. If you reside in a big apartment, feel free to check leading e-commerce stores and buy any brand of your choice.
Try a Mesh Wi-Fi Router
Walls, floors, and doors can affect the strength of wireless signals, especially on the 5GHz band. In the same way, microwaves and refrigerators can affect signal strength, especially on the 2.4GHz channel.
However, a mesh Wi-Fi router can improve signal strength in large houses with many rooms. This device is able to replace a single router with multiple nodes that extend your Wi-Fi signal across your home.
One node connects to your router via Ethernet, and the rest are made available across areas where you need a Wi-Fi signal in the house. The most amazing thing about mesh routers is that you're automatically connected to the node with the strongest signal at any point.
Conclusion
Poor internet speeds can cause so much pain and frustration. If you haven't seen improvements after trying the solutions in this article, then you may want to use the comment box below to explain your problem.
If you're one of those who struggle to send large files over the internet, you should check this new tool that makes the process of transferring large files and folders online quick, easy, and secure.
Using FileWhopper is the most convenient way to send files and folders of any size in 2020. Unlike when using other file sharing services, you don't have to pay for server space or monthly subscription packages. Your first transfer of up to 5GB is free, and subsequently, you only pay a one-time fee based on the size of what you intend to send. Your file/folder is secured with a unique ID and password.
Do you have other solutions that can be used to boost internet speeds? Don't hesitate to drop them below.