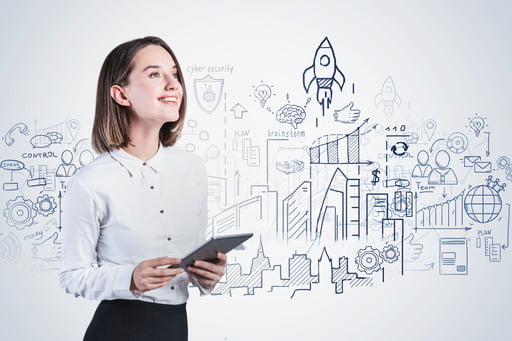 Compressing files is not too difficult. In fact, it's one of the easiest tasks that can be completed. But there might be some data loss during the process. This means that you need to learn how to easily compress large files without losing out on anything. For those who are used to compressing relatively small files using modern tools and technology, the process is simple. However, for those looking to compress large files that are above 4GB, things can go sour pretty quickly.
With big files, using your OS's built-in software for file compression won't cut it. You will need the help of professionally built tools that are designed to compress large files. Select any of the many video, audio and image formats that enable you to compress files without losing the quality.
Four Easy Ways of Compressing Large Data
We have compiled a list of ways to compress large files without suffering a noticeable quality loss. Take a look at the four methods below and settle for the one that works best for you:
Use Software Compression for Huge Video Files
Use Software Compression for Gigantic Images
Use Software Compression for Large Files and Folders
Use Software Compression for Large Audio Files
Here are the four ways to compress big-sized data. Each has been simplified into steps to help you easily follow through, understand and apply.
Compress Huge Video Files
Easily download, run and use Avidemux to manipulate your video files until you're satisfied with the end product. Use the version that's compatible with macOS, Windows or Linux depending on the OS you're running. Follow these steps:
Understand whether your video files can be compressed. Most online downloads are already compressed and will not survive further compression, so pay attention. Find the free open-source Avidemux video editor and download it.
Open Avidemux to access the video file that needs to be compressed. Click File >> Open, then browse for the file on your computer. Wait until it's fully loaded.
From the drop-down menu, set Video Output to "Mpeg4 AVC (x264)".
From the menu, set Audio Output to AAC (Faac). The audio track will be compressed down to a smaller size.
To get your video in a format that's compatible with as many devices as possible, ensure that you move Output Format to MP4 Mixer.
Move to the Video Output section and click on Configure.
Locate the General tab and go to the Rate Control section.
Then select Video Size to set the final quality and size of your compressed video. Even if you're tempted to save in the smallest size, remember that the smaller a file is, the lower the quality.
Save your video in its new size and quality.
Compress Gigantic Images
Before you can compress your large images, start by checking online to understand the various file formats acceptable for image compression.
Understand what can be compressed. By taking into consideration how image compression works, you'll come to appreciate that some files are already small and cannot be further compressed. Remember, once compressed, an image cannot be returned to its original size as the new size is final and can only be made smaller.
Bring yourself up to speed with regard to the two types of compression, namely lossy and lossless. Most photographs undergo lossy compression where the reduced quality is not that noticeable, such as in .jpg files. Then, lossless compression is used to produce copies that are almost the same as the original such as graphs, medical imaging, and architectural drawings, and the most common lossless formats are .png, .tiff and .gif.
Launch the image you want to compress in an editor you're used to or familiar with. Most image editors are designed with a built-in compressor. The likes of Paint, GIMP, and Photoshop allow you to even save files as compressed formats.
Click on File >>> Export As or Save As (depending on your image editor), then save a copy of the original image using a new format.
A list of format types will be presented; go with your most preferred. Consider the type of image that you're saving before selecting the format.
This last step depends on your image editor. If it allows, set the quality options. Otherwise, step five is where you stop, having selected all the settings.
Remember that the more compressed an image is, the lower its quality. In essence, compressing a file actually decreases its quality. Try out various compression options until you find the best result.
Use Software Compression for Large Files and Folders
You already have inbuilt compression software installed on your system. But it can only compress up to 4GB of data. Thus, you will need to download other software to compress files that are bigger than 4GB.
Start by downloading the open-source 7-Zip option. It's compatible with Windows. If you're using macOS, then look for WinRAR, which is also open-source and compatible with both Windows and Mac. Also, you can go with Archiver, which is one of the best compression programs on macOS, to compress things and create archives in RAR and 7-Zip formats.
Depending on the software you're using, follow the appropriate steps to adjust the compression settings. Increase or reduce the compression by altering the settings to suit your desired results.
With your compression program, subdivide the compressed file into multiple smaller items. Splitting a large compressed file into smaller compressed files will help you save space since each of the smaller items can be saved onto any DVD, flash drive or CD of your choice.
Save the final files in a format you prefer.
Use Software Compression for Large Audio Files
When you have a large audio file that needs to be shared, sending it might not be that easy because of its size and the recipient not having enough available space. Here is how you can solve the issue and compress your large audio file easily:
Separate what can be compressed from what has already been compressed. In most cases, files such as .aac or .mp3 are already compressed and cannot be compressed any further. If you are in possession of .aiff, .wav or similar files, then go to step 2.
Download Audacity, which is the most compatible program for compressing audio files. You can use the program on macOS, Linux, and Windows.
Open the file that you'd want to compress. Alternatively, copy it to Audacity. This is the best option because it helps you avoid writing over the original file in case you'll need it later.
This is an optional step of making your file mono. Best recommended when you're compressing audio files such as voice notes or recordings. Huge no-go for those compressing music or any similar file that holds important stereo effects. A file in mono will be relatively small.
Select File >> Export Audio.A new window opens allowing you to select where the file will be saved and the format to be used.
Locate the Save as type option and select the file format for compressing your file. Any is good except for .aiff and .wav. Select the most suitable format depending on your requirements. (.flac is recommended if you'd like to playback the audio using a high-quality sound system. Though your finished product will not be reduced that much, it still gets great sound. Then, .mp3 can be your number one file format. For starters, it's compatible with most devices, and secondly, it doesn't require much work and the finished product has good sound quality).
Open Options to play around with compression settings and select the most suitable options for the file you want to compress. Remember that a lower bitrate means a smaller file size and also reduced audio quality.
Complete the process by exporting the file.
Important: Always Remember!
Each time you need to compress a file, the process remains more or less the same. Here are some considerations that you must keep in mind at all times:
No two files can be compressed by the same amount or manner. This is simply because, during file compression, the tool reads sets of characters inside the file. Some are placeholders, while others are smaller or bigger than most. This will result in a new file size depending on the characters found in the file. Thus, not all files with the same word count will be compressed to the same size. Others might not even be compressed correctly. Some files aren't convertible to a size smaller than the original size.
The tools listed in this article are for compressing files that are simply too large to be compressed by the built-in OS compressor on your PC. There are other tools designed to compress multiple files into a single compressed folder. If you would like to learn more about them, search online.
Important Note: How to Send Large-Sized Files
Compressing files that are large can be a challenge at times. There is always a limit to everything, and that includes compressing files. Some files are just too large to be compressed to the desired size. Therefore, you are only left with one option: sharing them as they are. FileWhopper is a great tool to use when sharing large files online. You can easily upload, store and share files and folders of any size. To top that, you don't have to commit to any monthly payment plans.
With FileWhopper, you are required to make a one-off payment based on the size of the file or folder you wish to send. With FileWhopper, you can send it to multiple recipients safely and securely: you get one default download for your data, but you can easily add up to 5 extra downloads. With FileWhopper, uploaded files and folders are encrypted using high-end technology to ensure the safety of your data. You are given a 14-day period of online storage (which can be extended upon request) for your files and folders before they are permanently deleted from FileWhopper's servers without leaving any traces. This free storage period is amazing as it gives your recipient(s) enough time to download the data you want to share with them. Here are some of the other advantages of using FileWhopper:
Files sent are password-protected to ensure safe delivery.
The program allows simultaneous uploads and downloads, which saves time.
You only pay a one-time fee that is based on the size of what you want to send and provided upfront.
Here is how FileWhopper works:
Select the file or folder you wish to share and get a quote based on its size.
Download and install the small FileWhopper app to upload the file or folder you wish to send fast and securely.
Copy the link to the uploaded file or folder and share it with the intended recipient(s).
Share the decryption password with the intended recipient(s).
[fwa-calculator]