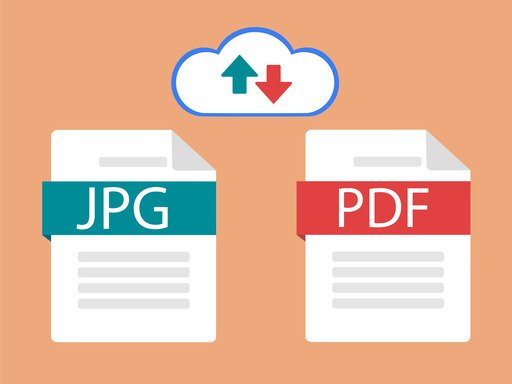 Most of us have probably encountered a situation when we weren't able to open a certain file on our device. Naturally, this can be a real problem — especially if you don't know what software to use to open the needed file. In this post, we will look into different file types and give you the steps for how to convert to a different file format.
Different file types are used for storing different data. This is done for efficient storage and presentation and makes it easy to identify what the file contains before you even open it. You may need a specific software to open a certain file type. And this is why you need to know how to change a file type so that you can open the file you need on your device (whether it is a phone, PC, tablet, etc.)
So, where do you start?
Define the File Type
The first step to take before you can convert from one file type to another is to define the file type you are dealing with. Here's how you can do that based on the system you use:
Windows 10
If you are a Windows user, finding out the file type is not really straightforward as the operating system conceals the file format by default. However, there is a way to get around that. Here's how to check a file extension in Windows 10:
Go to the Start menu and open File Explorer.
In File Explorer, navigate to the View tab and head to the Options menu.
The Folder Options dialog box will pop up. Switch to the View tab.
Find the option to hide extensions for known file types and uncheck it.
There you go — now you should be able to see all the file extensions in your system.
If you want to bypass this process, you can use specialized applications that can open pretty much any file type without any issues. The problem with that is that programs like these can sometimes apply automatic changes to the file that may compromise the integrity of its contents.
Mac
If you want to check a file extension on a Mac computer, you will also need to go through a number of steps — though, it's nothing particularly difficult.
Here's how to check a file extension on Mac:
Go to Finder.
Select Preferences.
Go to the Advanced tab: here, you will see different options that let you enable and disable the display of file extensions in your system.
Smartphone
Most smartphones have their own unique ways to convert files to other formats. A lot of phones use special compression techniques to save storage — and unpacking these types of files is often a rather complex process.
How to change the format of a file on Android smartphones? In a lot of cases, you can change the file format on your phone by simply changing the file name. You can use the phone's file explorer app, which will allow you to manipulate the files stored on your device. This can allow you to open certain files that you would not have been able to open otherwise — for instance, you may be able to play a video file as simply audio by changing the file's extension. However, this only works in some cases — in others, this may render the file unusable.
How to Play Different Video Formats?
Video files come in many different formats and often depend on the operating system you are using. For example, Windows and macOS used to have different video players and, thus, different video file formats — and this created lots of complications when it comes to sharing video files between the two operating systems. Nowadays, both operating systems have been equipped with video players that support multiple formats.
Earlier versions of Windows relied on the Windows Media Player, but in Windows 10, the program has been replaced with the more versatile Movies & TV app that supports a number of formats like MOV, AVI and MP4.
The macOS comes with a different default player — QuickTime player, which supports MOV, MPEG-4 and other formats.
If you are not satisfied with the options offered by the default players, you can use third-party solutions like VLC, a video player that supports most of the available video formats.
How to View Images in Different Formats?
Just like videos, images also come in many different formats. What's helpful is that there is a wide range of online tools that can help you convert image formats. If this is something that you have to do quite often, it may be wise to commit to a professional image converter tool and download it on your PC.
If not, you can simply use one of the many online tools available for converting image files without downloading anything on your computer. In this case, you will simply need to go to the converting program's website, select the format you want to convert from and to, upload your files, and give the online tool the go-ahead.
How to Play Different Audio Formats?
While there are lots of different audio formats, there are several that you will probably deal with most often. These include:
MP3 (one of the most popular audio formats because of its decent quality and manageable size).
MP4 (the file type is a comprehensive media extension that is capable of holding audio, video and other media. It is often mistakenly thought of as an improvement on MP3 or as a video file format — but, in fact, MP4 is a separate file format and is both an audio and video file format.
WAV (Waveform Audio File stores waveform data and is typically used on Windows).
WMA (Windows Media Audio is another Windows-based alternative to the more common MP3 file type. One of the best features of WMA files is lossless compression with the ability to retain high audio quality).
AAC (Advanced Audio Coding is an audio format capable of delivering high quality sound thanks to the advanced coding process. It is rarely used for music files but is quite popular in video gaming).
Just like with images, there are lots of free online tools that let you convert audio files into different formats. Some of these will also let you tinker with the audio quality of the files: make the sound clearer, louder, etc. Start by figuring out what audio format you are working with and change it into what you need.
How to Open Different Document Formats?
Some of the most popular document formats are Docx, PDF and XLS. This is because they come from some of the most used programs. One of the most common cases when document files need to be converted is when they are exchanged between different operating systems — like Windows and MacOS.
The great thing is that there are plenty of online tools that can help you avoid having to convert your documents from one format to another. For instance, Google Docs is a great platform for working with different document formats. You get to work with the file in your preferred format and then easily convert it before sending it out.
There you go — we hope you now have a better idea of how to change a file type, which will make your work with images, audio files and documents much easier. Finally, if you ever need to send a large file (like a video, photo album, game or app) over the web, there is also an online service that can make it easier. FileWhopper lets you transfer files of any size online without having to commit to a long-term subscription. You will just need to pay for the file that you want to send based on its size — and your first 5GB is free. Another great thing about FileWhopper is that the recipient of the files can start downloading as soon as the upload process begins — plus, you get to decide who pays for the transfer: the sender or the recipient.
Want to get the most out of your smartphone? Bookmark this page - we'll be collecting the best tips there.