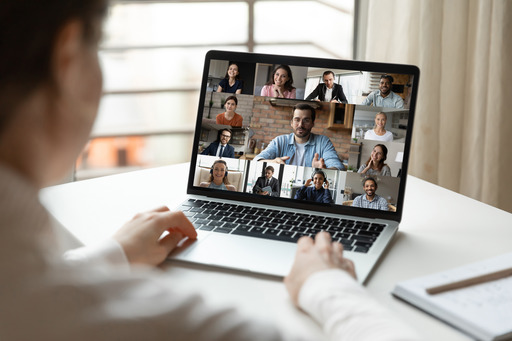 Zoom is a video conferencing platform that many started to use daily after switching to remote work. Although the number of Zoom alternatives is growing, many still prefer the platform because it offers some unique features. For instance, if the host of a large video conference wants to separate meeting participants for smaller, private group discussions, they can use an especially useful Zoom tool called Breakout Rooms.
If you haven't used this feature before, keep on reading to find out how to create and manage Zoom breakout rooms.
What Is a Breakout Room in Zoom?
The Breakout Rooms feature allows you to create up to 50 separate sessions at your Zoom meeting. You can split the participants manually or automatically and move them from one room to another at any time. The participants can still share the screen, audio or video or record the meeting when in a breakout room. The host can close the rooms and bring everyone back together to resume the whole group meeting.
Using different settings, the host can give more or less freedom to the participants. For example, they can be allowed to see the list of rooms and select the one they would like to join. In this case, the participants will also be able to enter and leave breakout rooms freely.
The Breakout Rooms feature is especially helpful for teachers who want to increase the students' engagement in online classes. Collaboration in smaller groups gives students a chance to speak more confidently and express their ideas freely, which at the same time decreases boredom.
Large business teams can also benefit from the feature as participants can discuss some issues together and then brainstorm possible solutions in smaller groups.
How to Create a Breakout Room in Zoom
Note: You can create breakout rooms only if you are using a Zoom desktop client. However, you can still join them via your mobile.
The first thing you need to do before creating breakout rooms is enable the feature from the Zoom desktop app:
Sign in to your Zoom account at zoom.us. Remember to sign in to the website, not the mobile app.
Click on "My Account" and then choose "Settings".
On the Meeting tab, scroll down to the Breakout Room option and enable it.
Now you can create breakout rooms in your Zoom call:
Log in to the Zoom app on your PC.
Schedule a meeting by clicking on "Schedule" or "New Meeting".
The Breakout Room icon is located in the bottom toolbar. You'll see it as soon as you start the meeting.
You can assign participants into rooms automatically or manually. Choose the desired setting.
If you go for "Automatically", you only need to choose the number of rooms and click the "Create Rooms" button.
If you want to assign participants manually, pick a participant from the list and assign them to a room. Even when the rooms are open, you can easily move a person from one room to another, navigating through the Breakout Rooms window.
How to Pre-Assign Participants to Zoom Breakout Rooms
If your group is not big, you'll probably choose to manually assign participants to breakout rooms during an active Zoom call.
But managing a bigger group can be time-consuming and challenging. In this case, the CSV file import feature will help you. Here is what you should do:
After signing in to the Zoom web page, click on the "Meeting" tab and schedule a meeting.
In the "Meeting Options" section, tick "Breakout Room Pre Assign" and choose "Import from CSV".
Download a sample CSV file on your computer and fill it in using Microsoft Excel or similar software.
You need to fill in the "Pre Assign Room Name" and "Email Address" columns with the information about your participants.
Save the file, drag and drop it onto the Zoom web page.
Note: The participants whose email addresses were entered must have a Zoom account.
How to Manage Breakout Rooms in Zoom
These simple tips will help you manage a Zoom breakout room effectively:
1. Click on the Breakout Room icon to open a dialogue box in which you can "Move", "Rename", "Delete" or "Reassign" the participants of the meeting from various breakout rooms.
2. The Options button will allow you to
close rooms after a certain amount of time;
grant the participants the right to share the screen, audio, and video and to record their session; and
set a timer to inform the participants of the time remaining in a room.
3. You can jump to a different room at any time. Note that the participants will see when you enter the room.
Bonus tip: mute your microphone and switch off your camera so as not to disturb the discussion.
4. In the case when a participant needs to get in contact with the host, they can click on "Ask for Help". The host will receive the notification pop-up in whichever room they are in and will be prompted to "Join Breakout Room".
5. If the number of participants and rooms is quite big, you may want to invite a co-host to coordinate the breakout sessions. The co-host will begin in the room they've been assigned to, but then they can enter and leave the rooms freely.
How Can One Send Files in Zoom?
Video conferences always involve sharing files with colleagues. After signing in to your Zoom account, you can easily share files in the chat and during a meeting. However, the maximum size of a file that you can send in Zoom is only 512MB.
If you need to transfer a bigger file or folder, try FileWhopper. It's a new online service that allows you to send huge files and folders quickly and securely. Here is why you will like it:
There's no paid monthly subscription: FileWhopper lets you transfer files and folders on a pay-as-you-go basis.
You can send files and folders of actually ANY size. The notorious FILE TOO BIG problem is solved.
Your transfer progress won't get lost. If an interruption occurs, the data transfer will pick up right from where it left off once the connection is back.
The service uses zero-knowledge encryption — and this means that no one (including the FileWhopper team) will have access to your data.
Give it a try! Your first 5GB transfer is FREE!