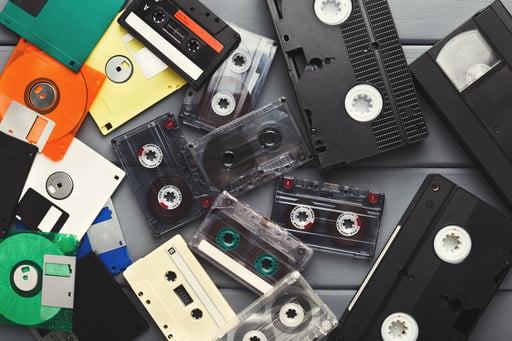 Old family photos and videos often come from a time before digital cameras and smartphones, but that does not make them less meaningful or valuable. Most of these important family memories are preserved on films, tapes, and discs, and even in still photographs. There's a good chance that you have a still picture of your grandfather in his World War II uniform or a video of your grandmother's first day of school, which you would like your children to have. The only way to ensure these cherished memories do not get lost or inadvertently destroyed is to digitize them.
How to Digitize Pictures
Get a Dedicated Scanner
If you are looking for a way to digitize thousands of photos, getting a scanner is a great first step. However, you should opt for a dedicated scanner that will produce high-quality scans, not one that is just a copier/printer. If you have several albums to scan, you can sort your photos by year, event, or person. Ask yourself what will work best for you and scan three photos at a time, leaving a gap between them. You should take the time to carefully clean the scanner surface with a microfiber cloth, as even tiny spots will show up on your scans.
You also need to modify the resolution, or DPI. 300 DPI is perfect if you want to share your photos on social media, but 600 DPI will give you better clarity if you want the photos reprinted. You can save your scans as JPEG or TIFF files. However, saving images in the TIFF format guarantees that every pixel of information is preserved without any loss in quality. JPEG compression will make your image occupy less memory, but it will also cause the photo to lose quality. Once the digitized images are saved on your hard disk, you can choose to back them up to the cloud or an external hard drive.
Use PhotoScan by Google Photos
If you would like to digitize your old photos without having to purchase a scanner, PhotoScan by Google Photos is another option. PhotoScan is available for both Android and iPhone devices and helps your digitized photos to arrive in near-original quality. You can scan photos directly from photo albums or frames instead of having to scan each photo separately. No matter the way you scan your photos, PhotoScan's smart rotation and automatic cropping features ensure that they come out right-side up.
How to Digitize Old Tapes
The simplest way to digitize old tapes is to take them to a store such as Costco for transferring to DVD. At Costco, you can have your video tapes converted from different formats—Betamax, Hi8, MiniDV, VHS/SVHS/VHS-C, and Micro/Mini—but only to DVD. The service includes two DVDs that are customized just for you, with personalized themes, chapters, and any custom music that you choose. However, if your tapes exceed the two-hour limit, your content will be split into two DVDs and you will be charged for two separate orders. Typically, the price starts at about $20 per DVD produced plus $10 per disc purchased.
How to Digitize Tapes at Home
If you prefer, you can purchase a VHS-to-DVD converter (between $49 to $500) and digitize your tapes yourself. Although the process is time-consuming, it is among the most straightforward ways to preserve old tapes. Your VHS tapes can be converted to DVD by capturing analog video directly from your camcorder or VCR and then burning it to DVD. It is also possible to convert to common digital formats so that you can share your video freely online or across devices. However, tapes are available in many formats, so be sure you have the right player for your tape collection.
How to Digitize Old Discs
Physical DVDs are not as convenient as digital files, which is why it can be a good idea to digitize them using a dedicated program called WinX DVD Ripper. With this software, you can rip DVDs and easily upload digital copies to the cloud in a matter of minutes. This way, not only will you save local storage space, but you will also be able to access all of your files from any device so long as you're connected to the internet.
WinX DVD Ripper can rip your DVD collections into a variety of file formats, including ISO image files, MP4, FLV, 3GP, MPEG, AVI, WMV, and other popular video formats. This platform uses multiple advanced technologies, like hardware acceleration, to optimize the ripping speed so that DVDs can be ripped in minutes. For those who want to digitize DVDs with WinX DVD Ripper, visit the tool's official website to download its Mac or Windows version.
Looking for the best paper digitizing software, we've got you covered!
Conclusion
When stored correctly, VHS tapes and DVDs can preserve your memories for years or even decades. But even if you store them under cool and dry conditions, they will deteriorate or become obsolete, which could lead to your memories being lost forever. The thing is, memories last a lifetime, but old tapes and discs aren't designed to last that long. While it might be a big task to digitize your old photographs, films, and tapes, it's always worth it to preserve those priceless family memories and milestones.
What's Next?
There are many cloud storage options, including Dropbox, OneDrive, Google Drive, and iCloud, that can help you keep your digitized library online. But if you want to send a large video or thousands of images to your loved ones right away, these services aren't the best solution.
FileWhopper lets you transfer videos and other media files of unlimited size (10GB, 100GB, and even 10TB) to anyone over a secure and fast connection. FileWhopper does not have access to any data you transfer through the platform. Your data stays protected in FileWhopper's servers for up to 14 days but will be automatically deleted once it has been downloaded by your recipient(s). For transfers of up to 5 GB, FileWhopper is free, but after that, you will need to pay a small one-time fee based on the size of the file or folder you want to send.
[fwa-calculator]