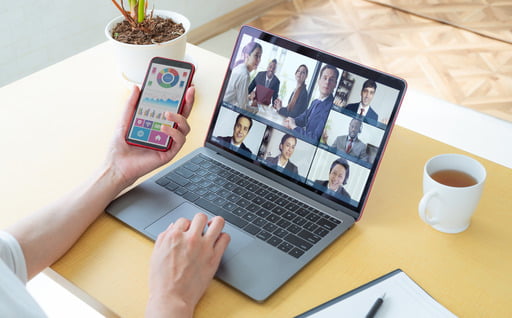 Google is one of the most forward-thinking tech companies of this age. Its constant efforts aimed at improving the lives of users and providing solutions to real-life problems are commendable. Google Meet is a great example here: this tech app allows users to connect and enjoy seamless meetings and conference calls from anywhere around the world, anytime.
The Google Meet app provides high security by encrypting all video meetings and recordings. It also provides the user with access to about three terabytes of cloud space, with the added advantage of being able to interact with over 300 people. Of course, the number of people you can communicate with depends on your subscription.
The Google Meet app has a user-friendly design that helps new users get the hang of the tool very quickly. It is important to note that it can be used on iOS, Android, Windows, and macOS devices. It supports browsers such as Chrome, Microsoft Edge, Mozilla Firefox, and Safari.
To start using Google Meet, you need to have a Google account or a G Suite account. It is noteworthy that for you to use a G Suite account, your device administrator must enable it first.
How to Start a Google Meet Video Meeting
Whether you are using an Android, Windows, macOS, or iOS device, here is a guide on how to start using Google Meet.
For Windows and macOS
If you are using a PC or Mac, follow these steps to set up a Google Meet video meeting on your device. Ensure that you use one of the compatible browsers mentioned previously.
Here are the instructions to follow:
Go to the Google Meet website.
Select either Start a Meeting or Join.
If a prompt comes up, type in your nickname (specifically for G Suite users).
Select the Join Now button.
If you wish to invite other users to your video meeting, go to the lower-left corner of your screen and click on Meeting Details. You will see a link that you can copy and share with the people you want to be part of your meeting. Another way to do this is to go to the top-right corner and click on Add People (this option appears as a person having a plus sign). Then you can select Invite and type in the person's email address.
For Android and iOS
The instructions below explain how to use Google Meet on Android. If you want to use Google Meet on iOS, this method will work for you too:
Go to Google Play Store or App Store and download the Google Meet app.
Now open the application and select New Meeting (it appears as a plus sign).
If you get a prompt, you should enter your nickname (specifically for G Suite users).
Tap on the Join Meeting option.
If you want to invite others to join your video meeting, select the Info button and then tap on Share. You can then choose how you want to send the meeting link to them.
How to Join a Google Meet Video Meeting
There is more than one way to join a video meeting on this app. Let's take a look at some of them.
From your Gmail
Go to the official Gmail website.
Go to the left side of the screen and select Join a Meeting.
Type in the nickname or meeting code that you received.
Select the Join button.
From your Google Calendar
First, you should open your Google Calendar.
Find the event and select it.
Now select the Join with Google Meet option.
Select Join Now.
From a URL or meeting link
Follow the meeting link that you received.
Patiently wait for the admin to admit you into the meeting.
From a telephone
Dial the phone number that you received.
When you receive a prompt to enter your PIN, type it in and then press the # button.
Google Meet Tips and Tricks You Should Know About
For users who are new to the app, below are some tips and tricks on how to get the most out of Google Meet.
Change the Video Layout
This option is only available on the PC version of Google Meet. You are allowed to control how you want to view the participants' windows or content. This is one of the best Google Meet tricks, which makes the usage of the app more interesting and rewarding. There are four different video layout modes available to users, as stated below:
Auto
Tiled
Spotlight
Sidebar
The video layout in Google Meet can be changed in 3 quick steps:
Click on the three vertical dots in the bottom right corner of the interface.
Select the Change Layout option.
Choose the video layout that you prefer.
Schedule Meetings and Invites
The life of the average professional worker is very busy, and it involves a lot of meetings. Scheduling meetings from Google Calendar can save you a lot of time. With this feature, time is no longer wasted on sending invitation links to each attendee.
Below are quick steps to schedule conferences and invites:
Go to the Google Meet homepage and click on New Meeting.
Select Schedule meeting in Google Calendar.
Enter important details for your meeting, such as Date, Time, Topic, Number of Participants, etc.
Enable Live Captions
Where words fail, pictures and videos can be used to convey the message. With the option of turning on live captions, you no longer need to miss salient points that are difficult to interpret. All you need to know about turning on live captions in Google Meet can be seen in the steps below:
Firstly, join a meeting on the Google Meet application.
Search for the Turn on live captions button located at the bottom of the Google Meet interface and click on it.
Record Your Meetings
We all know that it can be difficult to recall all the information and highlights of a past meeting. The recording feature on Google Meet is a very welcome development. Below are the steps you can take to record meetings on Google Meet:
During the meeting, click on the three vertical dots on the lower right side of the interface.
Choose the Record Meeting option, after which the meeting will be recorded and saved to your Google Drive.
Make the Most of Screen Sharing
Screen sharing during discussions creates a better understanding between speakers and participants. It also helps to make meetings more interesting, as important points get visualized. Here is how you can share your screen in Google Meet:
While in a meeting, click once on the Present screen option located in the bottom right corner.
The Entire screen or Window are the two options that will appear. It is up to you to choose the one preferable to you and your participants.
Use Google Meet Keyboard Shortcuts to Save Time
The time used to navigate Google Meet is cut short by using Google Meet shortcuts. Here are these necessary shortcuts:
Mute / unmute mic: Ctrl  + d
Turn camera on /off: Ctrl + e
Hide/ show chat: Ctrl + Alt + c
Hide / show participants: Ctrl + Alt + c
Google Meet help: Ctrl + /
Join Meetings via Phone Calls
Google Meet allows you to join a meeting through a phone call if your phone number is in Google's list of supported countries. The steps for joining a meeting through a phone call are as follows:
Dial the number assigned to the meeting and enter the meeting's PIN and #.
Alternatively, tap on the phone number from Google Meet or Calendar.
How to Share Large Files and Folders Over the Internet
While the Google Meet app is a great tool for holding conversations with friends and colleagues, it has its limitations. For one thing, when it comes to sharing large files, it cannot help you. So, imagine a scenario where you want to share a 100GB work file during a meeting. What do you do?
FileWhopper is the answer! This is a cloud-based platform that allows you to send any file or folder you want with absolutely no size limits! The great part about this tool is that it sends heavy files at amazing speeds as long as you have a good internet connection. Transfer speeds are not throttled, unlike with many other data transfer applications. The recipient(s) can also begin downloading what you are sending while you are still uploading it. They don't have to wait for the upload to be totally complete. This is a great advantage, and it saves time.
FileWhopper has another great feature that makes it a favorite among users: it does not require you to subscribe. That's right! You can use the tool without paying ridiculous weekly or monthly subscription fees. You simply pay for the file size that you want to send, and no extra charges are imposed on you.
[fwa-calculator]
Security is also an important feature of this tool. Your files are encrypted and password-protected during the transfer process. This ensures that hackers and unauthorized third-parties don't gain access to your data.
This tool also preserves the integrity of your data. Since you can send your files in their original format, you don't need to compress them and reduce their quality. You can use this awesome platform during your meetings or whenever and wherever you like to share data.
Conclusion
Google Meet is an amazing tool for staying in touch with your colleagues, friends, and family, no matter their location. This article provides you with the information you need to enjoy the app.