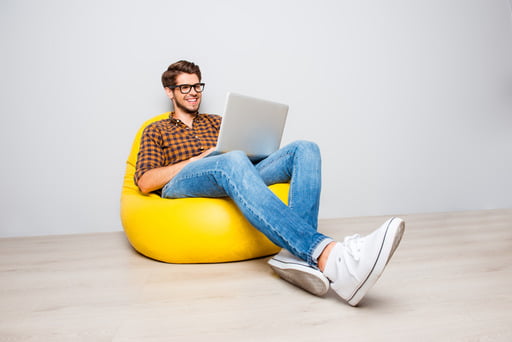 Is your laptop or desktop running slow? Has it been throwing the "Insufficient Memory" pop-up notification? If so, your computer might be using more Random Access Memory (RAM) resources than is available. You see, RAM is responsible for your PC's performance. The bigger the RAM, the faster your machine and the more programs will run simultaneously.
If you're tired of the slow performance, and are thinking of purchasing another RAM stick, hold that thought for a second. First off, upgrading your RAM is not cheap. Plus, some types of budget laptops cannot be upgraded. Secondly, did you know that you can increase RAM on your Windows 10 computer without buying it?
In this post, we look at some of the best ways to free up RAM on a Windows 10 PC, saving you the expense of buying an additional RAM stick.
How to Increase RAM in Windows 10
Basic Steps:
Method 1: Restart Your Computer
Restarting your PC is probably one of the easiest ways to free up your RAM. If you hibernate your laptop most of the time instead of shutting it down, there could be multiple background programs running that you don't even know about. A simple restart could clear up RAM and boost your PC's performance.
While this method won't increase your RAM, it clears the cache and is likely to resolve several computer issues that might be affecting performance.
Method 2: Close All Unnecessary Applications
If you have several applications running, they could be using up too much memory, hence slowing your computer down. Applications like Adobe and Google Chrome are, particularly notorious resource hogs.
The best way to check for programs that are siphoning your PC's memory is via Windows Task Manager. To access this useful tool, press the Ctrl + Shift + Esc keyboard shortcut. Under the Processes category, check the Memory column and identify applications that are registering abnormally high usage. Once you do, right-click them one by one, and select End Task.
Method 3: Disable Startup Programs That You Don't Use
From the first time you acquired your computer, you must have downloaded and installed dozens of programs. It's possible that you forgot about some of these programs, and they are only taking up valuable space and memory.
To check the startup programs on your computer, follow the steps below:
Launch Task Manager using the Ctrl + Shift + Esc keyboard shortcut, and move to the Startup tab to check programs that have been enabled.
Identify programs that you rarely use, and check whether they have a low, medium, or high impact on your computer's boot time.
Right-click on each program and select Disable. Repeat the process for all the programs that you don't need.
Advanced Steps:
Method 4: Try ReadyBoost
If you haven't heard about it, ReadyBoost is a Windows feature that caches files frequently used by your computer. The program uses the memory found in USB storage or any other external memory device as an extension to your PC's overall system.
The feature was mainly designed to increase a device's performance, eliminating the need to buy an additional RAM. However, ReadyBoost only works if you're still using the traditional hard disk drives (HDD). To increase RAM using ReadyBoost, follow these steps:
Insert the USB flash drive or SD card that you intend to use to boost your RAM.
Launch File Explorer by clicking on the folder icon on your taskbar. A quicker way to open File Explorer is to click on the Windows Key and E simultaneously.
Click on This PC, right-click on your external storage device, and select Properties.
Once you get to your device's properties window, click on the ReadyBoost tab.
After the system completes setting up the device, select the options you want to use, and click on OK > Apply.
Keep in mind that while ReadyBoost may offer a slight gain in your computer's performance, it can't match the actual speed of adding more RAM. It's also worth noting that ReadyBoost can only be activated if you use USB flash drives or SD cards that meet the requirements. ReadyBoost requirements include:
The USB drive must have a transfer rate of at least 3.5 Mbps and read speeds of at least 2.5 Mbps.
The USB Flash drive or SD card must use NTFS format.
The minimum free space of the USB drive/SD card is 1 GB.
The maximum free space of the USB drive/SD card is 32 GB.
Additionally, the SuperFetch service, which is also known as SysMain on Windows 10 version 1809 and later, should be running for this process to be successful. To check whether the service is running:
Run the Services window. To do so, press the Win + R shortcut keys, type in "services.msc" (no quotes) in the Run dialog box, and press Enter.
Locate the SuperFetch or SysMain service, and check if it's running. If not, double-click on it and select Start. Be sure to set it to start Automatically.
Method 5: Adjust Virtual Memory
Another method to increase RAM without buying a RAM stick is to adjust the Virtual Memory, also known as the paging file. If you use up the RAM available on your machine, the system starts utilizing virtual memory, which provides a temporary expansion.
According to Microsoft, you should set the virtual memory no less than one and a half times to three times the amount of RAM on your PC. Typically, the system does a good job of managing the paging file size. However, if your PC starts to slow down or you get a "Your system is low on virtual memory" notification, you may need to manually increase the default virtual memory values.
Here's how:
Go to your Start menu and click the gear icon to launch the Settings app.
On the Settings window, select System > About.
You should see the System Info link under Related Settings. Click on it to open the System window in Control Panel.
From here, click on the "Advanced system settings" link on the left pane, and open the Advanced tab.
Check under the Performance section for the Setting button. Click on it, and select Advanced.
Under the section labeled Virtual memory, select the Change button and deselect the "Automatically manage paging file size for all drives" checkbox.
Enable the Custom Size option and set the initial and maximum size for the paging file.
Tip: For Initial Size, use a value that's one and a half times that of the total available memory and three times that of available memory for Maximum Size.
8. Once you're done, click Set > OK.
9. Click OK again and restart your system to effect the changes.
After the restart, you should notice an increase in performance. If for some reason you want to undo these changes, follow the instructions above. However, on Step 6, select the "Automatically manage paging file size for all drives" checkbox.
Now, you know how to increase RAM without purchasing another RAM stick. Do you have a file or folder that you want to share with your friends or family and haven't found the best way to do it? Well, you're in luck. FileWhopper is a no-frills, no-fuss file sharing app that allows you to transfer files or folders of unlimited size.
The app doesn't even require installation on your PC. It's fast, safe and, you guessed it—cost-effective! You only pay for what you're transferring. There are no monthly subscriptions and no delays. Your file is encrypted, and the transfer is protected by a unique password that only you and your recipient(s) know.
Transferring large files online doesn't have to be stressful anymore. Try FileWhopper today—you'll regret not knowing about it earlier!