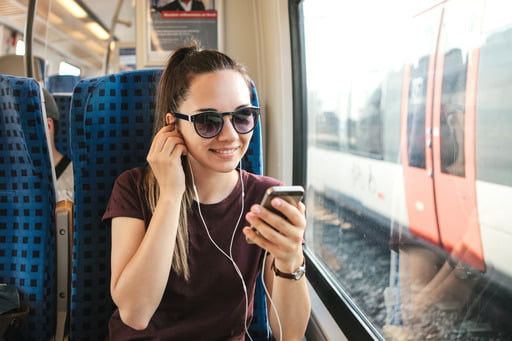 iPhones generally have pretty good sound. However, occasionally, when you are listening to music, watching a video or having a chat with someone, turning your volume to the max may not prove enough. This is especially true if you are in a noisy environment with lots of background noise and your phone's default max volume simply isn't up to the task. So, you may start to wonder, "Why is my iPhone volume so low?"
In fact, as we've mentioned above, this has probably more to do with the environment you are in. When it comes to sound volume, iPhones rank pretty well compared to other devices. According to Cashify, iPhone 12 Pro is the third loudest phone on the market — right after Samsung Galaxy S21 Ultra and the gaming phone Asus ROG Phone 5.
But what if it's still not enough? How to make the iPhone speaker louder?
This is what we are looking into today. In this post, we are exploring several simple ways to make your iPhone sound louder.
How to Make the Sound Louder on Your iPhone
As we've mentioned above, there are several situations when you might want your phone to sound louder than the default volume settings allow. In this case, it is definitely handy to have a pair of Bluetooth speakers around. There are lots of speaker options for iPhones — from budget options, like JBL Charge 5, to premium models, like the Sonos Move.
However, you may not always have a Bluetooth speaker within reach. So, is there a way to boost sound on an iPhone without using external devices? The answer to this question is yes — and in most cases, a few settings tweaks and the right positioning for your phone are all it will take.
First, make sure your phone is not in Silent mode — in which case you won't be able to hear any sound at all. To check whether your iPhone is in Silent mode, check the switch on the side of the phone. Move it to a position where you don't see the orange line — this means that your phone is no longer in Silent mode. Another thing to check before you get started with the tweaks below is your phone speaker itself — make sure it's clean and free of dust and dirt.
Now that these issues are out of the way, it's time to boost the volume on your iPhone.
How to Boost the Volume on iPhone: Tweak Your Equalizer Settings
iPhones come with a limited equalizer (EQ), and it affects the way your Music app works. By default, you will find this setting turned off on your phone. However, if you enable the option titled Late Night, you will notice that the sound on your phone will get substantially louder. Here's why: with the Late Night option on, the sound coming from your Music app is "normalized" with quieter parts of getting a volume boost. The overall effect is that the whole audio sounds louder as a result, especially when the volume is set to the max.
Here's how to adjust the EQ settings on your iPhone to make the sound louder:
(Note that this method will only work with audio that you are listening to via the Music app. It will work for both your iPhone's speaker and headphones).
Go to the Settings app on your iPhone.
Scroll down through Settings till you locate Music and tap it.
Find and tap EQ — you will see it in the Audio section.
Go down the list and select the Late Night option.
Try playing some audio via the Music app and check if you can hear the difference. You may even want to try turning the feature on and off a few times to see if you can spot the difference in sound.
How to Boost the Volume on iPhone: Don't Minimize Loud Sounds
Your iPhone has a built-in feature that has been designed to protect your hearing: it reduces loud sounds. If you turn this feature off, you will be able to set your headphone audio to its absolute maximum. Before you proceed to do so, however, make sure you are very careful about listening to audio at very high volume levels — doing this for a prolonged period of time can have a detrimental effect on your hearing.
Here are the steps to take to turn off the Reduce Loud Sounds feature on your iPhone:
Go to your iPhone's Settings app.
Scroll down to Sounds & Haptics.
Here, open Headphone Audio.
Under Headphone Audio, tap Headphone Safety.
Here, select Reduce Loud Sounds.
How to Boost the Volume on iPhone: Increase the Volume in Spotify
We've already looked into what you can do to boost the volume on your iPhone when using the Music app. Quite similarly, you can also increase your audio volume via Spotify if you are a Premium subscriber.
Here's how to boost the volume on your iPhone via Spotify:
Open your Spotify app.
Go to the Home tab.
In the top right corner, select Settings.
Scroll down till you find Playback.
Right next to the Volume level, tap the Loud option to boost the volume.
How to Boost the Volume on iPhone: Place Your Phone in a Bowl or Glass
In addition to making a few adjustments in your phone's settings, there are a few "tangible" things you can do to boost the volume on your iPhone.
One of the simplest tricks here is to put your phone in a bowl or glass — basically, anything that is curved and open at the top. Make sure your iPhone's speakers (located at the bottom of the phone) are facing downwards. This way, the sound waves will bounce off from the sides of the glass or bowl and into the air.
If you don't have a glass or bowl by your side, try placing your iPhone flat: make sure the speaker is a few inches from a wall at a 45-degree angle.
How to Boost the Volume on iPhone: Make Sure Your Phone's Speakers Aren't Covered
As you are listening to audio on your phone, make sure to keep the speakers open and don't cover them with your hands or other items so that the sound doesn't come out muffled. If you need to hold the phone, try cupping your hands around either end of the phone to make sure the sound goes right into your ears. You can also turn your iPhone upside down so that the speakers are at the top of the device. You can also prop it to make sure it stays in the right position.
And these are all the tweaks we have for you today. We hope that the tips above have been helpful and you've managed to get more sound out of your iPhone for music and other audio.
If the volume you've managed to get to is still not enough, we suggest going back to the external speaker idea. This is a sure way of getting more volume out of your phone no matter how noisy the background environment may be.
Now, when dealing with music and other media files, there is another issue you may run into. At some point, you may want to send over an audio or video file online — and you may learn that it's not that easy to find a platform that can help you do that.
Media files tend to be quite large. Most file sharing services, however, have a limit of how big of a file you can transfer. For instance, with Gmail, you can only send a 25MB file maximum — and that's it. When it comes to cloud storage platforms, they will let you store and share bigger files, but it all depends on how much you are willing to pay for a subscription fee.
This is why we feel like FileWhopper may be a better solution for transferring media files over the web.
First, FileWhopper lets you send over files and folders of any size. And we mean ANY. You can easily transfer a 10TB media folder — and your files will get to their destination quickly and without any extra effort on your side.
Second, FileWhopper is not subscription-based. This means that the service won't ask you to make a long-term financial commitment. Instead, it's 100% pay as you go. When using FileWhopper, you will only need to pay for the file or folder you are transferring based on its size. Once you upload your file or folder, you will see your transfer fee estimate. This is a one-time payment, and you won't have to subscribe to FileWhopper. What's more, you can choose who pays for your transfer. You can do it yourself or ask the recipient of your data to make the payment.
Another thing that makes FileWhopper stand out among file sharing services is that it uses zero-knowledge encryption, which is the most advanced form of data protection today. FileWhopper doesn't store the decryption keys on its servers, and no one (including the FileWhopper team) will have access to your data until you provide them with the corresponding password.
If there is a connection failure (or another technical issue) during your file transfer, you won't have to start from scratch — which is especially important if you are sending over a large file or folder. If your transfer gets interrupted, it will simply pause until the connection is restored and then resume from where it left off.
Another great time-saving feature of FileWhopper is that the recipient of your file or folder can start the download as soon as you begin to upload the item on your side. They won't have to wait until you fully upload it, and this can be a great time saver for both sides.
All you need to use FileWhopper is the service's tiny app, which will auto-delete once its job is done. The learning curve with the software is absolutely minimal, and you will get the hang of it all in seconds. Just in case, there are clear step-by-step instructions on FileWhopper's homepage to take you through every step of the process.
Taking all of this into account, FileWhopper does seem like a great way to transfer large files and folders online. There is no subscription, it's easy to use, and it employs an advanced security protocol. However, the best thing about it is that you don't have to trust online reviews. You can simply go to FileWhopper.com and try it out for yourself. As a new user, your first 5GB transfer is absolutely free.