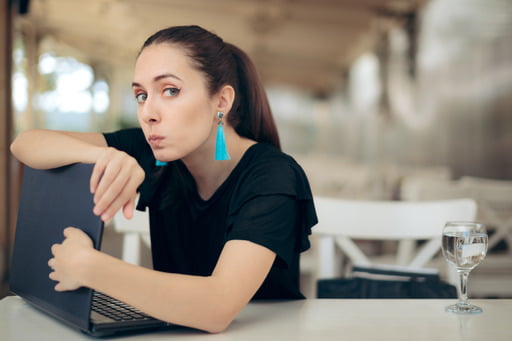 When you fail to be security conscious on the internet, you make it all too easy for hackers to spy on your activities or steal your data. That is why there are many scam and spam email stories where cybercriminals succeed in fooling the user into believing their webcam has been hacked.
Nonetheless, if you receive a suspicious email and click a malicious link inside the email, you might unknowingly download a RAT (Remote Access Tool). Another way people ignorantly install RATs is by downloading software from unauthorized and unrecognized sources. A RAT is a malware program that gives an attacker administrative access to your computer. As a result, they can turn on/off your device, access your files, and even control your webcam.
Furthermore, all the websites, apps, and extensions that are privileged enough might, in fact, have remote access to your webcam, which is why you need to be careful when granting permissions on your PC. If you want to know how to protect your webcam from being hacked, we have got you covered. In this article, you will find six solid tips that will help you secure your webcam from hackers in 2021 and beyond.
6 Tips for Preventing a Webcam Hack
Don't Click on Strange Links or Open Suspicious Attachments
One of the easiest ways for hackers to trick you into downloading malware is by using malicious links. For example, phishing emails can appear to come from a trusted source, but they are designed to manipulate you into clicking malicious links or downloading malicious attachments.
Another way that malicious links are shared is through social media sites. Some hackers now use social media to trick users into clicking shortened links that lead not to the desired destination but to a malware distribution site. You could infect your device with webcam-related malware by clicking on these kinds of links, thereby giving attackers direct access to your webcam.
Cover Up Your Webcam
Webcams typically have an indicator light that switches on when they are capturing video. In that case, if your webcam notification light comes on by itself, it could indicate that someone is accessing your webcam remotely. However, most webcam spyware is embedded with malicious code that makes it easy to disable this light and modify system configuration settings. This means that hackers can turn off the notification light and record videos using your webcam without you knowing it or giving them explicit permission to do so. The most common anti-hack measures are using black tape to cover your webcam and making sure your computer is off when not in use. However, your best bet is to keep your eyes open for weird changes on your computer, such as your programs launching themselves, your browser visiting sites automatically, or your files being moved around.
Keep Your Operating System Up to Date
Whatever OS you use, be it Windows, macOS, Android, or iOS, you need to make sure that it is up to date. Operating systems contain features that become outdated over time, which is why their providers release software updates from time to time. The thing is, if these updates aren't installed on time, hackers can exploit the loopholes in your outdated operating system in order to get into your computer and take control of your webcam.
Here's how to update your Windows 10 PC:
Select the Start button in the bottom left corner of your screen.
In the left pane, scroll down and click on the Settings option.
In the Settings window, click on Update & security.
In the left pane, click on Windows Update.
In the right pane, click on Check for updates and install the available updates.
Make Sure Your Firmware Is Up to Date
Your webcam is no different than any other hardware device in that it is controlled by application-based firmware. Firmware is a set of instructions needed for devices to perform the specific tasks for which they were designed. Manufacturers provide regular firmware updates because, as is the case with your operating system, hackers can gain access to your webcam by exploiting vulnerabilities in outdated firmware. Therefore, if your webcam is not receiving regular firmware updates, you should visit the official website of your webcam manufacturer to find, download and install the latest updates.
Use a VPN
A good way to protect your webcam from being hacked is by using a high-quality VPN. VPNs protect your online privacy by setting up a secure private connection. For example, using a VPN helps protect your data when you are connected to a public network. As a result, hackers are blocked from accessing your PC since there is no connection between your computer and their device. There are dozens of great VPNs on the market, such as NordVPN, CyberGhost, ExpressVPN, and many others.
Scan Your PC for Webcam-Related Malware
If you want to keep your webcam secure, it's recommended that you scan your computer for webcam-related malware. However, webcam-related malware can evade your regular Windows Defender scan. You can use Auslogics Anti-Malware, a malware detection tool that is recognized by leading industry experts and used by millions of Windows users.
Auslogics Anti-Malware lets you perform
quick scans to analyze important areas where threats can be found in your system,
deep scans to check your entire system for suspicious and malicious items, and
custom scans to check specific folders and files.
Conclusion
Webcam hacks can cause so much pain and frustration. That is why we have compiled a list of ways to protect your webcam from hacking.
Are there any other ways to protect webcams from being hacked? Feel free to mention them below.
If you need to send large amounts of data over the internet, you should check out FileWhopper. This tool makes it easy to transfer files and folders of any size. Unlike cloud storage platforms, it does not require you to pay for server space or subscription packages. Your first transfer of up to 5GB is free, and after that, you pay a one-time fee based on the size of the file or folder you intend to send.