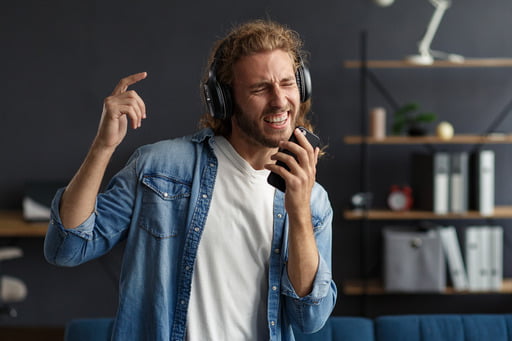 So, you are watching a YouTube video and you hear a really nice tune playing in the background. You try to listen closely and then go on to search the web to find this song so you can download it. However, you may end up facing the cold harsh reality of the web: this song is not available.
So, how do you find the track you like? Or is there an app to record audio from YouTube? This is what today's post is about.
Below, we suggest several ways to record sound from YouTube videos.
How to Record Audio from YouTube Easily
So, how to record audio from YouTube for free? There are actually quite a few methods that you can try out. In this post, we will give you the steps for these six methods:
Recording YouTube Music and Videos with VideoProc Converter
Recording YouTube audio with EaseUS RecExperts
Recording YouTube audio with Audacity
Getting audio from YouTube with Online Video Converter
Capturing YouTube audio with Free Sound Recorder
Downloading a YouTube video and then converting it to MP3
So, let's get started.
Option 1: Record YouTube Music and Videos with VideoProc Converter
Whether you want to record a live stream and watch it later or download a video from YouTube, a great tool to do so is VideoProc Converter. Compared to other audio and video downloading options, VideoProc Converter lets you download media faster and in original resolution. Just follow these simple steps and enjoy downloaded YouTube audio and video files:
Click the "Downloader" icon on the main interface.
Click "Add music" or "Add video" depending on what you want to download.
Copy the URL of the audio or video you want to download, then click "Paste URL & Analyze".
Select a format/resolution from the list and click "Download Selected Videos".
Click "Download Now" to start the download.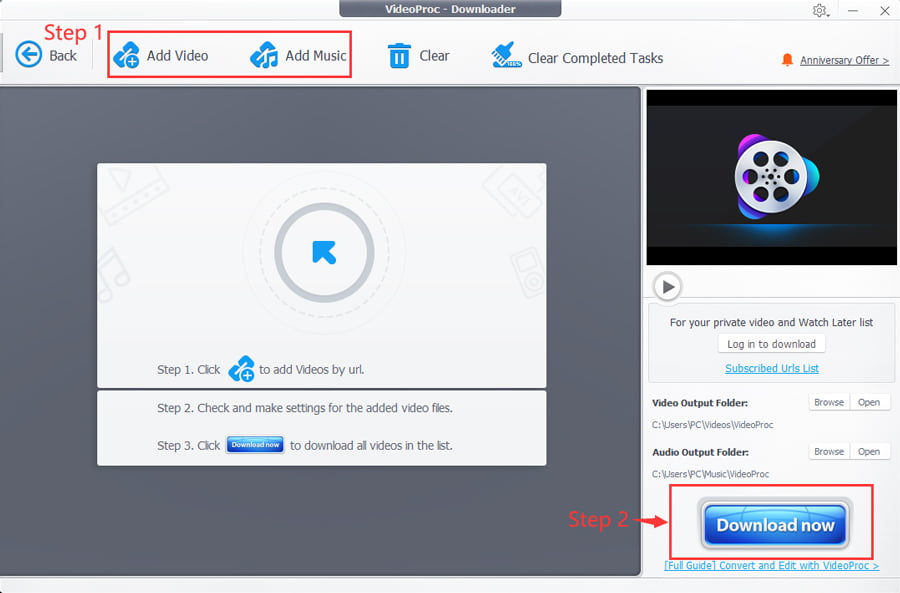 Or You can click "Start Recording" to record and download a live stream. If you need to schedule the recording at a future time, configure the "Start time" and the "Duration" options, and then click "Order Recording".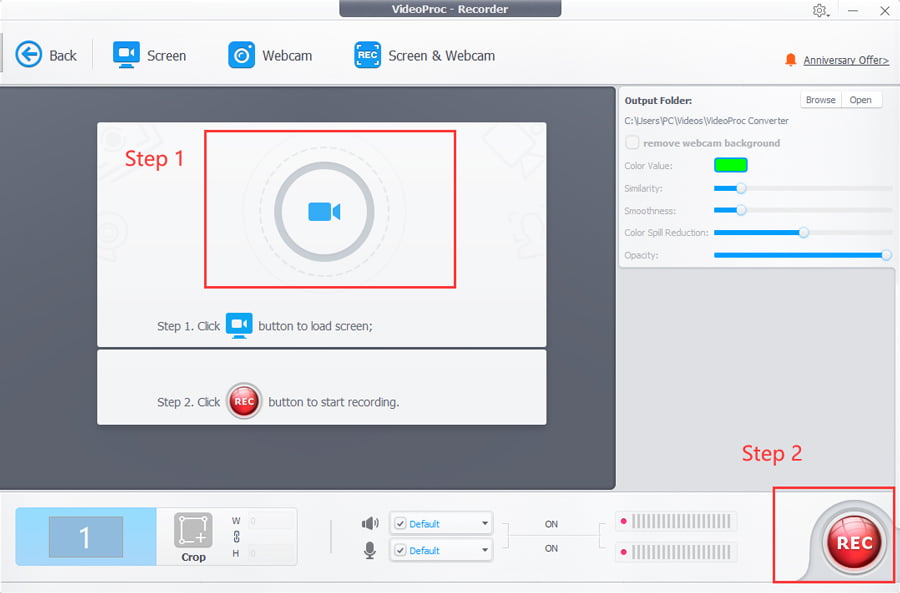 Note: After you have downloaded a YouTube video, you can convert it to another format, add effects, subtitles, and a watermark or use the extensive VideoProc toolbox to edit it.
Do you need to share audio and video content?
The best way to do so is by simply transferring it online. In this case, you may need a reliable tool to send large files over the Internet.
FileWhopper can be such a tool. With it, you can transfer files and folders of any size online (no limits) — and you can do so without committing to a subscription. You will simply need to pay for the file or folder you want to transfer based solely on its size.
While there are lots of ways to store and exchange data online (like cloud storage services), most of these options come with file size limitations and also require their users to commit to a paid subscription. The problem with this is that you may end up needing to send a file that is much larger than what is "allowed" on your subscription plan. Or, you may simply need to make one file transfer and not want to commit to anything long-term. The absence of file size limits and long-term financial commitments is what makes FileWhopper stand out.
To sum up, here are the program's key features that we are most proud of:
You can transfer files and folders of any size, including video, photo albums, movies, and even software.
FileWhopper is a pay-as-you-go app, meaning there are no long-term subscriptions involved. You just pay for the file or folder you want to send based on its size.
There is no bulky software to download to make a file transfer. All FileWhopper needs is a tiny app that will auto-delete once the upload is finished.
FileWhopper won't shorten the link to the file or folder you are sending. This matters because it will allow the recipient of the data to see that the transfer is coming directly from FileWhopper and, thus, eliminate the risk of falling victim to phishing or malware. Plus, the program uses zero-knowledge encryption to keep your data safe.
With FileWhopper, there is no need to worry about connection or other computer issues messing up your transfer. If a force majeure event (like a poor internet signal or power outage) occurs, FileWhopper will automatically pause and then resume the transfer process without any risk to your data.
FileWhopper transfers are quick and efficient. The recipient of your file or folder can start downloading it as soon as you start uploading it on your side — there is no need to wait for the upload to be complete.
FileWhopper is a very straightforward service, and it doesn't bug you with extra functionality that most users won't need. However, useful extra features are available on demand: for instance, for an additional fee, you can send your file or folder to multiple recipients (up to 6) at once.
Above all, FileWhopper offers a coupon for your second transfer. With it, you can send up to 5TB with a 50% discount. So, test the service and see if it's a good fit for your needs..
[fwa-calculator]
Option 2: Record YouTube Audio With EaseUS RecExperts
EaseUS RecExperts is a YouTube audio recorder that is very popular with users. The program lets you record sound from YouTube in just a few clicks. Once you've made your recording, you can save the audio in MP3 or AAC format or upload it directly to social media.
In addition to being an audio recorder, EaseUS RecExperts is also a screen recorder. Plus, it comes with a nice set of useful features:
It lets you remove background noise to boost audio.
You can save your audio in multiple formats.
You can make recordings from Instagram, internet radio and more.
There is an option to schedule your recordings to start automatically.
Here's how to record YouTube audio using EaseUS RecExperts for Windows:
Open the video that you want to record audio from.
Launch the EaseUS RecExperts program.
By default, your selections of source audio will be System and Mic options.
Switch to System sound.
Next, click the big red Rec button to start your recording.
By default, you will be given 3 seconds to prepare your audio.
Once you've recorded what you wanted with the app, click the Stop button.
Your recorded audio will appear on your video list.
If, for any reason, this method hasn't worked for you, try out the next solution.
Option 3: Record YouTube Audio With Audacity
Audacity is a simple and efficient multi-track audio recorder and editor that works on Windows, macOS and Linux. The app can record streaming audio via a microphone or mixer or digitize recordings from other media. Here's how to record YouTube audio with Audacity:
Launch the app and go to Edit > Preferences from the top menu.
Under Devices, click Recording.
Go to Stereo Mix.
If you don't see this option, do the following:
Navigate to the Control Panel.
Go to Hardware and sound > Sound > Recording.
Right-click an empty space on your screen.
From the context menu, select Show Disabled Devices.
You should now see the Stereo Mix option on the list.
Right-click this option and select Enable.
Note:
If you still can't see the Stereo Mix option, it could be because your PC has an integrated sound card. The Stereo Mix option is not available with built-in sound cards, and you won't be able to download streaming audio from a YouTube video. If this is the case, simply try another solution from our list.
Next, go on to open your YouTube video and press the Record button.
When the recording is done, click Stop.
You can now export and save your file in MP3 format.
Option 4: Get Audio From YouTube With Online Video Converter
If you don't want to download any extra software on your PC, you can try using an online YouTube audio recorder. It's very easy to do and doesn't require any deep technical knowledge.
There are several websites that offer online audio recording, and Online Video Converter is one of them. It's a free tool that lets you record YouTube audio in decent quality.
Here's how to record YouTube audio with Online Video Converter:
Open YouTube.
Copy the URL of the video you need.
Go to Online Video Converter.
Paste the link you have copied into the text field at the top of the page.
Below the text field, check that mp3 is selected in the Format drop-down list.
Click Start.
When the process completes, you will be able to download your audio.
Click Download to save your video as an MP3 audio file.
If this hasn't worked, try using a different tool — like Free Sound Recorder.
Option 5: Record Music From YouTube With Free Sound Recorder
Free Sound Recorder is a simple way to capture audio. With it, you can record music from any online music websites, including YouTube.
Here's how to record audio from YouTube with Free Sound Recorder:
Open Free Sound Recorder.
Press the Record button.
Go to the Show mixer window.
Under Recording Mixer, select the sound source you want to record.
Next, in the Recording Device drop-down menu, select Stereo Mix.
Adjust the volume and balance.
Navigate to Options > General Settings to select an output format.
Next, play the YouTube video you want to record.
Press the Start recording button.
Once the recording is complete, you can stop it and export your file together with the information on the artist and the song.
Finally, if none of the above methods have been helpful, you can try downloading a YouTube video as it is first and then converting it to MP3 or a different audio format. We will tell you how to do it right below.
Option 6: Download a YouTube Video and Convert It to MP3
There is another way to get songs from YouTube — and it involves simply downloading your YouTube video as it is and then converting it to an audio format. In order to do this, you will first need to download the video using one of the many apps that can do that for free — like YouTube Downloader.
Once you've downloaded the video, you can convert it to your preferred audio format using a free converter tool.
And there you go — we hope you've been able to download the audio you need using one of our suggestions above.