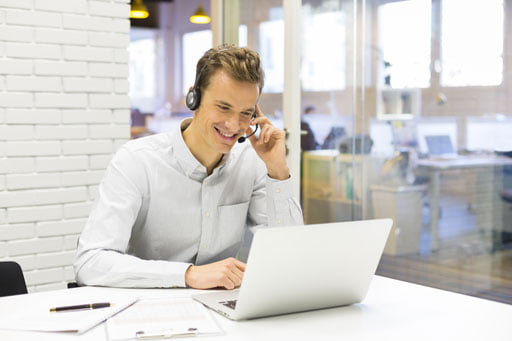 Skype is useful for all those virtual meetings and class sessions, even more so in this era of remote work and social distancing. If you find that you struggle to keep up with taking down notes on paper, then you need a way to record Skype calls. It is an excellent alternative to help you focus on the discussion while the video conference is taking place. You can easily revisit the recorded file if you need to go over what was taught or said.
Whether it is a personal or professional Skype call, a screen recording tool like Clipchamp makes it convenient to revisit the video and rewatch vital areas directly from your computer.  The purpose of this article is to show you how to save a Skype call recording. However, if you are interested in knowing how to record Skype calls without the other person knowing, keep in mind that this might be illegal. Therefore, be sure to check the local law in your area concerning saving a video call without the other party's consent.
In this guide, we will assume that you have already installed the latest version of Skype on your PC. If you are still operating on an older one, you can update the app on the official Skype website before we commence.
How to Use Skype's Built-In Recording Feature
While there are several third-party apps that allow you to record Skype calls, you might not want to download them. These extra apps take up storage space. Besides, you might not be interested in learning how to use them because some have complicated functions.
Therefore, it is quite convenient that Skype comes with a built-in recording function, making it easier to save videos straight from the app. It also saves you the stress of struggling to understand the technicalities of a new app.
So, these are the steps on how to record Skype calls on a Windows computer:
Step 1:
Start a Skype call with a friend or colleague. It does not matter whether it is a video or audio call. If you have a contact list, you can easily choose the person you want to call from there – as long as you have the right sync settings. Syncing ensures that your saved contacts are added to Skype, making it easier to place a call from within the app. This works for both Skype for Business and Skype.
Step 2:
Once the call connects, go to the More icon located in the bottom-right corner of the window and choose Start Recording.
At this point, you will see a message at the top of the screen reminding you that you are recording the call. In addition, every other party on the call receives a banner notification letting each of them know that they are being recorded. The built-in recorder will capture all Skype audio/video streams. It does not matter how many people are on the call.
Step 3:
When you are done recording, you can either hang up the call or go to the More icon, click it, and then select Stop Recording. Skype will then finalize the recording and process it.
Step 4:
At the end of the call session, Skype will automatically take you to the chat screen to continue your conversation. You will find your file there once it has been processed. You can click on the video or audio recording to play it back.
To save the recording to your computer, hover your mouse over the file to reveal the More Options icon (it appears as three vertical dots). Click on the icon to bring up a pop-up menu and then select the Save option. Skype will transfer a copy of the recording to the Downloads folder on your Windows PC.
Here are a few things you should know:
· Skype's in-app recording tool will record the video and audio of the participants to the same file.
· This feature records Skype-to-Skype calls only. It does not work for other conferencing apps.
· Files are saved for a period of 30 days only, after which they are deleted.
If you want to make separate recordings of your calls, then you should check the following apps in the next section. They may be better suited to serve your needs.
How to Record Skype Audio and Video Calls Separately
If you want to separate your recordings, there are third-party tools that you can utilize. Not to worry, they are quite easy to use. Whether you are using a Windows or macOS device, there are compatible alternatives for each operating system.
Skype Recorders for Windows
If you are using a Windows device, you will find these third-party tools helpful:
1. MP3 Skype Recorder
While MP3 Skype Recorder only allows you to record the audio portions of a call, it is a great option as it is lightweight and offers its services for free! This saves you storage space and allows you to listen to your recordings without keeping your device screen on. It has one of the best recording features out there, and if you want to access its advanced functions, you can sign up for the Pro version.
2. Evaer
If you are looking for how to record a Skype video call using third-party apps, Evaer is a great option for you. It is an easy-to-use program with straightforward functions. The free trial version of the tool allows you to record conversations of up to 5 minutes in length. If you take part in lengthier calls and would like to record longer sessions, you can subscribe to the premium version, which starts at $20.
Skype Recorders for macOS
These third-party tools are compatible with macOS devices and can record Skype video calls:
Ecamm Call Recorder
If you do not want to use Skype's built-in tool to record your Skype calls, you are free to use any of the great options available for macOS devices. Ecamm Call Recorder comes at the top of the list. While this third-party app is not free, it comes with a seven-day free trial period. You can try out the application, and if you like its features and functionality, you can purchase its premium version, which is available for $40.
Here is how to use this app on your macOS computer:
Step 1:
Visit the official page of Ecamm Skype Call Recorder and download the trial version of the app. You can hold off buying the full version until you are sure the tool suits your needs. However, if you do not mind, you can simply go ahead and register for the premium version.
Step 2:
The trial version of the application comes in a ZIP file. Therefore, after the download is complete, head over to the file and double-click on it to extract its contents. When it opens, go to the installer and run it. Follow the on-screen instructions to install the Skype Call Recorder on your device. Input your password if you receive a prompt.
Step 3:
Go to your Skype icon and launch the app as you usually do. Everything will look normal when it opens except for a slight difference: you will notice a new window next to the Skype application. This is the Ecamm recording tool. All you have to do is click the red button in this window to begin recording your video conversation.
While the call recording is in progress, you can monitor the audio levels of your microphone and those of the other people on the call as well. This is visible on the screen, and the feature allows you to confirm that the recording is working.
If you want to access advanced functions and fine-tune how the recording works, go to the preference pane located in Skype's settings. From there, you can adjust the resolution, recording type, and format of the call.
Step 4:
Ecamm Call Recorder comes with an additional feature called Ecamm Movie Tools. It is automatically installed alongside the recorder. To edit your recordings with it, open it by going to the magnifying glass located in the Ecamm window.
Step 5:
Ecamm Movie Tools allows you to add professional finishing touches to your recordings. You can use this tool to make changes to the volume for either side of the conversation. You can also choose whether to show one side of your video or both. When you are done making your edits, you can export the file in any format of your choice.
The tool comes with a share button that you can use to upload your videos directly to Vimeo and YouTube. You can even export your recording to iMovie. The downside of the free version is that it places a huge watermark on your video. To get rid of it, you need to upgrade to the premium version.
Note: Keep in mind that the tools mentioned in this guide record precisely what is displayed on the screen. Therefore, if there is a camera or sound lag during the call, it will appear in the recording too, even if you enhance the resolution settings and FPS.
How to Use macOS's Built-In Screenshot Toolbar
If you are looking for how to record a portion of your screen without capturing everyone on the call, macOS gives you this feature. It comes with a built-in screen recorder, which you can use to select and record a section of the screen.
To use this app to highlight a specific part of the Skype call window and record the video call, follow the instructions below:
· Press the Shift + Command + 5 shortcut. This will bring up a toolbar at the bottom of your screen.
· From there, click the square-looking icon that has dotted lines and highlight whatever part of the screen you want to record.
· After making a selection, click on Record to begin capturing whatever is showing in that space.
The recording will continue until you stop it yourself. You can then save the video file from there if you so choose.
How to Send Large Files Before, During or After a Skype Call Without Size Limitations
While Skype allows you to send different files through the chat area, there is a size limit to what you can transfer through this app. For example, you cannot send more than 300MB of data in one go. This means that if you have a file or folder larger than 300MB, it will be impossible to share it with the other people on the call. So, what do you do when you are on a video conference and have a 1TB project to share with your colleagues?
You need an app that allows you to share large files, protects your data, and sends whatever you want to transfer at a high speed. It should also be able to retain the original quality of your files. While it is difficult to find a tool that has all these features, it is not impossible.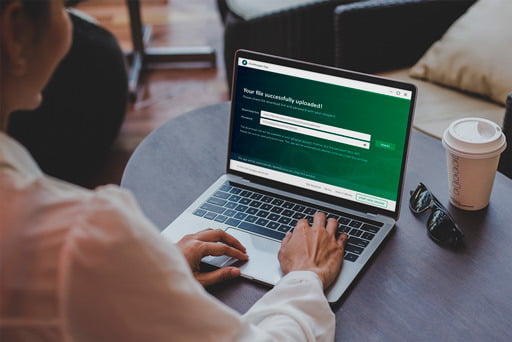 FileWhopper is a cloud-based platform that allows you to send and receive large files with absolutely no size limits! You can transfer more than 1000 TB of data in one go at a high speed, as there are no restrictions to what you can send. Besides, you do not need to subscribe to use this app. While most file-sharing applications require that you pay a weekly, monthly, or yearly fee to use them, FileWhopper only charges you for what you send. In essence, you only pay for what you transfer. There are no extra charges.
FileWhopper supports simultaneous uploads and downloads, which makes it a favorite among users. The recipient(s) can begin downloading your file or folder as soon as you initiate the upload process. They do not need to waste time waiting for the sending process to be complete before accessing the information. Also, you get to enjoy high transfer speeds with no throttling. The only limitation when it comes to uploading speeds is the strength of your network.
Another great thing about this tool is the military-grade encryption it provides. It prevents hackers or unauthorized third parties from intercepting your sensitive data while you are transferring it.
To use this platform, do the following:
· Choose the folder or file that you want to send. You will see a one-time price quote for the amount of data that you want to transfer.
[fwa-calculator]
· A tiny app that takes up almost zero storage space will be downloaded onto your PC to ensure that your transfer is not interrupted. This means that even if there is a power failure or your Wi-Fi goes off unexpectedly, you do not need to worry about starting all over. FileWhopper will resume the transfer precisely from where it stopped whenever the connection is restored.
· As soon as the upload process commences, you will receive a link and password to share with your recipient(s). Once they click the link and type in the security code, they can view and download your data.
FileWhopper protects the integrity of your files. It allows you to upload your data without compressing it, no matter the size, thereby retaining its original quality.
Conclusion
That's it! In this comprehensive guide, you have learned how to record Skype calls on Windows and macOS. In addition, you now know how to send large files without worrying about size limits or long-term subscriptions.
You can share these tips and tricks with your friends and colleagues to help them as well.