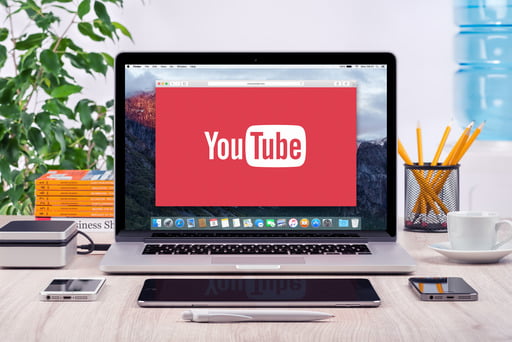 For more than 10 years, YouTube has been the best platform to upload videos. On YouTube, there are billions of hours of video covering any type of content you can imagine. YouTube videos can keep you busy while on the bus, train, plane, or just about anywhere. While you can stream YouTube videos, sometimes you just want to save them for offline viewing. Maybe you are using a limited data plan, or perhaps you are traveling to a place with an unreliable internet connection. The best thing you can do is download your favorite music, documentary, funny video clips, or movies using your home or public Wi-Fi so you can watch them whenever you want.
Unfortunately, YouTube doesn't make it easy to download content from the site, and there is no download button.
The good news is that you can download YouTube videos on your phone, PC, or Mac and even convert them to any format you want. And you can do all that for free by using third-party sites and apps.
That said, with millions of people doing it, is downloading YouTube videos legal? Not really.
According to YouTube's Terms of Service, "You shall not download any Content unless you see a 'download' or similar link displayed by YouTube on the Service for that content. You shall not copy, reproduce, distribute, transmit, broadcast, display, sell, license, or otherwise exploit any content for any other purposes without the prior written consent of YouTube or the respective licensors of the content."
The thing is, Google and video creators make money via the ads you see when watching videos on YouTube. And when you download videos to watch offline, you'll be denying them that revenue.
When you watch a video on YouTube, you agree to abide by its terms. Downloading videos is a violation of those terms, and YouTube could sue you for breach. But don't panic, YouTube has never sued anyone for downloading content uploaded to the platform.
But beware. The laws in your country could forbid you from copying content without the permission of the copyright owner. So, while it is highly unlikely that YouTube will file a lawsuit against you, it helps to know what your country's rules and regulations say about copyright infringement.
How to Save YouTube Videos for Free
With that in mind, if you really need to download YouTube videos, here are some of the best sites and apps that you can try right now. To make it easier, we have categorized the sites and apps according to the device that you are using. So, whether you are an Android, iPhone, PC, or Mac user, we've got you covered.
How to Download YouTube Videos on a PC
1. VLC Media Player
Did you know that you could download YouTube videos using VLC, one of the best media players that support Windows, macOS, and Linux? The process is not as clear as when using many of the other YouTube downloaders, but it works seamlessly.
You can select any format you want, from MPEG-4 to MP4 to WMV to MP3. However, VLC limits the quality of the videos you can download to 1080p.
Here's how to download a YouTube video using VLC Media Player:
If you don't have VLC, download it for free from the official website.
Once installed, launch VLC, go to Media > Open Network Stream, and paste the YouTube URL.
Click "Play".
When the video starts to play, select Tools > Codec Information.
On the page that appears next, you should see the "Location" bar, which is located at the bottom of the screen, containing a URL. Copy the URL, paste it into your browser, and start playing the video.
Right-click the video and select "Save Video As". Alternatively, click the three dots in the bottom right corner of the video that's playing and select "Download". Choose your desired location to save the video.
2. 4K Video Downloader
4K Video Downloader supports Windows, macOS, and Ubuntu Linux operating systems. It is designed with a clean interface – simply copy a YouTube URL and click the "Paste Link" button. The app picks the address you copied and allows you to choose your preferred format. If it is a playlist, select the videos you want and click "Download".
By default, the highest video quality will be selected, but you can choose any other quality depending on your computer's capabilities and the file size.
As the name suggests, it enables you to download 4K content. However, in some instances, you may have to switch from MP4 to MKV to see the 4K option. It also supports 3D and 360-degree videos.
4K Video Downloader has some cool features, like the option to add subtitles in a language of your choice and choose the quality of the video. It can even grab entire playlists of videos on YouTube channels that you subscribe to. What's more, you can convert your favorite music videos to the MP3 format right in the app.
Unfortunately, you have to contend with the large banner ads that display at the bottom of the page. On the other hand, you can opt to upgrade to the premium plan for only $15 for a lifetime license on three computers.
3. WinX YouTube Downloader
WinX YouTube Downloader allows you to download videos from more than 30 sites, including Facebook, DailyMotion, Vimeo, and even adult content sites. The program claims to support batch downloads of 300+ URLs and YouTube playlists. Moreover, it claims to be virus-free and guarantees a clean installation. However, it is always safer to install reliable antivirus software to protect your PC from malware.
Using WinX YouTube Downloader is easy thanks to its simple interface: just copy a YouTube URL, paste it into the app, and select the desired output format and video quality. It also allows you to download a batch of videos: once you've added all the videos you want, click the "Download" button. The videos will be processed and saved to your preferred destination folder.
WinX YouTube Downloader allows you to download 4K videos, but it is unable to download 3D and 360-degree videos. Unlike 4K Video Downloader, you won't find an option to download closed captions.
4. Keepvid
Keepvid supports video downloads from more than 1000 sites, including Instagram, Twitter, and Facebook. The simple interface makes it easy to save your favorite clips and videos to your computer. If you intend to download a playlist or perform a bulk download, you have to use its desktop client, which will set you back $18.90. That way, you get options to download 4K and 8K content, and you can download as many playlists as you want.
To download a video, copy its YouTube URL, paste it into Keepvid Video Downloader Online, and click "GO". The address will be processed, and you will be presented with several formats and sizes to choose from, including the option to convert the video to mp3.
When you find the quality you want, click the "Download" button and select your destination folder.
5. Any Video Converter Free
If you are looking for a tool with a built-in video editor, Any Video Converter Free is a good option. You first have to install the freeware on your computer before you start using it. Once you finish installing it, paste the YouTube URL of a video you want to download and click "Start Download". If you are using Chrome or Firefox, you can drag and drop URLs into the software.
Any Video Converter Free also comes with a built-in media player that allows you to watch videos directly from the platform. The site claims that it is 100 percent secure, and you can enjoy using it ad-free.
How to Download YouTube Videos on an Android Device
Saving YouTube videos to your smartphone allows you to watch them anytime, anywhere. YouTube made it simple for you. All you have to do is pay a monthly subscription of $11.99, and you can enjoy ad-free content. Keep in mind that Android blocks the installation of apps that are not from the Google Play Store. So, before you use the apps mentioned below, go to your phone's security settings and tap on the "Unknown sources" option to turn it on.
Here are the 5 best apps to download YouTube videos on Android:
1. TubeMate
TubeMate is pretty straightforward to use, and it allows you to download videos from multiple sites. It has a built-in browser that makes it easy to access these sites. You can also choose your preferred video quality and file format, but you have to install its MP3 converter app.
Overall, the app is fast and a great choice for Android users.
Here is how to use TubeMate:
Launch the app and open the site from which you want to download your videos.
Once you find your video, choose the desired quality and resolution and tap on the Download button.
The video will be saved to your phone's directory.
2. KeepVid
KeepVid has an Android app, and it is quite popular due to its lightning-fast speeds. The app lets you download videos from more than 25 sites, including Tumblr, Facebook, and Twitter. Navigating KeepVid's interface is easy, and you can even download 4K videos.
What's more, if you want to have your videos in the MP3 format, you can convert them without installing an additional plugin.
Here is how to use KeepVid to download YouTube videos on Android:
Download KeepVid and install it on your phone.
Go to YouTube and search for your video.
You will see a blue download button just below the video player.
Choose the quality you want, and your video will be automatically saved to your phone's memory.
3. VidMate
VidMate is another reliable video downloader. It is more advanced than most apps and allows you to filter your selection based on categories like movies, TV shows, and music. Or you can search for files directly using the search bar.
VidMate also supports high-speed video downloads, and it comes with the option to adjust the rate and set your preferred destination folder. If you want to watch the saved videos, the app's built-in media player will help you. What's more, if you intend to keep some of your videos private, the app has an option that allows you to hide them.
4. Snaptube
Snaptube has a user-friendly interface that makes the process of downloading files simple. Other than YouTube, the tool supports video downloads from more than 50 sites, and you can download in different formats, including MP4, MP3, and M4A. Like most YouTube video downloaders for Android, it requires you to download its APK before you start using it. It doesn't come with in-app purchases, but it contains ads.
The app has an option for sharing the saved videos to your Facebook or Twitter accounts, right from within the app.
Here is how to use Snaptube:
Launch the app and select YouTube or any other site containing the video you want to save.
Search for the video and select it.
Tap on the red download button on the right side of the video and select the quality you want. Your video should start downloading automatically.
5. YMusic
Here's an app that not only allows you to download YouTube videos but also plays YouTube videos in the background. It comes with various filter options, like "popular in your country" and "trending music hits".
YMusic has a sleep timer option that stops video playback when the timer runs out, and it also lets you change the download speed.
It enables users to download full HD YouTube videos, but users are restricted to a single file type – MP4.
The biggest disadvantage of using YMusic is that you cannot watch a video directly from the app. You can only listen to the audio – unless you download the video.
How to Download YouTube Videos on iPhone
Just like on Android, iPhone users can opt to pay for YouTube Premium, which makes downloading videos for offline viewing simple. However, if you want a free method to do so, here are the top 5 YouTube video downloaders for iPhones.
1. iTube HD Video Downloader
iTube HD Video Downloader enables you to download videos from literally any site. If you have a playlist that you want to download, the app has got you covered. Plus, the downloads are up to 3X faster.
You can convert your YouTube videos to MP3, MKV, AVI, MOV, MP4, and many other formats supported by iPhone in the app. The software is multi-functional and allows you to transfer files from a computer to an iPhone or iPad and vice versa.
Here is how to use this app:
Download iTube HD Video Downloader for iPhone and install it.
Once the app has been installed, open the YouTube video that you wish to download from your browser (e.g. Safari). You should see the green "Download" button in the top left corner of the YouTube video.
Click the Download button and select the video size of your choice.
2. iDownloader
iDownloader is an iOS app that enables you to download YouTube videos. It supports up to 50 simultaneous downloads at high speeds, and the download continues in the background with the option to resume in case the internet disconnects.
You can search for any content you wish to download using the built-in browser. After you find the video, tap and hold on it, and a download link appears. You can seamlessly add more files to the download list while you continue browsing.
Apart from downloading videos, iDownloader also acts as a download manager, file viewer, web browser, and file manager.
3. Download4.cc
Download4.cc is a free video downloader for iPhone. It supports almost all video sharing platforms, like Facebook, TikTok, SoundCloud, DailyMotion, and YouTube. It also lets you download videos in most of the formats supported by iPhone.
To use the app, you have to download it from the App Store and then install it on your iPhone. To find a video that you want, search for it using the "Search" bar and then download it. You can even move completed videos to your iPhone album.
4. Video Downloader
The Video Downloader app is simple, thanks to its minimalist interface. You can search for videos using the search function and download them instantly. It has a built-in media player that enables you to play saved videos.
The app supports any file format that you want to download, and it even has the option to password-protect your data. Once you have downloaded your videos, you can transfer them to your Mac computer or PC.
5. Best Video Downloader
Best Video Downloader does exactly what its name promises. Videos download in the background, and it comes with a playback feature that works even with the app closed. You will also like the sleep mode feature that stops a video when the timer runs out.
It offers free unlimited video downloads, among other unique features.
Share Files Securely
Now that you have multiple free YouTube video downloaders at your disposal, you might want to share a funny video clip, a TikTok video, or your favorite music playlist with a friend or loved one. Nothing does this better than FileWhopper. This cloud-based file sharing service offers you a secure method for sharing files and folders of any size, regardless of the format. When we say any size, we mean it! So, whether you have 2GB, 100GB, or 5TB of video or other content, you can share them seamlessly using FileWhopper. Your data is encrypted during transfer to keep prying eyes at bay. What's more, you don't have to pay monthly subscriptions – you only pay a one-time fee depending on the size of the file or folder being transferred. And we have to admit, it's quite affordable.