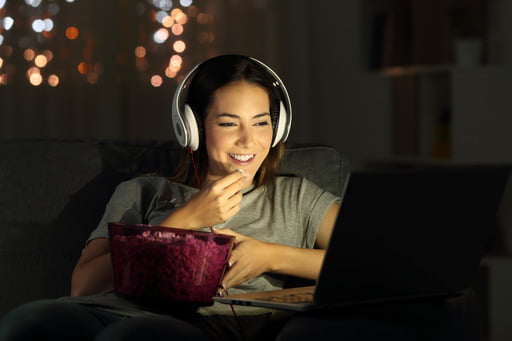 If you want to access all of the quality content available on Kodi, you have to set up Kodi and configure some of the best Kodi add-ons. There are numerous aggregator add-ons supported on the Kodi platform that let you access multiple streaming links for different videos. While most of these Kodi add-ons are free, they have limited bandwidth capabilities—they limit both the quality of files that can be uploaded and your download speed.
For Kodi users who want to stream HD movies smoothly, the most popular Kodi solution is Real-Debrid. With Real-Debrid hosts, you can stream 4K videos and enjoy unlimited bandwidth, while other file locker hosts limit your download speeds to 20 mb/s. Every time you choose a video stream from a Real-Debrid file host, your premium account connects to the file locker instead of a free connection. The file locker verifies your account and then opens the stream to your Kodi session without any speed limitations. If you want more HD links in Kodi, then you should read this complete guide to Kodi and Real-Debrid.
How to Sign Up for a Real-Debrid Account
Besides offering inexpensive subscription packages, Real-Debrid on Kodi offers a referral program that lets users earn additional days by referring friends. You can add 5 days and 50 fidelity points to your account by referring one person with your personalized link. Real-Debrid lets you exchange 1,000 accumulated fidelity points for 30 days of Real-Debrid usage over time.
Here is how much Real-Debrid costs:
3 EUR (3.64 USD) for 15 days (Remote Upload: 20GB; Fidelity Points: 150)
4 EUR (4.86 USD) for 30 days (Remote Upload: 30GB; Fidelity Points: 200)
9 EUR (10.93 USD) for 90 days (Remote Upload: 80GB; Fidelity Points: 450)
16 EUR (19.44 USD) for 180 days (Remote Upload: 160GB; Fidelity Points: 800)
To sign up for a Real-Debrid account, follow the steps below:
Go to the official Real-Debrid website (real-debrid.com).
In the top right corner, click on the Sign Up button and fill in your preferred username and password to create a free account.
Confirm your new Real-Debrid account in your mailbox.
Once your Real-Debrid account has been confirmed, sign in to your account and you will see FREE in your account banner.
Click the Premium option and scroll down to see the available Real-Debrid subscription plans.
Select the package you want to try, then click Subscribe.
Choose a payment method and follow the instructions to pay for your premium account.
Once your payment has been processed and you appear as a premium user, you can proceed to setting up Real-Debrid on Kodi.
Ways to Set Up Real-Debrid on Kodi
The instructions below are for both URLResolver and ResolveURL.
In the steps below, Real-Debrid is integrated within The Crew Kodi Addon, which uses the ResolveURL dependency.
The steps to set up Real-Debrid on Kodi are pretty much the same whether your Kodi add-on uses the URLResolver or ResolveURL dependency. However, some add-ons may require you to sign in to your Real-Debrid account from within their settings.
Follow these steps to set up Real-Debrid on Kodi:
From Kodi's main menu, click on the gear icon to open SYSTEM.
Navigate to the Add-ons tab and click on Manage Dependencies.
Select the ResolveURL option and click on Configure.
Go to the URLResolver configuration window, and navigate to the Universal Resolvers tab.
Scroll down to the Real-Debrid section and change Priority from 100 to 90 so that your Real-Debrid links appear first.
Then, turn on the "Enabled" and "Torrent Support" options.
Now, click on the "Authorize My Account" button to start the Real-Debrid device pairing process.
Once you are finished, click OK to save your settings and return to the main menu.
Now, any Kodi add-on that contains Real-Debrid premium links will automatically route them through your subscription account.
Use the following steps for Kodi add-ons that require you to connect to Real-Debrid from within their own settings.
When you install any multi-source Kodi add-on, make sure to check its settings. If there is an option to log in to a Real-Debrid account, then you need to sync your account.
Here is what you should do:
Launch the Kodi add-on.
Scroll down and click on Tools.
Select the ResolveURL: Settings option.
In the left pane, click on the Universal Resolvers menu.
In the right pane, scroll down to the Real-Debrid section and select the (Re)Authorize My Account option.
Now, you will be prompted to perform authorization using a code that will expire in 120 seconds.
Open a browser on another device and go to https://real-debrid.com/device.
Then enter the code that was given to you in Step 6 and click on Continue.
After your application is approved, you'll get access to all Real-Debrid's features, and Real-Debrid sources will appear first.
Tips on How to Use Real-Debrid on Kodi
Can a Real-Debrid Account Be Used on More Than One Device?
A Real-Debrid account can be used on multiple devices as long as they are on the same IP address. For example, you can set up one Real-Debrid account on up to five devices in your home if they all share the same IP address.
Use a Kodi VPN
Most people think that their streaming activities on Real-Debrid are exclusively private. However, Real-Debrid's privacy policy clearly states that it collects users' information, including their IP address, location, and download activities. Furthermore, it states that users' information may be disclosed under certain legal circumstances. Using a Kodi VPN is the best way to keep your streaming activity anonymous and avoid revealing any personal information to legal authorities. You can get around ISP throttling, government monitoring, and geo-restrictions on many Kodi add-ons by using a Kodi VPN.
Can I Delete My Real-Debrid Download History?
Yes, if you wish to stay anonymous online, you can periodically delete your Real-Debrid download history.
Follow these steps to delete your download history:
Go to your Real-Debrid account dashboard.
Scroll down and select the Downloads History option.
Hover over the red "X" in the top right corner of the menu. You will see "Delete All". Click on it.
There you go, your Real-Debrid download history has now been deleted. However, you can also choose to delete your entire device's history.
Conclusion
Real-Debrid is a multi-hoster that gives you unrestricted access to multiple premium hosts and optimizes your download speeds so that you can make the most of your Internet connection. With Real-Debrid, you have direct access to high-quality streaming sources that are not available to other users. As a multi-hoster, Real-Debrid only works if you have at least one of the supported add-ons. Thankfully, Real-Debrid can be accessed through many Kodi add-ons, including Exodus Redux, Venom, The Crew, Neptune Rising, The Oath, and many others.
Transfer Files and Folders of Any Size Online
If you're looking for a straightforward way to send large movies and other video files over the Internet, you should check out FileWhopper. Cloud storage platforms allow you to store files in the cloud, but you can't rely on them to instantly share large files and folders over the Internet. The FileWhopper platform uses cloud technology and allows you to send data of any size to anyone remotely as long as they have an internet connection. There is no limit on how much data you can send using FileWhopper— for instance, you can transfer a 1GB movie or a 1TB folder.
FileWhopper is a pay-as-you-go service, so there are no monthly fees and you only pay for what you actually send. Once you select the file or folder you want to send, a one-time charge will be applied; there are no additional charges, and your payment is calculated based on the size of your file or folder. FileWhopper uses military-grade encryption technology to protect your sensitive data during any transfer, and you can set a custom password that you should only reveal to the recipient of your data. FileWhopper does not have access to any file or folder that you transfer via the platform—your data is stored safely for 14 days on its servers and is automatically deleted once it's downloaded by your recipient(s). As of this writing, your first transfer of up to 5 GB is free, but after that, FileWhopper will charge a small one-time fee that is determined by the size of your data.