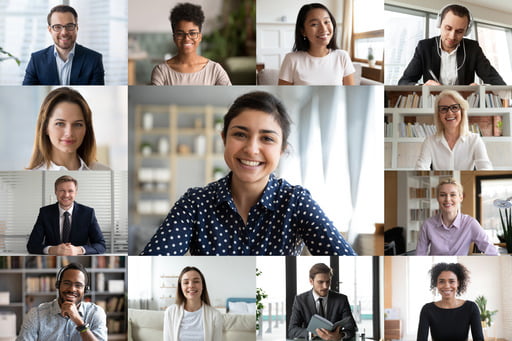 Have you been trying to figure out how to use your camera as a webcam? Well, your search is finally over. In this article, we will show you how to use any camera as a webcam. We have brought you a list of new software that you can use to turn cameras such as Nikon, GoPro, Sony, Panasonic, and Canon into webcams. Therefore, if you've been asking the question "Сan one use GoPro as a webcam?", the answer is yes.
Following the change in our way of life, webcams have turned into scarce commodities. This has prompted users to start looking for alternatives. A lot of people have attempted using their current or old cameras as webcams with understandable difficulty. After all, up until now, major camera brands have not released dedicated software for this purpose. The most available option for turning your digital camera into a webcam has been to use video capture cards, such as Elgato Cam Link 4K – and honestly, video capture cards are not a straightforward option.
The good news, however, is that this is changing fast. Top camera brands such as Sony, Nikon, GoPro, Canon, and Panasonic have done a great job of releasing beta desktop software that makes it straightforward to use your digital camera as a webcam without having to stumble your way through the technicalities of using capture cards. We will discuss different cameras and how you can turn them into webcams.
However, it is important to keep in mind that these official applications are new and in the beta testing phase. Therefore, there's a chance that your setup model might not be supported by these newly released applications. Some of these software programs support either PCs only or Macs only, with only a few supporting both. In addition to this, you might also find that your camera is not among the cameras supported by the apps. This incompatibility can leave you out of the loop, but not to worry, in the next section, we will show you a foolproof method that you can use to achieve camera-to-webcam conversion.
As long as you have a quality camera with a 'clean HDMI' output signal, this method will work for you. It ensures that you don't have to worry about model compatibility. It works for all camera models and allows you to take your video conferencing potential to the next level. Whether you are using Zoom, GoogleMeet, or Skype, we will give you guidelines that will change your video conferencing status from 'ordinary' to 'professional'.
The Foolproof Method to Turn Your Camera into a Webcam
While different camera manufacturers have released different beta software solutions to enable you to use your camera as a webcam without any additional tools or third-party hardware, there are still limitations. For one, your camera model or computer device might not be compatible with these applications because their configuration only works with specific models.
If beta software solutions discussed in the later sections of this article do not work for you and your setup, then you have to use the alternative – video capture cards. Don't fret, this is a high-quality alternative that has its advantages. For example, if you apply this method using a camera that has an HDMI output, you will be able to achieve video streaming in 4K at an amazing 30fps!
To achieve this, you will need the following things:
A video capture card
HDMI and USB cables
Broadcast software (this is optional)
If you want to get the best video quality and sound, then you need to get optional tools such as external microphones, tripods, and lights. While these additional accessories are not necessary for using your camera as a webcam, they do add to the overall quality of your video and audio. We will discuss how to use these optional accessories in later sections further down this article. For now, let's show you the basics that'll help you turn your mirrorless or DSLR camera into a webcam.
Before we commence, you should ensure your camera has a crisp HDMI output and a clean HDMI signal. Some cameras come with options for checking this. To do that, go to Settings and turn off or remove graphic overlays such as autofocus mode and frame rate. If this option is not in the Settings section, press the 'Info' button or the 'Display' button on the back of the camera.
After you've ensured that your camera can give an HDMI output with a clean signal, proceed to the steps below:
1. Get a video capture device
Webcams support a protocol called USB Video Class (UVC). This protocol allows a webcam to interface with video tools, such as Skype and Zoom. Therefore, the first thing you need to do is get a video capture card that supports UVC.
One of the best options available is the Elgato Cam Link 4k. However, if you can't get your hands on it, you can go for any of these alternatives:
Elgato HD60 S+
Mirabox Capture Card
Magewell USB Capture HDMI gen 2
Note: Ensure that the video capture card comes with a micro HDMI-to-HDMI cable (or you can get a separate cable).
2. Set it up
If you've got a video card that supports the UVC protocol, then the next step is to connect it to your camera and laptop. Using the micro HDMI-to-HDMI cable, connect the HDMI output of your camera to the HDMI input of your video capture card, then plug the video capture card into your laptop via USB.
Read the manual of your video capture card to see if you need to install any additional drivers on your laptop. Install the drivers (if there are any) and then proceed to the final step.
3. Get it working
If all you're looking for is to get your camera working as a webcam, then you don't need to install additional software. You can simply log onto your team meeting and you're good to go. If you're using a Windows or Mac OS device, your laptop will automatically detect your camera as a webcam and display it as an option in your video conferencing app.
However, if you are looking to add some extra effects, improve the settings, and tweak up the quality of your video, then you can use Open Broadcaster Software (OBS). Panasonic and Nikon are among the manufacturers that recommend this tool for use with their cameras. It is a free, open-source tool compatible with macOS, Windows, and Linux. It offers advanced features, such as an audio mixer, among many others. If you want alternatives to OBS, you can also check out the following programs:
How to Turn a Digital Camera into a Webcam (For Free)
The solution discussed above is a general approach that will work for cameras that have an HDMI port. However, major manufacturers have now released beta software that allows you to turn your camera into a webcam without the need for additional hardware. Some of these manufacturers include Panasonic, Fujifilm, and Canon.
The downside to these beta applications is that they only work with specific models and require specific settings. However, you don't have to worry, as we will be discussing each of the major camera brands and their models. This will show you how to convert your camera into a webcam easily and for free.
How to turn your Canon camera into a webcam
Let's start with Canon. They currently have what is arguably the most inclusive software. Their software supports 25 of their camera models and is compatible with both Mac and Windows computers.
You can check their official website to know if your camera model is on the list. Keep in mind that the beta application is mostly for those in the US. The application might not work for you if you are outside the US.
If you find your camera model on the list, then simply click on it to download the EOS Webcam Utility Beta. This will take you to the 'Drivers and Downloads' page. The site will automatically detect the operating system of your device, but if it fails to accomplish this automatically, then it'll take you to a page to select your computer OS manually. You can then download the EOS Webcam Utility Beta on your Windows or Mac computer.
Once the download is complete, restart your computer and connect your camera to your laptop via USB. From there, open your video conferencing app, go to its Settings menu, and select EOS Webcam Utility Beta.
How to turn your FujiFilm camera into a webcam
Fujifilm also released dedicated software to help you enjoy webcam meetings. The application, which was initially only compatible with Windows, is now also compatible with Mac computers.
The beta application, named Fujifilm X Cam, supports some of Fujifilm's X-series and GFX- series, including X-T2, X-T3, X-T4, XPro3, X-Pro2, GFX100, GFX 50R, and GFX 50S. On the GFX-100, you can use the Fujifilm X Cam beta application to execute Medium Format-level Zoom chats.
You can check out the detailed tutorial released by the company on how to use the new beta software.
How to turn your Panasonic camera into a webcam
The Panasonic Company is one of the newcomers to the 'camera as webcam' field, but this hasn't deterred them. They have made some good progress with their 'Lumix Tether for Streaming Beta' software supporting up to six of their camera models. These models include the Panasonic G9, Lumix GH5, S1R, S1, and S1H.
To use this tool, you have to download Open Broadcaster Software (OBS) along with OBS-VirtualCam.
Go to the Panasonic official page to download the Lumix Tether for Streaming beta application.
How to turn your Sony camera into a webcam
Sony recently introduced their camera-to-webcam software, which they named Imaging Edge Webcam for Windows PCs. As you must have already deduced from the name, this tool is only compatible with Windows PCs.
The beta app supports the APS-C and full-frame Sony camera models, which include Sony A6100, Sony A6100, Sony A7 III, Sony A7R IV, and Sony A7S III. Although the popular Sony A6000 isn't on the list, the beta app includes support for the compact models, such as Sony ZV-1.
You can go to the official Sony download page for guidelines on how to download and use the Sony Imaging Edge Webcam app.
How to turn your GoPro camera into a webcam
GoPro released software with webcam features that currently support their latest model, GoPro Hero 8 Black. The major downside to this tool is that it's compatible with Mac devices only, although the Windows version is currently in development.
If you're using a Mac computer, all you need is a firmware update, a USB-C cable, and the recently released GoPro Webcam Desktop Utility. Go to the official download page for instructions on how to download and use the app.
How to turn your Nikon camera into a webcam
Nikon recently announced its new Webcam Utility software. This tool supports mirrorless and DSLR cameras, including Nikon Z50, Nikon Z7, Nikon Z6, Nikon Z5, Nikon D6, Nikon D5600, Nikon D7500, Nikon D780, Nikon D500, Nikon D6, and Nikon D850.
It supports only Windows computers for now. Download the tool and then connect your camera to your computer with a USB cable.
Tips and Tricks for Getting the Best Out of Your Camera
These are tips from the Training Manager at Nikon School, Neil Freeman, that'll help you achieve maximum video quality. These tips also involve the use of video capture cards. Freeman recommends switching your settings to 4K (ensure your PC has the processing power to handle this).
After configuring the video quality settings and connecting your external camera (if you decide to use one), switch your Nikon camera to manual mode and do the following:
1. Choose the right camera settings
According to Neil, to get a good separation between you and your background, choose a low 'f' value. An aperture of f/2.8 or f/4 is ideal.
Set your ISO to either 64 or 100, and then turn on Auto ISO.
Your shutter speed should be set to 1/50th or 1/60th of a second.
Use manual focus to focus the camera. If your camera has the face-tracking feature, you can use that too.
2. Choose the ideal lenses
To achieve flexibility with composition and frame the image, use 24-70mm f/2.8 or f/4.
Another option is either 35mm or 50mm f/1.8. However, your focus has to be accurate if you want to use them wide open.
Note: When using prime lenses, you need to pay attention to the framing of the image.
3. Select a video capture card
Choose from any of these:
Elgato Cam Link 4K
Elgato HD60 S+
Magewell USB Capture HDMI gen 2
Mirabox Capture Card
4. Choose the Right Software
Freeman personally recommends Open Broadcaster Software. This tool allows you to do additional things, like adding a green screen to your background, among many others. Here is other software you can use:
5. Choose the Best Mic
To add the best audio to your video, Freeman recommends an external microphone such as the Yeti USB microphone. It syncs with the OBS software to give you great sound. You can also consider the Razer Seiren Elite microphone.
6. Set Up Lighting
If you're looking to use your videos on YouTube and other professional video apps, then lighting is important. Freeman recommends using the following:
A LED light panel with a diffuser to serve as a front light and illuminate you properly.
A second light placed in the background to add extra depth to your image.
Note: Make sure the light sources are large enough when compared to you. This is to prevent them from casting shadows. Also, if you notice shadows or dark areas in the image, use additional fill lights to eliminate those.
In addition, it is always best to collaborate with friends or colleagues when making your videos – this is a great way to make quality videos. While it's true that you might not always find it convenient to have people around to help you with editing, you can still get their input by transferring your recorded videos to them. The problem is that these videos are large and are therefore not easy to transfer over social media platforms.
FileWhopper is a cloud-based file transfer service that you can use to transfer files and folders of any size at high speeds (seriously, there's no size limit to what you can transfer). The quality of your video is maintained even after transferring it to the cloud because you don't need to compress it. In addition to this, there is no monthly subscription fee – unlike when using other file transfer services out there. All you have to do is upload the video file of your choice and get a one-time price quote, with no hassles or extra billing.
Your videos are encrypted during transfer, which means no one can access them without your password (you will receive a password that you can give to whomever you want to share your videos with). FileWhopper is great for collaboration with your team.
Conclusion
We hope this article has helped you in converting your digital camera to a webcam. Don't forget that the best way to make sure your videos are of great quality is to get honest input from friends and colleagues. Use FileWhopper to transfer you files without hassles and get their feedback.