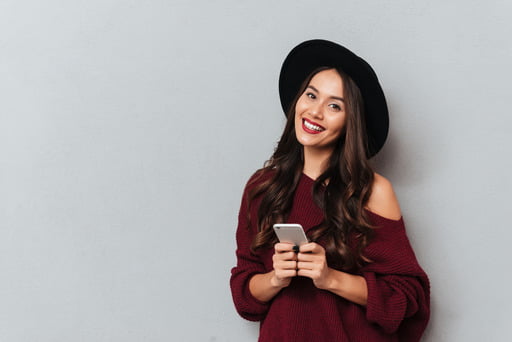 TikTok's popularity exploded during the pandemic and is on a steady rise. With over a billion users and lots of inspiring success stories, the app is attractive to both casual users and seasoned influencers.
Whether you are thinking of using TikTok for fun, are considering a career in social media, or want to use the app to promote your business, here's what you need to know.
How to Get Started With TikTok
So, you download the app. You open it. What's next?
Well, the first thing you will see is videos playing on the screen. You get to explore the app a bit before it suggests you open an account to view more videos and to create ones yourself. And this is exactly what you will need to do. But let's start at the beginning:
First, download TikTok for iOS or Android (based on your phone's operating system).
Tap the profile icon in the bottom-right corner of the screen.
Here, you will see the options to sign up. You can do it via Facebook, Google, Twitter, Instagram, your phone number, or an email address. Naturally, signing up via an already existing social media account is a faster option.
If you decide to sign up manually (with a phone number or email), you will need to enter your birthday.
Once you've entered your email or phone number, you will need to set a password.
Now, until you start following people or liking some of the videos you see, your feed will be pretty much made up of random content that TikTok thinks you should see.
You can start with the Following tab and sync your contacts. Another good place to start is the Discover tab. You can also see what hashtags are trending and search for the topics you are interested in.
See a video you like? Double-tap it or hit the heart button. You should see all the options for interacting with a video on the right side of the screen: you can like it, comment and see other videos that use the same soundtrack.
You can long-press the screen to save the video you are watching to your phone. You can also add it to your favorites or let the platform know you are not interested.
To access the creator's profile, swipe left. Once you are on their profile page, you can also follow them from here.
As you get more active on the platform and interact with more people and content, you will start seeing likes and comments in the Notifications tab. Here, you will also be able to see new messages that you get from other users.
If you want to make any adjustments to your account's settings (like, for instance, privacy), simply tap the profile icon and then tap the three-dot gear icon in the top-right corner.
How to Make Your Very First TikTok
When you are ready to make your first TikTok video, tap the white + icon at the bottom of the screen. Note that in order to post a video, you will need to give TikTok the permissions it asks for, like access to your camera and photos.
Once this is done, you can either film a new video or upload a video from your phone. You will then be able to edit your video: you will see sound editing options at the top right and video editing controls at the bottom left.
Remember that your video needs to be from 15 to 60 seconds long.
How to Add a Sound in TikTok
In the top-right corner of the screen, you will see the Select Sound option. Here, you can search for tracks by playlist, popularity or hashtag. Once you've found what you are looking for, tap the check mark to add the track to your video. Next, use the Mixer tool or Trim to get the track to the right length.
You can also add a voiceover to your video: tap the microphone icon under the Filter button. There are more fun voice effects to play with. Tap Voice Effects and choose between a variety of different audio filters, like Chipmunk, Baritone, sound amplification, and more.
How to Add a Filter in TikTok
See that three-circle icon at the bottom of the screen? Tap it or simply swipe left to see the list of available filters. You can also add stickers, GIFs and emojis. Once you choose the elements you want to add to your video, you can simply drag them till you find the perfect position. If you want to delete an element, drag it to the top of the screen — you will see a tiny trash can icon appear there.
How to Add Effects in TikTok
You can add effects to your TikTok video before or during filming. Simply tap Effects and you will see a list of the visual effects you can drop over your video, like Gold Powder, Bling, Rain, and others. A great thing about effects in TikTok is that you can adjust filters as much as your particular video allows. All you need to do is long-press a filter to apply it and then let go to stop.
You can add different transitions to your clip, like Scroll, Rotate, Slip, and more. You can split your screen (in up to 9 different ways). To do this, press Split. You can also add reverse effects, flash and slow motion to your video.
Before You Post
Now that your video is almost ready, there are just a few things left to do:
Tap Select Cover to create a thumbnail for your video. This is what people will see in your profile grid.
Tap Next.
Add a short caption to your video:
TikTok is not really about long captions. Most of the information you want your audience to know should be in the video itself. However, you can add a short explainer for your video, add hashtags and tag friends.
Adjust privacy options:
Tap Who Can View This Video.
You will be able to choose between Public, Friends Only or Private (only you can see the video).
You can also choose to toggle comments on or off and enable or disable Duets and Stitch.
Duets is a TikTok feature that lets another user use your video: they will be able to record their own video alongside yours as it plays.
Stitch is another option of doing that. The feature also lets other users build on your video and use it to create their own content.
You can then save your video to Drafts, post it and share it to other social media, like Instagram.
Before your video is posted, TikTok will ask you to confirm your privacy settings. You will see an alert letting you know that your account is public and any video you post will be visible to all other users on the platform.
To see your posted video, simply go to your profile grid.
How to Go Live on TikTok
In addition to posting videos, TikTok also gives you the option to go live. Going live on TikTok is similar to going live on other platforms, like Instagram and Facebook. However, there are still several requirements you need to meet on TikTok before you are "allowed" to go live: you need to have at least 1,000 followers and be over 16 years of age. If these requirements are met, you will see the option to start a live stream in the same place where you see the option to create a video.
How to Become Popular on TikTok
Now, there are lots of possible scenarios here. There is always a chance that one of your videos simply goes viral, taking you right to TikTok stardom — but that chance is not big.
A safer road to take would be to follow TikTok's unspoken "rules", produce content consistently and deliver value to your viewers.
Here are a few helpful tips that can get you started.
Post Consistently
Unless one of your videos goes viral, establishing a presence on TikTok will take time and commitment. In this case, organization is key. In fact, we suggest you set up a posting schedule to keep up a steady stream of content. Once you get your first 1k followers needed for a live stream, try incorporating regular live streams into your posting routine.
Find Your Niche
It may seem that every possible topic has already been covered on social media. But that's not the case. Even if you become one of the many travel, food, or humor content creators, you will still be bringing something special to the table. You just need to discover what this something is. Whether it's your unique form of delivery, the way you edit your videos or your unusual take on things, make sure to find something special that sets you apart and emphasize it.
Create Quality Content
If you are serious about TikTok, then you will have to invest a bit of time to learn how to deliver a polished product. This doesn't mean that you have to go to film school or break the bank purchasing fancy video cameras. However, you might want to read up on video composition, watch a few YouTube tutorials on video editing and maybe get a tripod and some simple lighting equipment.
Post Across Social Media
Don't keep all of your eggs in one basket. The odds are that you will have more success if you post your content on different social media platforms. More platforms mean more exposure and a potentially larger audience for your videos. Plus, TikTok makes sharing videos across platforms really easy.
Be Active on the Platform
While posting regular quality content is the key to getting more views and viewers, there are other ways in which you should stay active on the platform. This includes engaging with your followers, interacting with others in the same niche, commenting on posts, liking and sharing videos by other creators, and more.
Do Your Research
If you want to make relevant content, make sure to check the Discovery tab to see what is trending on the platform and what people are interested in. This doesn't mean that you have to copy every trendy video you see — but what you can do is get inspired and put your own spin on popular content.
How to Advertise on TikTok
The app may be a great way to get your name out there as a creator — but is TikTok a good marketing tool if you want to promote your business? Well, that depends.
Currently, TikTok offers two advertising formats. And both of them are going to cost you.
The first one is biddable ads, and this is similar to how you would advertise on Google. You can choose between three pricing models:
CPC (cost per click)
CPM (cost per mille)
CPV (cost per view)
You can select your target audience by age, interest, gender, etc. And you will need to have a budget of at least $500.
The second advertising format is aimed at big brands, and you will need to communicate with a TikTok account manager to set it up. There are several ad options here as well:
Brand takeover (a large banner ad that appears when a user opens the app)
Hashtag challenge (this type of campaign aims to create viral user-generated content to promote your brand)
Branded lenses (a company can create custom augmented reality filters for users to incorporate into their videos)
Influencer package (a TikTok influencer will create sponsored content for you)
As you can see from above, advertising on TikTok is currently reserved for those who have a substantial budget. If you are a smaller brand, the best way to promote yourself on the platform would be to follow TikTok's best practices we've outlined above. By consistently engaging with your audience and creating content that adds value, you will slowly but surely build a quality presence on the platform.
On your way to TikTok success, you will need all the help you can get — and a lot of this help is available online in the form of digital tools for creating and editing content.
As you make a lot of video content, you will also need an efficient way to collaborate on it with others. And this is where FileWhopper comes in.
FileWhopper is a simple, efficient and hassle-free service for sharing files and folders of any size online. Here's why FileWhopper is a good choice for starter creators:
You pay as you go. There are no monthly subscription fees, and you only pay for the file or folder you are sharing, depending on its size.
You can send files of any size, type and format.
FileWhopper uses zero-knowledge encryption to protect the privacy of your data.
Using the service is really straightforward. You simply upload your file or folder and then receive a link and password to share with the recipient(s).
What's more, your transfer is protected against power failures, connection issues and other interruptions. If these happen, they won't affect your transfer, and it will resume once everything is back to normal.
[fwa-calculator]
In short, FileWhopper is a useful tool to have on board if you work with content. Plus, your first transfer of up to 5 GB is absolutely free.