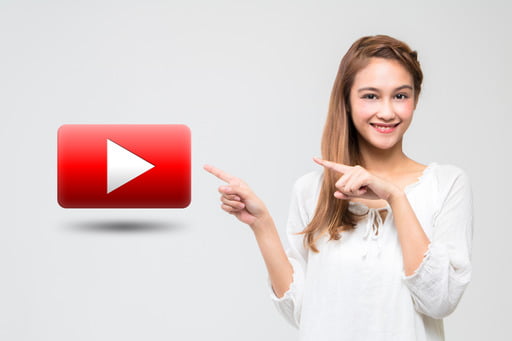 The amount of content we consume is astonishing. Facebook sees over eight billion video views daily, and YouTube remains the second-largest search engine on the web, with over two billion logged-in users each month. It's probably why Cisco suggests that 80 percent of all internet traffic will be video-generated by 2021. As more people use YouTube to promote their businesses, the key to success on the platform is understanding how your videos perform and optimizing your content to better serve your subscribers or your wider target audience.
Why Is YouTube Analytics Important?
To create more of the content your viewers love, you must be able to track the performance of your YouTube videos. YouTube Analytics helps you to track how effective your efforts have been and the type of content your audience is most interested in. The platform provides access to important metrics such as traffic sources, demographics, watch time, and more. The thing is, there is a ton of data that you can track with YouTube Analytics. However, to make good use of the platform and gain valuable insights, you have to focus on the data that has the most impact on your brand.
How to Access YouTube Analytics
As long as you create video content on YouTube, it's important that you understand how to use the Analytics feature to keep track of how people are finding your videos and engaging with them.
If you're looking for how to view YouTube channel analytics, log into your account and follow the steps below:
In your account, click on your icon in the top right corner of your screen and then on YouTube Studio to access your channel dashboard.
In the left corner of your screen, click on the Analytics option to access all available metrics.
In the top corner of your YouTube Analytics dashboard, you'll find four tabs that contain several YouTube Analytics metrics:
Overview.
Reach.
Engagement.
Audience.
Click on the tabs to learn more about each of these metrics.
What Metrics Should You Be Tracking on YouTube Analytics?
YouTube Analytics is divided into three main sections:
Watch Time Reports.
Interaction Reports.
Revenue Reports.
Truth be told, YouTube Analytics allows you to track just about everything. However, to measure the success or failure of your video content on YouTube, you need to focus on the metrics that influence the overall performance of your channel.
Watch Time Reports
Watch time reports track the traffic that your videos and the entire YouTube channel generate. They include some common metrics such as watch time, views, demographics, traffic sources, and more. To analyze any of these metrics, you only need to use the overview area for the metric to access a drop-down menu with navigation options.
Watch Time
Watch time measures the total number of minutes people have spent watching the videos on your channel. While this metric doesn't include an individual breakdown for every video on your channel, YouTube's algorithm uses watch time to understand the quality of your content. This metric is important because YouTube uses it to determine the videos that appear in Search or as suggested videos on the platform.
Average View Duration
Unlike watch time that measures the overall time spent on watching your videos, average view duration can be analyzed for individual videos. This metric can be used to analyze the efficiency of a YouTube video because it combines watch time and views and tracks the amount of time spent on watching your video.
Demographics
The Demographics metric allows you to track the age, gender, and location of people that view your videos. Why should you care about this metric? If you want to grow your channel and gain huge success, it's important to know more about the audience you're creating content for.
Traffic Sources
YouTube Analytics provides a report on how people are finding your videos. With Traffic Sources, you can check whether more people are finding your content through external referrals such as social media, Google Search, suggested videos, etc.
Interaction Reports
YouTube interaction reports measure how engaging your video content is. They include metrics such as subscribers, likes and dislikes, cards, comments, and more. These metrics all indicate whether viewers are finding your videos engaging or not.
Subscribers
It's easy to discover the number of new or lost subscribers for your YouTube channel. For a given period, you can view subscription sources to determine where people found your videos and see the videos that have influenced your subscriber count and even the ones that have caused your channel to lose subscribers.
Likes and dislikes
While likes and dislikes are commonly seen as vanity metrics, they can be very powerful when combined with comments. To gain a better understanding of how people feel about your video, you should track the number of likes/dislikes and also use the comments on that video to gauge your audience's preferences.
Cards
YouTube launched Cards in order to boost interactions and engagement on the platform. Cards are interactive elements that can be used as CTAs to promote other YouTube videos, products, or links. So, the Cards metric allows you to measure cards shown, card clicks, and more.
Videos in Playlists
The Videos in Playlists parameter measures the number of times your videos have been added to YouTube playlists.
This metric tracks playlist-related data sets, such as the following:
Videos added to playlists: The total number of times your videos were added to playlists.
Videos removed from playlists: The total number of times your videos were removed from YouTube playlists.
Revenue Reports
Revenue reports are only available for YouTube partners. YouTube reviews channels in their partnership program, which allows you to earn money from the ads that are served in your videos. However, to become a partner, your channel must meet the following requirements:
It should reach 4,000 hours in watch time.
It should have 1,000 subscribers at least.
Revenue
The revenue metric helps you to keep track of your earnings on YouTube. However, only your estimated revenue can be seen inside of YouTube Analytics. To access your finalized earnings, you'll have to check your AdSense account report. The estimated revenue tracks how much your channel has earned over any selected period of time.
Ad Rates
While the revenue metric measures the amount you'll be paid, ad rates show the amount that's been spent to run ads. This metric tracks ad impressions, estimated monetized playbacks, and ad revenue. So, it can be used to compare performance for different ads within any given period.
Conclusion
By now, you must have become familiar with the basics of YouTube Studio Analytics and the metrics to give attention to. With over two billion users consuming one billion hours of YouTube content each day, the platform is easily the "king of video" in the world.
Nevertheless, if you're one of those who are having a hard time sending large video files over the internet, there's a new platform that allows you to securely transfer files and folders of any size online. FileWhopper is one of the most secure ways to send files over the internet without having to pay for a subscription plan – you just pay as you go, and your payment depends on the amount of data you wish to transfer. Don't just take our word for it: you can use your first free transfer of up to 5GB to test-drive this service.
Are you tracking other key metrics in YouTube Analytics? Feel free to talk about them in the comment zone below.