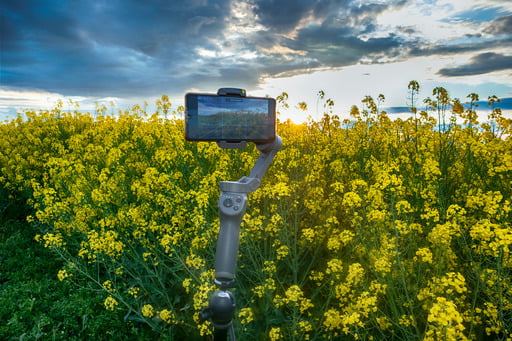 If you're a photographer or videographer, you'll agree that creating quality videos isn't always an easy task. While some YouTubers struggle to keep a steady camera during shooting, others are able to shoot smooth videos even when walking or making other bodily movements. The fact is that the quality of shooting equipment influences the quality of video content you can produce.
These YouTubers use modern smartphone gimbals that help them to capture smooth video content without shaky video output. A gimbal is a device that helps to keep the footage stable while a user is holding a smartphone to film. Modern gimbals are able to tilt, pan, and roll on a 3-axis plane to make up for shaky body movements that can affect the quality of output.
The DJI Osmo Mobile 3 is one of the best smartphone gimbals that is completely worth the dollars you will spend to acquire one. It comes with a sleek, portable, foldable design, and an app that gives you more control without having to operate your phone's screen.
In this article, you'll see why Osmo Mobile 3 is one of the best handheld gimbals that can deliver a super-smooth and stabilized footage in real-time. You'll also learn how this gimbal works and the superb features that can improve your filming quality with smartphones.
Why is the DJI Osmo Mobile 3 So Good?
The advanced 3-axis Osmo Mobile 3 is the third generation of the Osmo gimbal line and the successor to the DJI Osmo Mobile 2. It's the first foldable smartphone gimbal from DJI that helps you to film stabilized videos at any time without having to create a rigorous setup.
Since the DJI Osmo Mobile 3 is lightweight and ergonomically designed, you only need to fold the gimbal up when you are ready to call it a day. Osmo Mobile 3 is a much better smartphone gimbal with improved intelligent features because DJI has learned from user response to the past two models. Below, you'll find the features and functionalities that make the DJI Osmo Mobile 3 the perfect gimbal for smartphone shooting.
Design
The Osmo Mobile 3 comes in one of the simplest foldable designs you can find out there. It's without unnecessary latches, is super effortless to extend and retract, and is easy to carry around. With the more expensive bundle, you get a handy carrying case that makes outdoor filming much easier.
Although the DJI Osmo Mobile 3 is made of plastic, its 405g weight is pretty solid and can carry smartphones that are as heavy as 230g max. However, the smartphone must not be thicker than 9.5mm and wider than 88mm. The Osmo Mobile 3 design also gives high priority to accessibility. You can access your phone's headphone jack, charging port, and even control the camera without touching your screen.
Performance
The Osmo Mobile 3 comes with an excellent battery life. Although the battery isn't removable, it has a maximum operation time of 15 hours. So, you can go on long shooting sessions after a full charge via USB-C. When your smartphone is attached to the gimbal, there's a USB-A port that can be used to charge your phone. You can decide to watch your favorite Netflix shows or YouTube videos right from your smartphone that can be positioned while the gimbal is on the tripod base.
With the Osmo Mobile 3, you can also switch your smartphone's orientation from portrait to landscape. All you need do for the Mobile 3 gimbal to automatically rotate your smartphone is to press the Mode button twice. However, if you're filming with a smartphone that has an ultra-wide camera, DJI Osmo Mobile 3's clamp can creep into the camera frame.
Shooting Modes
The Osmo Mobile 3 provides more versatility with highly intuitive shooting modes such as panorama, slow motion, video, time-lapse, motion-lapse, hyper-lapse, Sport mode, and Active Track. The panorama photo mode takes multiple images which is then used to create either a 180-degree or 330-degree image. When you're filming quick-moving scenes, the Sport mode in the Osmo Mobile 3 is able to increase the response speed of the device and gimbal motors.
Active Track 3.0, which is the latest version of DJI's AI auto-tracking algorithm, is helpful when you want the gimbal to track any fast-moving object of your choice. Once you draw a box around a subject in the frame, the gimbal will continue to track that subject as you film. It's perfect for taking selfies and capturing family moments.
The DJI Mimo App
The DJI Mimo app gives you access to the intelligent shooting modes you just read about. It also introduces new features like the Story mode which allows you to quickly create videos using preset templates. Story mode gives you access to multiple templates that make it easy to create simple and engaging footages in no time.
You can customize your videos by adding music, filters, transition, and other effects. You only need to enter Story mode and follow the instructions to shoot short clips that will be patched together by the app. Now, if you're wondering if you can use the Osmo Mobile 3 without the app, sure. If you don't like the Mimo app, DJI won't force you to use it. You can shoot with any camera app of your choice.
How Does the Osmo Mobile 3 Work?
The DJI Osmo Mobile 3 standard box comes with the gimbal, a wrist strap, charging cable, and soft bag. However, DJI also offers an upgraded version that includes all the items above, a tripod stand, and a hardshell case.
To use the Osmo Mobile 3 for the first time, you have to connect the gimbal to your smartphone via Bluetooth before activating your device with the on-screen instructions. By default, the M button is the power button and you can use it to switch between capturing images and recording videos.
However, the M button can also be used to customize the different modes based on your needs. If you don't want to remove your smartphone or rebalance the gimbal every time, you can use the Standby mode. By pressing the M button three times, you'll enter Standby mode and be able to use your smartphone even while the gimbal is folded.
Conclusion
The Osmo Mobile 3 is one of best smartphone gimbals for photographers, influencers, YouTubers, and anyone else who would love to capture valuable moments with ease. Moreover, the DJI Osmo Mobile 3 is waterproof. So, it's a perfect travel companion for any adventure.
If you shoot images and videos frequently, you'll also love this new file transfer service that allows you to send files of up to 1 GB, 1 TB, and even 10 TB in size. FileWhopper allows you to securely transfer files and folders of any size without the need to pay for a monthly storage or subscription plan.
FileWhopper users only pay a one-time fee that can be as low as $4.99 for 10GB or $5.99 for 15GB. The amount you pay for any transfer is dependent on the size of the file you intend to send. However, your first transfer of up to 5GB is completely free of charge.
It's safe to transfer personal information via FileWhopper because all files and folders are encrypted with a unique ID and protected with a custom password. Recipients can start downloading files while it's still uploading from the sender's end and transfers happen at fast speeds.
Unlike the previous Osmo Mobile versions, the Osmo Mobile 3 makes it easier to capture, edit, and share everyday moments. However, some interesting features are only available on iOS devices. You can't shoot at 60 frame per second in Android devices and features such as slow motion and exposure adjustments are also unavailable on Android.