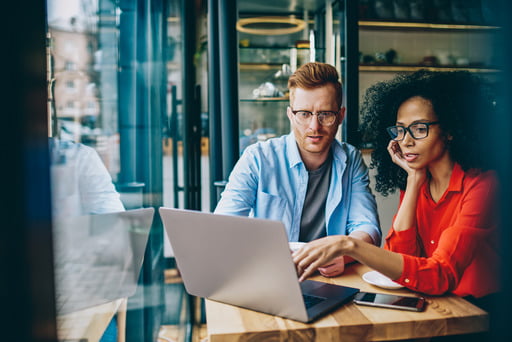 Online file sharing has become a fundamental part of modern day-to-day project management. Be it a business team, academic group, or another setup that is involved in value creation, virtual file sharing using well-known software, such as Dropbox or Google Drive, will make a huge impact on the success of the project. Collaboration is needed in a team as it determines the overall performance, as well as the success of the project. Thus, the use of collaborative platforms has increased among companies, startups and even successful institutions.
In reality, with regard to problem and conflict solving, emotions reading, communication and leadership, a team can collaborate best when tackling a project face-to-face. Can the same be said about virtual team collaboration? With more people shifting to virtual environments, it is of best interest to understand the lucrative practices to be exercised while collaborating on such platforms. Why working in virtual space has proven to be more productive than being in one physical area? Well, take, for instance, John and Mary. John strives when he is working outdoors with a breeze softly touching his cheeks. He flourishes in quiet environments and is more productive when working in them. Mary, on the other hand, prefers an indoor atmosphere with a blend of music in the background. She loves to knock on the desk with her nails while processing or solving issues. Now, do you think if we were to place these two in one common room, they would be able to work to their best capability? Obviously not.
Virtual space was developed to merge everyone's work together without having to compromise one's desired environment. In a virtual environment, team members can communicate, share files, and coordinate projects, as well as accessing project instructions and information. There are many platforms that provide a focused space for teams to share ideas and details and collaborate on projects, and Dropbox is one of the most common choices.
Dropbox is among the most popular collaborative platforms. The platform is widely used by both businesses and educational institutions. It is a cloud-based collaboration platform that also provides file sharing functionality together with storage services. The tool is essential for companies that are looking to grow without limits.
Top Features You Don't Want to Miss on Dropbox
There are many ways of how to manage the Dropbox business team sharing platform, and these include understanding and knowing the features that come attached to the software. With this in mind, we have brought together a number of key features that prove to be useful on Dropbox and that you don't want to miss.
Security – with Dropbox, your business has got control over who gains access to the information shared. The admin determines who has the privileges of viewing and editing the content. Personal users can also separate their work data from personal to avoid mix-ups or security breaches. With the available admin tools, users can remotely delete data, monitor activities such as edits and logins, and enjoy the tight services of a 2-step authentication feature.
Effective teamwork – Dropbox features are unique and effective. They streamline workflows in team projects. The platform makes it easy to locate other users' work, therefore enabling an easy-to-manage environment. Regardless of the number of files stored or submitted, you can quickly search through them using a keyword or phrase. To top that off, there are other elements that your business can use to improve collaboration, and these include:

Dropbox Paper – a workspace designed to promote team collaboration in real time.
Extensions – these are the tools that make it possible to open any file format without having to exit the virtual space.
Image and Text Recognition – with this tool, users can search for content in images and PDF files. You can search text that is within an image or a PDF file utilizing a machine learning optical character recognition tool.
Time-Based Remarks – this feature puts time stamps on remarks in such a way that it becomes easy for other users to jump into the comment later on.

File Sharing – Dropbox allows users to share documents using links. There is no need to attach files on emails. Documents shared can be edited and commented in real time.
File Backup – losing important documents due to various faults can be disheartening. It can actually make the team crumble. Dropbox uses modern sync tech to make sure that the content stored is updated. It also makes it easy to recover lost data. With the Dropbox Business package, users get up to 120 days to recover files and unlimited version history.
Compatibility – Dropbox is a cloud-based platform that is compatible with almost all smart devices on the market. You can get Dropbox on Android, iOS, Linux, Windows, and macOS. The mobility that users get from Dropbox is what makes it convenient for every member of the team. Also, Dropbox can be integrated with other virtual space platforms such as Slack and Vimeo.
Value for Money
Obviously, when considering something, price plays an important role in most cases. Dropbox Business comes at a cost of $12.50 per month for each user. The software provides three plans, namely Standard, Advanced, and Enterprise. What determines the suitable plan is the size of your business. There are great tools for the administrator that can help your business grow and create a fluid workflow.
You can test the waters of the Dropbox standard plan by obtaining their trial version, which lasts for 30 days. However, you need to provide your payment details in order to qualify for the trial period. The available features on the Standard version include:
Unlimited storage
User management
Unlimited version history
Unlimited content deletion
Administrator equipment
Team collaboration suite
Right up at the top, next to the Standard plan, is the $20 Advanced plan, which comes with advanced administrator tools, cybersecurity tools, and device approvals. The Enterprise plan comes at a custom price and includes all features of its subordinate plans and extra executive tools such as network control and EMM.
How to Start with +Dropbox?
As in every online-based paid software platform, registration is mandatory. Start with account creation, which requires the following:
Contact details
Account password
Payment details
Name of your team
Size of the company
Amount of users
Upon completing these required details, you can accept the Ts&Cs after reading them and you are good to go. At this point, you are able to invite your team members and access the admin panel, where tips of using some of the cool features will be provided to you. While on this panel, you can also manage members, adjust settings, and keep track of the activity.
Dropbox – Usability and Friendliness
One of the reasons why Dropbox has become a success is its simplified yet effective dashboard. You don't need to be a tech genius to know your way around the platform. On your dashboard, you will be able to see pending invites and monitor your subscription. You are also able to restrict viewing the documents shared and external links to selected users only. On your dashboard, you can also view all the files.
Dropbox also comes with an option to download it on your desktop. The desktop app comes with a unique feature named Dropbox Badge. The feature connects some of the Dropbox features to MS Office apps such as Excel, PowerPoint, and Word. The badge is stamped on each of the documents in your Dropbox storage, which enables you to monitor edits done on the documents. It is also recommended to use the desktop app as it will enable the user to upload big files since the online version has a limit of 20GB.
To access files while offline, you need to mark them as favorites. The painful part about this feature is that you have to do so one-by-one. There is no option to mark files as favorites simultaneously. On top of the desktop app, Dropbox also delivers mobile apps to users. With smartphones taking over the gadget world, more and more people are moving their virtual offices to mobile devices so that it could be easy to work while on the go. The Dropbox mobile app is a handy tool and is compatible with iOS, Android, and Windows mobile devices. For iOS users, new features have been added to Dropbox to enable users to view activity and feedback from team members on preview mode. This feature is yet to be added to Android devices. With the mobile app, you can create, share, and edit files. All of the apps under the same account are kept in sync so that you can continue with what you have been doing on desktop on your mobile app. The mobile app also includes amazing features such as a document scanner. With this feature, you can scan documents using your mobile device camera. This will convert the picture of the document into a document that can be edited.
With the document scanning feature, users can scan from as small as a business card to as large as A4 sized documents. If the paper is crumpled, it will straighten it up. The tool can scan up to 10 pages at a go. This means if you have Dropbox Business, you are free to forget about the importance of a printer if you only need to scan. Scanned images or documents can be saved in PDF or PNG format.
Dropbox is among the oldest players in the industry, and over its tenure, it has managed to establish a formidable virtual work environment with essential tools to enhance team productivity. Moreover, the software is also available in various languages. This is a great implementation, especially if we are to consider how diversified companies have become. It also makes it easy to globalize your company by having staff representatives from most corners of the world.
Dropbox Safety Concerns
Are documents backed up by Dropbox safe? Well, one should remember that cybercriminals keep on upgrading their skills as much as the cybersecurity companies do. However, all that one can do is opt for an entity that practices strict security measures to minimize any loss of data. Being such an entity, Dropbox utilizes ISO 22301 certification and its previous versions. It also provides SOC1-3 assurances. Administrators also have got access to activity logs, which are useful in ensuring SOX compliance.
Dropbox has been proven to be a reliable and great tool that offers so much help in conducting result-oriented virtual team collaboration. To top that off, the platform offers a great support service that is available during weekdays from 8 am to 8 pm ET via phone, live chat, and email. What's more, unlimited storage and file retrieval options add more weight to Dropbox. With all things put into consideration, Dropbox is an excellent choice if you are looking for a virtual platform to use when collaborating with your team.
Another Great Platform for Data Sharing Across Teams
Whether you already have Dropbox accounts or prefer to use another platform for sharing things across your team, there is always an excellent alternative you can try out. FileWhopper, a platform created by Auslogics, is meant for providing a seamless sharing experience. You can select as many files and folders as you want, no matter how large they are, and quickly share them on FileWhopper. A handy tool will help you with your entire upload process, making it easier and less time-consuming. You can then share the link to the uploaded material with the members of your team that you want to have access to the files or folders uploaded.  
FileWhopper keeps the link active for a maximum of 14 days (or 3 months if need be – just make sure to request this service). While others might view this as a disadvantage, professionals will appreciate this feature as it increases the security of your shared material. After the stated period, the contents are deleted permanently so that there are no traces left behind. If you are looking for a secure and easy-to-use online sharing software solution to use alongside Dropbox or replace the service, then FileWhopper is your go-to platform. It's pretty straightforward, and all members of the team can easily find their way on it.