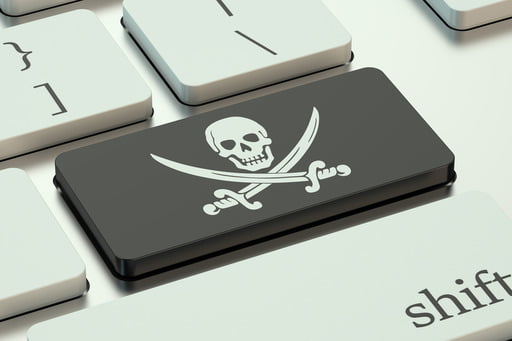 Online file sharing has gained tremendous popularity mainly due to its convenience. Unfortunately, sharing content online is mostly associated with piracy. Some industries have faced dire situations and irreparable damage due to piracy, and some companies have literally gone bankrupt. Piracy is a serious crime that is regularly committed or has been committed at least once by many internet users. People love freebies, hence the attractiveness of piracy to many. It enables internet users to get files that they are supposed to buy for free or at ridiculously low prices. Combating piracy hasn't been much of a success so far, and with digital products gaining popularity, piracy has also spread like a virus.
In an attempt to protect copyright laws, blockchain technology has been adopted. This technology has turned the tables online, managing to enable internet users to pay for online services and goods discretely via cryptocurrency, which is based on blockchain technology. By introducing this technology in an attempt to prevent copyright infringement, the efforts of TRON, a decentralized blockchain platform designed to develop into an entertainment ecosystem, have been widely felt and noted. This foundation is spearheading cryptocurrency-based file sharing, whereby users that are sharing files are awarded tokens as rewards, and it is a big hit online.
Online file sharing has always moved side by side with piracy. The introduction of new file sharing methods enhanced piracy even further. However, blockchain-based file sharing is trying to employ a structure that will let content owners benefit from sharing their content.
Unlike common cloud-based storage services, which basically serve the purpose of storing and backing up data, online file-sharing services are utilized to share mass media content. This means that stolen digital content, such as music, movies, eBooks, and software, is spread online using file-sharing services. However, with the introduction of blockchain, rewards in the form of cryptocurrency are used to recompense creators, seeders, and consumers.
How Blockchain May Transform Copyright Protection
There are various ways that blockchain is used to facilitate copyright protection and compensate content creators with cryptos. Here are some of the ways cryptocurrency-based file-sharing services work:
Seeders Are Paid to Share Files
Seeders that host the files being shared are paid by most of the crypto-based file-sharing projects. For instance, BitTorrent Speed encourages users to reward seeders with excellent services, such as good download speeds. Upfiring requires users to pay in order to decrypt a shared file, and then seeders are rewarded with a proportion of the paid amount depending on the number of files shared.
Now you may be wondering how rewarding seeders, who sometimes won't be owning the distributed content, helps in combating piracy. Well, as stated earlier, this is a new system that is being rolled out in an attempt to tackle piracy. This has to happen over a certain period. For now, creating a platform that rewards seeders is a move that actually invites content owners to come to the piracy world. Content owners need to be rewarded for the work and time invested in creating the content. Thus, such platforms are being formed to invite original owners to come and share their content by themselves. Seeder-based rewards may be an essential building block towards budding networks.
Creators Are Paid to Publish
Not all projects focus on rewarding seeders – some prefer to put creators and copyright owners first. More and more cryptocurrency-based file-sharing platforms are starting to realize the importance of acknowledging content owners and actually paying them for publishing and sharing their work, which means not only those who use these services get rewarded.
For instance, AVXChange rewards content owners by making sure they receive 60% from each sale while peers are only getting 39%. This is a great way of helping each of the participants in the distribution of content get what they deserve. K.IM has the highest reward among cryptocurrency-based file-sharing services as they give 95% of each sale to the owner. However, there is no peer network as the platform does the sharing by itself.
Although this is a great way of trying to ensure that content owners get what they deserve, there is no foolproof way of confirming that an uploader is the actual owner of the content they have uploaded. For that reason, users may still be able to pirate content and earn money through doing so.
Other platforms take a different route by trying not to minimize piracy but to keep content sharing legal. Take, for instance, Quality Magnet Coin, which uses blockchain technology as their torrent index basis. This means that their index can be neither censored nor taken down. Although the QMC team claims not to have any intention to infringe copyrights, their platform is designed to operate following the piracy rules, so there is a chance that they will actually promote piracy.
Is Blockchain-Powered Copyright Protection Effective?
At the moment, it is hard to measure the effectiveness of blockchain-based copyright protection. The idea hasn't reached its full scale with the likes of Upfiring only having less than 100 users per month and BitTorrent Speed failing to publish any usage data. Other platforms, such as K.IM and AVXChange, are still a work in progress. Things are still moving at a very low pace for the impact to be felt. Moreover, even when torrents came to light, they said most of their files that were being shared were legitimate, which was contrary to a study that was conducted by Princeton University and that stated only 1% percent of the torrent files were legal.
With all facts considered, blockchain-based file sharing is still at a tender level, and it is hard to tell which direction it will move. It might help in fighting against piracy or promote it to a new height. Whatever the case, piracy will always exist as we have witnessed in the past. A number of torrent websites were shut down, only for their mirrors to resurface and take over. Thus, only time will tell if blockchain-based file sharing will succeed in combating piracy.
Sharing Large Files Online Made Easy with FileWhopper
Speaking of file sharing, are you tired of having to pay costly subscription fees before you can share large files online? If so, then you might want to consider FileWhopper. The program allows you to send files and folders of ANY SIZE and pay only for what you transfer. Here is what you get from FileWhopper:
* Fast Transfer - with the FileWhopper app, your data is transferred in a quick and safe way.
* Security - your files are encrypted using a password to ensure only the sender and intended recipient have access to the shared content.
* Safety - your information is kept on secure servers.
* Secure Storage - your data is stored securely for up to 14 days (or even 3 months) regardless of the size of your file or folder.