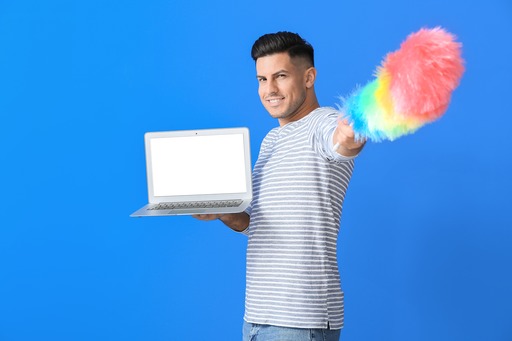 PC cleaners have grown in popularity over the years because they help you get rid of things you can't track on your own. You're likely in need of one of these applications if you notice a progressive decline in your PC's performance.
Using numerous third-party programs means dealing with temporary files and leftover registry keys. Applications like games and antivirus programs create temporary files like caches and logs that they end up not using after a while. These files remain on your system until you get rid of them.
Leftover registry files are mostly the products of uninstalled applications. If you don't get rid of them, you'll notice your computer slowing down over time with no reasonable explanation.
Sometimes, you need to take extra steps to remove a program's entries from the system registry after uninstalling it. And since the system registry is a sensitive area on your PC, you don't want to be editing it yourself.
This article will answer questions such as "How do I remove junk files from my computer?" and "What is the best free way to clean up my computer?" In addition, we'll introduce you to the best PC cleaners in the world alongside their pros and cons.
"How Do I Run a Cleanup on My Computer?"
While Windows provides tools like Disk Cleanup and disk defrag utilities, they're not as intuitive as the third-party tools in this guide. These programs contain all the features that will help you clean up your registry, hard drive, and browsing history, among others.
Auslogics BoostSpeed
Auslogics BoostSpeed is a one-stop shop for performance improvements, system cleanup, and privacy protection. The program is packed with numerous tools to help you optimize how you interact with your PC, maintain efficient system performance, and keep malware from collecting sensitive data from your hard drive.
You can also take advantage of the automated system maintenance tool that catches bugs before they start causing problems. What's more, the Internet Optimization feature allows you to enhance your connection speed manually and automatically.
Auslogics BoostSpeed also has a full suite of additional modules to edit specific navigation settings and change how you interact with your PC. This way, it's easy to adjust your system settings to suit your needs.
The program's free version comes with a lot of features. This makes it arguably the best free PC cleaner you can find. You'll have access to the basic versions of the disk defragmenter, registry cleaner, and PC cleanup and optimization utilities.
The Pro version comes with the advanced versions of the tools mentioned above and automatically speeds up your internet connection. It usually costs $19.98, but there are regular discounts, especially for first-time users.
Strong Suits
Holistic and effective scans
Additional tools to customize system usage
Competitive pricing
Wide range of scanning options
Near-instant results
Downsides
Iolo System Mechanic
Iolo System Mechanic doubles as a PC cleaner and privacy protection solution. It blocks bloatware, removes unwanted apps and junk files, and clears the system memory to free up space. In addition, it can wipe your browsing activity to make sure you're not being tracked.
Its cleanup features make it easy for your system to run smoothly at startup. This is because bloatware and junk files that affect your system's startup speed are removed.
You'll get the program's full features for a month if you go for its trial version. If you want to keep using it for free, you'll have to make do with its cleanup, speed boost, and basic system repair tools.
However, if you're convinced you should go for its full version, you can get it for $49.95. That said, there are also $14.98 yearly subscription deals, depending on the bonus you enjoy.
Other versions include the System Mechanic Pro plan for $20.98 (normally $55.96) yearly and System Mechanic's Ultimate Defense, which goes for $23.98 (normally $63.96) annually.
You'll get different tools depending on the plan you're buying.
Strong Suits
Easy setup
In-depth scans
Detailed reports
Downsides
Complicated interface
Premium-only advanced features
IObit Advanced SystemCare
IObit Advanced SystemCare is known for its well-rounded user interface. It's easy to use, and even basic PC users will be able to find their way around it without hassles.
The program does the job you'd expect from any PC cleaner and then some. It's designed to remove junk files, clean up the system registry, optimize PC performance, and protect privacy. What's more, you can also use it to increase your Internet speed, depending on the version you install.
The tool's free version comes with different features, such as Empty Folder Scanner, File Shredder, and Context Menu Manager.
IObit Advanced SystemCare does a great job as a cleanup tool. However, we won't fail to mention some drawbacks. You'll have to be careful when installing the program as you could end up getting additional apps you don't need, like Opera. Throughout the free version's interface, you'll keep receiving prompts to upgrade to the full version, and you'll be asked to sign up for the newsletter.
Generally, you'll have a good time using the program. But it's at its strongest when you go for the premium version, which is sold at $19.99 per year.
Strong Suits
Easy-to-use and customizable UI
Auto cleanup
Downsides
Disruptive prompts
No option to exclude individual files
Ashampoo WinOptimizer
Ashampoo WinOptimizer's quick scan feature is arguably its biggest draw. It quickly checks for browser cookies, bad registry keys, and junk files and allows you to clear them in simple steps.
That said, you can still run deep scans to find and remove other elusive system-slowing elements on your PC.
What's more, you can click on the Details button to analyze the scan results. The program shows you details of each file and registry entry, allowing you to make an informed decision about keeping or deleting them.
Ashampoo WinOptimizer makes it easy for you to use individual tools. For example, Drive Cleaner finds and removes temporary files. Startup Tuner helps you enable and disable programs that launch at startup. Internet Cleaner is used to clean up browser cookies, cache, and history. You can also use the defragmentation tool to keep your hard drive healthy.
You can enjoy Ashampoo WinOptimizer's full version for free for just 10 days. After that, you're required to pay $20 yearly.
If you don't want to pay for the program, you can stick with the stripped-down free version. However, this version lacks essential features like Registry Optimizer and Drive Cleaner.
Strong Suits
Detailed analysis
Intuitive, quick scans
Downsides
Limited free use
Desktop area cluttered with store links
CCleaner
CCleaner is Piriform's software uninstallation and registry-cleaning solution. The program is one of the oldest PC optimizers on the market and remains one of the best free PC cleaners.
It is primarily a registry cleaner. That means it is designed to find and remove leftover and corrupt registry keys. These keys usually no longer have system resources and applications linked to them. Removing them eliminates specific bugs and glitches.
That said, CCleaner is more than just a registry cleaner. It can clean a lot of unwanted elements that could be slowing down your PC. These include DNS caches, memory dumps, junk, temporary files, and log data. Also, it can help you clear your online footprint by cleaning up cookies, browser cache and history, and passwords.
The uninstallation tool can remove third-party programs alongside their program and temp files.
The program's free version comes with almost all the essential tools you need. For example, you can use it to remove unwanted third-party programs, clean the system registry, clear browsing data, and remove junk files.
If you want to add software updates, real-time monitoring, and advanced cleanups, you'll have to go for the $24.9-a-year Professional Plan.
The Professional Plus Plan comes with additional tools like Piriform's Recuva and disk defragmenter. It costs $39.95.
Strong Suits
Clean user interface
Desktop and mobile versions
Downsides
Opens new windows for new tools
Restoro
Restoro cuts to the chase without offering too many additional services. Instead, it's a performance optimization tool that plays to its strengths. Once you install the program, it automatically scans your PC for problems.
It checks for vulnerabilities, dangerous applications, junk files, and problematic registry keys.
The noticeable downside of Restoro is that you can't do almost anything without paying for a license. After installing the tool and running a scan with it, you'll have to enter your payment details to use its repair features.
The full subscription will set you back $27. That said, you'll have to pay $41.95 for the unlimited version, which comes with full customer support.
Strong Suits
Malware remover
Advanced scan
Downsides
Only scans available for free
FileWhopper
While not a PC cleaner, FileWhopper is definitely a service worth mentioning. It's a file-sharing solution that frees you from the constraints of subscriptions. You only pay for the amount of data you share, and there's no limit to what you can send, unlike when using other services.
Here are reasons why you should consider using FileWhopper:
You won't be slowed down by a hectic subscription process. All you have to do is enter your email and payment info to pay for the file or folder you're transferring depending on its size.
There are no file or folder size limits. 
You won't have to worry about interruptions halting the transfer process. You can always pick up from where you left off even if you lose signal or your system unexpectedly goes off once things are back to normal.
The tool implements zero-knowledge encryption, which means that no one except you and your recipient has access to your data.
Your first 5GB transfer is free of charge. This way, you can try out the service before paying anything.
[fwa-calculator]
Conclusion
Our verdict is that you'll get the best deal going for Auslogics BoostSpeed and Iolo System Mechanic. Auslogics BoostSpeed provides all the tools you need to keep your system at its peak performance and handle other critical issues, like privacy protection.