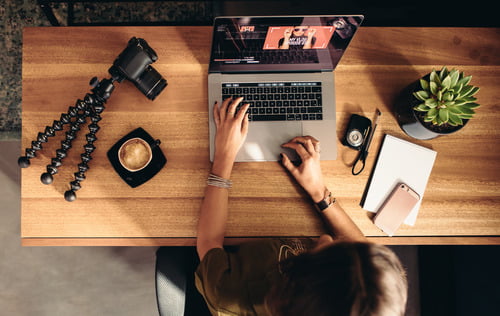 What is the easiest free video editing software? It depends. What exactly do you need to be edited? Are you using your mobile device or your desktop? None of these matter given that I have compiled a list with over 20 of the best free video editors for you to select. Scan through the list using compatibility to find the one best for your devices or gadgets.
You're most probably reading this article because you searched for how to find the best free video editing software for Windows? You're in luck as I will also share how to use the best free video editing software on Android and iPhone.
Top 21 Free Desktop Video Editors to Get You Started
1. Lightworks
Compatibility: Windows, Mac and Linux
Linus is one of the best freemium video editing software in the market. For the beginner to the intermediate editor, the free version of Lightworks is more than sufficient. Under the free version, you get the following features; multi-cam support, top precision video trimming, several video formats and the ability to export 720p for use on YouTube. Professionals have the option of getting the Pro version at a cost of $24.99/month. As a popular video editor, Lightworks, as described here, comes with the advantage of having a lot of unique tutorials including on YouTube, to get you started.
2. Blender
Compatibility: Windows, Mac and Linux
Blender is another excellent free video editor. The editor was designed as a 3D animation suite and offers a professional video editor for use by both beginners and professional editors. Some of the most interesting features that are offered by Blender include speed controls, up to 32 slots for adding media that needs to be edited, audio remixing as well as live previews and histogram displays. If you're determined to come up with the most convincing edit in your entire career, then go with Blender and take advantage of the overflowing features ready for use.
3. DaVinci Resolve
Compatibility: Windows, Mac and Linux
Ever heard of the Italian polymath of the Renaissance times, Leonardo di ser Piero da Vinci, the classical painter, architecture, scientist, astronomer, artist and more? Well, this free editor is the real Da Vinci of our time. It doesn't hurt that the editing software is filthy rich in feature with so many extensive articles to work with, it might prove overwhelming for the startup editor. If you're interested in intuitive interfaces, advanced trimming, colour correction, multicam editing and audio mastering, then give the DaVinci Resolve a try. It's worth it, especially for the more advanced projects that must leave everything detailed in colour.
4. Shotcut
Compatibility: Windows, Mac and Linux
Another excellent video editor that's available for free. Fully available as an open-source program, this editor only needs a compatible PC, and you are ready to download and start experiencing its professionalism without paying anything. Shotcut is super popular and just like Lightworks, there are a lot of tutorials and videos with material and information on how to get the most when using Shotcut. Get the editor if you're interested in the features such as more than one video format, 4K resolution support and skipping the entire process of importing your video into the editor. Initially created for use only on Linux, this can be a limiting feature which most editors using Mac and Windows will find limits them.
5. Avidemux
Compatibility: Windows, Mac and Linux
One of the popular free video editors in the market. Avidemux is an excellent starting point for new editors who are starting their journey in the industry. When using Avidemux, it's possible to achieve features such as encoding, filtering, cutting and other basic edits. In a way, this editor is quite limited, especially when compared to the others already in this list. It's an excellent editor for a beginner or a seasoned editor who specializes in minimalistic editing.
6. Openshot
Compatibility: Windows, Mac and Linux
Openshot is one of the best editors that are freely accessible. Both beginners and seasoned editors can have a round of fun learning their way using this software. The editor is more inclined towards Mac users with some features that resemble iMovie but this doesn't mean that Windows and Linux editors cannot enjoy the same features. You can download and enjoy the Openshot editor for features such as compositing, unlimited layers, scaling/resizing, advanced timeline and title templates. Because it comes with open layers, editors get more for less when using this editor.
7. HitFilm Express
Compatibility: Windows and Mac
On our list of the easiest free video editing software in the market, there is also HitFilm Express. Initially popular among film editors, this free video editor is now used globally by anyone looking for an editor that comes with green screen key effects, filters for both audio and editor as well as advanced cutting. If you're interested in the other features (well because the software is rich in such), then feel free to visit the store and get yourself the add-ons. Bear in mind that the open features are more than enough for the average daily videos, especially bloggers and YouTubers. The biggest limitation is that this editor is not available for Linux PCs.
8. InVideo
Compatibility: Windows and Mac
Still interested in how to find the best free video editing software for Windows? Then read on about InVideo, another great video editor, but this time around, only available on Windows and Mac. InVideo is an excellent tool especially for publishers, agencies and marketers looking to create something professional but unique for their audiences. Every few months, the editor gets an addition of new video templates and other tools. If you're interested in an editor that comes with text overlay, merging, collaboration, speed adjustment and HD resolution support among others, then get yourself InVideo. The features offer a high range of features that increase its flexibility and your options as an editor.
9. VSDC Free Video Editor
Compatibility: Windows
If your question is does Windows 10 come with video editing software, the answer is, yes. There is a free hidden Windows 10 video editor. And it works just like the Windows Movie Maker editor. Only that you have to find it and make it visible. But while at it, how about you download and use VSDC free video editor. Some of its features include ease of use when editing audio and colour correction. Should you feel like you need more of the editor's features, then you can go for the pro version which sets you back $20 but comes with a whole lot more features.
10. iMovie
Compatibility: Mac
So, you asked: does a new Mac come with video editing software? The answer is yes, most definitely. Since April 18, 2017, all newly purchased iOS devices including Macs come with iMovie. This good old video editor has helped a lot of Mac consumers to successfully revamp their otherwise basic videos. The top features included on iMovie include a 4K resolution, video trimming, and a library with skeletal pre-made transitions and more. You also get a split-screen on this super easy editor that doesn't take much to learn.
11. VideoPad
Compatibility: Windows
If you've decided to venture into Multimedia video editing, then VideoPad is the way to go. If you're after a basic video editor with main features such as 3D editing, exporting in various resolutions and reduction of camera shakes, then go with VideoPad. You can export directly to other social platforms including YouTube. Ideal for starters that need professional minimalistic Windows editors.
12. Machete Lite
Compatibility: Windows
Another super easy to use an editor that's fully dedicated to Windows consumers. This editor is excellent when it comes to a quick editing gig that doesn't need too much pampering. Machete Lite is a freemium software but the free features are great for everyday video editing. The only limitation that can make one think twice before downloading Machete Lite is that it only supports AVI and WMV files. Pay just an extra $20 for the premium version and you're set to edit just the way professionals do!
13. Freemake Video Converter
Compatibility: Windows
Don't let the name of this video editor confuse you. Using Freemake, you're able to convert, edit audio and make modifications on as well as embed videos to websites. If you would like to play around with different video formats, then this is the number one video editor to work with. Freemake offers over 599 video file-formats including audio and photo file formats. It offers a 4K resolution support and best of all, you don't have to be an expert to use the editor.

Share Your Edited Video Clips Via FileWhopper
At times, your video will be too big to share using most of the available file sharing services. Luckily, there is one that you can use to share a file or folder of any size and only pay for the actual file size. FileWhopper is a straightforward file sharing service provider that enables the sharing of both personal and professional videos. You can share both raw footage and the final version of your edited work. All you need to get started with and use FileWhopper is listed underneath:
• Visit the official FileWhopper website and click on the box to select either your file or folder.
• Select the file or folder you want to transfer and then allow the small app on the site to calculate the size and give you the price to be paid.
• Once the upload has been completed, you will receive a unique URL with your video and a password to access it freely over the next 14 days.
• Share the link with anyone you want to view the video. If you need more than a 14-day period, you are welcome to pay an additional fee.

Just to give you an idea of what you can expect to pay, when transferring anything up to 10 GB, you are charged a one off-fee of $0.99, and for up to 10 TB of data, you will pay $126. Pretty affordable! By the way, first-time users can send up to 5 GB of data for free.
Free Video Editors on Mobile Devices
The next video editors are for the mobile consumer who is on the move but needs to keep on working.
14. Adobe Premiere Rush
Compatibility: Android and iOS
This is one of the best mobile devices' free editors. Adobe Premium Rush is super popular and preferred because of its flexibility when it comes to a music library that can be used when selecting audio for the video being edited. Also, when using this editor, you can make auto-corrections, transition and even cut your work. All from your Android or iPhone or iPad. You're more than welcome to select either the Freeform or Automatic formats and use these when making your edits. It also syncs perfectly with other apps such as Lightroom giving you more to work with.
15. Horizon
Compatibility: Android and iOS
Here is a little secret on how to find the best free video editing software for a smartphone. Be sure that it's compatible with most smartphones. Don't limit yourself. In case you learn the ins and outs then change phones only to find that your favourite is not an included software on the new phone. Use Horizon to capture and record in the horizontal format regardless of your phone's position. This app is excellent for capturing content horizontally so you don't have to worry about editing from vertical to horizontal. The free version has enough to get started, check it out from your app store.
16. Quick
Compatibility: Android and iOS
This is one of the top free video editors available on mobile. Quick comes from the same lab that makes GoPro. It's the top recommendation for anyone looking to do the bare minimum with regards to editing. If you're interested in an editor that already comes with auto-trim, then you're in the right place. That way, there is little left to be done manually. The only downside might be if you're not fully interested in a semi-automatic video editor.
17. GoPro
Compatibility: iOS and Android
As the name suggests, with this app, you're fully going professional. The app is simple to learn and doesn't require much for the user to get started. You can simply add some transitions and sounds without doing any back-breaking work. GoPro offers a super huge built-in library. Sharing videos once they are done is also simple as the app provides several exporting formats.
18. Promo.com
Compatibility: Android, iOS and Web
This is one of the best sites when looking to create the most professional videos. Easily the top free video editing tool for social media marketing. It's also easy to collaborate between the PC and mobile as the app is compatible across those platforms. You should use Promo.com if you are after features such as HD Resolution, audio tools, merge, brand overlay, speed adjusting and more. Offers automation, intuitive UX and ease-of-use.
Best Free Video Editors for Instagram
Advertising has mostly moved from Facebook to Instagram and some on Flickr and other platforms. It's only right to check editors that will give your IG videos the pop that they deserve.
19. FilmoraGo
Compatibility: Android and iOS
We're almost done with our list of the best free video editing software 2020. FilmoraGo is an excellent video editing app that can be trusted by your IG account administrator to produce top quality results. Free features include video trim, adding music, and even transitions. All the add-ons and other features are already in the app. You should download the app to help you customize your videos and add overlays, themes and different sized-text. Should you want to have the ability of editing videos on both your mobile phone and desktop, FilmoraGo is also available on desktop and the version costs $45 annually.
20. Boomerang
Compatibility: Android and iPhone
Most active Instagramers are well aware of Boomerang. The app is created by Instagram for Instagram so this is the best and most used by marketing and IG influencers. If you would like to create more engaging posts, then you have to download Boomerang. When using the app, you can do a photo burst of up to 10 images then convert into a mini video using Boomerang. There is a direct link making it possible for posters to directly post between IG and their Boomerang apps. Once the content has been edited, sharing it is easy. The only downside is that the app tends to be pretty limited.
21. Magisto
Compatibility: Android and iOS
Finally, one of the best free Instagram apps for editing content to make it on our list is Magisto. This is a top app especially for posts that need the best in terms of AI enhancement. If you are looking for a quick and clean edit of your Instagram videos then get Magisto and the results will look like a professional job. To make your editing job easier, the app has a built-in feature that makes it possible for you to select the type of story that best resembles the one you would like to tell. Add the video and let the editor get started. The results when using this app always leave your work looking more professional than you would when using similar apps.
Get Started with the Best Free Video Editor
I have provided you with a list of what is arguably the best free video editing software 2020. You can take a virtual tour through the editors in this list and try them out until you find the ones that work best on your devices. Try to understand that on the freemium editors, you might need to use more than one editor to achieve the results you need. Thus, to get the ultimate deal with everything in one package, opting for a paid version is the simple solution. In case you want to transfer large files securely, without any commitments, then always use FileWhopper