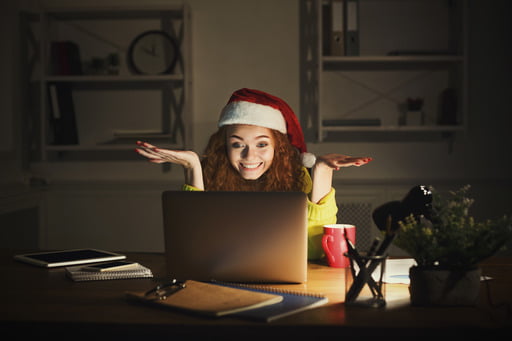 We all love this time of the year since holiday cheers, time with loved ones, and the big New Year's party can make anyone happy. This period finds many people making resolutions and looking to become better than they were the previous year.
Different articles and magazines tell you how to become an improved individual. However, the truth remains that keeping New Year's resolutions is no walk in the park. Like many before you, you may find yourself failing to stick to the goals you've set for yourself. However, some individuals are able to watch themselves grow steadily with each new resolution they make and keep.
It doesn't matter whether you're in the "make resolutions and break them" or "work extra hard to keep those resolutions and keep growing" group. In reality, we all hope to see ourselves improve. As you're reading this article, you're probably already making another resolution and adding it to your list of goals.
Did you know there are apps that can make it easier to accomplish your goals? With them, you can lose weight, save better, quit smoking, stay fit, and so on without putting unrealistic pressures and expectations on yourself.
We know you're already asking, "What are the best New Year's resolution apps for a smartphone?" The good news is that we've compiled the most helpful tools. There's something for everyone. There are New Year's resolution apps for iPhone users and those for Android users as well. This guide will also show you how to transfer files and folders of any size over the internet, which may be extremely helpful in situations where you need to share your progress. Let's dive in!
What Are the Best New Year's Resolution Apps for Android and iOS?
For starters, if you're looking for an all-in-one app that'll help you keep track of your resolution progress, check out Strides for iOS and Loop for Android. However, if you're looking for something more specific, keep reading to find the best resolution apps for each of your goals.
1. Be a Better Version of Yourself
The chances are your resolution list starts with a goal like becoming a better and more improved version of yourself. However, how to accomplish this is a question many have been asking for years. Fortunately, Grid Diary, which isdesigned for iOS users, has made this easier to achieve.
As far as apps go, this tool is worth the download.It helps you stay in the moment and manage your day through helpful prompts that remind you to focus on gratitude, friends, and family. This way, you're able to keep the right mindset and take stock of how you spend your time.
It also has a customization feature that allows you to enter your own prompts for the things that are important to you. These customizable prompts expand what you can do with this app.
For Android users, a similar app that serves as an alternative is Journey.
2. Lose That Extra Weight
When it comes to getting rid of those extra pounds, things can be quite challenging. This is why MyFitnessPal, which is available for both Android and iOS, was designed to make your calorie-tracking journey easier. It has a database of more than 11 million foods. If there's anything that you don't find on the list, you can input it manually or scan it in by using its UPC.
One of the features that make this app a top tool is its ability to integrate with other fitness trackers and apps. This allows it to give users an in-depth analysis of the number of calories they take in or burn. With this overall picture, it's easy to see how well you're doing, and it encourages you to do more.
If you don't want to go it all alone, you can register for a more formal program that gives you access to the Weight Watchers community (now known as WW), which allows you to become part of a long-term weight loss group. Also, an accompanying app gives you 24/7 access to a team of coaches you can arrange in-person meetings with.
3. Get Fit
Getting more exercise and staying healthy is one of the most popular resolutions people make for the New Year. However, this can be challenging to achieve – especially when you don't have the means to hire a fitness specialist or trainer. Exercising all alone is sometimes boring, and without someone to motivate you, it's all too easy to give up along the way.
Fortunately, a team of top trainers called Nike Master Trainers came together to develop a free tool called Nike Training Club. It's available for both Android and iOS platform users. Nike Master Trainers, through their club app, offer you free video-guided workouts, catering to all fitness levels and giving you plenty of variety.
If you have a busy schedule but are looking to squeeze some fitness time into your tight calendar, download J&J Official 7 Minute Workout. It's available on the iOS and Android platforms. Just as the name suggests, it allows you to keep fit without going through full workouts. However, this doesn't mean it only offers short training routines. It offers a variety of workouts, ranging from short 7-minute routines to 32-minute sessions.
The workouts on J&J Official 7 Minute were developed at the Johnson & Johnson Human Performance Institute by their director of exercise physiology.
4. Eat Healthier
This is the year you'll finally make good on your resolution to eat healthier. After all, you are what you eat. If you want to improve the quality of the food you eat, download the Fooducate tool, which is available for Android and iOS users. The app gives you access to a huge database that rates every food with a letter grade. To find healthy alternatives to any favorite unhealthy food that you indulge in, scan the product's barcode and Fooducate will offer you suggestions.
While it is good to know where to buy healthy alternatives, it's even better to prepare your meals yourself. After all, the best way to ensure that what you're eating is clean and healthy is to make it yourself. This is where the SparkRecipes app comes in. Available on iOS and Android, it gives you access to a database of more than 500,000 recipes. From this variety, you can pick options that meet your taste and nutritional needs. Even if you're not skilled in cooking, you don't have to worry: the tool features a section with video demos and kitchen tips.
If you want to go vegan in 2021, these apps will make it easier by providing you with relevant options. This allows you to make adjustments to what and where you eat.
For those looking to combat eating disorders and anxieties, the Rise Up + Recover app will come in especially handy. Available on both iOS and Android, it enables you to manage feelings associated with food-related problems. If you're already feeling anxious while thinking about how to stick to food-related New Year's resolutions, this tool is what you need.
5. Improve Your Health
The importance of regularly working towards improving your health status might sound cliché, but the state of your body should matter most to you. It is obvious that if your health takes a nosedive, it'll be impossible to accomplish any of your goals.
However, it can be challenging to have a clear picture of your medical history and current health status. Luckily, FollowMyHealth, which isavailable for Android and iOS users, helps you to surmount this issue. You get to enjoy access to a repository of primary health information. It also affords you other features, such as the ability to track your medical appointments, share information, and communicate with your physician on the go.
If you're looking to see a doctor for non-emergency purposes, then download the Doctor on Demand app. It is compatible with iOS phones, Android phones, and Android tablet devices. You can contact a physician immediately (if you choose) or schedule an appointment on this app. In addition, prescriptions are sent to any pharmacy nearest to you.
If you already have an insurance scheme, then you'll enjoy this tool all the more. Doctor on Demand accepts insurance, although uninsured individuals are accommodated as well.
6. Quit Smoking
Of course, cigarette smoking is bad for your health. The good news is, your phone can be your companion on your journey towards beating this nasty addiction. MyQuit Coach is an iOS application that you can use to create a personalized plan for quitting smoking for good. The tool is not available for other platform users. However, if you're using an Android device, you can get the same features by downloading the Stop Smoking app.
Meditation is another way to quit any unhealthy habit quickly. You can supplement your stop-smoking tool with a meditation app called Quit Smoking with Andrew Johnson. It is available on both Android and iOS platforms and gives you extra motivation to achieve your resolution. Andrew Johnson is a hypnotherapist with a soothing and effective voice, which you will undoubtedly enjoy.
7. Get a Better Job
This might be the year when you finally decide that you want to leave that unsatisfactory job and apply for a better one. If this is the case, then you need apps to help you in your job search and put you in front of great employers. For starters, you can register on the popular LinkedIn app, which lets you customize and choose how potential employers see you. Besides, it puts you in touch with your former and present colleagues and employers – even those you might have lost connections with.
To land a great job, you need your resume to be in the best shape. A well-written and organized resume can be the difference between losing that job and landing that dream position. Resume Star is an app that helps you ensure that you look your best on paper. You don't have to worry about getting the right font or format. Simply enter your details, and the program will take care of the rest. Unfortunately, this tool is only available on iOS devices. If you are an Android user, you can download and activate Resume Builder.
When you finally land an interview, you need to ensure that you are well prepared. Do your best to study the kinds of interview questions you should expect. This also includes looking for information on whether the company you're interviewing with is indeed a place where you'd like to work. You can make use of Glassdoor, whichisan Android and iOS app that gives you access to workplace reviews gotten from current and former employees of organizations. Also, you get to see their salary ranges and insider tips that would otherwise take you years to learn during lunch breaks.
8. Spend Less Money and Save More
Making budgets and staying within them might not be your thing. Saving money is even more difficult, as it's quite challenging to keep money aside when you are surrounded by a myriad of tempting things you can spend your savings on.
This is where Mint comes in. Available on both iOS and Android, it keeps you in check and ensures you don't go outside your spending limits. All you have to do is enter some basic banking information and then decide on how much you want to spend and what you want to spend on. Mint handles the rest from here.
Now that you've handled your budgeting problems, it's time to think about saving that extra money. For this, download and install Digit. It's an app that's available on both Android and iOS platforms. The tool will analyze your spending habits and let you know what you can set aside into a savings account.
A life of debt is hindering. Set yourself free in this New Year by paying off what you owe. Plan your debt payment strategy and move into action with Debt Free, which is available on iOS only. However, Android users can go for Debt Payoff Planner.
9. Share More with Loved Ones
With so much to do and so little time to do it, it may be difficult to make time for those you love. Sharing your special moments and things you love, such as your favourite music and movies, with them is one way to let them know you have them in mind. However, this may seem challenging, as there are few platforms out there that can handle the transfer of large files easily.
Luckily, you can employ FileWhopper, which is a cloud-based tool that you can use to send files and folders of ANY size with absolutely no limits. Also, you don't need to bother about subscribing to a weekly or monthly plan. The app only charges you for what you want to transfer, nothing more. Simply select the file or folder you want to send, and it'll show you your one-time service fee, and that's it! This way, you can share those precious moments with whomever you want, be it your wife, parents, siblings, or far-away friends, and whenever you like.
[fwa-calculator]
FileWhopper uploads and downloads data at high speeds and also encrypts it for added protection from hackers. Besides, you don't have to worry about compromising the quality of your videos by compressing them before sending them – the tool can send your files in their original format.
Keep in touch with the people you love by sharing your best moments with them virtually.
Conclusion
As you make your resolutions this year, be kind to yourself. Set realistic goals and work steadily towards achieving them with the help of the apps in this article.