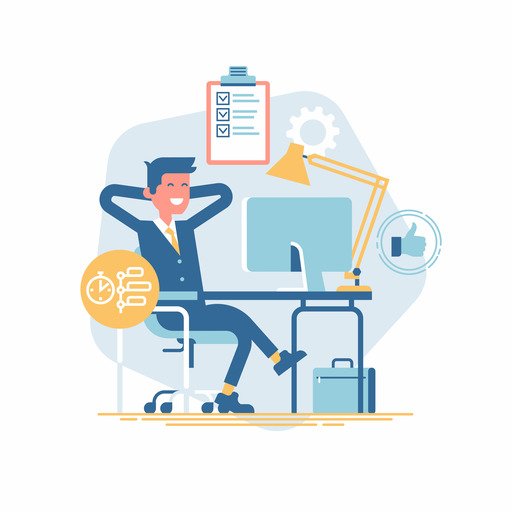 Keeping track of tasks and deadlines is essential for productivity, especially if you are managing a large team and juggling multiple projects. Task management software tools are designed to keep you on top of your business processes and ensure that projects are executed on time and on budget.
But since there are so many software solutions to choose from, it can be quite difficult to find the one that's right for you. We have, therefore, outlined a few useful tips to help you pick the best task management tool for your business and listed some of the most popular options for your consideration.
What Is the Best App for Project Management?
Your options when choosing a task management platform range from simple, single-user software solutions to complex tools that can accommodate thousands of users and projects.
You might then ask, 'What is the best task management software for small teams?' There is no need for small businesses to subscribe to costly software with functionalities that they won't need. That would be a waste of your valuable resources, not to mention the time it will take to train your staff to use the tool.
Therefore, if your team is no more than 10 people, you will be better off to invest in a small, inexpensive app that is easy to set up and use and that offers only the basic features that you need.
However, if you are running a large corporation with a large team and hundreds of projects, an enterprise solution then becomes an absolute necessity. With it, you can seamlessly manage multiple business procedures, including invoicing, budgeting, client relations, and HR.
After you've determined the budget for your task management tool, which depends a lot on the size of your business, there are other aspects to task management tools that you should look out for:
Purpose: Some software solutions are specifically designed for use in specific businesses or industries, such as tech startups, finance, retail, and so on. Go for a tool that has a set of features that can make your unique business processes easier.
Also, the type of business you run may determine your project management style. So it is important that you go for a tool that fits the way you intend to manage projects.
User Interface and Ease of Use: As previously mentioned, you wouldn't want to spend too much on getting the software up and running. Another question to ask is, "How long will it take to train your staff to use the tool?"
Customer Support: How quickly can you get assistance when you run into issues? This is another important question you need to know the answer to. Make sure that the platform provides a reliable customer support service.
Software Integration: You may already have certain apps on board for running your business. So it's important to go for a task management platform that works well with your already existing tools.
Available Apps: Before settling for a tool, you should find out whether it can be accessed via an app that's supported on various devices.
Scalability: Another thing you should know is how long the platform will serve while your business continues to grow.
The Best Task Management Software in 2021
What are the best apps to manage tasks in 2021? We now present you with some of the most popular software tools that will suit your business needs:
1. Project Manager
Project Manager is an award-winning SaaS task manager that has been adopted by the Bank of America, Volvo, NASA, the US Post Office, and many others. It is a professional tool that large businesses and teams with multiple projects will find most useful, especially because of its scalability.
This project and task management software suite can easily handle budgeting and resource management on a large scale and is also great for document management, reporting, and time tracking.
Project Manager has a wide variety of features, providing you with anything you need, including Gantt charts, resource and workflow management tools, timelines, Kanban boards, roadmaps, and integrations.
The tool is available on the web and has apps for iOS and Android devices. It works well with Google, OneDrive, Microsoft Office, QuickBooks, JIRA, Evernote, Xero, Salesforce, Zendesk, Slack, and Xero.
Although Project Manager is aimed at corporate entities and large businesses, it can serve small teams too, but you might find it quite expensive.
The tool allows for robust project planning. Managers can schedule work for their team and plan dependencies. You can easily monitor task progress on the dashboard and see the amount of time spent on tasks.
Multiple project views make it easy for teams to view their tasks on a calendar, include them in a task list, or see them on a Kanban board. The Team feature provides a way to monitor what your team is working on at any point in time. You can easily adjust their workload, introduce new tasks, and plan holidays with the Workload feature.
2. Monday
Monday.com is one of the most sought-after task management software platforms. It is highly rated on many independent review websites. Modern businesses, no matter the size, will find the tool very helpful. It has been adopted the world over by more than 10, 000 companies, including Discovery, Lonely Planet, eBay, Costco, BBC, and Hulu.
When visiting the Monday.com website, you are presented with a professional space loaded with concise video tutorials, feature descriptions, roadmaps, and client testimonials. It is an award-winning task management system that will serve you well no matter the kind of business you are running.
Monday has a very attractive interface, making processes and tasks easy to view and assign. You can view projects and tasks in one single timeline and track progress with the help of analytics and reports. You can then determine whether tasks are carried out effectively and on schedule.
The software application is available for iOS and Android devices. The apps come with video tutorials, showing you how you can easily set up the tool.
Monday has some downsides. The tool's scheduling feature is not suitable for complex scheduling. It serves best when handling smaller projects. Also, notifications can be difficult to manage, and the tool does not include a repeat function for tasks. Some users find file transfers and downloads quite problematic, so you might have to employ third-party software to facilitate file sharing. On top of that, Monday does not support cloud services, such as DropBox.
3. Zoho Projects
Zoho Projects is a very scalable piece of software that works best for startups. It works excellently for small teams of 5 – 50 users. Your team can collaborate on tasks, and you can easily plan projects and track progress. The platform has a very attractive user interface and requires little or no staff training.
You can assign tasks to various departments, workgroups, or users. This can even be done automatically via streamlined processing and templates. It thus helps save time on unnecessary administration work.
There are three different options for viewing tasks: Classic, Plain, and Kanban, which makes it easy to view and organize new, pending, and completed tasks. You can also manage updates and requests easily due to having them all in one space.
Zoho Projects is accessible as an online cloud service. To access it, you can use almost any browser on your Mac or Windows device. However, it might not be a good option for you if you prefer a locally hosted solution.
4. Asana
Asana is a more advanced tool than some of the basic task management software solutions, such as Trello. It offers a wide range of features and is easily customizable, enabling you and your team to better manage and execute tasks.
The tool is excellent for managing remote workers. You can drag and drop tasks into different projects and easily assign them to team members, with due dates clearly indicated.
Users can visit the 'My Tasks' section to see the work assigned to them. It makes prioritization easy as team members can see tasks that fall under New, Today, Upcoming, and Later. There are different options for viewing tasks, including Calendar, Lists, Boards, and Timeline.
Communication is easy with Asana. You can send general notifications or start chats within tasks. Chats can be easily tracked using the Conversations tab.
Asana is a rather complex tool and can be quite challenging for novice users. You will need to put your team through some basic training to shorten their learning curve.
Unfortunately, users cannot collaborate on tasks, and the free version of the software does not provide Gantt charts.
Conclusion
When it comes to picking the best task management software solution for your business, it all boils down to the size of your team, what subscription and training costs you can afford, the tool's ease of use and scalability, and whether it has all the features you require to successfully assign and monitor tasks. It often helps to ask your team what software tool they think will work best for them.
We hope you've found this article helpful. We'll now leave you with one more useful tip:
If you need a software solution to facilitate secure file transfers in your organization, you may want to consider a specialized file-sharing service like FileWhopper. With this tool, you can transfer files or folders as large as 10TB using a password-encrypted link. The platform provides free storage for up to 14 days, keeping your uploaded file or folder on the server as it awaits download by the receiver. The best part is that FileWhopper is a pay-as-you-go service. It doesn't require a monthly, quarterly, or yearly subscription. You simply pay for each uploaded item, and the cost is calculated based on the size of the file or folder. It is the perfect solution for any team that needs a cost-effective method of sharing important documents.