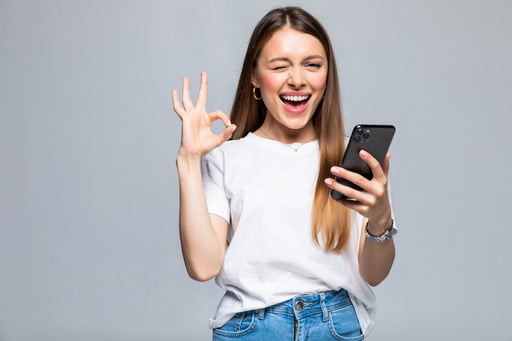 With close to 700 million monthly active users across the world, TikTok is one of the most frequently used apps out there. And whether you are new to the game or already have an army of loyal followers, you may be interested in finding new ways of making creative content.
There are lots of apps and other tools out there that can help you make TikTok videos. But what is the best video editor for TikTok? This is what we are here to look into.
What Are the Most Popular Video Editors For TikTok?
So, how do you find the best video editing software for TikTok? The thing is, you have quite a lot of choice. With TikTok's growing popularity, a lot of existing video editing tools have adjusted their toolkits to let users edit videos for TikTok. What's more, new apps dedicated to TikTok editing are appearing all the time. So, how do you find the right app for making better TikTok videos? Below, we will go over some of the most popular choices for editing TikTok videos today.
Wondershare Filmii
3-step editing options
Free templates
Advanced editing tools (panning, zooming, color grading, etc.)
The latest video editor from Wondershare called Filmii is the ultimate tool for editing videos for TikTok. With Filmii, you get a wide choice of elements to work with. You can use one-click templates, different types of motion elements and more. Despite its large number of features, Filmii comes with a rather straightforward interface that nicely accommodates tons of creative filters and special effects.
Creating videos with Filmii is really easy. To get started, you can simply click the template you like and make an interesting and eye-catching video. You can add captions, animated components and other creative elements. Easy templates are the app's strongest feature, and it's a great tool to get started with if you are a beginner.
Pricing:
$9.99/month
$34.99/year
InShot
Easy mobile video editing
Lots of tools and effects
Great for beginners
InShot is one of the most popular video editors out there. The app is designed for editing videos on your phone and is available for both iOS and Android users. You get lots of features on board: you can trim and cut videos, change backgrounds, add music and effects, and more. With instant sharing options, a simple interface and no learning curve, InShot is a great tool for beginners to explore the capabilities of basic video editing. The app comes with a free version, but note that all content created for free will be watermarked.
Pricing:
Basic version: free
Pro version: $3.99 per month; $14.99 per year
Free trial
LightMV
Rich and friendly interface
Royalty-free audio
HD resolution, 3D video editing
LightMV comes with a set of quality high-resolution templates for editing all sorts of TikTok content. You get all the standard video editing tools and a comfortable interface suitable for beginners. There are also lots of audio clips, all of which are royalty-free.
Pricing:
$12.85/month
$25.95/year
iMovie
Customized trailer templates and themes
Lots of special effects
Music and audio effects
If you are a Mac user, iMovie will probably be your first choice for editing all types of video content — including TikTok videos.
iMovie offers limited features, and you won't find any advanced editing options in this app. However, it's a great tool for beginners, and it makes editing videos really simple and straightforward.
Unfortunately, the app is not available for Android and Windows users.
Pricing: Free for macOS users
Cyberlink PowerDirector
Diverse royalty-free stock media
Great motion graphics and transition effects
Unlimited access to the latest designs and professionally composed music.
As you may have guessed from the app's name, it adopts a more serious approach to editing. Cyberlink Powerdirector comes packed with all the latest advanced editing features and can turn your TikTok videos into creative masterpieces. With that, the app is quite simple to use and comes with a set of free ready-made templates and one-click editing tools.
Pricing:
$51.99/year
OpenShot
Customizable templates with special effects
2D and 3D animated captions
Background editing options
Looking at some of the pricing options above, you may be wondering: Are there free TikTok video editors? And the answer to this is yes.
OpenShot is a prize-winning TikTok video editor, and it's open-source and free. It's very popular among users thanks to its powerful editing features, which often require minimal effort to master. You can alter the playback speed of your video, change its direction, add or remove backgrounds, add a variety of elements to your video, and more.
The app comes with a simple and user-friendly interface and lets users edit videos with both 2D and 3D effects.
Pricing: free and open-source
Lightworks
Advanced multicam editing
Built-in library of free audio tracks and videos
Direct in-app recording
Lightworks is a powerful professional video editing application that you can use to edit TikTok content. The tool comes with lots of interesting features, like multicam editing and timeline editing. You can record videos directly to the app or import videos from your gallery in any format.
In addition to a set of professional video editing features, the app comes with a generous selection of presets that you can use to create TikTok videos in just a few steps.
Pricing:
Home use: free
License: $24.99/month and $174.99/year
Windows Movie Maker
Audio editing and mixing
Lots of visual effects
Drag and drop
Windows Movie Maker is one of the oldest video editors around. It comes with all the functionality you might need to edit videos for the social media platform. With the app, you can add animations, transitions, titles, captions, credits, and more. You will be given the tools to make changes to the audio, mix sounds, add fade-in and fade-out effects, etc.
The app is easy to use with its drag-and-drop feature and one-click special effects.
Pricing: free
VSDC Video Editor
Lots of visual effects
Built-in screen and voice recorder
Lots of compatible formats
VSDC is a non-linear editing app with lots of features on board. You can add split-screen, picture-in-picture, color correction, stabilization, slideshow, speed change, and other effects.
With VSDC Video Editor, you can create videos of any complexity. You can cut, merge, add audio effects and soundtracks, and more. Plus, the app's basic version is absolutely free to use.
Pricing:
Basic version: free
Pro version: $19.99/month.
VideoProc
Super-speedy editing
Excellent quality output
Built-in screen recorder and media downloader
VideoProc is an all-in-one type of solution for editing video content. The program brings together a variety of useful tools that can help you make great videos even with no prior video editing experience. You get excellent output quality and an exceptionally fast editing speed, which make the app stand out among the myriad of other video editing programs.
Pricing:
License $29.9/year (1 PC)
Family license: $42.95 for a lifetime license (2-5 PCs)
We admit that this is definitely not a full list of great apps that you can use to create TikTok content. New tools are constantly popping up, and great video editing programs are being developed as we speak. Thus, it's always a great idea to keep your eyes open for new releases and check in with other creators about what tools they use.
Now, there is just one more thing we'd like to add before you go. As you create and edit content, you will probably need to transfer large files online. However, most cloud-based sharing services come with a paid subscription, and a lot of online file transfer websites have limitations on the size of files you can send.
This is where FileWhopper comes in. FileWhopper is a quick and efficient solution for sharing large files and folders online — and you only pay for the file or folder you need to send based on its size. And yes, there are no file size limits. This means that you can send files and folders of any size. Besides, you can transfer all types of information, from your TikTok video content to video editing apps themselves.
FileWhopper is simple and straightforward to use. All you will need to do is download a tiny app that will do the work and then auto-delete once the transfer is complete. The app won't distract you with extras you don't need or bother you with ads. Plus, the recipient of your files can start downloading them as soon as you begin the upload.
With FileWhopper, all your data is protected with zero-knowledge encryption. Plus, you don't need to worry about force majeure events (like connection failures or blackouts) interrupting your transfer — the app will automatically pause and then resume your transfer from where it stopped when things go back to normal.
When it comes to tools like this, one try is worth a thousand words. So, head over to Filewhopper.com and see if the app is a good fit for your needs. Your first 5GB transfer is free.