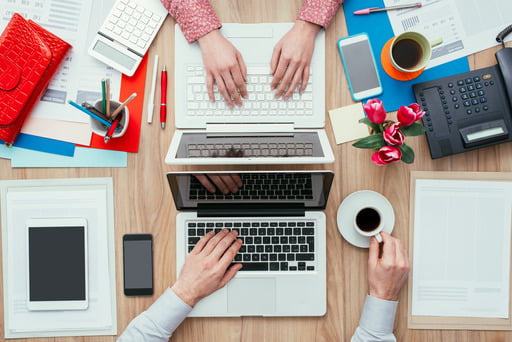 Google Docs has gained lots of popularity in recent years because it has managed to take work processing entirely online. With Google Docs, you get to easily edit documents online, share them with others, make edits in real time, leave comments, and more. Plus, you can use Google Docs as a website or via a dedicated app on your smartphone and tablet.
In this post, we are looking into how to use the Google Docs app efficiently, how to edit a shared document in Google Drive and how to collaborate on projects better via the Google Docs website.
How to Edit Docs Online
Editing documents in Google Docs is really straightforward. Here are the steps to take:
Go to Google Docs.
Once you open Google Docs, you will be asked to log in with your account (if you are not already logged in).
Log in and select the document that you want to work with.
If you can't find the document you need right away, simply scroll down until you see it or run a search using the title or the words used in the text.
Once you locate the needed document, open it and make your edits.
At the top of the page, you will see a menu bar that will allow you to make basic formatting edits, like adjusting the font and colour, insert pictures, run a spell check, and more.
Here are some of the most popular editing tools in the online version of Google Docs:
Undo and Redo, Print, Spell Check, and Paint Format
Zoom (which lets you see the document up close without altering the font size)
Styles for adjusting titles and subheadings
Text-adjusting tools that let you change the size and color of your text, highlight a piece of text, make the text bold, italic or with an underline, and more
Hyperlinking, commenting and inserting images
Aligning text in the center, to the right or to the left
Adding line spaces and highlighting sections of the document
Making numbered and bulleted lists, making indents smaller or bigger, clearing all formatting
How to Use the Google Docs App
Google Docs' mobile app works in pretty much the same way as the online version. You can download Google Docs for both Android and iOS operating systems.
Once you have the app, launch it and open the document that you want to edit.
First, the document will open in read-only mode. To make edits, you will need to tap the blue pencil icon in the bottom right corner of the screen.
Just like with the online version of Google Docs, you can use the menu bars at the top and bottom of the screen to make edits to the file. Here are the main editing actions available in the top menu: undo, redo, change text and paragraphs, insert links/comments/images/page breaks/etc., view the document in print layout, and share it with others. In the bottom menu, you will find more formatting tools that will let you make the text bold, italicize and underline it, change its color, make highlights, alter alignment, add lists, make indents, and more.
To save the edits you've made, tap the checkmark icon in the top left corner.
A great thing about using Google Docs (either online or via the app) is that you get to make edits and leave comments and notes in real time when working with shared documents, which is a great way to collaborate on a project. Plus, whether you are using the app or working in Google Docs online, all the changes you make will instantly sync, letting you easily switch between different platforms.
We hope the above information has been helpful and you now have a better understanding of how to edit Google Docs online. Now, after you've created and edited your files, you may need to find a way to send them to others. Sure, you can easily share a file directly in Google Docs. However, there may be instances where you may not want to keep a document in the cloud — for instance, if it contains sensitive and confidential information like personal data, financial information, etc. Plus, you may also need to send over a file that is too large to save in the cloud or send by conventional methods like good old Gmail.
In this case, we recommend using FileWhopper. FileWhopper is a new service for sending large files and folders over the web. What sets it apart from other file transfer services is that with FileWhopper, you can actually send over files and folders of ANY size — there are no limits on how big your file or folder can be.
Another great thing about FileWhopper is that the service doesn't require a subscription. It works on a pay-as-you-go basis, and you only need to pay for the transfer you are making based on the amount of data you are transferring. You can also choose who will be paying for the transfer: you can do it yourself or leave it up to the recipient.
Sending files with FileWhopper is 100% secure. The service uses zero-knowledge encryption to protect your transfer — and this means that no one except you or your recipient(s) will ever be able to access your file or folder. This can be a great alternative if you are not comfortable exchanging personal data over cloud-based platforms like Google Docs.
If your transfer is interrupted because your connection is lost, there is nothing for you to worry about. FileWhopper will simply pause your transfer until things get back to normal and then resume it. So, you won't have to upload your file or folder from scratch or worry that some data may have been damaged in the process.
The person on the other side of your transfer can start downloading your data as soon as you start uploading it. They won't have to wait until the upload is complete on your side — which is a great time saver.
[fwa-calculator]
FileWhopper is not overloaded with complicated (and rarely used) features. It does one thing — securely transfers large files and folders online — and does it exceptionally well. So, you won't be distracted by extra functionality and won't have to spend time on mastering features you don't need.
Finally, the app is very beginner-friendly. Even if you've never transferred large files over the web before, you will be able to get it done in just a few quick steps. All you will need to do is download FileWhopper's tiny app, which will guide you through the whole process. Once the transfer is complete, the app will auto-delete to not occupy any space on your PC.
The best thing about FileWhopper is that you don't have to read tons of reviews to figure out what it's all about. The platform makes things easy by offering you a free first transfer of up to 5 GB. This way, you get to explore FileWhopper's functionality first-hand and determine whether it's a suitable solution for your data transferring needs.