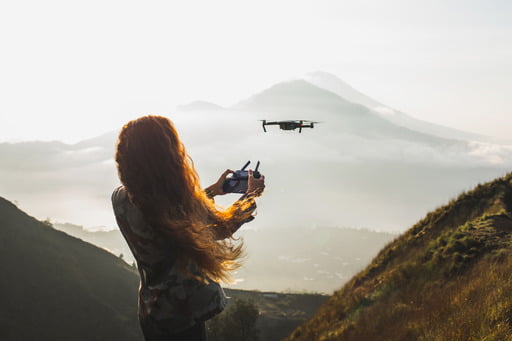 Drones remain one of the coolest innovations today. These nifty gadgets have unlimited applications in everyday life. From moviemaking to disaster relief efforts to farming, they have made it easier to access previously unreachable areas.
For the professional photographer or videographer, drones with cameras are must-have devices. They let you capture every moment from angles previously limited to birds and pilots.
Camera technology in drones has greatly advanced over the years. Now you can find larger sensors, improved stabilization, and high video resolutions. Drones have also been immensely improved to fly longer and have better flight controls. Filming has now become accessible to everyone without needing to invest in heavy and expensive equipment like cranes.
If you're a serious photographer or videographer, you'd want to avoid cheap drones. These are simply toys that are fun to fly but may never fly well enough or deliver the kind of quality video or photo content you want.
In the world of technology, you get what you pay for. That said, you don't have to spend a fortune to get stunning videos for your YouTube channel.
While it's not easy to find the best camera drones on the market, we've done all the necessary research for you so that you won't have a hard time deciding your pick.
So, let's get busy.
Here is what we cover in this article:
What Are the Best Drones in 2021?
Best Overall: DJI AIR 2S
Best Runner-Up: DJI Mini 2
Best Beginner Drone: Ryze Tello
Best All-Weather Drone: PowerVision PowerEgg X Wizard Version
Best Battery Life: Autel Robotics EVO II
Best Overall: DJI AIR 2S
Key Specifications:
Maximum range: 18.5km/11.5 miles
Weight: 595g/1.3 pounds
Maximum flight time: 31 minutes per charge
Maximum speed: 68kph/42mph
Camera resolution: 20MP
When it comes to the best drones with cameras, the brand that stands out far above the rest is DJI, especially with its DJI AIR 2S product. Having been launched in April 2021, it's still new in the market. The DJI AIR 2S combines the best features of the two most popular drones – the Mavic Air 2 and Mavic 2 Pro. You get everything you'd ever need in a drone, from the best camera to intelligent controls.
Its compact and folding design remains a favorite of many users. The AIR 2S comes with a set of incredible techs on board, including a 1-inch CMOS sensor for sharp videos and images. It can shoot 5.4K video at 30fps or 4K video at 60fps and 150Mbps, as well as 20MP stills. In comparison, the Mavic Air 2 can shoot 4K video at 60fps and 120Mbps and manage 12MP stills.
It performs exceptionally well in low light and can capture every detail of your subject, thanks to its high resolution, high dynamic range, and accurate color reproduction. The intelligent HDR technology merges shots automatically, increasing the dynamic range of images without requiring post-processing. This gives you richer images, with more details and greater depth, even in poor lighting conditions.
The DJI AIR 2S is an aerial powerhouse, and at less than 600 grams, you can take it anywhere with you, including on hikes and tours. The MasterShots feature enables it to take the best shots of your subject from different angles and generate a short cinematic video afterward. The Point of Interest 3.0 feature lets you take a perfect circle shot while keeping your subject centered.
The AIR 2S' intelligent system is impressive and now features ActiveTrack, which enables it to follow your subjects while avoiding obstacles. You don't have to worry about flying your drone into trees, walls, or other obstacles while filming.
When it comes to flying, the DJI AIR 2S is equipped with Advanced Pilot Assistance Systems (APAS 4.0), which allow the drone to avoid obstacles in high-speed and complex scenarios.
Reasons to Buy:
Compact and lightweight
Impressive camera capable of shooting in 5.4K
Advanced control systems
Large image sensor for better videos and stills
Reasons to Avoid:
Shorter flight time compared to competition
Best Runner-Up: DJI Mini 2
Key Specifications
Maximum range: 10km/6.2 miles
Weight: 249g/8.8 ounces
Maximum flight time: 31 minutes per charge
Camera resolution: 12MP
If you don't have $1,000 to spend on the DJI AIR 2S, the DJI Mini 2 is one of the best drones with a camera that offers great value for money. At $449, you get support for 4K videos and 12MP stills. It is lightweight, weighing just 249g - fully loaded, making it ideal to take with you on your adventures.
It also features the compact foldable design that we've come to like with DJI drones. The drone is so small that when folded, it can fit into a jacket pocket. However, it's best to carry it in a bag. The Mini 2 comes with a remote controller that's bigger than that in previous models and features stronger antennas and advanced wireless communication. This ensures you get a solid connection at longer distances.
The Mini 2 has a maximum battery life of 31 minutes, just a few minutes shy of the 34-minute range of the pricier DJI Mavic Air 2. Keep in mind that the actual flight time might be shorter. Luckily, you get a low battery warning so that you can fly the drone home for charging.
The low-profile design of the DJI Mini 2 can be limiting, meaning you have to find some level ground for take-offs and landing. While the Mini 2 ships with one battery, you can opt for the Fly More bundle, which comes with two additional batteries and a multi-charger to juice up all three batteries in sequence. You can also recharge it via the Type-C port.
It comes with a memory card slot to store your videos and images, and it's advisable to buy an SD card with the largest storage (if supported). The drone might be small and lightweight, but it's designed to resist winds of up 29-38kph to give you stable footage in windy conditions.
Shooting videos and taking shots with the Mini 2 is exciting and smooth, thanks to its 3-Axis Gimbal and 4k camera. The 12MP camera offers stunning images and can capture 4K videos at 30fps. It's also fitted with a 4x zoom to take shots without getting too close to your subjects.
The Mini 2 offers QuickShots, a feature that automatically shoots and records professional-level videos that you can share directly on social media. It also comes with an intelligent built-in photo stabilization feature that automatically enhances image quality.
While it lacks important features like ActiveTrack (subject tracking), the DJI Mini 2 is still one of the best drones for aspiring photographers and videographers.
Reasons to Buy:
Longer flight time
QuickShots
Portable
Offers raw and JPEG photo modes
Reasons to Avoid:
No obstacle avoidance system
Lacks HDR
No ActiveTrack feature
Best Beginner Drone: Ryze Tello
Key Specifications:
Maximum range: 100m
Weight: 80g/2.8 oz
Maximum flight time: 13 minutes per charge
Camera resolution: 5MP
A drone can be a costly investment, and it's worth learning the ropes using one that's beginner-friendly, like the Ryze Tello. This smart toy can be fun for kids and adults alike and can be controlled by a smartphone.
It's compatible with a VR headset for an unrivaled first-person view, with a maximum flight time of up to 13 minutes on a single charge. The drone is quite small, weighing a mere 80g and measuring just 1.6 x 3.9 x3.6 inches. It's light enough that if you're a US resident, you can fly it outdoors without the need to register with the FAA.
The gadget is equipped with propeller guards to protect it from damage when you fly into trees or walls. At less than $100, the Ryze Tello is inexpensive and offers a simple way to learn how to master shooting videos and images using a drone. It's also the best device to learn how to fly without worrying about damaging an expensive gizmo.
When it comes to video and image quality, the Ryze Tello doesn't offer much. For starters, it doesn't come with a memory card slot. It sends videos and images straight to your smartphone wirelessly via the Tello App for Android and iOS. It also lacks GPS stabilization, meaning there's no automated return-to-home function.
It utilizes licensed technology from DJI to hover in one place using Tello's Vision Positioning System, although it doesn't function perfectly. Furthermore, with just 13 minutes of flight time and a maximum range of 100M, you don't want to fly it out of sight.
The Ryze Tello gives you various options to fly it. You can use your smartphone, computer, or MIT's Scratch programming language. The Tello app is available for Android and iOS, and the drone will use your smartphone as a recording device, as well as a remote control. You'll need to connect your phone to the drone via Wi-Fi. Once connected, you get a live view from the drone's camera, along with on-screen joysticks to control the flight.
It records at 720p resolution, which wouldn't be horrible if it had onboard storage. Instead, you must stream to your smartphone over the same Wi-Fi network, resulting in pixelated videos.
Reasons to Buy:
Inexpensive
Fun to use
Mobile Scratch programming
VR headset compatible
Reasons to Avoid:
Limited control range
Limited battery life
Pixelated, blocky video
Best All-Weather Drone: PowerVision PowerEgg X Wizard Version
Key specifications:
Maximum range: 5.6km/3.5 miles
Weight: 544g/1.2 lb.
Maximum flight time: 30 minutes per charge
Maximum flight speed: 64 kph/40 mph
Camera resolution: 12MP/4K
Since you'll be using your drone outdoors most of the time, how about buying a weatherproof one? The PowerVision PowerEgg X Wizard Version can take off and land on water, and you can fly it in the rain. It's built for harsh environments, letting you capture those impossible moments. As an all-weather drone, it is ideal for aerial photography of water sports or in rainy conditions.
While it's light, it can resist wind speeds of up to 29-38 kph to give you stable videos and stills. The drone is fitted with the Automatic Obstacle Avoidance and Precise Landing technology, which works in real time to detect distance from the obstacle.
The PowerEgg X features SyncVoice technology, which automatically syncs the sound it picks up from your phone's microphone with the images. With this technology, you can say goodbye to silent aerial photography.
Additionally, shaky photos should be the least of your worries, thanks to the shake-resistant triaxial stability augmentation gimbal. You can convert the PowerEgg X into a handheld camera to capture every moment.
The drone also features subject tracking, with a view of up to 170 degrees. With the function activated, it automatically remembers the subject, tracking their every movement. If the subject moves beyond the field of view and then back again, the camera will keep tracking it.
This is made possible by face recognition and deep learning technology that enables it to adapt to the features of different people.
Reasons to Buy:
Long flight time
All-weather drone – can land and take off on water
Autonomous modes included
Great option for video and stills in bad weather
Camera stabilization function
Can be used as handheld camera
Reasons to Avoid:
No Raw video mode
Image quality is not so good
Best Battery Life: Autel Robotics EVO II
Key Specifications:
Maximum range: 9km/5.5 miles
Weight: 544g/1.2 lb
Maximum flight time: 40 minutes per charge
Maximum flight speed: 72 kph/45 mph
Camera resolution: 48MP/8K
If you want more detail in your images and videos, we recommend checking out the Autel Robotics EVO II. Its 40MP, 8K camera and ½ inch sensor make it a worthy competitor of the likes of the DJI Mavic 2 Zoom. It's capable of 4x lossless zoom (with support for 8x zoom) and captures crisper and more colorful stills and videos than most competitors in this segment.
The drone is fitted with a 3.26-inch OLED display that lets you preview video without the need to connect to your smartphone or computer. The 40-minute battery life is longer than what the most advanced DJI drones offer, giving you more footage time. It has a transmission range of 5.6 miles, and with such long battery life, you can be guaranteed to capture stunning images far away from your location.
The drone comes equipped with high-tech features, including Phase Detection Auto Focus, which enables accurate tracking of fast-moving subjects. A 360-degree obstacle avoidance system comes integrated into the unit. With up to 19 groups of sensors, including 12 visual sensors, the main camera, and ultrasound, it can build 3D maps and perform path planning in real time. These features make the gadget sensitive enough to detect a chain-link fence and stop to avoid a collision.
It has a maximum wind resistance of 39mph, meaning you can capture perfect videos and shots in strong windy conditions. The EVO II is offered in bright orange color, making it easier to spot than white or matte gray drones like the DJIs.
The EVO II comes with the standard 32GB SD storage, expandable to 256GB. Its internal storage is 8GB, letting you start recording right away, unlike most models that require you to purchase an SD card separately.
Reasons to Buy:
Longer battery life than what any drone on this list features
8K capabilities
Comes with internal storage
Advanced 360-degree obstacle avoidance system
Reasons to Avoid:
Short transmission range
Expensive
Closing Remarks
Now that you have a clear guide on the best drones with cameras, you may want to invest in a few accessories to keep your expensive gear safe. For starters, it's wise to carry extra batteries to get the most footage out of your drone. You may also want to buy a special backpack designed specifically for drones. Drone backpacks have several compartments to store your drone, controller, battery pack, FPV headset, etc.
Additionally, unless you've bought the PowerVision PowerEgg X Wizard Version, which is water-resistant, you may want to invest in a landing pad. The last thing you want is to damage your expensive camera and drone if you accidentally land on wet grounds.
Finally, it's advisable to familiarize yourself with the laws and regulations of flying drones in your state. For more details on the safety procedures you must follow, visit the FAA website.
Share Your 4K Images and Videos the Hassle-Free Way
We know that shooting in 4K and 8K results in high-resolution, high-quality stills and videos that occupy lots of space. An important factor to consider is how you'll share your moments with colleagues, friends, or family.
In case you haven't heard about FileWhopper yet, it's one of the best file-sharing services on the market. The cool thing is that you can send your first file or folder free of charge if it's less than 5GB. Beyond that, you'll be pleased to know that you only get charged for what you're sending.
There are no monthly subscriptions nor file size limitations with FileWhopper. You can transfer files or folders of any size. Each file or folder you send is charged based on its size, and your recipients can start downloading it as soon as the upload begins. Just be sure to give your recipients the corresponding password so they can start downloading.
Your files are safe during the transfer, thanks to the military-grade file encryption system. Even the staff at FileWhopper can't access your files. The tiny FileWhopper app not only secures your files but also prevents data loss due to a power or internet outage. As soon as you get back online or restart your PC, the upload picks up where it left off.
Online file transfers have never been this simple. Try FileWhopper today to find out what you've been missing out on.