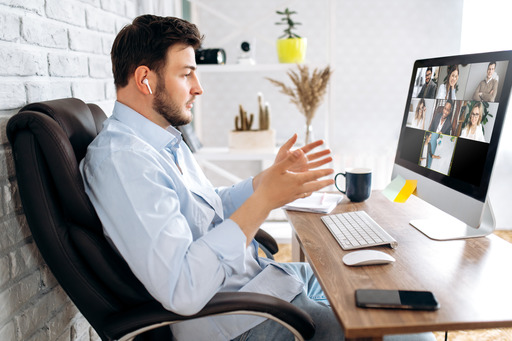 Zoom is a fast-growing video conferencing app that helps you connect with your family, friends, and coworkers around the world remotely. You can use Zoom for free, but with a 40-minute meeting time limit.
Also, you can use it to conduct group video conferences, conference calls, and one-on-one meetings and share your screen for virtual events with up to 100 attendees. Zoom also offers other advanced features, such as call recording, two-factor authentication, and transcriptions.
But due to Zoom's recent privacy and security issues, you may need powerful Zoom alternatives for video calling and conferencing.
What Are Free Video Conferencing Services?
Video conferencing platforms or programs like Zoom allow users to conduct live conferences and one-on-one meetings and connect with their family and colleagues remotely for free.
What Are the Best Zoom Alternatives of 2021?
1. Zoho Meeting
Zoho Meeting is a popular Zoom alternative for broadcasting demos and hosting webinars and online meetings. It allows users to launch or join a meeting without installing any software.
Mobile users can only host a meeting through the service's iOS app but can join meetings on iOS and Android. You can also get a Zoom Meeting extension for Chrome and Firefox.
What's more, Zoom Meeting allows users to record their sessions to the cloud, share them using links, and download them. Besides, Zoom Meeting users get to enjoy the following features:
No meeting time limits
In-session chat
RSVPs, embedded meeting links, and email reminders
Moderator controls, such as the ability to mute or remove attendees, switch presenters, and so on
Online meetings with video, audio, and screen sharing
Polls or Q&As to track your audience's response through webinar analytics
Automatically scheduling and syncing meeting times with Zoho or Google Calendar
Moderating messages in between the session
What's more, Zoho Meeting lets you make an attendee a co-organizer or a presenter at any time during the meeting. Co-branding your meetings and webinars is also possible by adding your logo or brand's name to email reminders and invitations.
Also, Zoho Meeting can help boost leads. It lets users create custom registration forms, add custom fields, and embed registration forms into web pages and blogs.
Furthermore, this Zoom alternative passes all its communication channels through secure layers of SSL/128-bit AES encryption protocols. This means you can rest assured your meetings are safeguarded against cyberattacks.
Pricing:
Zoho Meeting offers four payment plans:
Meeting-100: $10 per month (allows up to 100 attendees)
Meeting-50: $7.5 per month (allows up to 50 attendees)
Meeting-25: $5 per month (allows up to 25 attendees)
Meeting-10: $2.5 per month (allows up to 10 attendees)
There's also a 14-day free trial with unlimited access. Subscribing to any of the paid plans gives you full access to all Zoho Meeting's advanced features. Its free version allows users to host online meetings and webinars – but with limited features.
Its low payment plans make it the best option for small and mid-sized businesses.
2. RingCentral
RingCentral is a communication and collaboration solution that allows you to host video conferences and online meetings with up to 500 attendees at once. Also, you don't need to download the service's app to use it. You can join a meeting directly from your web browser.
What's more, RingCentral allows you to switch from video to audio calls and swap devices during meetings without any disruption. With RingCentral, you have access to the following features:
You can share your screen.
You can edit files in real time.
You can create up to 50 breakout rooms.
You can send text messages and share content.
You can collaborate with whiteboards and annotations.
You can use the in-meeting chat feature to manage conversations.
You can record your meetings, download them, and share them over the cloud.
You can share files.
You can join video calls from your team's message thread.
Furthermore, RingCentral integrates with Microsoft Outlook to help schedule and update meetings with one click. You can sync it with Google Calendar and send meeting invites by email. It also integrates with popular CRMs, such as Salesforce, Zendesk, and lots more.
Moreover, it offers real-time analytics for gauging system performance, tracking usage, and monitoring service quality for all departments.
Additionally, its in-built webinar tool allows users to host up to 10,000 participants with about 500 moderators globally. It's best for large enterprises.
Pricing:
RingCentral offers four paid plans:
Ultimate: $49.99 / user per month
Premium: $34.99 / user per month
Standard: $24.99 / user per month
Essentials: $19.99 / user per month
Each plan allows up to 20 users, but the cost increases with an increase in users. Keep in mind that the entry plan does not allow video conferencing; it only allows messaging and audio calls. However, the other plans have unlimited features.
3. GoToMeeting
This is a web-based video conferencing platform with a one-click meeting option to host, manage, or join web meetings. It's one of the best Zoom alternatives.
It supports all devices, such as Macs, Windows PCs, mobile phones, etc., and offers built-in support for Lifesize, Polycom, and Cisco devices. Also, it features an H.323-enabled video conference room system with up to 25 webcam feeds.
GoToMeeting has the following prominent features:
Screen sharing
Video conferencing
Conference calling
Cloud-based recording
Mobile conferencing
Virtual whiteboard and drawing tools
Meeting recording and transcriptions
Advanced security features, such as SAML SSO login
Voice commands to join meetings
The split-screen feature
Web audio
Business messaging
What's more, GoToMeeting integrates with Office 365 for joining, managing, or scheduling online meetings.
Besides, it has a 'commute mode' feature for hosting or attending meetings while on the move or with low bandwidth. You can also choose between toll-based and VoIP voice options.
Furthermore, GoToMeeting has an Admin Center feature for managing users' access to in-meeting features. You can hand over this feature to another speaker or even a participant.
Additionally, this video conferencing service offers a "call me" feature that notifies you automatically via a phone call when a meeting is about to start. You can also join the meeting through a phone call – without any PIN or code.
Moreover, GoToMeeting provides about 25 HD video feeds per session with access to diagnostic reports on the conference and participants.
Pricing:
GoToMeeting offers three paid plans:
Enterprise: Quote-based
Business: $16 per month
Professional: $12 per month
The entry-level Professional payment plan allows hosting up to 150 participants, while the Enterprise payment plan allows up to 3000 participants.
4. Google Meet
Google Meet is Google Hangouts' advanced business version that is suitable for webinars and video conferencing. Its Enterprise plan allows you to host an HD video call with about 250 participants while letting you view 16 participants at a time.
It supports both Android and iOS devices. And unlike many video conferences services, Google Meet lets you control conference details, chat rooms, participants, and lots more from its mobile app.
Also, you can schedule meetings with Google Calendar and send meeting invites via emails.
Besides, you'll have access to all standard features, such as call or video recording, screen sharing, the ability to dial into a video conference, multiple device compatibility, live captioning during meetings, etc. You can also record your online meetings and save them offline or as an event in Google Drive or Google Calendar.
Its other advanced features include the following:
An audio and video preview screen
The ability to add, remove or pin participants
The option to share links, files, and text messages with participants
Adjustable layouts and screen settings
Google and Microsoft Office app integration
The Individual plan provides unrestricted access to G-Suite, intelligent noise canceling, and Google's security layer. The Enterprise plan also allows you to host meetings with up to 100,000 participants at the same time.
Although it does not offer many advanced features, it has enough options to host and manage a simple video conference.
Pricing:
Google Meet offers three plans:
Google Workspace Enterprise: Quote-based
Google Workspace Individual: $8 per active user/month
Google Meet: Always free
The free plan allows up to 100 participants with a 1-hour meeting time limit, while the enterprise plan allows up to 250 participants with a 24-hour meeting time limit.
5. Microsoft Teams
Microsoft Teams is a cloud-based video conferencing platform that allows up to 10,000 participants at once. It lets you host audio calls and video meetings, send text messages and share documents remotely.
Plus, it offers AI assistance and multiple collaboration features, such as screen sharing, digital whiteboard integration, email invitations, file sharing, meeting chats, and lots more.
You can also assign presenters and participants, co-author files, mute or remove uninvited participants, etc. You can also reset the background.
What's more, Microsoft Teams has some exciting features, such as live captions and the "Raise Your Hand" option, which participants can use to notify the host that they have something to say. You can also access previous meetings' notes and recordings or download the attendee list for future reference.
Besides, you can record your meetings and share them with other users. Microsoft Teams also integrates with Outlook to help you schedule meetings and send invites.
Pricing:
Microsoft Teams offers four plans:
Office 365 E3: $20.00 user / month
Microsoft 365 Business Standard: $12.50 / user / month
Microsoft 365 Business Basic: $5.00 / user / month
Freemium: Free plan
The Office 365 E3 plan allows you to host up to 10,000 participants, while the other plans allow 300 participants. Besides, all the payment plans offer standard features, such as screen sharing, scheduled meetings, customized backgrounds, data encryption, and chat messages, among others.
6. Skype
Skype is a popular Zoom alternative that allows users to make video calls around the globe for free.
You can host a conference meeting with up to 100 users at once in HD quality from any device. You don't have to download the service's app to use it.
Also, you can share your screen and record your audio and video calls on Skype. Location sharing is also possible. You can also change your background before the call starts.
Skype's other key features include the following:
End-to-end encryption
Outlook integration
Live subtitles
The ability to react with stickers and use @ to mention participants in the conversation
A search feature
Real-time translation
A "raise your hand" feature
What's more, you can call mobile phones and landlines on Skype, but at additional charges.
Pricing:
It is free to use. However, landline and calling service charges start at $2.99 a month.
What Video Conferencing Tool Is Better Than Zoom?
There is no one-size-fits-all answer.
Choosing the best video conferencing application depends on your personal or business needs. Zoho Meeting is best for small and mid-sized businesses, while RingCentral is best for large enterprises.
Is Zoom Free to Download?
Yes, it's free to download, but it has a 40-minute limit on the free plan.
What Is the Best Free Alternative to Zoom?
Google Meet is the best free Zoom alternative as it offers many standard video conferencing features.
Is Zoom the Best Video Conference Tool?
Although Zoom is the most popular video conferencing platform, it is not the best. It has several privacy and security issues, such as Zoombombing.
How to Transfer Large Files and Folders Online
Fortunately, you can safely transfer sensitive files and folders via a secure file-sharing service like FileWhopper. FileWhopper is not a video conferencing tool, but it allows users to share files and folders of any size without any privacy or security concerns.
It does not have a monthly or annual subscription, so you don't have to pay unnecessary fees. Instead, you pay as you go – that is, you only get to pay for the files or folders you send. Besides, there are no size limits. That means you can share files and folders of 100GB, 500GB, 1TB, or even 10TB in size at one go.
Conclusion
The tools mentioned above are the best Zoom alternatives. It's essential to select an appropriate team collaboration or video conferencing service that suits your personal or business needs.
However, ensure your choice does not leave you vulnerable to hackers. If you need to share sensitive data, it may be best to go for secure file-sharing services instead.
Was this guide helpful? Please leave a comment below.