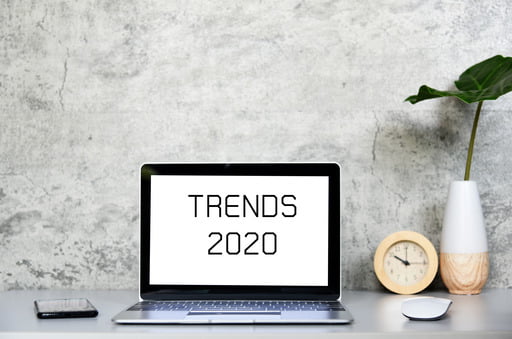 The finish line is the beginning of a new race, isn't it? We just finished the previous decade, and one couldn't be more excited about the beginning of a new one. With so much technological growth experienced in the last decade, we expect developments and innovations that are nothing short of colossal. The preceding era did a stellar job in presenting amazing technological trends, including the worldwide acceptance and usage of bitcoin. In 2020, as it marks the beginning of a new decade, we cannot but be excited since 2019 was amazing, presenting us with awesome things like 5G networks, Amazon's Voice-Echo, and social robots.
There is no doubt that technology is growing faster than ever. Businesses that fail to keep up with the pace are at risk of losing their ground. Technology is no longer part of one industry: it is the pivot of any business and sets trends that need to be followed to stay ahead of the competition. So, here are some of the top tech trends to check out in 2020:
Blockchain
Blockchain had a great year in 2019 with many businesses adopting the technology, which helped a plethora of blockchain protocols to mature. China, which became notable in the last decade by investing billions while adopting blockchain technology, joined some of the largest financial entities around the globe, laying the foundations of the global blockchain environment.
China is expected to launch its Central Bank Digital Currency in 2020, which will certainly shake the whole of the global village. It comes as no surprise that China spearheads the race as it accommodates some of the biggest crypto exchanges and extraordinary mining power. The financial industry is moving very fast, with all credit due to blockchain technology.
Big companies, such as Facebook, also joined the race and are expected to launch their own cryptocurrency based on blockchain technology in 2020. Although the US regulators seem to be against the project (maybe due to the fear of losing control), this co-founded Facebook project doesn't seem to slow down. The big social media brand is planning to launch Libra, a global digital payment system based on blockchain sometime this year. The project is bound to change the world as Zuckerberg insists on it being a benefit to the rest of the world by making it easy for anyone without a bank account to make payments online. The project is expected to have about 100 members through Calibra (a subsidiary responsible for the Libra wallets) and is headquartered in Switzerland.
Cybersecurity
In all aspects, cybersecurity is not an emerging tech trend since it has been existing for a long time. However, compared to other developments, it is evolving at an admirable pace, such that we couldn't bear it missing a spot on the list. Above all, cybersecurity has become fundamental to almost every industry due to the mass use of the internet.
The fact is that a majority of business transactions or deals take place over the internet. Therefore, cybersecurity is no longer a luxurious addition as it is now what stops evil hackers who attempt to steal data. Thus, losing data can now be prevented. With large companies investing millions in cybersecurity, a new technology trend is bound to emerge with an aim to strengthen security measures.
The number of cybersecurity jobs is increasing 3 times faster compared to other tech jobs, which is clear proof that there is a growing need for cybersecurity technicians. However, the market is failing to fill up these positions as it is predicted that by 2021, there will be a massive shortage (up to 3.5 million) of cybersecurity experts.
Artificial Intelligence
The ability to think and react based on events and recognize images and speech is what sets humans apart from all else. Artificial Intelligence (AI) tries to mimic such human behavior to achieve better productivity and reduce errors mostly associated with humans. AI is at a stage where it can literally perform most of the human behaviors, only faster and more accurately.
Regardless of all the breakthroughs in its environment, AI still has a long way to go for machines to think and behave like humans. The technology continues to develop, and we expect to see new inventions in 2020. Businesses now rely on AI in collaboration with human labor to increase productivity. Although in some parts of the world, the reception of AI isn't that positive as they consider it a contributor to unemployment, it has been proven that AI improves the way we live. We have seen the beauty of AI in flight bookings, business risk forecasts, and maintenance assessments.
Internet of Things
Internet of Things (IoT) involves physical items that are connected to the Internet and send and receive data over a network. With IoT, supercars, home appliances, and other devices can be connected and accessed easily. By the end of 2020, we are expected to have about 30 billion IoT devices, while we had only 8.4 billion in 2017. The importance of this technology in the business world is significant as it allows companies to collect and analyze data via the internet.
IoT has proven essential to healthcare and improves support across industries. Although the tech alterations brought by IoT technology are still in the development phase, the impact can already be felt.
Machine Learning
This technology is the backbone of AI. Machine learning helps us convert vision into reality. This technology has managed to help industries substitute humans in more dangerous jobs, such as bomb defusing and pipeline testing, with smart machines, such as drones and robots. With ML, the use of machines in such areas has proven to be effective and bettered human life significantly.
It is expected for this technology to improve in this new decade as more companies begin to adopt it. With over $2.6 trillion expected to be generated in revenue by ML, this technological trend is worth considering if you are looking to grow your business this decade.
Augmented Reality
This technology is one of the most fascinating trends and is likely to change our lives. It has been on the roll for quite some time but is expected to make a major breakthrough in 2020. Augmented Reality allows industries to mix digital elements together with reality via visuals for entertainment, educational or even medical purposes. Apple has spearheaded the trend by adopting AR technology in its iOS operating system. In 2020, it is expected that more businesses will follow the trends, starting with direct competitors to the Apple brand.
In the healthcare sector, the implementation of AR technology reduces risks of harmful radiation via 3D reconstruction of tumors to help surgeons see X-Rays in real-time mode. By 2021, it is predicted that the AR market will have grown to $50 billion.
Voice Search
Voice search is set to change the way people interact with their devices on a daily basis. Instead of the notorious act of typing what you are searching for, this technology lets users speak into the device for it to generate results that will be delivered in speech as well. Voice search utilizes speech recognition technology to comprehend what is said with accuracy.
There are a bunch of examples in play that use this technology, such as speech-to-text apps and voice dialing. This technology improves our way of living, and because of that, it is set to grow globally. By the end of 2020, the usage of online voice search is predicted to be around 50%.
Personalized Medicine
The healthcare sector is fundamental as it holds the core needs of human existence. With other industries developing fast through technology, it is vital for the healthcare industry to keep up. Technology has done a great job over the years in moving the healthcare industry ahead. This has been witnessed in the production of smartwatches, which has assisted healthcare professionals to acquire necessary data to accurately forecast and treat patients effectively.
The use of wearable devices to monitor health issues will help doctors prescribe personalized medicine that will help accelerate the health of an individual. With smartwatches integrating well with the fashion world, it is most likely more individuals and organizations will invest in the technology and we'll see it grow vividly in 2020.
Edge Computing
With most of the companies mainly relying on cloud-based technology to store data, Edge Computing focuses on eliminating the problems caused by this form of storage by presenting a more fluid method. With Edge Computing, the collection of information and its processing and delivery are positioned closer to its source. The technology enables latency reduction and permits autonomy to a certain level. The technology is set to vastly dominate across all industries as it will bring applications and services closer to the source of data with complex devices, such as drones and robots, contributing heavily to the acceleration of this trend.
FileWhopper – Send Large Files of Any Size Securely in 2020
As much as technology has evolved in every industrial sector, file sharing has also benefited. Over the years, we have seen better means of file sharing being presented. In that regard, a flood of file sharing services demanding ridiculous payments emerged over the years. Luckily, FileWhopper brings a much-needed solution as it presents a friendly platform with top-end features to make file sharing enjoyable. Here are the benefits of using FileWhopper:
✅ Transfer files and folders of any size
✅ Pay for what you are about to send depending on its size
✅ High-end encryption is applied to secure your data
✅ No monthly subscription fees are needed
✅ Enjoy 14 days of secure storage (can be extended up to 90 days)
Here is how FileWhopper works:
1. Select the large file or folder you wish to send and get a quote based on its size.
2. Download the small FileWhopper app to upload the large file or folder fast and securely.
3. Copy the link to the uploaded data and share it with the intended recipient(s). Your data can be downloaded once by default, but you can easily add extra downloads.
4. Share the password that was used to encrypt your large file or folder with the recipient(s) so that they can decrypt it.