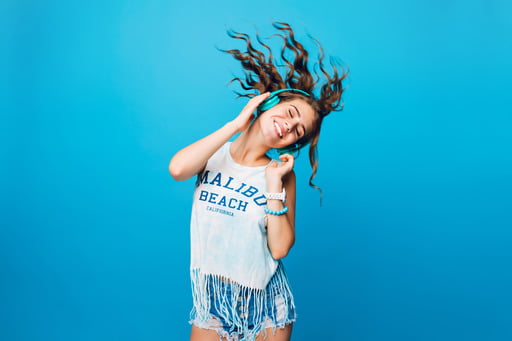 We are in the age of digital video marketing, and with more video content filling the digital space, it is clear that marketing brands are employing this technique for a reason. The point is, videos significantly affect our decision-making when it comes to purchasing things. This means that seeing a product video helps to make a buying decision faster.
This is why top influencers on YouTube, Instagram, and other media platforms rely on creating quality video content as a means of reaching a vast audience. However, making an engaging video requires much more than just turning on a camera and saying the right words. Using the right background music matters more than you may realize. Music affects our emotions and can trigger feelings of love, nostalgia, and longing. Background music plays an important role in how your audience will perceive your video. This is why ignoring this crucial part in your video-making process can negatively affect the quality and level of engagement you will achieve.
With the right choice of music, you can have your viewers hooked from the very first second of your video, create the right flood of emotions, and create an identity that can strengthen how your audience perceives your brand.
The challenge, however, is that licensed music is expensive. This can be a problem for an average person who is just starting out. Not everyone can afford to pay exorbitant fees, especially when the videos they are making do not yield enough money to pay royalties. "Where can I find copyright ambient music for free?" may be the most urgent question on your mind. That is why we did an intensive search through the internet for the best places to find free ambient music. If you have been wondering where to find free ambient background tracks, you have come to the right place.
Sit back and relax as we take you through the best royalty-free music sites.
Top Sites to Search For Free Ambient Music
1. Free Music Archive
Free Music Archive is among the top leaders in royalty-free music on the internet. It is able to provide its service and offer free music because its owners work with different sources, such as Creative Commons. This means that the website gives you access to a vast collection of music that you can use in your work as a content creator.
However, you have to play by a few rules if you want to enjoy these freebies. For example, some of the licensing terms require that you attribute the songs you download to the original artist. If you think about it, that is a small price to pay for such awesome content.
There are several ways to search for music in the library. The easiest one is to search by genre or by curator.
2. YouTube Audio Library
A lot of users make use of YouTube as a music library. YouTube decided to make it easier for its users by providing them with a dedicated audio library. While not every song that is on YouTube is available in the audio library, it still provides you with great collections to help make your video content more engaging.
This tool allows you to search for music by genre, duration, instrument, and mood. You also have access to popularity filters. This helps you to filter songs based on popularity and people that are currently listening to them. It makes it easy to find songs that people will like when watching your videos. You can also use this filter to find songs that are less known or less popular – a great way to make your video stand out with great music that many people do not know about.
3. FreeSound
FreeSound is another great tool that gives you access to much more than just free ambient music. On this website, you get to enjoy a variety of voices, sound effects, and lots more. While you can search for specific songs on FreeSound, one of the best ways to surf the website is through the use of the tag cloud. The tag cloud is a feature that allows you to find categories with the largest number of entries. These categories are also the ones with the largest number of tags, while those with fewer entries will have less music to pick from.
In addition to a variety of ambient sounds that you can find on the site, FreeSound also provides you with different sound effects – they will help you to create your very own ambient sound for your videos!
4. SoundCloud
While SoundCloud is a tool that a lot of people use for chasing their musical dreams, you can also find great free ambient music there. Most of the music on this website is released under the Creative Commons license, which means you are free to use those tracks as long as you abide by the rules put forth by the artists.
To locate music on SoundCloud, you can make searches based on podcasts, tracks, bands, and artists. The downside to this site is that it can be difficult to locate songs by genre.
5. BenSound
BenSound is another awesome site that gives you access to free ambient music. Its owners only ask for one thing in return: you should attribute/mention the artist. However, if you do not want to do so, you can pay for the Pro license. This way, you can use music without attribution.
While this service does not provide as much variety as the other sites on this list, it does give you access to unique content – some of which you might not find elsewhere.
BenSound allows you to sort music by type. You can use specific types such as Electronica, Cinematic, Acoustic, Folk, Pop, Corporate, Rock, Jazz, Groove, and Urban, among others. Another search method available on this website includes the use of specific keywords.
6. IncompeTech
Just like BenSound, IncompeTech offers you the option to use its music for free or pay for the license. If you want to use its library for free, then you have to attribute the artist. However, if for some reason you are handling a project where you cannot attribute the artist, then you can use the music without attribution by paying for the Standard License, which costs about $30.
You can sort music on IncompeTech based on genre, keywords, topics, length, and artists. This easily makes it one of the best options for conveniently finding specific music for your video. Filters for sifting through the search results include Most Popular, Newly Released, Length, and many others.
7. Dig.ccmixter.org
Dig.ccmixter.org makes it to the list as one of the top websites for free ambient music. Why not take a look at the website and decide for yourself?
The website claims that its music library has been used in more than one million games and videos. If you visit the homepage, you will find that the music is divided into three sections. These include instrumental music that is suitable for your video or film, music that can be used in commercial projects for free, and music that can be used in video games. Under each of these sections, you will find thousands of songs and tracks with different aesthetics. You can also enjoy a tag-based search feature that allows you to sort music based on style, instrument, and genre.
You can find what you need on this website quickly. This is because of the way the library is arranged into sections. You can simply go to the game section if you are looking for game-focused music to use in your games, or you can go to the film section if you are looking for film-focused music.
8. HookSounds
HookSounds is a unique website operated and owned by artists. Thanks to its huge collection of royalty-free music ready for use, you cannot go wrong with this site. It has a collection of music in different formats, such as MP3 and WAV. The files are separated into various categories, such as instrumentals, loop versions, and vocals, among others.
You can use the music for free as long as you mention or attribute the artists. However, you have to subscribe with a fee of $29 per month if you want to use it for commercial purposes. This subscription fee also gives you access to unlimited downloads. In addition to this, you also get unrestricted library access and access to other premium features.
9. Artlist
Artlist also makes it on our list of top websites where you can find great royalty-free ambient music. With its continuously growing list of more than 12,000 songs, you are in for a real treat. You can find music to suit your style by using the filter feature. You can filter music by instrument, mood, vocals, genre, and even video theme (an example is Travel, Vlog, or Wedding).
If you want to enjoy access to unlimited downloads, full access to all library sections, and other premium features, you can subscribe with a fee of $199. The great thing about this is that you pay a one-time fee. This gives you exclusive rights to use any song that you download forever!
10. Josh Woodward
This is a peculiar website. If music is a hobby of yours, then you might know this artist. Josh Woodward is an artist known for his acoustic indie rock music. He is a singer and songwriter who has released a lot of albums over the past decade. However, he decided to give these songs away for free! This means that you can enjoy over 200 songs for free when you visit his website. You can use them in your video content without fear of lawsuits or copyright claims.
His website boasts more than 6 million MP3 downloads. Simply go to his website and find the right track for you. What's more, you have the option to buy lossless FLAC files of instrumental versions of his songs (every single one of them) and the regular versions as well.
Share the Content You Make
Sometimes you might want to get a second opinion on your videos before you release them to your audience. You might also want another professional to add some finishing touches to your content. This can be difficult, especially if you cannot leave the house (COVID-19, we are looking at you) or if the video or game is too large to send through simple apps. Not to worry, there is a tool to help with this.
You can transfer your videos and games through the internet by using a popular tool known as FileWhopper. Among its many features, FileWhopper allows you to transfer files and folders of any size (there are no size limits to what you can transfer) and offers you total security through its high-tech encryption capabilities. You don't even have to compress files before sending them. Create top-quality content and use FileWhopper to collaborate with other professionals. Share your content with them via this secure and easy-to-use tool and hear their opinions. The greatest part is that unlike when using most other file-transfer tools out there, you don't have to pay a monthly subscription fee to use FileWhopper. You only pay a one-time fee depending on the amount of data you're transferring.
Conclusion
To make a great video, you need great background music. Check out the websites listed in this article – you are sure to be amazed by the resources you can enjoy for free. Make your video content stand out, engage your audience, and have them coming back for what you have to offer.