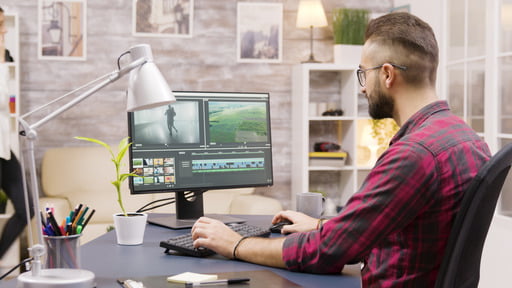 Lightworks is a professional video editor that has been used to edit many popular films, including Batman, The Wolf of Wall Street, Pulp Fiction, LA Confidential, and The King's Speech, among others. The software was primarily used by production studios and had not been available for public download until 2013, when it became available for Windows users. Although Lightworks started out as video creation software for Windows, it is also available on Linux and Mac OS X now.
What Is the Lightworks Video Creation Software?
Lightworks is a video editing tool that is popular among videographers, Instagram vloggers, filmmakers, and YouTube bloggers who need to edit and publish videos on the fly. Using this video editing software, you can edit video clips for YouTube, create video montages, and publish videos to the web with just a few clicks. With Lightwork's easy-to-use interface, you can easily create videos of amazing quality in no time. Lightworks has brilliant color grading and blending options, and you can edit your shots and clips with ease by simply dragging and dropping.
Is Lightworks Free?
Lightworks comes in two versions, namely Lightworks Free and Lightworks Pro. The free version has limited export features, so you can only save videos by exporting directly to YouTube or Vimeo at a maximum resolution of 720p. Lightworks Free doesn't support visualizing project files on the timeline and doesn't allow users to select folders or store files manually, making it a limited option for professional video editors. But if you're just getting started with video editing, the free version of Lightworks could turn out to be just what you need.
To more experienced users, the feature-rich Lightworks Pro version offers three payment plans:
Month License: $24.99/month.
Year License: $174.99/year.
Outright License: $437.99 (one-off purchase).
However, their total prices vary depending on the number of systems on which Lightworks will be activated.
With Lightworks Pro, you can export media files in a wide variety of formats, including web-compatible file formats, BWF, MOV, AVI, XML, XDCAM HD/EX, Blu-Ray, and more.
System Requirements for Lightworks
Lightworks is compatible with Mac OS X, Windows and Linux. However, if you want to install Lightworks, you must verify that your system meets the following requirements:
Operating System: Mac OS X, Windows or Linux
Processor: Intel i7 or similar AMD processor
Graphics Card: PCI Express graphics card (NVIDIA or AMD) of 1GB or higher
RAM: 4 GB or higher
Storage Space: 200 MB
Compatible sound card
Optional: Two high-resolution displays
How to Use Lightworks on Windows 10
Follow the steps below to create a new project in Lightworks:
Click on the Create a New Project link on your screen.
In the open dialog box, input your new project details.
Enter the name of your project, then select your desired frame rate.
Select the Mixed Rates option in the drop-down menu if you want to work with mixed frame rates.
Click on the Create button to open the new project on your screen with four unique tiles.
These four tiles are as follows:
The Viewers tile appears on the top right-hand side of the screen, with the Cue and Metadata markers beneath it.
The Edit View tile lets you see various project assets, edit timelines, control specific segments within each video, and drag video thumbnails.
The VFX View tile lets you manage the size of the viewer and align titles and subtitles.
The AUDIO View tile displays audio waveforms at the bottom of the desktop and allows you to control pan settings.
Here is how to import media files in Lightworks:
Click on the Local files tab.
Click on the Places tab.
From the drop-down list, select any of the file import methods.
Click on the video you want to import to the timeline, or you can use the drag and drop feature.
Once you import your video file, the content manager switches to a bin to store your selection.
P.S. When importing files, you may encounter an error if the frame rate is incompatible with your current project.
The Main Features of Lightworks
Multiple Workspaces (Rooms)
A Lightworks user can create several workspaces within a single project, and each workspace is called a room. When working on large projects, you can divide the video editing process in Lightworks into multiple stages using rooms, each with its set of open windows and layout of Lightworks UI components. At the beginning of a new project, Lightworks automatically creates a new room (Room #1) for you. To create a new room at any time, simply click on Room #1 in the top left corner of your window and then click on New room.
Video Backups
Lightworks allows you to create a backup without stress. It lets you export all the data used in a current project, whether audio, video or graphics, into a single folder. For complex projects, video processing often occurs on several PCs at the same time, making it necessary to switch between the workstations involved.
Follow the steps below to create a data archive in Lightworks:
Right-click on the media file window in your project.
In the Context menu, go to the Bin Commands section.
Open the Export and Backup section and choose the Lightworks archive option.
Video Effects
With the Lightworks video editor, you have access to a robust set of powerful effects, including picture-editing filters, layer blending and transition effects. There are two groups of effects in Lightworks (audio and video) organized into categories to make it easy for you to find what you are looking for. To apply an effect, click on the Effects button in the Edit window, then select the tool you want to use and click on Add.
Conclusion
Today, more and more people want to make videos not only to capture family memories but also to showcase their businesses and talents online. For many professional video editors, capturing videos is one part of the process, and Lightworks editing is the other crucial part. Without a doubt, Lightworks is among the most popular video editing tools because of its ease of use, speed, and versatility. Although the free version does not include everything the paid version offers, it's still a great option for a beginner video editor.
What's Next?
We recommend using FileWhopper if you need to send large files without worrying about size limits or quality loss. FileWhopper allows users to share files and folders of any size without having to commit to a monthly subscription plan. Your data is protected by zero-knowledge encryption, and you pay only for the size of the file or folder that you're sending. If you have any doubts about FileWhopper, you can verify our claims by sending a file or folder of up to 5GB for free.