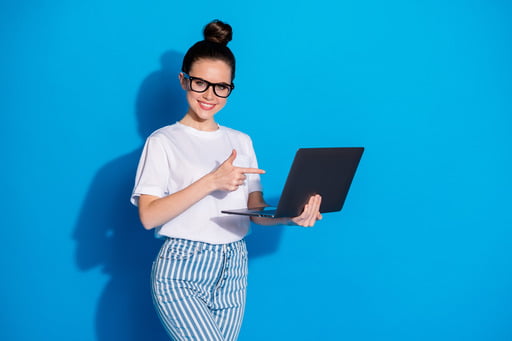 It's getting harder and harder to buy a laptop these days. Seriously, there are literally hundreds of laptop brands in the market, and the thought of buying one can be intimidating. But, you know you have to make a choice, whether it's a business laptop for everyday use, a gaming rig with top of the range specs, or a 2-in-1 convertible that combines power and functionality.
Luckily, you don't have to go through all that hassle. In this post, we bring you a laptop buying guide for 2020, with reviews of some of the best laptop brands.
How to Buy the Best Laptop
Before setting out to shop for a laptop, here are some essential tips to consider:
The operating system – are you a Windows, macOS, Chrome, or Linux fan?
Key specifications – consider the RAM size, storage, CPU, graphics, display, and the number of ports.
Battery life – this is quite important since laptops are basically designed to be portable.
Size and design – choose the right size that will perfectly suit your line of work. If you travel a lot, it's wise to go for lightweight and 11- to 14-inches laptops. If you want to use your laptop mostly to watch movies and TV shows, or you plan to use it only in the house, you can go for a big display (15 to 18 inches).
Keyboard and touchpad – good ergonomics should be on top of your list when looking for a laptop keyboard. Make sure the keyboard offers solid tactile feedback and an accurate touchpad.
Budget – of course, you have the buying power and how much you are willing to spend will determine the specs you can get in a laptop.
Laptop brand – last, but not least, you should mind about the laptop brand. Each brand offers some uniqueness and features that you may be looking for.
What Are the Best Laptops to Buy in 2020?
1. Best Overall Laptop: Dell XPS 13 (2020)
The Good:
Powerful 10th Gen Intel Core i5 or i7 processors
Intel Iris Plus graphics for improved performance
Long battery life
Beautiful design
The Bad:
Bad webcam
The keyboard heats up under load
Port selection is limited
The Dell XPS 13 (2020 model) has become a favorite for many due to its small size (11.6 x 7.8 x 0.6 inches), lightweight body (2.8 pounds), and amazing performance. On top of that, you get a sleek design and a larger display. Dell XPS 13 features tiny bezels on all sides (the first laptop in the world to ever do that), to give you a 16:10 aspect ratio.
Powered by a 10th Gen Intel Core i7 processor, 16GB RAM with a storage of up to 1TB, the Dell laptop exudes both power and finesse, making it the best in its category. The Dell XPS 13 is integrated with Intel Iris Plus graphics, which means the machine can handle games pretty well. The display supports up to 4K resolution (although at this display size, 4K resolution doesn't make a huge difference).
The Dell XPS 13 is a powerful, trendy, and high-end laptop with a solid build. It offers the perfect blend of specs for anyone looking for a device that can handle anything you throw at it.
2. Best Laptop for Business: HP Elite Dragonfly
The Good:
Attractive design
Impressive battery life – up to 11 hours
Ergonomic keyboard
A bright, colorful display
The Bad:
Costly
It's still using last-generation processors
The HP Elite Dragonfly laptop is designed to impress. First, it is now 5G-enabled, comes with an integrated tile tracker that allows you to track it even when it's off, has more security features, and its body is made from recycled plastics.
It's one of the lightest laptops you'll ever find on the market, and the price starts at $1,500, with the base configuration. You can opt to upgrade with a higher RAM and storage capacity – at an extra cost, of course.
HP Elite Dragonfly sports a nice chassis that feels smooth. The screen has a Privacy Mode that may come in handy when you don't want people snooping on your stuff when in a public area.
3. Best Laptop for the Budget-Conscious: HP Envy X360
The Good:
All-day battery life
Handles gaming well
A nice keyboard
Compact build
Camera shutter and mic mute to ensure total privacy
The Bad:
Comes with bloatware, which you can uninstall
Lacks HDMI and Thunderbolt 3
If you're on a budget but want a laptop that can handle some multitasking, then the HP Envy X360 is a good choice. Featuring a thin and light chassis, touchscreen (with support for HP's MPP2.0 pen), and a bezel-free display, the HP X360 feels premium but only costs around $750.
It's a convertible, and you'll love its sturdy design and compact build. The laptop supports high-speed connectivity and file transfer thanks to Wi-Fi 6 and Bluetooth 5.0. If you're into gaming, you'll be pleased to learn that it comes with AMD's Radeon graphics, which can handle some games quite well.
4. Best Laptop for Performance: MacBook Pro (16-inch, 2019)
The Good:
Improved battery life
Great audio
Up to 64GB of memory, making it great for heavy editing tasks
AMD Radeon Pro 5000M graphics ensures fast rendering
Improved keyboard
The Bad:
It's heavy
The new macOS is still buggy
Lacks an SD card slot
Costly
Apple has a reputation for delivering top-notch products and services, a fact that's evident in the MacBook Pro 16-inch laptop. While the price might be steep for some, you get high-end specs, the latest version of macOS, the best speakers, and powerful performance.
It is fitted with a brand new keyboard, a welcome change from previous incarnations. You will love the audio experience on the MacBook Pro, which we can say is the best on any laptop. It comes with three speakers on each side – two of which are woofers intended to cancel each other's vibrations. This means that if you're looking for that deep bass on a laptop, with outstanding stereo separation, you'll get it on the MacBook Pro.
5. Best Sleek Laptop: Huawei MateBook X Pro (2020)
The Good:
Decent battery life
Powerful 10th Gen Intel Core i5 or i7 processors
Bright, colorful display
The Bad:
Not available in the U.S.
Performance may be patchy
The Huawei MateBook X Pro features ultra-thin bezels and a powerful 10th Gen quad-core Intel Core i7 processor. The new Emerald Green color option is a stunner and anticipated to be the favorite for most people. With a 13.9-inch screen, 16GB RAM, and up to 1TB SSD storage space, there is much you can do with this laptop.
You can get the MateBook X Pro with integrated graphics or opt for the entry-level Nvidia GeForce MX 250 GPU instead. This unit can handle some light video editing, gaming, web browsing, and image editing without lagging.
6. Best 2-in-1 Laptop: Lenovo Yoga C740 (14)
The Good:
Long battery life
Powerful 10th Gen Intel processors
Sleek sandblasted premium aluminum design
Lightweight
The Bad:
At its price range, Lenovo Yoga C740 packs a whole load of nifty features, including a 10th Gen Intel Core processor, long battery life, FHD touchscreen display, and an ultra-responsive touchpad. All these features are fitted in a sleek design with a color-matched keyboard.
It boasts of high-speed connectivity thanks to Wi-Fi 6, which is said to offer speeds of up to 9 Gbps. Powered by a 13-hour battery, you can go a whole day without looking for the AC adapter.
For music and movie lovers, this laptop comes integrated with a user-facing Dolby Atmos speaker system for an incredible audio experience. You get the USB-A 3.1 port on one side and two USB-C 3.1 Gen 1 ports (one for power), and also a headphone jack.
7. Best Laptop for Avid Gamers: Razer Blade Pro 17
The Good:
Slim and light design
Impressive gaming experience
Customizable keyboard with lighting effects
The Bad:
Expensive
Gets hot on heavy tasks like gaming
When you hear a 17-inch laptop, you probably think it is huge and heavy. But the Razer Blade Pro 17 is quite the opposite. At just over six pounds, the Razer Pro 17 is not hard to move around compared to other rigs.
This is a true gamers machine equipped with a 10th Gen Intel Core i7 processor, Nvidia GeForce RTX Super Max-Q graphics, and 4K touch. Each key of the Razer Pro 17 is individually lit with options to customize the colors and lighting effects on the keyboard.
The Razer Blade Pro 17 also features an anti-glare matte screen, FHD display, and up to 300 Hz refresh rate.
8. Best Laptop for Video Editing: Dell XPS 17
The Good:
Compact and slim design for a 17-inch laptop
Long battery life
Great CPU and graphics
Comfortable keyboard and touchpad
Large, immersive display
The Bad:
Quite heavy
Poor webcam
Lacks USB-A ports
Can get expensive the more you upgrade
The Dell XPS 17 laptop stands out due to its slim body and attractive design. It comes equipped with a four-sided Infinity Edge display to offer one of the largest and most immersive screens on any laptop.
The laptop starts at $1,371, which gets you a 10th Gen Intel Core i5 processor, 8GB Ram, 256GB SSD of storage space, and Intel UHD graphics. You can upgrade to a faster Core i7 processer, 512GB SSD, and Nvidia GeForce GTX 1650 Ti graphics if you are ready to part with more than $1,800. Of course, you can upgrade the RAM, SSD, and graphics to specs that suit your preferences, but it will cost you more.
Transfer Files Online with Ease
Once you acquire your shiny new laptop, you'll probably want to share some cool or funny videos, projects, images, or documents with colleagues, family, or friends. To avoid the frustration of getting the "File size limit exceeded" error, we recommend trying FileWhopper. With this app, there are no file size limits, and you can transfer any amount of data without worrying about data loss. Plus, you don't need to commit to monthly subscriptions or exorbitant prices. You only pay a one-time fee based on the size of the file you're sharing. The FileWhopper app encrypts data before transferring it to ensure it's safe and secure. You also get to enjoy simultaneous uploads and downloads, hence saving time.