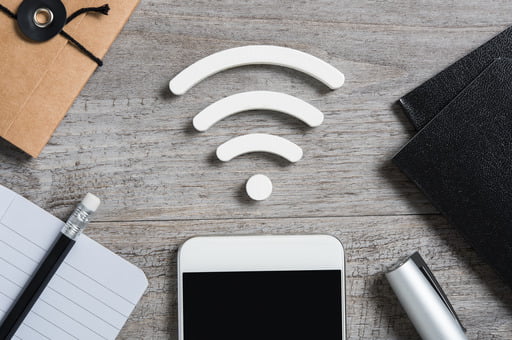 As more people continue to work from home, fast Wi-Fi connections have become a necessity. You can't have the entire family on a single low-end router and expect to get fast Internet speeds. Moreover, even when your apartment is not too large, you can still run into dead zones.
Single routers require a steady amount of bandwidth. So, your apartment's layout and interference from nearby networks or devices can cause dead zones. If your signal works perfectly when close to the router and drops off when you're in the basement or other areas of the house, you'll need to boost your Wi-Fi signal.
Many people who experience this problem may decide to upgrade their service plan or buy a new wireless router. However, if you're looking to boost your wireless network, Wi-Fi extenders are a lower-cost alternative. To use an extender, you only need to place it where it can pick up your router's Wi-Fi signal to amplify and rebroadcast it for more coverage in your home.
What Is a Wi-Fi Booster?
A Wi-Fi booster, signal booster, or Wi-Fi extender is a device that helps to boost your wireless signal. It takes your existing router signal and extends it to other areas where the signal might be low. Wi-Fi extenders come with different specifications (varying speeds, sizes, and more). For faster speed, you can use wired Wi-Fi boosters that rely on power lines to boost the signal in dead zones.
On the other hand, if you don't like cables, you can opt for one of the numerous wireless Wi-Fi extenders that make it relatively easy to deliver boosted signals. Most wireless boosters come with a setup button. So, you don't need any technical know-how to install it and connect it to your router.
How Does a Wi-Fi Booster Work?
There are areas of your home where the Wi-Fi signal is always poor (dead zones). This will be common if your house is built with dense materials, like brick, concrete, or metal, and has multiple floors and/or thick walls. In order to solve this problem, a Wi-Fi booster grabs your existing Wi-Fi signal, boosts it, and then rebroadcasts it to increase its range across your household.
As simple as this process may seem, the speediness of this activity depends on the type of router and the booster's standard. For example, an 802.11n booster will only support a bandwidth of up to 300Mbps. Meanwhile, an 802.11ac Wi-Fi booster can support a bandwidth of up to 1300Mbps.
How to Choose a Wi-Fi Booster?
Your signal booster doesn't have to come from the same manufacturer as your router. Nevertheless, it's important to pick a Wi-Fi booster that matches your router specifications. For example, if you have a dual-band AC2600 router, it's advisable to get a dual-band AC2600 booster. If your router supports the Multi-User Multiple-Input Multiple-Output (MU-MIMO) technology, you'll have to go for a booster that supports this feature in order to extend your network.
You also have to look at your booster's standard and the Wi-Fi speed it supports. As you have seen above, the booster should support the latest 802.11ac standard, whose speed is about 2.8 times faster than that of the common 802.11n standard. This is very important if you'd like to stream videos and online games in HD and without glitches.
Another factor to consider is the dual-band radio feature. With this, the booster can transmit both slower signals (2.4GHz) and faster signals (5GHz) and you have more options to configure your network. The 2.4GHz connection is more crowded but is better for browsing the web, while the 5GHz connection is less congested and more suitable for videos.
What Are the Best Wi-Fi Boosters?
According to in-depth tests by Tom's Guide, the TP-Link RE650 AC2600 Wi-Fi booster is the best on the market. It's easy to install in any house, and it has a great app that makes it easy to manage your network. It comes with the MU-MIMO Wave 2 technology, which provides quality performance by allowing the RE650 to communicate with multiple devices at once.
However, if you want to pay more for premium performance, the Netgear Nighthawk X6S EX8000 Wi-Fi extender will be perfect. It provides faster data speed and a bandwidth that is up to 3000Mbps. So, you don't have to worry about lags when you stream videos or games.
The best Wi-Fi boosters can be easily positioned to add wider Wi-Fi coverage to dead spots and any other part of your home. A review from Tom's Guide shows the best Wi-Fi extenders in 2021. Coverage, range, design, setup, throughput, speed, and price were included in their rating criteria.
As a more budget-friendly option, the Netgear EX6200 AC1200 Wi-Fi extender offers fantastic signal boosting at a reasonable price. The desktop Wi-Fi extender comes with ports for connecting devices via USB and Ethernet.
If you want a booster that is portable and easy to hide, you can consider the Linksys RE7000 Max-Stream AC1900+ Wi-Fi booster. It has become increasingly popular for its sleek design, which makes it easy to be kept out of sight.
Conclusion
As you have seen in this article, a Wi-Fi booster is what you need to access your wireless network in any part of your home.
Sending large files can be difficult even on stable Wi-Fi networks, so we recommend you to check out FileWhopper. It's an online service that offers a secure way to transfer large files and folders of any size. Unlike when using other file-sharing platforms, with FileWhopper, you don't have to pay for a monthly subscription or storage plan – you only have to pay a one-time fee based on the size of the file or folder you want to send.
Check out other articles in our blog to learn more about smart Wi-Fi usage.