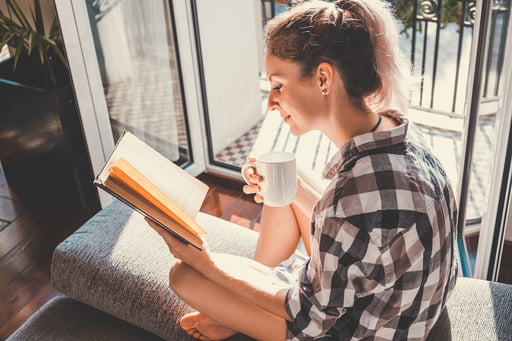 How are your reading goals going this year? We are already halfway through 2021, and a batch of new books is written, edited, and released each month. Like you, we love to read any fascinating books we can find and discover some of the great reads we're yet to try.
Below, we bring you an updated list of the must-read books in 2021, featuring only the most compelling and thought-provoking novels (in our opinion).
Whether you're looking for fiction, non-fiction, memoirs, graphic novels, or the latest release from your favorite author, we've got it all. Some of the books on this list may not have hit the shelves yet. But that shouldn't prevent you from hitting the pre-order button. Who knows, one of these books may offer you the escape, spiritual enlightenment, education, or guidance that you've been looking for in your life when it arrives.
Here's to more reading!
What Are the Hottest Books to Read Right Now?
Somebody's Daughter, by Ashley C. Ford
I Live a Life Like Yours, by Jan Grue (Translated from Norwegian by B. L. Crook)
Aftershocks, by Nadia Owusu
Empire of Pain, by Patrick Radden Keefe
A World on the Wing, by Scott Weidensaul
The Other Black Girl, by Zakiya Dalila Harris
The Four Winds, by Kristin Hannah
The Push, by Ashley Audrain
Project Hail Mary, by Andy Weir
Strange Beasts of China, by Yan Ge (Translated from Chinese by Jeremy Tiang)
Malibu Rising, by Taylor Jenkins Reid
How Beautiful We Were, by Imbolo Mbue
God Spare the Girls: A Novel, by Kelsey McKinney
Good Company: A Novel, by Cynthia D'Aprix Sweeney
All Girls, by Emily Layden
Non-Fiction
Somebody's Daughter, by Ashley C. Ford
What happens when someone close to you is released from prison after being locked up almost your entire life? It's the situation Ashley C. Ford finds herself in after she receives a letter from her father that he's finally coming home.
Trying to relate to a complete stranger can be scary and challenging. The author takes us through a beautifully woven narrative that makes this memoir read almost like fiction. When she thinks that she'll finally feel whole after reuniting with her incarcerated father, the truth comes to light, and everything changes.
You won't put Somebody's Daughter down once you get started as Ashley explores her life experience from childhood to a writer in New York City.
I Live a Life Like Yours, by Jan Grue (Translated from Norwegian by B. L. Crook)
People who knew Jan Grue from his childhood are surprised that he's still alive when they meet him. Grue, a Norwegian academic, was diagnosed with a condition called spinal muscular atrophy at age 3.
This memoir, which doubles as a work of cultural history and literary criticism, paints a familiar story of what it's like to live in a body that doesn't resemble other bodies. It's also a book about aging, memory, parenthood, love, and academia.
Aftershocks, by Nadia Owusu
Aftershocks is a memoir by Nadia Owusu, who at two years old was abandoned by her mother. After about a decade, just when she's starting to feel some sense of stability, her father, a United Nations official, passes away.
During her turbulent life, Nadia has lived in different parts of the world, from Tanzania to Ethiopia to the United States. In her narrative, she takes us through her journey and the many pieces she's had to put together to understand what's left in the aftermath of losing both her parents.
Aftershocks tells a story of survival and trying to re-evaluate the definitions of family and home.
Empire of Pain, by Patrick Radden Keefe
The Washington Post described it as one of the most anticipated books this spring. Empire of Pain takes us deep into the secret history of the Sackler family and their firm, Purdue Pharma.
It tells the story of how the Sackler dynasty introduced Valium and Oxycontin, the opioid that sent a wave of addiction and death across the country in the 90s.
The Sackler family is one of the richest families on earth and is known for their generous donations to arts and sciences. The source of their wealth remained vague until it emerged that they had been responsible for manufacturing and marketing Oxycontin, a painkiller that was a catalyst for an international epidemic of drug addiction that killed almost half a million people.
A World on the Wing, by Scott Weidensaul
If you find the world of nature and animals enthralling, A World on the Wing by Pulitzer Prize-shortlisted author Scott Weidensaul, which explores the migration of billions of birds across the planet, will make great reading for you.
Despite the obstacles we continue to place on their paths, birds endure it all and continue to head to the far horizon. Join Scott as he tracks some of the most remarkable flights undertaken by different bird species around the world in the last two decades.
Fiction
The Other Black Girl, by Zakiya Dalila Harris
Zakiya Dalila Harris' debut novel, The Other Black Girl, is the perfect mix of social commentary and a fast-paced thriller. In this publishing drama, Nella Rogers is appointed the new editorial assistant at Wagner Books. She's the only Black employee in the company and is thrilled when Hazel, another Black woman, is hired. As a young Black woman, Hazel understands the frustrations Nella has to endure every day from her white colleagues.
But, when threatening notes saying, "Leave Wagner. Now" begin to appear on Nella's desk, everyone, including Hazel, becomes suspect. The exhilarating twists in this thriller will have you pinned to your seat until the last page.
The Four Winds, by Kristin Hannah
The crops are failing, water is drying up, and dust is threatening the lives of the people living in Texas. Elsa and her family, like many of her neighbors, must make a tough choice of staying or heading west to California in search of a better life.
The Four Winds is a fictional novel set in the Dust Bowl era during the Great Depression. It's about the American dream as seen through the eyes of one woman struggling to keep her family afloat. Elsa's choices, courage, and sacrifices change the lives of people around her and generations to come.
The Push, by Ashley Audrain
The Push is a chilling page-turner about motherhood. Blythe Connor believes she'll be a warm, loving, good mother to her new baby, Violet. But when she finds it difficult to connect with the baby, she's alarmed and convinced there's something terribly wrong with her daughter – she doesn't behave the way children are supposed to.
Her husband, Fox, tells her she's imagining things, but Blythe questions her own sanity. We also begin to question Blythe's stories about her life. When their son, Sam, is born, Blythe feels the mother and baby connection she's always dreamt of. Even Violet loves her little brother. But everything is changed in an instant, and Blythe must face the truth.
Project Hail Mary, by Andy Weir
A sole survivor millions of miles away from home, Ryland Grace must save humanity and the earth from disaster. But, there's one problem. He's lost his memory and can't even remember his own name, let alone his assignment or how to get it done.
He just woke up from a deep sleep, only to find himself in outer space on a tiny ship, with nothing but two corpses for company. This fascinating interstellar adventure takes you through discoveries, speculation, and survival to conquer an extinction-level threat to earth with the help of an unexpected ally.
Strange Beasts of China, by Yan Ge (Translated from Chinese by Jeremy Tiang)
If you love whimsical stories, then Strange Beasts of China will pique your interest. The story is set in a fictional city of Yong'an, which is inhabited by strange creatures, "some identical to human beings, some truly monstrous", writes Yan Ge.
The narrator, a novelist who abandoned her study of beasts to try a career in letters, returns her interest to the creatures when her editor commissions a story about them. However, she's repeatedly warned to abandon her project by her former professor, who, despite the warnings, reluctantly assists her.
Malibu Rising, by Taylor Jenkins Reid
Malibu Rising is yet another tale of the pleasures and pitfalls of celebrity from Daisy Jones and The Six author Taylor Jenkins Reid. The story is set in the 1980s and centers on superstar musician Mick Riva's four children, who are organizing the legendary Riva party at their Malibu home. Within 24 hours, the world of the Riva family is about to change with all the secrets spilled and the house up in flames (literally).
How Beautiful We Were, by Imbolo Mbue
This is a familiar story of how big industries destroy the environment without caring about the livelihood of the children or villagers while the government turns a blind eye to the problem due to corruption.
It is set in a fictional African village called Kosawa, where locals live in fear of getting sick after a predatory American oil corporation sets camp in the village.
Children start dying after ingesting toxic drinking water, and the corrupt government doesn't do anything to stop it. When the villagers mount an uprising, it comes at a costly personal expense.
It's a story about greed, colonialism, and capitalism that highlights where we fail as a nation and leaders to make a better world for our future generations.
God Spare the Girls: A Novel, by Kelsey McKinney
Don't you just love the drama that unfolds when a man of God does the opposite of what he preaches? In this novel, Luke Nolan is a preacher, who along with his wife and two daughters, Abigail and Caroline, share a great relationship with the Hope congregation.
But, when it comes to light that he'd been having an affair just weeks before Abigail's wedding, things start to fall apart. The two sisters flee to their grandmother's ranch and start reflecting on what they really owe their family and themselves.
Good Company: A Novel, by Cynthia D'Aprix Sweeney
Flora and her husband have been married for decades. But, when she stumbles upon a secret her husband has been keeping from her, she starts to question not only their relationship but her friendship with Margot, too.
Good Company is a thrilling page-turner that will make you rethink the role relationships and friendship can play in the small and big decisions we make in our homes.
All Girls, by Emily Layden
If you enjoy the intricacies and complicated lives of teens, grab All Girls, a novel that follows the lives of nine young women and how they handle the fallout of a scandal at the prestigious New England Prep School. It's a coming-of-age book highlighting the controversies that we all go through growing up.
What are the top books to read in 2021 that we haven't mentioned above? Let us know in the comments section below.
Do you have a batch of softcopy novels that you'd like to share with friends and family? FileWhopper offers the best platform for sharing your digital books. Using this file sharing service is so simple:
Choose what you want to transfer – it can be a file or folder of any size.
Get an instant quote based on the size of the file or folder.
Register an account.
Get a download link to your data and a strong password and share them with your recipient(s).
FileWhopper lets you send files or folders of (literally) any size. Plus, you only pay for what you transfer – there are no monthly subscriptions. What's more, whatever you transfer is properly encrypted and gets deleted from the servers immediately after your recipients finish downloading it.