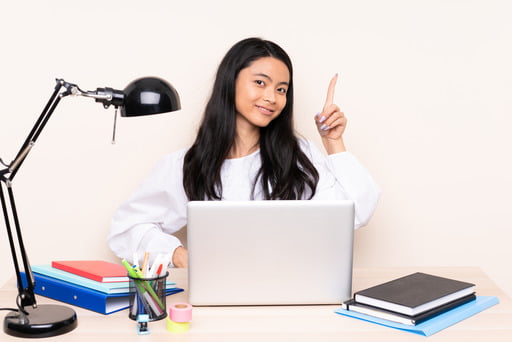 This is the best time to own a laptop, considering that technology has come quite far. With better chips, processors, and hardware, it is now cheaper to produce high-performing laptops. This is good news for consumers, especially for students who are on a budget. So, what is the best laptop for school use?
Factors to Consider When Choosing a Student Laptop
There are so many designs and models, and you can always enter a computer store and pick up one. The problem, however, is that it can get confusing to know the specifications that are right for you. Whether you are a high school or college student, you need a laptop that will give you the best value for your money. It should not be underpowered, and its battery life should last you through a day of lectures. Of course, you shouldn't forget about storage capacity.
Students also need to unwind after studying. Now, if you're into video games, you'd want to get a laptop that has the processing power to handle high graphics without melting down. However, this in itself can be a dilemma for you as a student. You're probably wondering, "Can gaming laptops be used for school?" While they can serve your needs as a student, gaming laptops can be on the high end of the spectrum in terms of pricing. You don't need to worry, though. This is 2020, and there are gaming laptops now available at pocket-friendly prices.
At this point, some of you are probably asking, "Is a gaming laptop good for everyday use? Isn't it just for gaming? " Well, gaming laptops are just like your regular laptops. The difference, however, is that the former have added features such as bigger RAMs that are upgradable, higher screen resolutions, and stronger processors. With high-performance software and hardware, gaming laptops can handle power-demanding tasks. It is important to note that some of the prices listed in this article are subject to change depending on economic turns and location.
Now, let's answer the question, "What laptop is good for gaming and school?"
What Are the Best Laptops for High School Students and College Students in 2020?
1. ASUS ROG Zephyrus G14
The ASUS ROG Zephyrus G14 is first on this list. A miracle of modern technology, this piece of art and craftsmanship is a 3.5-pound notebook that weighs a bit more than ultraportables. Rocking NVIDIA's most recent GPUs in addition to the powerful AMD Ryzen 4000 processors, this system has the operating power of gaming notebooks weighing up to or more than 4.5 pounds.
The preinstalled Ryzen 4000 processors are available in six-core and eight-core options. You can choose any of them, depending on your budget. The icing on the cake is that this machine comes with a 120Hz screen. This gives the screen a fast refresh rate, which means that gameplay will be smooth and immersive, especially if you tend to go beyond 60 FPS. Even if you are not playing games on this screen, you will definitely enjoy the better look, feel, and beauty when scrolling through web pages, watching movies, and using Word documents. A fast screen refresh rate makes everything look better and more appealing.
While gaming laptops are known for their flashy appearance, the ASUS ROG Zephyrus G14 comes with an anime-inspired design that is neither showy nor bland. It has just the perfect blend of futuristic and retro. However, some models have LEDs built into the rear panel (you can turn them off if you wish to). As you can see, this system can be used for working, studying, and even gaming.
Depending on your location, the ASUS ROG Zephyrus G14 has a starting price of $1,050, which makes it great for students and anyone else who is on a budget. Another great thing about this notebook is that you can add a faster GPU and increase the RAM whenever you have the money to do so. Doing so will increase its speed, efficiency, and operating capabilities. This easily makes it the best mid-range option for most students.
2. Dell G5 15
If you are looking for something more affordable than a mid-range laptop, then you should check out the Dell G5 15 notebook. This is part of Dell's G-series. Built for the gamer on a tight budget, it offers you gaming capabilities at a less scary price. It comes packed with NVIDIA's newly released GPUs in addition to the 10th generation H-series processor designed by Intel. It's on the heavy side with a weight of 5.1 pounds. This can make it less appealing if you want something more lightweight. However, if you can overlook the lack of style, you will find that this laptop is a great bargain for its price. Indeed, this price will be hard to beat considering the capabilities of the Dell G5 15 notebook. It has a low selling price starting at $860.
Also, you can broaden your options by taking a look at the other notebooks that make up the G-series. You might find something else that you'll like. For example, the G3 models are cheaper than the G5s. The downside, however, is the cases are lower in quality. This makes the G3 more vulnerable to damage. There's also the G5 15 Special Edition, which has a starting price of $860. This comes with an AMD processor and GPU. Therefore, if you are an AMD lover, this might be for you.
3. Razer Blade 15
The Razer Blade 15 is for the student with a roomier budget. This piece of modern tech is expensive for a reason. Built with an artistic and gorgeous look, it is meant for students who want to use something that has a MacBook-level quality and build. Therefore, it comes as no surprise that the Razer Blade 15 has been ruling the gaming-laptop arena for many years now. With a slim look and a durable metal case, this device is known for its powerful hardware and state-of-the-art cooling system. You can choose either one of NVIDIA's fastest GPUs:
RTX 2080 Super Max-Q, or
Pro-grade Quadro RTX 5000
Alongside these GPUs, it comes with Intel's processors (10th-generation octa-core processors) built for speed, efficiency, and power-tasking functions. You also have the option to choose from the best laptop screens available on the market. Your choices include 4K OLED panels and a 300Hz 1080p LCD. As you can see, it sports an amazingly high screen refresh rate.
Even if your budget is not that high-end, you can get the Blade 15 with the RTX 2070 Max-Q GPU, with a start price of $2,000 and a 144Hz screen. However, it is important to note that if you are going for the cheaper models, you have to accommodate some compromises. For example, they come with no card readers, have less impressive displays with downgraded RGB, and, hold your seat, have a downsized battery. If you are all about battery life, this might be something you will want to avoid by going for the higher models. However, it comes with an Ethernet port. So that's a plus. The cheaper model or not, with the Blade 15, you get the same high efficiency that comes with a premium gaming laptop. It doesn't matter how fast you choose to configure it – each model of the Razer Blade 15 will not let you down.
4. Alienware M15 R3
The Alienware M15 R3 is known for its style and power. Although a latecomer in the thin gaming laptops arena, it has fast become a contending force. The M15 R3 comes with an impressive 15-inch display, with the design and feel of a device straight out of a sci-fi movie. It features a blend of two color tones alongside bold LEDs along the rear panel. This system has been built to make a statement. The Alienware M15 R3 is for those looking to get the power and efficiency of one of NVIDIA's fastest graphics units, such as the RTX 2070 Super Max-Q GPU, without spending as much as on Razer's competing models.
With a starting price of $1,469, you can enjoy the M15 R3, which has the capability to compete with Razer's more expensive models. The Alienware M15 R3 is the true definition of "value for your money."
5. MSI GS66 Stealth
The MSI GS66 Stealth is the perfect blend of style and cost. If you are looking for a price alternative to the Razer Blade, this is it. Just like the Razer model, it has a black metal casing in addition to one of the fastest performance hardware configurations available on the market. The difference, however, is that the GS66 costs a lot less than the Razer Blade counterpart of the same specification. For example, the MSI GS66 Stealth will give you NVIDIA's RTX 2070 Super Max Q alongside an amazing 32GB RAM at a starting price of $2,300. A Blade 15 with the same GPU will cost you $2600 alongside a lesser 16GB of RAM.
It makes sense to go with the GS66 and find something better to do with the extra $351. As a student, you have other things to buy for school.
Transfer Your Huge Files and Folders Easily
The great thing about all the laptops on this list is their ability to handle complex tasks. As a student, you will be sharing and receiving files through the length of your study. Depending on the course you are studying, these files can be really large. While there are services out there that offer cloud uploads, they only do so with a monthly subscription plan. This can be inconvenient, especially if you need to make a one-time file upload.
Having a powerful laptop is important and so is having a file transfer service that you can rely on. That's why you need FileWhopper. It is a file transfer service that allows you to transfer large files with no size limits. You can even transfer as much as 10 Terabytes! The best part is, your first upload of up to 5GB is free! What's more, the tool won't require you to compress your files. You can transfer your files exactly as they are with their original quality intact.
[fwa-calculator]
FileWhopper keeps your files safe with state-of-the-art encryption. You get a download link and a password that you can share with your friend or teacher. They can use this link and password to download your file or folder from wherever they are. This means that the only person who can download your data is the person with the link and password. That's security for your data! You also get a one-time price quote depending on the size of the file or folder that you want to transfer. No monthly or yearly subscription is needed! Transfer games, movies, music, and software with FileWhopper without spending a fortune.
Conclusion
We hope the tech tips in this article have helped you in deciding what you need. Have fun with your new laptop!