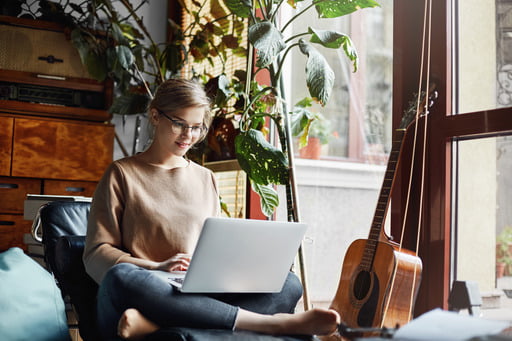 One of the best things about YouTube is that it allows people to choose what kind of content they want to consume. YouTubers are emerging on a daily basis, creating new content and generating new business ideas, and a growing number of brands are integrating YouTube into their marketing strategies. The thing is, YouTube has more than 2 billion active users, who watch around 250 million hours of video content per day.
A good camera and microphone can make your videos appear more professional, but that is only one aspect of creating content that will captivate YouTube users. You need to publish engaging videos — they must tell a story, intrigue viewers, and make them want more. To create an engaging YouTube video from hours of raw footage, you need more than just creativity; you also need the right video editing software. It doesn't matter whether you have video editing experience; using a video editor is the simplest way to create great YouTube content on the go. In this article, we cover the best video editing software used by YouTubers to create high-quality videos.
What Software Do YouTubers Use to Edit Their Videos?
It doesn't matter whether you are building an audience to make money or are simply creating YouTube videos for fun – the right editing software can really make a huge difference to your success on YouTube. Beginner YouTubers who cannot afford premium video editing software often use YouTube's free web-based video editor, which they can easily access on the YouTube platform.
For professional YouTubers, editing is the most essential part of the post-production process, which is why they prefer to use the best video editing software. It makes sense to look at your goals and what you hope to get from the platform before deciding on what app to use for editing your YouTube content. If you want to share a quick video of yourself singing your favorite song, you don't need any sophisticated video editor. However, if you want to change characters in a video or add powerful effects, you need a video editor with advanced functions.
Does YouTube Have Editing Tools?
Yes, YouTube offers a completely free video editor that is integrated into its platform. Although YouTube's video editor has only basic editing features, it still lets you cut out clips from any part of your video, and you don't need much editing experience to use the editor. Using YouTube's video editor, you can trim a video or remove any unnecessary content from it.
You can also provide links to other videos, channels, playlists, and more by adding cards and end screens to your videos. If you don't like the results of any change you make to a video in YouTube's editor, you always have the option to roll back to the original video. However, it could take several hours for your changes to appear on the published version of your video, depending on the type of edits you make and the duration of the video.
What Are the Best YouTube Editing Software Tools?
iMovie
For beginners, using iMovie is a great way to learn how to add intros, transitions, and filters to YouTube videos. Many YouTubers now use programs with more robust editing capabilities, but iMovie is still a great choice for newbie YouTube content creators with less complex editing needs. Regardless of this, iMovie also has some advanced features that allow you to manage transitions smoothly and match colors between clips.
In iMovie, you can create videos with resolutions of up to 4K at 60fps, and you can either upload your project directly to YouTube or save it to your local drive. However, you can only upload in MP4 and cannot choose another format. iMovie has only two video tracks, so more complex video editing is not possible using the platform, which can only operate on Apple devices. YouTubers who are looking to produce basic videos of good quality should choose iMovie, even if it might not be the right software for those seeking more complex features.
Final Cut Pro
With Final Cut Pro, you'll be able to create and edit videos in a more sophisticated, feature-rich environment than in iMovie. However, it's still a straightforward editing tool that anyone can use, whether new to editing or already familiar with the iMovie interface. Using Final Cut Pro, you can alter the appearance, lighting, and animations of your video clips with just a few clicks.
Final Cut Pro is Apple's video editing software that's revolutionizing post-production editing with features like 360-degree video editing, motion graphics, and more. By using the Multicam editing feature, you can sync up to 64 angles of video, so you can edit clips from more than one camera at once. The Final Cut Pro program makes it easy to edit your video clips and effect color corrections, transitions, and audio adjustments. With Final Cut, you can automatically remove background noises and add free audio samples in just a few clicks. Final Cut Pro is available for a 30-day free trial, but once the trial ends, you'll have to purchase it for a one-time fee of $299.99.
Adobe Premiere Pro CC
In film and TV production, Premiere Pro CC is widely accepted as professional video editing software. It is also popular among YouTube creators because of the flexibility and editing tools it offers. The program is fully integrated into the Adobe ecosystem and allows users to import Premiere Pro projects into After Effects to add advanced visual effects.
YouTubers can adjust both the visual and audio components of their video content with Premiere Pro's unlimited customization options. You don't have to worry about what video format you're using because the platform is compatible with all video formats. In particular, Premiere Pro is popular among YouTube channels that have more than one video editor, as it lets multiple parties work collaboratively and communicate on projects in real time. For those who don't like the complexity of Premiere Pro and would prefer something more basic, Adobe has a variety of easy-to-use and affordable software tools to choose from. For example, Premiere Element is a lower-priced version of Premiere Pro. It has fewer features but is way easier to master. Premiere Rush is another low-cost Adobe product specifically designed for creating videos for social media.
Wondershare Filmora
Wondershare Filmora is video editing software for macOS and Windows. It is easy to use for beginners and professionals alike. Both experienced video editors and YouTube enthusiasts can utilize Filmora's powerful features to create captivating videos. With Filmora, you can record straight from your computer's webcam and upload directly to YouTube and Vimeo, which makes it one of the best solutions for YouTubers. Filmora has an impressive collection of royalty-free music, as well as enhanced color correction and audio features. On the editing timeline, you can add up to 100 audio or video tracks. You can add annotations to your videos and even stabilize shaky footages. To use Wondershare Filmora, you need to purchase a lifetime license at $59.99.
Conclusion
There you have it — the best video editing software programs that YouTubers can use in 2021. Even though YouTubers use a wide range of video editing solutions, Adobe Premiere Pro and Apple's Final Cut Pro stand out from the competition.
Also, if you're looking for an easier way to send large batches of videos over the internet, you should check out FileWhopper. This file transfer platform is ideal for video makers, YouTubers, photographers, and just about anyone searching for a cheaper alternative to cloud storage applications like Google Drive and Dropbox when it comes to sending large files and folders. FileWhopper allows you to transfer videos and other media files of unlimited size (10GB, 100GB, and even 10TB) to anyone in the world over a secure and fast connection. FileWhopper's team does not have access to any data that you transfer through the platform. Your data stays safe on FileWhopper's servers for up to 14 days and is automatically deleted once it's downloaded by the recipient(s). FileWhopper is a pay-as-you-go service. It is free for transfers of up to 5 GB, but after that, you'll need to pay a small one-time fee that is calculated based on the size of the folder or file you are sending.