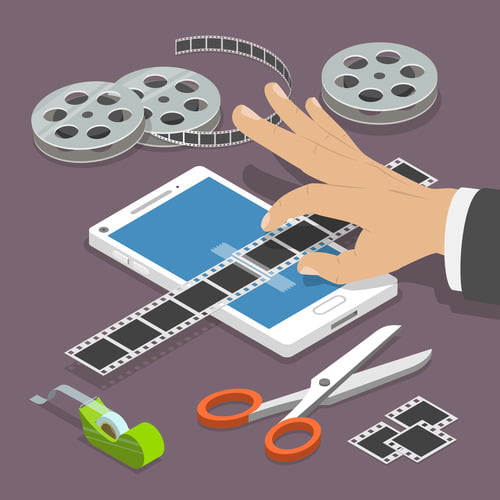 One of the secrets behind a successful small business is adding a personal touch to its services. Providing well-targeted, high-quality video content has proven to bring benefits to small enterprises, and this aspect of a company's social media strategy greatly relies on finding the right video editing app.
Content creators are at the heart of marketing. They understand that inspiration doesn't set up appointments. It can hit at any moment. Indeed, accessible tools for producing content are crucial. With a user-friendly video editing app for mobile devices, covering significant ground even when out of the office is highly possible. So, in this article, we will cover what can be considered as the best mobile video editing apps for iOS and Android.
Finding the Right Video Editing Software
There's so much video editing software at the moment. The market is abuzz, making it confusing to find and settle for the right tool. There are mobile video editing apps you can use to create content for Instagram, Twitter, and Facebook. Lightworks is great but sometimes you need another solution. How then do you know which software to go with? Below are the top five features to help you select the right video editor:
Affordability
Excellent customer support
Simple user interface
Variety of editing tools
Multiple format support
Affordability
The best place to start is your budget. A small business should avoid overspending, so pay attention to the prices of the available software and take it from there.
Excellent Customer Support
I cannot stress enough on the importance of a competent support team. In most cases, you're paying good money for your video editing software. The last thing you'd want is to be stuck with a malfunctioning or half-baked type of editor. Should you get stuck, you must seek assistance right away. Select a mobile editing app that has as many support channels as possible, including phone support, email support, and live chat.
Simple User Interface
You'll be doing most of your video editing during your trips or breaks. An editor with a user-friendly interface makes for the best of tools. Otherwise, you might have to forget about doing everything on the go. Start by reviewing the tutorials offered on the homepages of your shortlisted video editors. If a particular tool looks easy to use, then you can go ahead and start your free trial. Don't fork out a fortune until you know for a fact that you'll be able to work with the video editor.
Variety of Editing Features
When selecting video editing software, ascertain that it has the best editing features. With a wide range of video editing tools, one can produce professional videos using just their smartphone. Select an editor that offers excellence in terms of green screen editing, MultiCam support, tracking moving objects, 3D LUT support, and color matching, among others. You should also consider where you are going to publish your videos because the features you'll need will depend on your chosen platform.
Multiple Format Support
When choosing the best mobile video editing app for Android or iOS, users usually overlook seemingly small but vital features, including the ability to edit direct camera footage. What's the point of paying for a video editor if you cannot work on your raw material on your smartphone? After all, your video editor must pick up and edit footage from the latest 360-angle cameras and drones. Go with a video editor that has the technology to keep up with the latest trends. It must have features for 4K video editing, support 360 video editing, and offer GPU hardware encoding and decoding. You can pair your software with a computer that comes with a dedicated graphics card to hasten 4K video processing.
Share Your Raw Video Footage with FileWhopper
FileWhopper is a straightforward file-sharing service that allows peer-to-peer sharing. There are no data limits applied or monthly subscriptions. All you need is your data in a file or folder to get started. You will be supplied with a secure link that contains what you just uploaded and a secure password that is needed to extract your file or folder. Here is how FileWhopper works:
✔️ Get an instant quote and pay a one-off fee based on the size of what you wish to send.
✔️ Provide your recipient(s) with the link and password needed to access your data.
✔️ Make sure your recipient(s) start downloading your file or folder as soon as you begin the upload – this way, you will save a lot of time.
There's a special for new users at the moment. Everyone using FileWhopper for the first time can upload and share their first 5 GB of data for free. Don't worry about 'huge' fees afterwards. Expect to pay just $0.99 to upload and share up to 10 GB of data.
Top Ten Video Editing Apps For Small Businesses in 2020
Adobe Premiere Clip is at the top of our list of the most competitive video editing apps for small businesses in 2020. This app is not just favored because it's from Adobe—it truly deserves the position. Offering a long list of top features, from dragging and dropping videos and photos to the ability to adjust exposure, lighting and sound levels, this app has it all. You can also sync the tool with other Adobe products and make the most of the Adobe Creative Cloud support. The tool is compatible with both iOS and Android platforms. Get started with the free Basic plan and later upgrade to Adobe Premiere Pro for $21/month.
This is one of the best video editing apps for iOS devices. iMovie is more than enough to help editors work from their iPhones. This free-to-download app is also available on Macs and iPads, making it easier to edit across various devices. Its top features include video effects and filters, 4K resolution for cinema-quality video, TV- and movie-style templates, and voiceovers, among others.
If you want to produce high-quality videos, then consider getting the FilmoraGo app. This comprehensive tool easily covers all the basic requirements of an editor. You can choose music from the built-in library or from your own collection saved on your device. This free app doesn't tie you down and watermark your content. Once you've edited and downloaded the video, it's yours to use as you deem appropriate. However, editors on mobile phones have noted their disappointment that certain features are only available on the desktop version.
Quik is revolutionary video editing software that comes with a plethora of top editing features. These include a wide variety of text fonts and emojis and the ability to add photos and create time-lapse sequences. There's also Artificial Intelligence (AI) editing assistance for the editor who wants to do the minimum amount of work required to create a great video. Pair your video with the right music from the app's collection of over 100 free songs. This is a bonus feature for editing work done on the go. Quick is affordable and offers various payment plans, including the free basic plan for amateur editors and the GoPro Plus subscription, which costs $4.00/month and is the best option for pros.
InShot is another exciting platform for anyone looking to get started with their video editing journey. This app is ideal for those who focus on producing content for Instagram, and it's compatible with both iOS and Android. As an all-in-one video editing tool, it lets users enjoy awesome video effects, add music and voice-over narrations, and easily share their videos. The Basic plan is free, and users can purchase in-app features to unlock and use them as needed.
Splice is the best video editing software for beginners in the industry. This tool goes by the name Splice because, true to its name, it allows you to splice clips together and create an amazing, coherent video track. There's a built-in music library, making editing and selecting music easier. Other features of the app include footage trimming and cropping, special effects, animation, transition styles, and title templates. Although only compatible with iOS, this app is a friend to every newbie. What's more, it's available for free.
WeVideo is a great app that offers a lot of editing functions. If you're interested in professional editing and want to have a wide choice of editing modes, then WeVideo is among your top options. The app offers a free basic plan, but members can upgrade to better plans starting at $4.99/month. Premium plans unlock more advanced features that include 4K resolution and a wider music library of commercially licensed music. This enables you to edit your video the professional way. WeVideo has an easy-to-use interface backed up by 1 GB of cloud storage for free plans.
Magisto is a top video editing app that heavily relies on AI to help users create what can only be described as magic. This app has an easy-to-use interface, allowing you to get started right away. Although number eight on the list, it deserves all the praise it can get. Just follow the three simple steps to get a video edited professionally. Magisto automatically edits and creates your videos for you while suggesting music that matches the selected theme. It also allows the use of music from an external library. The app has a facial recognition feature and allows you to select filters, apply various effects, and auto-crop content. You can use it to distribute videos across marketing channels.
PicPlayPost is one of the most beginner-friendly video editors on the market. It provides a number of how-to videos that help new consumers get started and features a user-friendly interface. Some of the app's top features include customizable video output, MP4 audio, split-screen transitions, and various video output formats, among others. Allowing the creation and insertion of custom backgrounds, this app is the real deal. You can also add custom watermarks and branded logos to your work. The app is available for iOS and Android, helping you and your friends share creative ideas. It has a free basic plan and the option of paying for in-app features.
If you're in search of something that offers full green-screen support and comes with instant preview options, KineMaster is your best bet. The app allows you to use special effects and music. What's more, you can add graphics, text, images, recorded audio, and – best of all – handwriting. You can choose to edit frame by frame and get the most detailed results. If you're feeling inspired, you can layer up to ten clips in your project. These layers can include anything—from written text to animation. The app comes with a user-friendly interface powered by the ability to select a feature from a long list of options. Moreover, KineMaster is compatible with both Android and iOS. The Basic version is free for use, while the Pro Edition costs $4.99/month.
There you have it—the top 10 mobile video editing apps for small businesses! While most of the products on this list have comprehensive features, your decision will still depend on your needs. Consider what you want for your content and select the video editor suitable for it.