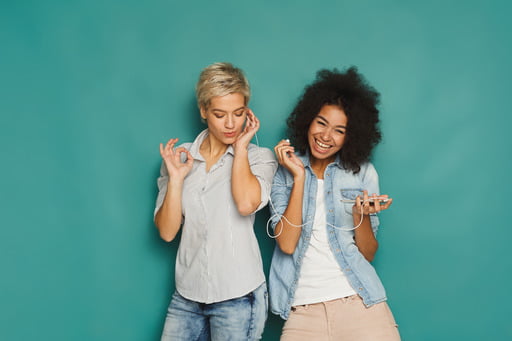 As technology continues to evolve, more and more music lovers are switching from locally based music channels and audio download apps to online streaming services. There is a good reason for this change. The idea of accessing millions of songs without having to worry about space or downloading time is just magic.
To add onto that, we are talking about sound quality that is far ahead of the CD quality. It is no doubt that just like the UHD video quality, Hi-Res Audio (HRA) is also becoming increasingly popular. 
What is the Hi-Res Audio?
HRA is the type of audio that uses the full range of sound to replicate the quality of the audio mastered during production. This isn't a new feature in the online industry despite gaining its popularity recently. HRA has been available to its dedicated fans for over a decade. However, the recent popularity can be credited to the porting of HRA over to online streaming industry.
What makes streaming services more attractive is the extensive library of music that users can get access to without having to download anything. HRA files are huge, and that means they require more space on your device. Thus, streaming is a better solution when it comes to HRA as there won't be any need to download files to listen to the sound. Also, unlike previously when HRA could only be found in selected markets, nowadays it is more readily accessible. Hence the increased interest in the online streaming of HRA.  
There are many reasons why one should stream. For starters, streaming is pretty cheap compared to buying HRA tracks. As long as you have good-quality broadband, streaming is the best option to access HRA tracks. By streaming, you do not have to worry about carrying a particular device which you have stored your HRA tracks on. Your music is online, hence you can access it using any other device on your palm at that particular time. All you need to always have is an internet connection with great speed for easy access.
Also, if you have been told that people do not have the capability to listen to anything beyond 20kHz, then you should try listening to HRA tracks to put this statement to the test. Compared to MP3 tracks that transfer sound at 320kbps and CDs that do so at 1411kbps/20kHz, HRA has a transfer rate of 9216kbps/192kHz. Now, as you can spot the difference, HRA has an increased bit depth, which also enhances the dynamic range. This wider dynamic range provides more breadth when it comes to what the listener is hearing.  
HRA tracks give you a close-to-reality experience – the sound that imitates the studio quality. With HRA, you get to listen to sound using an efficient lossless codec, hence experience the ultimate resolution there is to listen. HRA umbrellas a number of lossless audio formats. It will do you good to learn some of them, and these include:
Direct Stream Digital (aka DSD) – this high-resolution codec originated from the Super Audio CD and is mainly used in classical recordings.
APE – developed by Monkey's Audio, this is an efficient lossless codec.
WAV – this is a studio file format that contains uncompressed lossless audio; it is one of the popular HRA file formats.
MQA – it is a relatively new HRA file format that uses a digital fingerprint to verify the source of the file.
FLAC – taking less space on a computer, this is one of the commonly used HRA codecs. It is a studio-quality audio format.
With everything put into consideration, the main use of Hi-Res Audio is to channel sound that replicates what producers hear when recording tracks at a studio. However, there is a catch to unlocking the full features of Hi-Res Audio and that is to own the right device. Without capable devices, one cannot be able to tell the difference between a simple MP3 audio track and HRA. This brings us to the hardware angle of the whole scenario.
Mere computer speakers or mediocre headphones will not be able to channel through an HRA track and give the user that studio experience. Thus, at the end of the day, you need high-quality speakers, headphones or earplugs in order to truly enjoy the nature of a Hi-Res Audio track.    
Where to stream Hi-Res Audio?
There are a number of platforms that offer Hi-Res Audio tracks. These online platforms are actually growing by the day, and their popularity is also increasing. Thus, if you want to stream HRA tracks online and you have acquired the right gear for it, then the following list should be handy in assisting you to pick the right streaming platform for Hi-Res Audio.
This music streaming service promises its clients premium sound in the form of HRA tracks. The platform is designed for and dedicated to lovers of classical music and is user-friendly with a bunch of cool features that you can use to search for and access your desired masterpieces within a couple of seconds. To gain access to Primephonic's platinum tier services, you have to part ways with $149 on their yearly subscription. The platform presents an extensive library with over a million of classic tracks and sound that is in lossless FLAC format.
Amazon is among the top dogs when it comes to online music streaming. Actually, they are now considered to be rubbing shoulders with the giant brands in the online media industry. Having recently added the HRA service to their features in September 2019, the brand has amassed a significant amount of HRA music in their library, boasting millions of tracks that produce sound at 24-bits/192kHz.
For those interested in this service, the subscription fee costs $14.99 per month. Note that this service is labelled as Ultra HD on the Amazon platform. This is a huge step taken by the brand and with already over millions of subscribers on their platform, masses will easily switch to HRA tracks in no time.   
Other Websites to Stream Hi-Res Music
There are many websites that allow one to enjoy HRA tracks through their streaming services. If you are still in search of such kind of a website, then Qobuz should be among your considerations. The platform is in beta version and acknowledges itself as the harbor for HRA music fans. Qobuz offers up to 3 music plans with their ultimate plan catering for individuals in search of the lossless codec sound.
The Studio plan is available at a monthly fee of $24.99 and will deliver track files with a transfer rate of up to 24-bit/192kHz. The supported file format for HRA tracks is FLAC. Steadily stream Hi-Res Audio music on Spotify without the pressure to download things on your device. Whatever you need to do, do it at your own pace. Another great thing is, you can get to select from a long list of tracks without even having to present your credit card. 
Download Music from Trusted Sources
Alternatively, you can skip the entire process and choose to share music with your family and friends. If you and a group of people that you know appreciate similar music and have great quality copies, these can be shared online. Using FileWhopper, music sharing can be an easy pastime. First check the copyright conditions of each music album or song. If you're not infringing on any right, simply follow these steps:
Upload the music on FileWhopper as a file or folder using an easy app that helps you out. You'll be given a special link and password to share.
Copy the link to the music file or folder and share it with the recipients.
Also, provide them with the password, which is the key to opening the file or folder on the FileWhopper site.
Let the recipients or password holders know that the link expires in 14 days and they need to retrieve the music before then.
It's that easy. No need to stress about streaming or always having an internet connection.