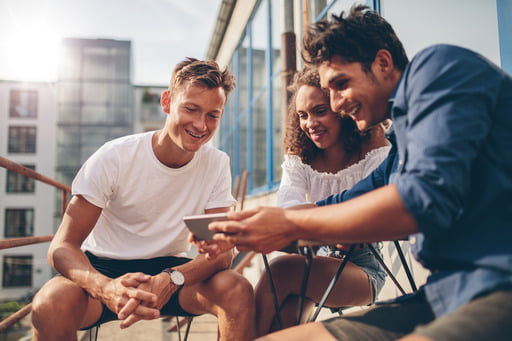 More videos mean you'd be needing more storage space. Unfortunately, many hard drives can barely keep up, especially if you're an avid photographer. Besides, you risk losing your video files if your local storage gets corrupt or damaged.
So, if you've got vacation snaps, home videos, or professional content you want to keep, consider using cloud storage. In this guide, we highlight the best video cloud storage, taking price, space, and video streaming features into account.
Are you concerned about how to choose the best cloud storage service for videos? We've got your back, so keep reading. But first, let's see what cloud storage is about and how it can be of help.
What Is a Cloud Storage Service?
Cloud storage works like your local storage unit or hard drive, except it's not bound to a physical location per time. It stores your files on an online server. Besides storage, cloud storage has two other general features – file sharing and file sync.
Cloud storage allows users to store and access their files from multiple devices. They can do this at any time and from anywhere as long as there's an internet connection. They can also view, comment, or edit their files if they wish.
What's more, you can back up your files to the cloud to create space on your local storage. It also guarantees the safety and integrity of your files should your local drive gets damaged or hacked.
But before you choose a cloud storage service, ensure you look out for the following features:
A user-friendly interface
File management
File-sharing capabilities
Collaboration functionalities
Media streaming capabilities
Security protection
Cloud storage services generally have two plans – free and paid. Your choice will depend on your needs. But generally, most free plans have limited storage and other productivity tools, while paid plans offer more storage space, security, and other advanced functionalities.
Also, bear in mind that cloud services with advanced security features don't offer free plans.
What Are the Best Cloud Storage Services for Videos in 2021?
1. pCloud
pCloud supports desktop and mobile devices. Its iOS and Android apps grant users access to their online cloud drive, while its auto-syncing feature backs up your files. It also works across multiple devices.
Its free plan offers users 10GB of free storage. But since video files eat up space, that won't last for long. You can opt for the paid plan to get 2 TB or 500GB of storage space for $9.99 or $4.99 per month respectively.
pCloud's security is top-notch, but its privacy comes at an extra cost. You need to subscribe to its pCloud Crypto service to enjoy zero-knowledge encryption.
If you are a professional video creator or need to work with high-quality 8K and 4K video files, pCloud is your right choice. It has no file size upload or downloads limits. Moreover, it has an inbuilt media player that makes online video streaming from your favorite web browser possible.
Despite all its amazing features, pCloud has a downside. It does not support NAS devices, which discourages many video creators from using its services.
Also, its free plan does not provide security for sharing links, which discourages sharing sensitive data. You can resolve that by opting for its paid plan.
Moreover, the pCloud media player converts videos to the formats it supports before playing them. However, it does this automatically without replacing the original files; instead, it creates a web-friendly copy that you can stream on the internet.
Pros
Ease of use
Affordable rates
No file size limits
Integrated media player
User-friendly interface
Cons
No NAS support
Encryption costs extra
Lack of free password protection
No collaboration tools
2. Sync.com
Like pCloud, Sync.com has no file size limits. That is, your video files can be as large as they need to be. However, unlike pCloud, which allows video playback directly from its supplied app or website, Sync.com does not have this feature.
Nevertheless, Sync.com utilizes one of the most supportive and best privacy laws in the world. It uses AES 256-bit encryption alongside two-factor authentication to secure your account from hackers. Its security features apply to both its paid and free plans.
Besides, Sync.com offers 5GB storage space in its free plan. But thanks to its generous referral system, users can expand the free storage space with up to 20GB extra data. You get 1GB of additional storage space for every invited user sign-up.
Sync.com's storage plans range from 200GB to 4TB at $60 to $180 for an annual subscription. Its paid plan offers top-level security for your videos while offering you privacy with its zero-knowledge technology.
Other advanced features you get to enjoy in its paid plans include file versioning, password protection to secure your sensitive videos, and the ability to monitor your account. You can also control user access or wipe data from linked devices remotely.
Unfortunately, Sync.com does not support NAS devices, making it unsuitable for content creators that utilize network drives for local storage.
Pros
No file size limits
Excellent security and privacy
Controlled file access permissions
Great prices
Cons
No monthly subscription plans
No built-in media player
No NAS support
Clunky interface
3. Google Drive
If you use G Suite, Google Photos, Gmail, or other Google services, naturally, Google Drive is your cloud storage choice. The service extends to other software, such as Salesforce, Adobe products, DocuSign, Slack, Atlassian, and more. That makes it one of the best collaboration tools for teams.
If you often share content on your social media platforms, such as Facebook and Instagram, Google Drive is your go-to cloud storage. That's because it allows users to share media directly from their drives to their social media accounts.
What's more, users get 15 GB of free storage space upon sign-up. You can also expand the storage space to accommodate more high-quality videos by subscribing to its paid plans.
Google Drive's subscription plans include a 100GB plan for $19.99 per year, a 2TB plan for $99.99 per year, a 10TB plan for $99.99 per month, and more. You can also opt for a 30TB plan for $299.99 per month if you need more storage space.
Pros
Up to 15GB of free storage
Integration with Android, Google Workspace, and some other popular software
Online media playback
Fantastic collaboration features
Cons
Slow uploads
No block-level copying
Privacy concerns
No NAS support
4. IDrive
IDrive does not restrict users to a single computer. Instead, it allows them to back up multiple devices, such as iPhones, Android smartphones, Windows PCs, tablets, macOS desktops, etc., with one account.
Also, your files do not vanish from the server automatically; it retains up to 30 previous versions of all the files you backed up to the cloud.
Besides, you get to enjoy free 5GB storage space on sign-up, which is expandable to 5 TB or 10 TB at $69.50 and $99.50 per year respectively. IDrive's business plans range from 250 GB to 12.5 TB of online storage space.
What's more, IDrive supports NAS devices, making it an excellent storage option for content creators who prefer to store their footage locally before uploading it to the cloud.
Moreover, it has no file size limits and supports block-level sync, letting users edit their files and re-upload them quickly. You don't have to download a video to watch it; it supports online media streaming.
Pros
No file size limits
Supports NAS devices
Supports media streaming
Has file sync and share features
Cons
5. MEGA
MEGA has a generous free plan that offers 20 GB of free storage space, making it the best free cloud storage in 2021. Interestingly, you can expand the free storage space by referring new users and installing its mobile and desktop apps.
However, the extra storage does not last forever; it'll expire after 365 days.
Besides, MEGA prides itself as a privacy-oriented company. So, if you have sensitive information you want to keep from prying eyes, including the government, MEGA is your go-to cloud storage.
MEGA's paid storage plans range from 400 GB to 8 TB storage space at $5 to $30 per month. It's not as cheap as its competitors. However, users get to enjoy several premium features, such as file versioning for regular file updates, a secure chat facility, zero-knowledge encryption, etc.
Pros
Plenty of storage space
File previews
Zero-knowledge encryption
File versioning
Cons
No collaboration tools
Expensive
Confusing methods for unlocking additional storage
Poor user experience
No built-in media player
6. Microsoft OneDrive
OneDrive is Microsoft's cloud storage that's integrated with Microsoft services, such as Office and Outlook.com, and some non-Microsoft services, like AutoCAD. It offers 5 GB of free storage space on sign-up.
One of its unique and productive features is that it allows users to edit files online. It also has a mobile app for easy access. It's a well-rounded cloud storage service that integrates with Xbox and Windows 10.
Its paid plans are relatively cheap. You get to enjoy a 100GB storage plan for only $1.99 per month. It also has a Microsoft 365 Personal subscription that offers 1 TB of storage space for $69.99 per year.
The Microsoft 365 Personal plan also includes full desktop versions of Office apps, such as Word, Outlook, Excel, and PowerPoint. That makes collaboration simple.
You can share your document in the cloud and have multiple users work on it simultaneously in real time. It automatically syncs any changes across all the co-authors' devices and saves them to the cloud. You don't have to worry about losing a 200-page thesis to hard drive failure ever again.
The Microsoft 365 Personal subscription also allows you to install Office on a maximum of five different devices. This makes it possible to collaborate with an entire household or family.
However, its collaboration features come at a cost: OneDrive lacks zero-knowledge encryption technology. This exposes your data to Microsoft and anyone that gains access to its servers.
Pros
Great integrated apps
Generous free storage
File-sharing and collaboration capabilities
User-friendly interface
Online file editing
Wide platform support
Cons
No free Office apps
Limited free storage
No zero-knowledge encryption
Limited file versioning
What Is the Best Cloud Storage for Home Use?
This depends solely on your preference. However, OneDrive remains our favorite choice.
Final Thoughts
Most cloud storage services offer limited free storage and require a monthly or annual subscription to access their premium features. Many of them also lack file-sharing features, while others offer them at a high price.
Fortunately, you can share files and folders of any type and size with a fast, safe, and cost-effective file transfer service like FileWhopper. It uses zero-knowledge encryption technology, which eliminates privacy concerns for your sensitive data, supports simultaneous uploads and downloads, and prevents your transfer progress from being lost due to sudden interruptions.
Plus, you only get to pay as you go. You don't have to worry about unnecessary monthly or annual subscription fees to get your favorite videos or professional content to your recipient.