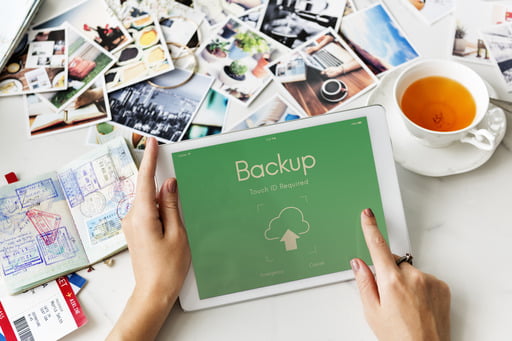 Cutting-edge smartphones with superior camera integration have made photos and snapshots the primary medium for documenting our daily lives and most precious moments.
We take pictures as often as possible – whether for social media, family albums, or special occasions.
However, there's a challenge in securing all these memories. After all, the better the camera quality, the bigger the image size. There's a limit to how far our local hard drives can go, and again, they are not readily accessible.
One of the best ways to store and secure pictures these days is using online photo storage sites. They are accessible and convenient to use.
If you want to know the best image hosting websites of 2021, then you're on the right page. In this guide, we have compiled the most popular image hosting sites – both free and paid – for you.
What Are Image Hosting Websites?
An image hosting service allows users to upload photos to a website (or host). The site will save the pictures to its server and grant users access to view and share their photos.
Besides, the servers are always online, meaning you can access your pictures at any time and from anywhere as long as you have an internet connection.
Simply put, an image hosting website is a platform that allows users to upload and host their images easily on the Internet. Most web image hosting sites provide this feature for free.
Also, image hosting websites have other features, such as sharing across platforms (social media), full privacy control, unlimited photo upload, image editing and enhancing, and more.
What Are the Most Popular Photo Sharing Sites?
Below is a list of image-sharing websites:
Flickr has been in the image hosting business longer than most of its rivals today. And although longevity does not assure quality, it's not the case for Flickr. Instead, it is an advantage. The site has a rich legacy that photographers and other users have enjoyed for years.
It has a user-friendly interface designed for sharing images. Its main interface also features Photostream – a scrollable list of most recently uploaded pictures.
Besides, users can create galleries and albums for their photos. They also have full privacy control over their photos. They can select which images are open to the the public, family members, or select friends.
Moreover, it has a free plan and a paid plan. The paid plan has a tracking system that gives detailed statistics of who viewed the photos, clicked "favorite," or left a comment.
What's more, Flickr offers extensive tagging features, a great selection of tools, and a drag-and-drop system that simplifies the way users organize their photo albums. It also supports downloading and viewing pictures at various resolutions (including the original size).
Its free subscription offers up to 1,000 free pictures with no size limits. You can upgrade to its pro version for $60 a year to enjoy unlimited storage, disable ads permanently, and view high-resolution images (up to 6K).
Pro subscribers can also stream up to ten minutes of video clips and get a 50% discount on a Blurb order worth $70. They also get two months of free Adobe Creative Cloud subscription—that's $20 worth of added value.
Specifications
Free plan: up to 1,000 free photos
Minimum paid plan: $60 a year
Pros
Great selection of tools
User-friendly interface
Extensive tagging features
Other benefits such as a discount on Blurb's photo-book service and two months of Adobe Creative Cloud subscription
Cons
The free account has a 1,000-photo limit
Limited supported file formats
2. Google Photos
Initially, Google Photos' primary function was to back up mobile photos and videos. However, now, it has evolved into one of Google's smartest software.
Google Photos categorizes photos with AI technology, making it easier to navigate and sort pictures. It can even identify the same people in separate photos and group them. It also includes an option to search for all images featuring a friend or family member.
Besides, Google Lens is integrated into the platform. This feature can translate the objects in the image into text and search the Internet for related content.
It's a decent image editing and sharing service that grants users absolute privacy control. That is, users can decide who can view their photos. Google Photos is available to both iPhone and Android users.
In the past, Google Photos offered unlimited photos (up to 16 megapixels resolution) and videos (up to 1080p resolution) storage. However, since June 2021, any picture uploaded from a non-pixel device has a 15 GB free Google Drive storage limit.
However, you can subscribe to Google Drive storage plans like $1.99 a month for 100 GB to accommodate more pictures and videos.
Specifications
Free plan:
Same functionality as the paid plan
15 GB free storage for non-pixel device photos
Unlimited storage for videos up to 1080p and pictures up to 16 megapixels.
Minimum subscription plan: 100 MB storage space at $2 per month.
Pros
Unlimited storage for pixel owners
AI technology
All accounts have the same functionality
Basic Editing tools
Several tagging and sharing features
Excellent mobile interface
Cons
Privacy concerns about how Google handles user data
Storage is not exclusive to photos and videos alone
Non-pixel photo images have a 15 GB storage space limit.
3. Amazon Prime Photos
If you're an AMAZON Prime member, then this storage site is for you. It has no free plans. Amazon Prime membership costs $119 a year.
The storage site allows users to store and share unlimited pictures on their tablet, desktop, or smartphone. They can also tag videos and images automatically, such as by person, animal type, or location.
Also, ordering cards, calendars, or photo prints does not attract any shipping cost. Users can invite up to five family members or friends to collect photos in a Family Vault and receive unlimited photo storage. You can also show the pictures on Fire TV or the Echo Show.
Another exciting feature, called Groups, allows users to share their favorite pictures with a larger group in the same club or society.
Specifications
Free subscription: not available
Minimum paid plan: unlimited storage for $120 a year
Pros
Unlimited storage
Decent sharing options
Photos and videos auto-tagging
Cons
No free account
Amazon prints are not very good
4. Apple iCloud
Apple iCloud is the photo storage backup site for iPhone owners. The service integrates with Apple Photos software on iOS and macOS devices. Windows users can only use its basic features.
It has a free plan and a paid plan. The free plan offers 5 GB free storage space for uploading, storing, and sharing images in an online photo stream. The pictures are viewable on a web page or in Apple Photos.
You can tag your pictures with names and locations and have other iCloud users add their images to the photo stream.
It has a unique feature that allows users to create an album from multiple photographers who attended the same event.
Apple Photos can also identify and group pictures with similar faces, making it easy for you to tag with the person's name or contact information.
What's more, you need not bother about running out of space. Apple offers three other tiers: 50 GB storage space at 99 cents per month, 200 GB storage space at $2.99 per month, and 2 TB storage space at $9.99 per month. You can share the latter two plans with your family members.
Moreover, Apple recently integrated a feature that allows iCloud users to transfer their photos and videos to Google Photos. That leaves you with 20 GB worth of storage space (15 GB on Google Drive and 5 GB on Apple iCloud).
Specifications
Free plan: 5 GB free storage space
Paid plans:
50 GB storage space at 99 cents per month
200 GB storage space at $2.99 per month
2 TB storage space at $9.99 per month.
Pros
Can add pictures from multiple users
Tagging feature for places, people, and objects
Simple sharing tools
Cons
5. Adobe Portfolio
Adobe Portfolio is the storage site option for Adobe CC subscribers. Adobe offers its photo storage and Portfolio website creator services to Creative Cloud subscribers. These users can access programs like Lightroom and Photoshop.
Unfortunately, it has no free plans. Its starting subscription costs $9.99 a month and includes 20 GB of storage space, Adobe Fonts, Lightroom, and Photoshop. A Photoshop-only plan costs $20.99 a month and it includes, 100 GB of storage space. Meanwhile, a Lightroom-only plan costs $9.99 a month with 1 TB of storage space.
You can also opt for its top-tier plan which costs $52.99 a month, and enjoy 100 GB of cloud storage and all Adobe's apps, including InDesign, Illustrator, Premiere Pro, Photoshop, After Effects, and more.
It also has a user-friendly interface and a tagging system. It's primarily for professional photographers and creative content creators marketing their products and services on Behance.
Nevertheless, amateurs can also use it to show off their work.
Specifications
Free subscription: not available
Starting subscription plan: 20 GB of storage space at $120 a year
Pros
Multiple storage options
Includes subscription to Adobe program(s)
What Are the Best Free Image Hosting Sites of 2021?
A good image hosting website must offer the following services:
Quality: If you cannot retrieve your images in their original size and resolution, it means the website has compressed them. Always watch out for platforms that do not compromise quality for anything.
Value: What makes a good image hosting site is its ability to store all your photos in one place at a low annual fee. If that is missing, look for another provider.
Ease of use: If uploading and editing your photos seem inconvenient and slow, the website is not good enough.
Ease of access: A good photo storage website will group images by date, location, tags, etc., to make it easy to locate them.
Shareability: If you cannot share your pictures to your social media platforms, such as Facebook, Twitter, and others, look for a better photo website.
Printability: If you're a professional photographer, people who like your work should be able to put together a photo book or buy a print easily.
Any site that offers any of those services for free is an excellent photo site.
Conclusion
Most photo storage websites restrict the size of the photos you can upload or share. They may also compress your images, reducing their quality. Some may even require you to subscribe to a monthly or annual plan.
If you want to send large photos to your clients, friends, or loved ones without compromising the quality of the pictures, you can do so with FileWhopper. It's a fast and secure file-sharing service that does not compromise the quality or integrity of your files which allows sending files and folders of any size literally. Besides, you only get to pay-as-you-go, eliminating the need for unnecessary annual or monthly subscription fees. So, you only pay for the data you are transferring at this moment.
Above all, your transfers with FileWhopper won't get interrupted. Whatever happens, the data transfer will pick up right from where it was cut once the connection is back. So, connection failures or blackouts are not an issue.