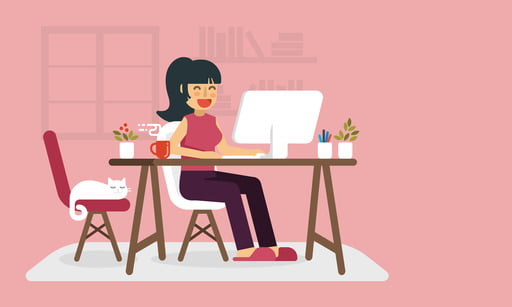 Productivity is one variable that can easily be measured, tracked and maintained. By following the best work practices, we're setting ourselves up for success. But what if working from home throws a curveball at you? While working from home, you can face a lot of distractions from the likes of your food pantry being down the hall to the fridge being packed with all the good food, snacks, and wine selections.
Factor in the noise from the kids when they are at home or the neighbors whose jobs don't require the same concentration, dedication, and effort. Then, there's also your mind wanting to go out to the lawn and see how best to take care of it or just monitor anything around the yard. Otherwise, if you're confined to a small place, your phone can also be a distraction. Before you know it, you'll find yourself on the couch. So, you see, when working from home, slacking off or going crazy becomes a possibility unless you find solutions to stay focused.
Productivity can be reduced because of any one of the above factors. We have taken the liberty of compiling some of the best work-from-home tips to help you get in the right frame of mind and have yourself a productive home workday. While at it, you'll also learn how to share large files securely.
Here are the top tips gathered from professionals who have been working from home for years successfully:
Prepare and check in for work on time – yes, you're working from your home office. But the rule of thumb is to always treat your workplace with respect. Take a shower and prepare for work first thing in the morning. With a strict morning routine, you will be able to stay on top of your game.
Prepare a daily to-do list. It doesn't have to be a long one, but write down the top 3 tasks that you want to complete. With the list, you should be able to stay on track because you still have to go through what you wrote down.
Take short breaks – hitting the pause button for five minutes will help you to regroup your thoughts and get back to work more rejuvenated and ready for the next tasks.
Avoid leaving the work area and going into the rest of the house. Otherwise, you might not be able to get out of that relaxed mode you got into while watching your favorite TV program.
Have a clock-out time – and stick to it. Once you set yourself to start working, set a time to check out. Just like you would in a physical office away from your home. And respect it. Even if you have not finished the last task on your list, the most important part is to start working on it within the set hours. Otherwise, you run the risk of reducing your productivity.
Working Remotely in a Virtual Space
Now that the topic of self-productivity has been addressed, we can move on to the next section. How to make a virtual meeting? Alongside being in the right frame of mind, the other most important factor while working includes checking on self, being checked and reporting to your superior(s). And what better way to do so than to have a meeting? If you're working from home, maybe because that's your choice and the company allowed it or the entire 'office' is a virtual setup, you need to find a way of meeting.
Finding the Best Platform or Channel for Virtual Meetings
There are a lot of factors to consider when looking for a virtual 'chat or meeting room.' And there are a lot of great options available on the market. You just have to check them out against what matters the most for you and your team before settling for one. The main reason behind the need for the management of teams and/or individuals working from home is so that they all follow the same principles and remain as productive as possible.
1. Compensate for lack of personal interaction
Most companies perform well because all the employees converge in a conducive environment for collaborating. Inside a virtual team, there must be an element of compensating for the lack of physical intermingling. Now, while virtual offices are the way to go, they do strip away the essence of the traditional office. With the selected platform for meetings and team building, the leader or manager needs to cater for that lack of not seeing each other as employees are in different locations.
2. Select a platform that offers the use of chat rooms or hangouts
If you're looking for how to start working from home, you need to appreciate the use of chat rooms as they're where and how discussions take place. When there are constantly open chat rooms, such as the channels offered on Slack, team members can discuss and openly relate both professionally and personally. It's what would be the 'watercooler' in the physical office.
3. Maintain emails and chats
Employees need to learn how to separate their home life from office life. Those who let their work continue 'after hours' often find themselves overworked and thus end up not liking what they do. This might also result in feelings of being underappreciated or not compensated enough. Managers need to find platforms that allow notifications to be turned on and off as needed and maybe even have enough room for personal interaction outside the team group channel so that their employees can exchange ideas on a relaxed note.
4. Don't hold back on video conferencing
The best way of ensuring that the team is productive and keeps collaborating is the usage of conference calls. You can select a free or paid-for service. Consider the likes of Google Hangouts, Skype, or Zoom.
5. Implement systems to help with processes
Within the business, there must be processes and practices that are followed to ensure that maximum productivity is achieved. Don't overlook processes – otherwise, there won't be any system in place. Employees end up getting confused over what they need to be doing in the workplace. Productivity also increases where protocols and rules are observed.
6. Manage the team and get the work done through creating a schedule
If there is a schedule and there are meetings that the team sets, then there will be productivity. The team leader can select when and how to have meetings. Just like a traditional office would use a boardroom or meeting place, this is what must be done online to solve issues and problems that can otherwise develop into major stumbling blocks.
7. Track productivity
Productivity can be measured by the results after certain projects or tasks are done. To help the team members, there must be a time tracking tool used to measure and track productivity. Afterward, when reviewing the tracker, one would know their level of productivity and the importance of certain tasks.
8. Collaborate effectively
The best way of keeping up with the workload and staying ahead of tasks is teaming up or collaborating. When the team comes together and works on a document together, for example, a Google Doc, then there is more work covered at a shorter time. These cloud collaborations are also a sure method of backing up work to ensure that power cuts and other unforeseen interruptions don't cause damage.
9. Create and allow for flexible working hours
In the virtual office, most employees are in different geographical areas. Instead of setting rigid set hours for everyone, try working on flexibility. Even for the meetings, employees can be divided into two groups at least to ensure that the meeting is at a favorable time for most, if not all, employees regardless of their location or time zone. There's no need to worry about productivity if time trackers are used. The number of hours or the particular time that the work is done should not take precedence over productivity.
10. Communication channels need to be established
One important aspect that affects not just productivity at work but also relationships in general is communication. Or the lack of thereof. Within the virtual office, members of the team need to learn how to communicate. Make use of audio conferences, chat rooms and emails. The back and forth movement through communication channels helps set everything up. You could also consider the use of video communication tools that help keep the communication alive.
Top Virtual Offices or Platforms for Anyone Looking to Start Working from Home Online
When working from home, there are a lot of tools and platforms that can be used to increase productivity and ensure that it is at the highest possible level. We'll check out some of these tools to help the selection process. There are some free platforms, but you can also choose between affordable and premium ones.
1. Skype
This is one of the most popular telecommunication apps currently on the market. Skype is the longest-lasting, most used platform that provides users with the functions of video chat, voice calls, and instant messaging (IM). It is compatible with many platforms and can be used on PCs, mobile phones, tablets, Xbox One Console, and some smartwatches. Using Skype requires an excellent internet connection. Use Skype for Windows, Android, iOS, Linux, or even macOS since each Skype version has the same top features.
Companies and individuals can gain a lot on Skype as the platform can be used to engage in video conference calls. According to the March 2020 statistics, about 100 million users utilize Skype every month, with the tool having an average of 40 million daily users.
To get started on Skype, one would require a high-quality webcam or a device that already comes with a really good camera and a microphone for voice capture. As a freemium portal, Skype provides a wide range of services, from free to premium for additional features. By providing reliable operation, Skype continues gaining favor with both new and old users. Most of them don't mind paying for the additional services, which are, in many scenarios, a necessary extension of the free version.
Those working from the same virtual office can always have conference calls. One person should have all the individual Skype IDs of all the participants. Then you can initiate a conference call and add members to the call. Also, teams can form groups and add and remove group members when necessary. There are a lot of activities that teams can complete via Skype chat rooms and groups. To get started, log in to Skype, click on either 'Meet Now' or 'New Call.' When using the Meet Now option, you can invite even those who aren't on Skype and anyone invited can join the call even without an account.
Skype has undergone some serious overhauls. Some of the main reasons why Skype has remained popular for this long include constant major upgrades and improvements.
2. Zoom
The Zoom software is relatively new compared to Skype, but it's coming along just as well. The Zoom software can provide video conferencing alongside chat, online meetings, and mobile collaboration.
Zoom follows closely behind Skype, and it might not be surprising to note that due to the COVID-19 pandemic and international lockdowns, the software will soon be as popular as Skype or even overtake it. When most first-world countries and almost all of Asia started working from home, the number of people using the Zoom platform increased sharply. At the time of writing this article, which is at the beginning of April 2020, used not only by professionals but also by students looking to complete their homework, Zoom has increased its total number of users by 67%.
Now, Zoom is also used as a dating and meeting platform. The current populace, mostly the millennials and Gen Z, have created events like 'Zoom Recess' and 'Zoom Blind Dates.' Almost everyone at home self-quarantining has heard of Zoom or is using it one way or the other.
One of the most popular Zoom features is video conference calls that can add up to 100 participants at a time. The platform also allows meetings that last 40 minutes. Like Skype, Zoom is a freemium platform where members have to pay for the extra features, such as adding more participants to the call and going beyond the initial 40 minutes.
Getting started is easy: select Zoom Basic, which is free, or Zoom Pro, which costs $14.99 per month, or go with Business or Enterprise (either costs $19.99 per month). There is also the Zoom modern cloud phone solution plan for a single user, which costs $10 per month per user. Are you thinking of going big and being more productive? Then how about purchasing the Zoom software-based conference room solution? Just purchase Zoom Rooms or the H.323 Room Connector for just $49 per port.
Thinking about hosting a live video webinar on a trusted and huge platform? Then get the Zoom Video Webinar package. The pricing starts from $40 for 100 attendees and can be increased for up to 10000 attendees, which is super impressive. Some add-ons can be purchased additionally. These include the Additional Cloud Recording Storage and the Audio Plan.
3. Slack
The term Slack is an acronym for 'Searchable Log of All Conversation and Knowledge.' And that is why the portal has become known and used professionally. If you're still looking for ways on how to keep a remote team engaged in meetings, consider the use of Slack. This is a collaborative hub whereby productivity is meant to increase significantly as people find a way of working together successfully by mimicking a natural work environment. The main reason behind Slack's success has been the fact that you get to replace the usage of emails altogether. Remember, in communication, instant messaging or chats come before emails. Instead of waiting for hours, at times days, for an email response, now you can instantly discuss everything together as a team.
Having been developed as an internal tool at Tiny Speck, Slack has had to undergo some major overhauls to fit the purposes of mass usage. Slack's main form of communication strongly relies on Internet Relay Chat (IRC) where companies have the option of running ever-open chat rooms. These chatting channels can then be further divided up to have smaller or even bigger groups organized according to the topic or department.
In the company's Slack channel, any member can send a private message to any other member. This is an essential feature as it helps the main group chat stay clear of clutter and unnecessary two-people conversation 'in everyone else's presence.' There's also an option of reducing or muting notifications about new messages added to the chat room so one can focus on their work and improve on productivity.
When communicating on Slack, members can choose to attach files that can be downloaded and viewed by others with access. Everything that has ever been shared, including conversations, files, new team members added, etc., can be searched within Slack. This collaborative software is available in 8 languages, making it better accessible for international companies.
The Slack app is a freemium service. When using the free mode, companies get storage of the last 10, 000 messages. That's one major feature that makes companies jump on the paid-for premium. Irrespective of the subscription, new members can only join a particular Slack channel using the link provided by the creator or admin running that particular channel. Additionally, there's an integration with third-party services, including Google Drive, Dropbox, Zendesk, Trello, IBM Bluemix, and Runscope.
4. GTalk
Most Android users are already familiar with Google Talk, also known as Google Chat. Affectionately shortened to GTalk or GChat, this is Google's instant messaging service that's been around for over 14 years. GTalk was developed by Google LLC, and for years, the app underwent changes and modifications to improve its functionality. The service extends out into Google Hangouts whereby one can invite other people to virtually 'hang out.' The Hangout option is excellent for team members looking to compensate for the lack of physical interactions and can become the 'water cooler' for your virtual office.
When using the platform, participants can send audio recordings and text messages. There's also the option of audio or video calling. GTalk is mostly popular among those holding a Gmail account. The current version being used globally is Google+ Hangouts, and this product can be a great tool for a virtual office when put into good use.
When initiating a conversation on GTalk, you will have to click + and enter the name, phone or email of the other participant. This is also how you can start a new group. Managers or team leaders can create groups for more personal meetings with staff. Using the chat channel created, members can share files or images that can be downloaded by the recipient. A sure way of increasing productivity.
A limiting factor is that GTalk is only compatible with Android, Microsoft Windows, Chrome, and BlackBerry operating systems. Therefore, it closes out those using iOS and other operating systems. GTalk has been designed to be completely free. Even those utilizing the video or audio plugin for their calls use the service for free. However, for most companies, even the small startups, this might be stifling because only 10 participants can be added to a conference call via Hangouts. The call initiator needs to first invite all other 9 participants to connect on Hangouts.
5. FileWhopper
In a bid to e-walk you and provide essential tips on video conferencing at home, we have listed the top platforms that you should consider using. The last on our list is somewhat a different direction when compared to the previous four. FileWhopper is a simple, robust file transfer service. Although it cannot be used as a video conferencing tool, for big organizations, it should be included in the how-to-start-working-from-home manual. Unlike other file-sharing services, FileWhopper allows you to pay only when using the service. There is nothing like a subscription or membership fee.
Using a secure multi-threaded data transfer technology, File Whopper successfully transfers files from sender to recipient without the interruption of work processes. Big teams needing to share huge files and folders of any size can use this service. Developed by a competent Microsoft partner, the platform offers secure data transfer. After being uploaded, your data is accessible for download for 14 days. If you want the shared file or folder to be kept beyond the initially offered 14 days, then there's a reasonable fee that can be paid.
The minimum fee for transferring your large files or folders on FileWhopper is $1. The actual cost depends on the size of what you want to send: you first have to select it and then let the tool calculate the size of your file or folder and the amount that must be paid. When using FileWhopper, organized companies will appreciate the fast upload and transfer speeds as they understand the essence of time and efficiency.
Just in case the services offered by FileWhopper sound similar to what might be offered by other services, here is why it stands out from the crowd:
✔️ FileWhopper doesn't impose any subscriptions. You only pay when using the service. Unlike other portals where consumers continue paying fees, only to use the service six times a year, FileWhopper removes that worry.
✔️ The tool offers a mechanism to ensure secure file transfer. This is especially important for the executives and team leaders needing to share sensitive data that must be protected at all costs. Before anyone with the link can access the shared content, the password must be typed in. This way, security is kept high.
✔️ Once a file or folder has been uploaded, the uploader can share the link with several recipients. An excellent way of making sure that every team member has access to important documents.
✔️ Although still new in the industry, FileWhopper is already the recipient of the Premium Usability 2019 Award and the Rising Star 2019 Award given by Finances Online. Thus, even if you don't want to trust what you see on its site, you are at least assured that a significant number of consumers find it worthy of such recognition.
And here is a bonus tip: if you are looking for a remote job, check out opportunities at Jooble.