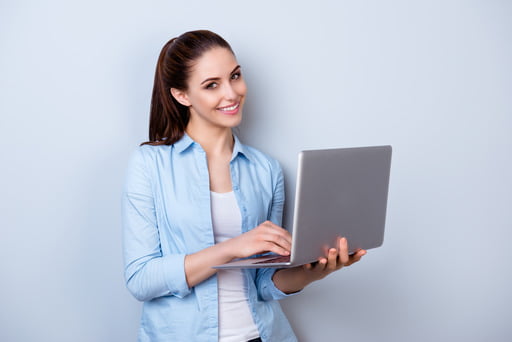 As more and more of our work and social interactions move online, so does a lot of our data. And this means that file syncing, sharing and transferring solutions are becoming an essential part of both professional and personal communication. They are also integral elements in disaster recovery and make it generally easier to manage and recover data.
These days, you have a wide selection of file back-up and sharing solutions at your disposal, with most of the file syncing solutions delivered via cloud services — this lets you update your files in real time and have an up-to-date copy of any document on hand anytime you need it.
In addition to letting you store and sync data, a lot of file syncing solutions come equipped with extra features: you can manage your data, adjust user and access permissions, enable collaboration on your stored files, and more. Plus, file syncing solutions for business also use advanced security protocols to ensure the safety of sensitive data.
So, what is the best file sync tool out there today? And what is the most secure way to synchronize files? In this post, we'll look into a few options for how to sync files in Windows 10.
Microsoft OneDrive
Best for: working with the Microsoft 365 suite
Microsoft OneDrive is a popular tool in the Microsoft 365 suite and is also worth considering as a standalone product. If you use Microsoft OneDrive outside the Microsoft 365 ecosystem, you will get 5GB of storage for free — and more backup options are available for an additional price. If you are a home user, a storage-only option for 100 GB will cost you $1.99 per month.
Naturally, OneDrive is best when used as part of a Microsoft 365 subscription. Whether you have a personal or business edition of the suite, you will be granted a generous 1TB of storage complemented with a comprehensive range of other apps. If you purchase the Personal edition of the Microsoft 365 suite, you will need to pay $6.99 per month. The Business edition of the suite will cost you $12.50 per month per user.
Highlights:
Microsoft 365 integration
Extra tools and features
Cost:
Standalone storage (100 GB): $1.99 per month
Microsoft 365 plans: from $6.99 to $12.50 per month per user
Sync
Best for: comprehensive file sharing for private users and businesses
Sync is a more comprehensive file syncing solution for businesses. It offers three different plans for business users:
Business Pro Teams Standard costs $5 per month and offers 1 TB of storage per user for between 2-100 users.
Business Pro Teams Plus is priced at $8 per user per month for between 2-100 users, and each user is allocated up to 4 TB of storage space.
Business Pro Teams Advanced costs $15 per user per month and gives each user up to 10 TB of storage.
All the plans allow sharing and collaboration and are equipped with 2048-bit RSA, SSL/TLS encryption, history and restore features, and more.
Another great feature of Sync offered for all storage plans is the option to perform a remote wipe or lockout, which allows you to remotely erase all stored data or deny access to it in case of an emergency — for instance, if one of your devices is stolen.
Highlights:
Three different plans for business users
Remote wipe and lockout options
Good value for money
Cost: from $5 per month per user (1 TB storage) to $15 per user per month (10 TB storage).
Google Back Up and Sync
Best for: those looking for a simple low-maintenance solution
Whether you are a small business owner or a private user, it's hard to find an easier and simpler file sharing and syncing option than the Google ecosystem. Google offers dedicate sharing options for different types of files:
Google Drive for general storage
Google Docs for collaborating on documents
Google Sheets for working with spreadsheets
Google Photos for your photo albums and videos
You get to choose between three storage plans: Personal, Pro and Enterprise. Google Drive storage prices kick off at $1.99 per month or $19.99 a year for 100GB and go up to $99.99 per month for 10 TB. The first 15 GB of storage remain free.
Naturally, all of the Google tools offer the most convenience when used together — and with Gmail, you pretty much get a comprehensive storage and sharing option for all your data.
Highlights:
Great as part of the Google ecosystem
User-friendly interface
Simple and efficient for personal and business users
Cost: from $1.99 per month (100 GB) to $99.99 per month (10 TB); the first 15 GB are free.
Synplicity
Best for: those looking for advanced functionality
If you are looking for a more serious approach to file sharing and syncing, consider Synplicity. The tool may seem a bit overwhelming at first — but it does offer a good set of extra features that can come in handy.
The Personal edition of the software lets you have 10 GB of storage on an unlimited number of devices for free. For $5 per month (when paid annually), you get 100 GB of storage space. Even at this level, you also get enterprise-grade functionality like secure mobile editing and PDF annotation. Plus, you get to choose your public cloud storage location (EU or US) and get to benefit from real-time document versioning and backups.
The Business edition adds on more functionality to the above, such as collaboration and group user controls for file sharing.
The Enterprise plan is even more advanced. You get to use features like AD integration and single sign-on, mobile device management integration, remote wipe functionality for all connected devices, and more. You will also be able to sync any folder with granular control over what can be excluded.
Price-wise, there is no flat rate for Syncplicity's more advanced plan, so you will need to contact the service provider directly for the exact quote.
Highlights:
Lots of extra functionality
Flexibility when it comes to where your data is stored
Cost: starting at $5 per month (when paid annually) for 100 GB; the first 10 GB are free.
FileWhopper
Best for: sending large files online.
Unlike the services we've covered above, FileWhopper is not a cloud-based file syncing solution. Instead, it's a highly efficient tool for sending large files and folders online — and this can come in handy in a variety of business and personal interactions.
There is no limit when it comes to the size of what you can send via FileWhopper. What makes FileWhopper stand out is that there are no monthly or annual subscription plans. It is a pay-as-you-go system, and you will only need to pay for your transfer based on the size of the file or folder you want to send. Another great feature is that you can choose who pays for the file transfer: it can be either the sender or the recipient.
All transfers are secure and protected with an automatic or user-generated password. FileWhopper works via a tiny app that won't burden your system and will auto-delete once the transfer is complete. Plus, the service also supports simultaneous data uploads and downloads.
Highlights:
Great for transferring large files and folders
You only pay for what you transfer – no subscription is required
You can choose who pays for the transfer
Cost: the first transfer of up to 5GB is free; pricing starts at $0.99 (1 download +14 days of storage).
So, what is the best file sync software? Naturally, the answer to that question is up to you and depends on what you are looking for. There are lots of file syncing and sharing services available online, and they offer different pricing options and come with different sets of additional features — and we hope that you've been able to find a good fit for your requirements from the options we've mentioned above.