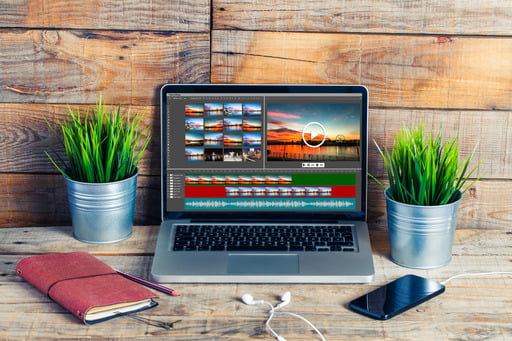 You've just finished filming that great movie or shooting that fantastic documentary, and now it's time to progress to the second stage – editing! This stage is as important as making the video because how well you handle the post-processing stage will determine the beauty, rating, and acceptance your hard work will receive.
Editing your videos requires a mix of creativity and technical expertise. However, to do this, you also need to have the right tools. When you watch those engaging clips on YouTube, you probably find yourself asking, "What do most YouTubers use to edit their videos?" Well, in this article, we'll provide you with the answers.
Whether you're a beginner or professional in processing videos and getting them ready for a target audience, you'll find these apps helpful. The video editing software in this guide can be used on iOS, Windows, Android, and macOS. These apps are among the best tools available today. We also included both paid and free versions of these applications. However, keep in mind that paid versions are more robust and offer more features than their free counterparts.
Let's dive in!
What Is the Best Video Editing Software for Beginners and Professionals?
In answering the "What is the easiest video editing software for beginners?" question, we'll divide the applications into two sections. Let's begin with paid video editing apps. In the next section, we'll look at the free tools you can use to process your shots.
Section 1: The Best Paid Video Editing Software
1. Adobe Premiere Pro
This is top of the list when it comes to the best video editing software on the market. It is compatible with Windows and macOS devices and is ideal for students and editing professionals. It allows for multicam and 3D editing.
Pros
It has high-end features.
Creative Cloud integration is available.
It is built to industry standards.
Cons
You can use Adobe Premiere Pro to edit YouTube videos, movies, ads, TV broadcasts, and short films for that professional look. By subscribing to Creative Cloud, you can use Premiere Pro with other Adobe products easily. This grants you unrestricted access to the Motion Graphics tools and After Effects and even allows you to import files directly from Adobe Stock.
Do you work with high resolutions? Then Adobe Premiere Pro is for you. It supports VR, 4K, and 8K video formats. Edit and trim videos with high precision and work on an unlimited number of video tracks. You can import video files into the tool from almost any source you can think of. In addition, it has an automatic sync feature that makes it possible to handle multi-angle shots easily. It is an excellent app for collaboration.
Premiere Pro is updated regularly to provide users with the latest technology. Subscribers get to enjoy these updates for free. While it's possible to subscribe to the video editing app alone, you might want to consider signing up for Creative Cloud. This saves you lots of money and is especially useful when you're using more than one Adobe app or product.
There's a 7-day trial period, after which you can choose to subscribe to the Premiere Pro CC Single App for $20.99 per month. You can also register for the Premiere Pro CC All Apps for $49.94 per month.
2. Final Cut Pro X
Final Cut Pro X is a paid video editing tool for Mac users. It has cool features that include intelligent color balancing and multicam editing. Students and professionals alike will find this app very useful.
Pros
The tool offers powerful editing and versatility.
It has a smooth interface.
It is easy to understand for Apple users.
Cons
Apple's Final Cut Pro is a popular tool for professional video editing. However, the downside is that it isn't available for Windows devices. Other than that, it has great features, such as a one-time payment offer, meaning that you don't have to subscribe to Creative Cloud if you don't want to.
It has capabilities such as advanced tools for color correction, HDR, and 360° video. The app integrates seamlessly with other apps in the Apple universe, including iTunes and Photos. Despite being a powerful tool, Final Cut Pro X is quite easy to use and understand.
Among its many other features are Magnetic Timeline, grouping tools, and a vast collection of effects. When it comes to trimming, adding, and editing audio for your videos, this app is top-notch. However, it's essential to keep in mind that you won't get access to important updates without subscribing.
There's a limited-time offer for a 90-day trial period. Even if you miss the offer, you can sign up for the tool at $299.99.
3. Adobe Premiere Elements
Are you a beginner in video editing? If so, Adobe Premiere Elements is one of the best apps for you. Available on both macOS and Windows, the tool lets you enjoy features that include face detection, video stabilization, and automatic motion tracking.
Pros
The tool has an easy-to-understand interface.
It comes pre-installed with lots of features.
Cons
It's not the fastest editing tool out there.
It's not as powerful as other paid tools.
If you're looking to simply beautify your videos without the stress of understanding a new app, we recommend Adobe Premiere Elements. It takes the spot as the best video editing tool for newbies. While it's quite affordable and straightforward, it packs excellent features such as bundled soundtracks, face detection, and transitions, among many others.
Among the latest updates are GPU-accelerated editing, Animated Mattes, new background music files, and double exposure, among others. You can subscribe to Premiere Elements for a one-off fee. This is because it's not available on Creative Cloud and comes as an advantage if you don't want to pay for the extra app.
In addition, you get an impressive 30-day trial, at the end of which you can purchase the tool at $87.10.
4. Corel VideoStudio Ultimate
This is a great video editing tool for beginners and Corel professionals. It is available only on Windows devices, and its key features include color correction and real-time effects.
Pros
It's easy to master.
It's affordable.
Cons
The tool is simplistic and basic in a way that professionals might not appreciate.
It has an unusual approach to layers.
As you can see, Adobe tools aren't the only available option for seamless and top-quality video editing. If you already love Corel's graphic design software and illustrations, then we recommend checking out Corel VideoStudio Ultimate.
As a beginner trying to learn the basics, you'll find Corel VideoStudio Ultimate easy to use with its clear visual interface. Once you're comfortable with the app, you can move on to its more advanced features, such as 4K and 360° VR video support. You'll also find a music library, 3D text editing tools, multicam support, and a comprehensive collection of effects.
Also, you'll find that it has quite an unusual way of handling layers. However, beginners trying to find their feet in the world of video editing will find this app to be of great value. For professionals, this is not a sophisticated tool to fit your taste.
It has a 30-day trial period that you can try out for free, after which you can decide to register for the paid version. Its relatively affordable pricing makes it a great bargain.
5. Filmora
Filmora works best for video-editing enthusiasts with its low pricing. It's compatible with both Windows and macOS devices. It has features that include built-in titles and effects, 4K support, and a library of royalty-free music.
Pros
It is easy to use.
It is sold at an affordable price.
It has 4K support.
Cons
The features are too basic for professionals.
Filmora, a video editing tool from Wondershare, works best for beginners and enthusiasts alike. To top it off, it has a surprisingly low price considering what it has to offer. Even if it's your first time editing your videos, its intuitive and clean interface makes it a great ally.
If you're looking to start your journey as a YouTube vlogger, you will find the tool's extensive collection of filters designed specifically for YouTube extremely helpful. In addition, there's a wide library filled with built-in effects and titles to get your videos looking professional and engaging. Filmora even gives you the option to record media directly within the app. Also, you can choose from its royalty-free music library to add more feeling to your work.
In recent releases, you'll find much newer tools and updates. These include Auto Reframe and HEVC Codec support. Users can import directly from photo libraries and even access an instant cutter tool. It also features cool split-screen templates that you can use for your Instagram shots.
While the free version has all the features of the paid app, you have to deal with watermarks on your videos. To get rid of them, you can subscribe to the Annual plan or sign up for the Lifetime plan for a one-time fee. There's also the Unlimited plan, which gives you unlimited access to Filmora's stock library with new effects added each month.
Let's take a look at some free video editing tools that you can get your hands on.
Section 2: The Best Free Video Editing Software
It is important to keep in mind that free video editing tools will not always give you the same number of advanced features you'll find on paid versions. However, over the years, these free apps have become quite capable. With the right level of creative thinking, you can easily create beautiful, professional, and technically accomplished videos with them. In many cases and scenarios, you'll find these apps to be more than enough.
1. KineMaster
When it comes to free video editing, this tool makes it to the top of our list. It is compatible with Android and iOS devices, and its key features include smart effects, instant preview, and the ability to edit multiple layers. It is recommended for beginners and professionals looking for something lightweight for editing on the go.
Pros
It can be used by professionals.
It has rich features.
It is quite popular in the film-making community.
Cons
The tool is laggy and slow on low-end devices.
If you ever thought that you need to get a paid tool for professional video editing on your tablet or smartphone, think again!
KineMaster has all the features needed to help you dish out those well-finished videos and clips. For a free tool, it's genuinely awesome. With its intuitive user interface and lag-free design, there's a variety of features at your disposal. For example, it can edit multiple layers, has audio tracks, allows for precise editing at a frame and subframe level, and even allows for adding text annotations and handwriting. However, you have to deal with watermarks placed on your finished videos.
If you wish to get rid of the watermarks, you can subscribe for $4.99 per month or $39.99 per year. However, if you don't mind, you can enjoy the tool for free. After all, watermarks aren't such a bad price to pay for such an efficient tool.
2. Davinci Resolve
This is another excellent free video editing tool. Davinci Resolve comes with unique color correction capabilities that make it stand out from the crowd. The tool is compatible with macOS, Linux, and Windows. Its key features include multi-user collaboration capabilities, compatibility with Fairlight consoles, and availability of audio tools. It is perfect for professionals and film enthusiasts alike.
Pros
It is a powerful color correction tool.
It allows for collaboration among users.
The tool has audio post-production capabilities.
Davinci Resolve is a free video editing tool that perfectly blends color correction, 8K editing, audio post-production, and visual effects in one app. Among its major users are TV production houses and big-budget film editors.
It also has the traditional color correction features, such as primary color wheels, skin tone adjusting, and curve editors. In addition, it comes with facial recognition and tracking capabilities alongside eye and lip color adjustment tools. When it comes to audio post-production, it utilizes Fairlight – a high-end editing suite that allows you to blend and master more than 900 channels.
Considering the incredible power of this tool, it's quite surprising that it's all for free. If you're a professional looking for the best free editing tool for your videos, you definitely want to check out this app.
3. Lightworks
Lightworks is the best editing software when it comes to pro features. It has tools that allow you to export any video format or output directly to Vimeo or YouTube. You can also execute multicam editing and create project-sharing groups. It's suitable for enthusiasts as well as professionals.
Pros
The tool has a set of tutorials for a better understanding of how to use its features.
It's a powerful app.
Cons
It's quite challenging to get used to.
There are restrictions on output formats for the free version.
This is another top video editing tool used by big Hollywood production houses. That's why it's so amazing that you can access almost all its features for free. However, the major restriction is that it only allows for video exporting in the web-compatible 720p format. If you intend to export several projects in different formats, then you have to sign up for the tool's cheap one-month license.
Overall, Lightworks is a great free tool for going pro. Users can easily capture videos and edit them with the tool's advanced features (when you get the hang of it). Its precise timeline makes it possible to trim and mix both audio and video clips effortlessly.
One setback present on Lightweight is that it's pretty challenging to navigate. However, you can get over this in no time with a good number of tutorial videos available. As long as your projects are non-commercial, you can use this application for free.
How to Share and Collaborate on Large Video Projects
When it comes to shooting, editing, and finishing your film and video projects, you need a way to share them to be able to collaborate with others. However, this can be quite challenging since 4K and 8K videos usually come in large sizes.
There are quite a number of file transfer platforms on the market, but they have a lot of limitations. For example, most of them place a limit on the file size that you can send or back up at one go. Besides, even those tools that allow larger upload sizes often don't allow you to send data at fast speeds. You might find yourself waiting for hours just to share a 1 GB file with the people you're collaborating with online.
When handling professional projects, you need an app that'll send your videos in their original formats without altering or compressing them. FileWhopper gives you all this and more! It's a cloud-based platform for sharing large files and folders of literally ANY size. That's right! This app allows you to upload and download data at high speeds, no matter the size. Do you want to send a 100 TB project to your collaboration team from the comfort of your home? It's quite easy with this tool. You don't need to pay any weekly or monthly subscriptions to use the platform. Simply choose the folder or file you want to transfer, and you'll receive a one-time fee. There's no complicated pricing structure.
[fwa-calculator]
FileWhopper is an app built with security in mind. If the project you're working on is sensitive or private, you can send it securely. This is possible because the tool performs military-grade encryption that ensures hackers and unauthorized third parties cannot intercept whatever you're sending. In addition, it preserves the integrity of your videos and does not compress them while uploading; it sends files in their original sizes and formats.
FileWhopper also allows you to send other file types, from audio files and games to documents and pictures. It supports simultaneous uploads and downloads, allowing the recipient to begin downloading your file or folder while you're still uploading it from your end. This means that whoever you're collaborating with doesn't need to wait for you to finish sending your video before they can start the download process. This is great for when you need to work fast and get feedback quickly.
If midway through an upload, your internet goes off or your battery runs out, you don't have to worry. FileWhopper installs a tiny app on your device that resumes sending your file or folder precisely from where it stopped whenever your network connection or power is restored. You don't have to worry about starting all over with this handy tool.
FileWhopper is a popular tool among professionals who want to collaborate without distance or time restrictions. Share your large projects, make changes, and receive feedback from other professionals at the snap of a finger.
Conclusion
When it comes to making breathtaking videos, you need to have access to the right tools. The good news is that making this a reality won't break the bank. With the apps listed in this guide, you can get in touch with your creativity and grow as a video creator.
If you're a pro, you'll find these tools to be extremely helpful in the post-processing of videos and project collaboration.