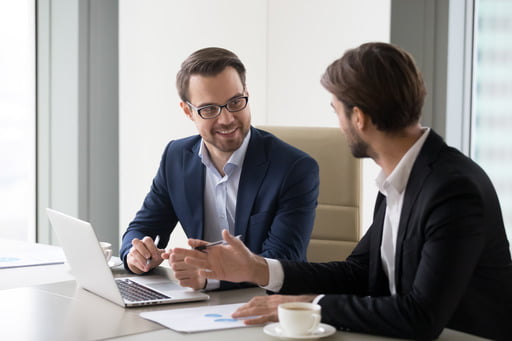 As a small business owner trying to scale your operations and satisfy your customers, you have lots of expectations on your shoulders. You are expected to have all the answers, solve problems at the snap of a finger, and ensure good communication with your employees. Even marketing and finance management aren't left out of the list of things you need to keep up with.
To this end, you might find yourself constantly seeking new ways to increase productivity. We totally understand. In truth, you need to have the best tools if you're to keep up with bigger organizations and compete favorably with them. After all, your customers expect the best customer experience from you. It matters little to them if you're a small business or a large company.
The good news is that there's a way to go through the roof with your productivity levels. Fortunately, a smartphone is an everyday gadget in today's world, and small business owners are taking advantage of this fact.
In this guide, you'll get to know the best small business apps to manage your daily operations. Let's dig in!
What Should You Look Out For In Small Business Apps?
When choosing the best apps for small businesses, there are certain features to look out for; they should act as a guide for you as well:
An app should be affordable.
It should offer zero-commitment plans.
There should be a user-friendly interface.
It should help you scale your business.
It should offer great customer service.
It must have the ability to impact your business as fast as possible.
We made the list below with these features in mind. Also, we took the time to arrange the apps into categories to make navigation easier. Whether you're looking for the best small business apps for iOS or Android, we got you covered.
What Are the Best Small Business Apps in 2021?
We've arranged the top 18 apps for entrepreneurs in 2021 into the following categories:
Business Management Apps
File Sharing Apps
Payment Apps
Time Management Apps
Finance and Accounting Apps
Job Scheduling Apps
Project Management Apps
Org Chart Software
You can use these apps to communicate with your workforce, share large files and projects, monitor task progress, manage payroll, and handle job scheduling, among many other functions.
Business Management Apps
1. SAP SuccessFactors
If you need a tool to boost productivity, maintain adequate communication, and keep your employees up to date on key information, SAP SuccessFactors is a great app. It helps you to engage your entire workforce easily and complete HR tasks.
Among its many features is a self-service tool built specifically for managers. In addition, it also has a self-service capability for the HR team and other employees, making it convenient for everyone to keep up with critical tasks.
It comes with a built-in HCM feature that makes it possible to automate your team's processes, improve efficiency and visibility, and execute your business-growing strategy every day.
You can get this business app for $84.53/year/user.
2. Xero
This platform was built by a New Zealand company and allows you to monitor your money flow in real time. You can use it to send invoices, see when they were opened, import and organize your latest bank-related transactions, and even create expense claims. There are lots of other features that you can tap into on Xero to stay ahead of the game. For example, there's easy integration with over 650 business apps, including PayPal, among many others.
If you're not convinced, you can check out Xero's 30-day free trial offer, after which you have the option to choose from three plans:
Early - $9/month
Growing - $30/month
Established - $60/month
As you can see, each of them caters to different stages of your business to help you scale based on what you need for each level.
3. Chanty
Chanty is one of the best small business apps for Android. It's a chat app that you can use to collaborate and communicate with your workforce effectively. You can use it to reach them by voice messages, chats, or even video and audio calls.
Do you need to make a presentation or explain a project? This is easy with the app's screen-sharing feature, which allows you to share your screen and communicate directly with each person. It doesn't end with communication; you can also manage tasks with this application. For example, turn messages into tasks, share them with every member of the team, and set deadlines.
The Teambook section stores all your files, contacts, messages, and tasks, making it possible to see everything in one place. You can view this as your very own communication hub.
File Sharing Apps
4. FileWhopper
Are you looking for an easy way to share large files and folders that won't break the bank? Think FileWhopper. This is a cloud-based platform designed specifically for transferring and sharing all file and folder formats. It doesn't matter how large your file or folder is – FileWhopper can send ANYTHING. This is especially useful when you are working on a project that requires sharing large amounts of data.
FileWhopper can send a file or folder of ANY size with absolutely no speed limits. Do you work on a 100TB media project and need to send it to the editing team quickly? The tool supports simultaneous uploads and downloads, making things easy. Simply put, the recipient can begin downloading your file or folder as soon as you commence the upload process. They don't have to waste time waiting for the upload to be complete before they can start downloading your data.
Speaking about security, this platform comes with military-grade encryption that ensures your files and folders can't be accessed by anybody except you and your recipient(s). The tool also preserves the integrity of your files because it sends your data without compressing it or altering its quality. If your internet connection goes off unexpectedly or the sending process is interrupted, FileWhopper's tiny app ensures that your transfer resumes from where it stopped as soon as the connection is restored and you don't have to start the process all over again.
In addition, there's no subscription or registration fee required before you can use this tool. You only pay a one-time fee to cover the data size you intend to send. This is your one-stop shop for everything involving file and folder sharing.
Payment Apps
5. Square
Square is a payment app that allows you to accept all payments on your phone no matter where they are coming from. From receiving credit and debit card payments to building custom solutions on the platform to making online sales, selling your products has got a lot easier with this tool.
In addition, you can send marketing emails and online invoices to your customers, receive analytics and sales data in real time, and manage your employees. It's even possible to run it on multiple hardware devices at the same time. You can check out the tool's pricing page to see what it'll cost you based on your business size and needs.
6. Venmo
While Venmo is popular for sharing payments with friends and splitting cab fares, you can do so much more with this social commerce platform. When customers buy something through their mobile or desktop app, Venmo automatically connects to their real friends to share their purchase experience. This allows a network of friends to view, like, and even comment on a shared buy. It is a feature that gives your brand a lot of free exposure, allowing you to reach more potential customers.
Simply put, Venmo allows iOS and Android users to make purchases on their devices through their Venmo accounts. It facilitates easy payments. A customer can connect their Venmo wallet to your mobile website or app during a purchase, after which they don't need to reauthorize the Venmo application when making future transactions. It ensures seamless payments and encourages your customers to come back for more. It uses the standard pricing of 2.9% + $0.3 per transaction.
Time Management Apps
7. Toggl
One of the best ways to boost productivity is by using time management apps. Toggl makes this easy and is perfect for teams, small businesses, and even freelancers. With just the click of a button, you can see your time usage and that of the other team members broken down into easy-to-understand pieces of data. It even comes with a browser extension, which you can activate to track time across 80 online tools.
At the end of each day and week, you receive cumulative data that shows you a report of where and how you spent your time. This makes it easy to see how much time you waste on unproductive things, such as surfing social media. You can then make adjustments, time your lunch breaks better, allocate more time to important things, and know which tasks consume significant chunks of your time.
Using this tool to manage your team also increases their productivity levels. Employees work better when they know there's an app on their device holding them accountable and monitoring how they spend their work hours. Depending on the services or features that you need, you can subscribe to the following price plans:
$9/month/user
$18/month/user
You can also chat with a representative to get more information on the tool's Enterprise plan.
8. RescueTime
RescueTime is another time tracking app that helps manage your time efficiently. It runs in the background, so it doesn't interfere with your on-screen activity. By keeping track of what websites you open and how much time you spend on them, it gives you a good picture of your day. In addition, it monitors the applications you open and keeps track of how long you spend on each of them. At the end of the workday or week, it sends you a detailed report of your activity.
With RescueTime, you can block distracting websites and set alerts so that you can get notifications on how much time you've spent on a particular activity. Get a detailed report on how many hours you spend each day reading emails and scrolling through your favorite social media app. This allows you to easily identify where you waste time and adjust accordingly. You can turn it off at any time (perhaps when you're on vacation and don't need to monitor your time).
You can use this tool to monitor how your employees use their work hours and help them plan their time to increase productivity. There's a free-for-life plan to help you track your time, or you can subscribe to the tool's premium package if you need access to more features. The price begins at $9/month, and you get a 14-day free trial period.
9. My Minutes
My Minutes is more of a goal-setting tool. You can input the minimum and maximum amount of time you intend to spend on specific tasks, and the app will remind you about your goals. For example, you can state that you want to spend "at least 40 minutes exercising" or at most "15 minutes checking your email".
You can also set days when certain activities repeat; perhaps you want to exercise every 48 hours with a day off in-between. As you build habits, your "streaks" become green and you get more motivation. After all, we love seeing those streaks accumulate. What's more, you can see yourself improving as you get more productive with each passing day.
This practical application is a free tool that helps you manage your personal time more effectively as you grow your small business.
Finance and Accounting Apps
10. Wave
When it comes to running a successful business, you need an efficient way to monitor finances. Wave enables you to track income and expense flows, send invoices from both your smartphone and desktop PC, track recurring billing, and even scan receipts from any location.
Wave was designed specifically for small business owners. This is reflected in its easy-to-navigate dashboard and interface. Perhaps that explains why this great tool is free. Yes, completely free!
11. QuickBooks
No matter the size of your company, you can use QuickBooks to manage your business. This app makes it easy to keep track of your expenses and create and send accounting reports, invoices, and quotes.
It helps you analyze your business's cash flow and know where to make adjustments and improvements. Its user-friendly interface presents information in an easy-to-understand format. You don't need to stress yourself trying to make sense of the data generated. It has a 30-day free trial period, after which you can choose between the following plans:
Simple Start - $15/month
Essentials - $23/month
Plus - $31/month
Job Scheduling Apps
12. Schedule Planner
If you need help with your daily planning, then try Schedule Planner. You can organize your tasks into categories and priority levels. This way, you know what you want to do first and when it needs to be done. For the best results, we recommend planning your day the night before. Setting your plans a few minutes before you doze off to dreamland will make you productive once you wake up the next day. The reason is simple: you get out of bed already knowing what to start with instead of trying to figure it out while time ticks away.
Schedule Planner has a simple and sleek yet practical interface. You can create your plans from scratch or choose from pre-existing templates. To get a breakdown of the pricing, reach out to the tool's customer service representative.
13. 10to8 Scheduling
If you're running your business with a remote team, then 10to8 Scheduling is what you need. Its Meeting Scheduling feature allows you to connect and organize meetings with your workforce no matter their location. For example, you can have daily calls, hold virtual coffee breaks, plan inter-departmental meetings, and so much more.
It offers a timezone management tool that you can use if you have employees spread across different parts of the world. You no longer have to stress yourself trying to calculate the differing hours. At a glance, you can know the time and decide whether it's the right moment to allocate a task or get feedback from a particular team member.
It also has a native Zoom Video integration that you can use to manage video calls directly from the app.
14. ZoomShift
ZoomShift is an all-in-one app for your scheduling needs. You can use the application to set your availability preferences, swap shifts, and request time-offs. You can use the drag and drop function to set your shifts on the calendar or simply use existing templates to create a schedule in a few seconds.
Send or share your schedule through email or a text message. It's that simple! You can also use this tool to organize your workforce because each team member can set their availability preferences, view their schedules, and pick up open shifts.
The free version of this tool is an excellent replacement for Excel. However, if you want access to more features, you can subscribe to the $2/user/month or $3/user/month plan.
Project Management Apps
15. Trello
When it comes to managing projects, Trello is a great tool. It allows you to prepare a daily or monthly task list, manage assignments, and maintain a blog, among other things. Its Kanban boards are fantastic tools that offer flexibility, and you can add plenty of detail to each card. You can also share them if you need to.
Besides using Trello for work-related functions, you can also manage and organize your personal life with it. It's free, but you can subscribe to the $12.50/month/user plan if you want more control.
16. nTask
nTask is a cloud-based tool for project and task management. Whether you're looking to use it personally or for your small business, you cannot go wrong either way. The platform enables users to collaborate with other team members on projects, meetings, tasks, and timesheets.
With nTask, it's easy to create projects, add descriptions, plan and set a budget, and visualize your project progress in pictorial format. The app's visually attractive Gantt charts make for a great tool in decision-making. You can interact with them to see at a glance what has been accomplished and whether or not you'll meet a deadline.
The tool is available on Windows, iOS, and Android devices, and you can use its free plan or subscribe to any of the following options:
Premium plan - $2.99/user/month
Business package - $7.99/user/month
17. Basecamp
Basecamp is another tool designed to serve all your project management needs. Your employees can see everything they need to do, the progress of each task or project, and where to find whatever they need, all in one place.
You can create projects, assign tasks, set deadlines for each of them, and create message boards for specific topics. In addition, Basecamp displays the schedule for each project. Also, files and documents are organized in one place for easy accessibility. You can use the chat tool to communicate in real time and attend to any check-in questions. Also, you can conveniently share access with your clients and see how tasks are progressing.
The hill chart tool shows you each project's status, making Basecamp a multifunctional platform for effective collaboration. You can test out the app with a 30-day free trial offer. At the end of the period, you have the option to subscribe to the $99/month plan if you think it's right for you, your team, and your business.
Org Chart Software
When it comes to organizing your business, Pingboard is right there at the top.
18. Pingboard
The tool lets you enjoy access to real-time collaboration and team organization features, enabling you to keep every member of the workforce up to speed. You can even create different private org charts to simplify your hiring process, plan effectively, and enjoy real-time interaction.
The tool is available on both Android and iOS, and you can opt for its free plan or subscribe to a pricing option that best meets your needs and budget. Go to the tool's pricing page to see the prices separated based on how many employees you have. This way, you can quickly make an accurate calculation of what it'll cost you.
Conclusion
As you can see, there are many tools out there to help small businesses boost their productivity. In this guide, we listed some of the best options for you, saving you the stress of deciding what to choose. These apps will help you and your employees become more efficient and make the most of your day in your business and personal lives.
From organizing ideas, scheduling tasks, and collaborating on projects to tracking time and sharing large files, these apps can help you get that weight off your shoulders.